This is a sponsored post written by me on behalf of The Hershey Company for IZEA. All opinions are 100% mine.
Easter is in a few weeks and I'm so excited about all things spring right now!  As much as I love the oncoming fall season, I think this year I'm looking forward to spring even more. Every year we have an Easter Egg Hunt party with my kids and our friends.  This year I wanted to bake an extra special treat for our Easter Egg Hunt party and this is something that is both kid friendly and easy as well as being super festive for the season!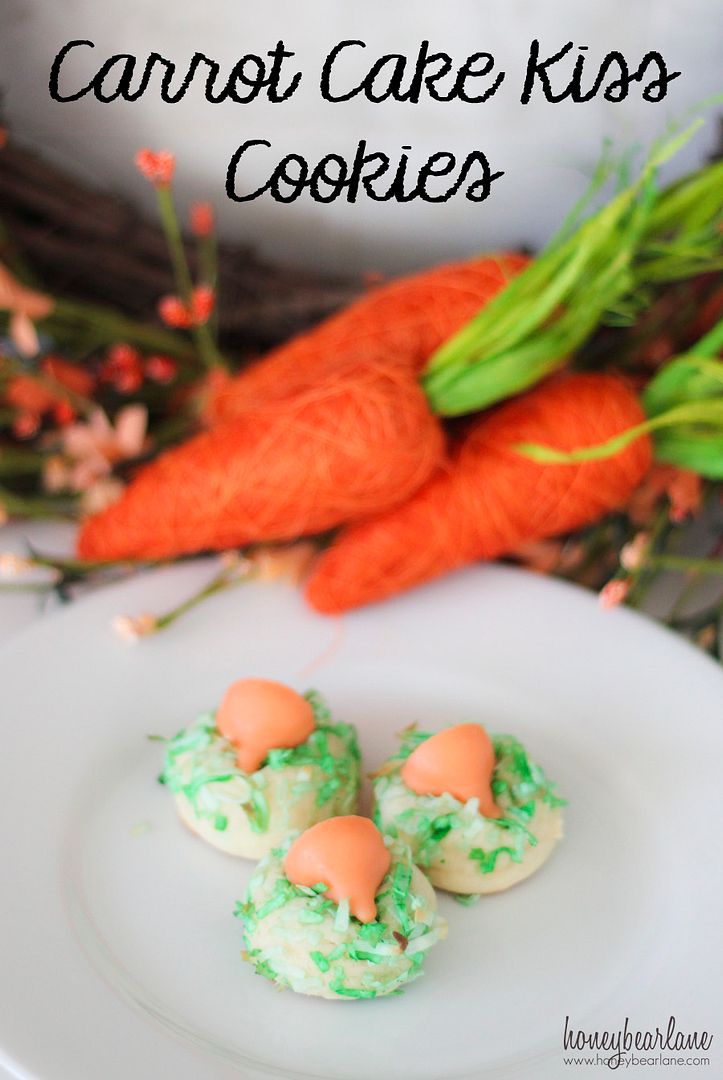 These Carrot Cake Kiss Cookies are a little different than what you'd expect.  Easter got a lot more special this year!  Instead of actual carrot cake, I used Hershey's Kisses Carrot Cake Candies on top of a basic cream cheese cookie.  The candies are filled with a vanilla-flavored center and the cookie is light and fluffy, it's the perfect little pre-Easter treat!  You could make it plain with just the candies or you could roll it in green-dyed coconut so it looks like a little carrot lying in the grass.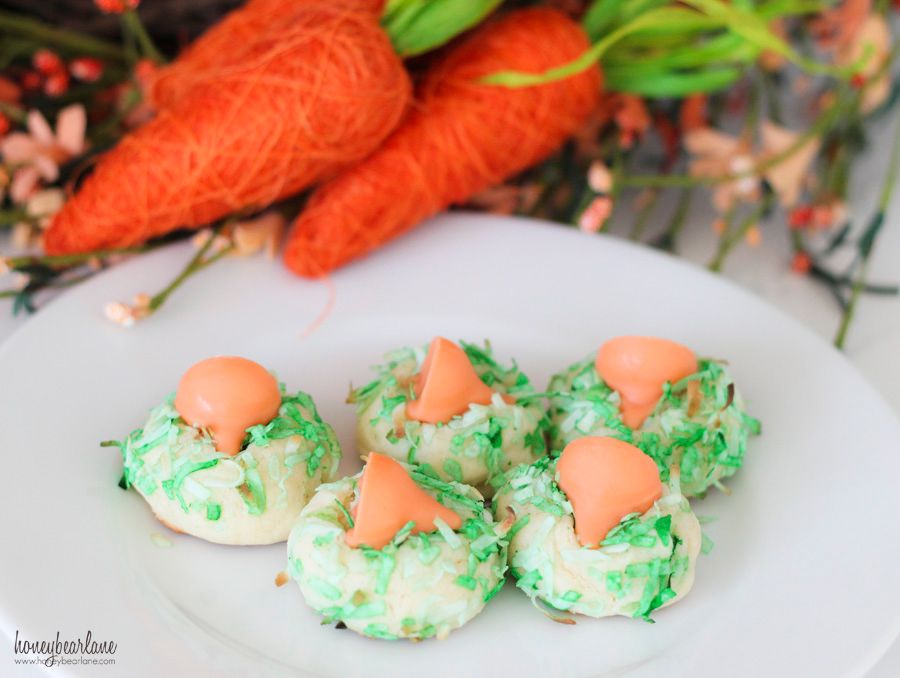 Hershey's Kisses Carrot Cake Candy Cookies
8 oz. Cream Cheese, softened to room temperature
1 cup butter, softened to room temperature
2 cups powdered sugar
1 tsp. baking powder
2 eggs
1 tsp vanilla
4-5 cups flour
Coconut flakes
1 bag Hershey's Kisses Carrot Cake Candies
Cream the cream cheese and butter. Add the sugar and baking powder slowly. Add eggs and vanilla and beat until fluffy. Slowly mix in the flour until you have a more dough-like consistency. Refrigerate the dough for at least an hour or more. Heat the oven to 375 degrees. Roll balls of dough and roll them in the green-dyed coconut if desired or leave plain. Bake for 10 minutes. After they come out of the oven, move the cookies to a cooling rack and let them cool for a few minutes before pressing the candies into the cookies. Refrigerate the cookies since the candies have a lower melting temperature so otherwise they tend to puddle into an orange goo.
If you don't have time for baking, I'm also including a cute and easy way to give a treat to someone!  I filled a little Mason jar with the Hershey's Kisses Carrot Cake Candies and spray painted the lid green.  I printed out a little tag that says "We Love You Bunches!" and attached it with some twine.  It's the perfect little treat for anyone–neighbors, friends, teachers…really anyone who needs a little cheering up!
We Love You Bunches Printable Download Now!
Hershey's Kisses Carrot Cake Candies are available exclusively at Walmart and you can find other Hershey's treats in stores nationwide. You can read more Easter crafts and treats at www.celebratewithhersheys.com #HersheysEaster