Did you guys see Toy Story 3?
…did you cry?
Do you remember "Lotso" the purple bear? "Never had a child loved a toy so much."
But they didn't know about my son and his Froggy.
Will loves his Froggy…more than possibly anything else in the world. And he has another toy, a backup, which is Classic Pooh. Although Will couldn't say 'Pooh Bear' so he said, "P-Bo."
Anyway, I wanted to commemorate these beloved toys forever in a drawing.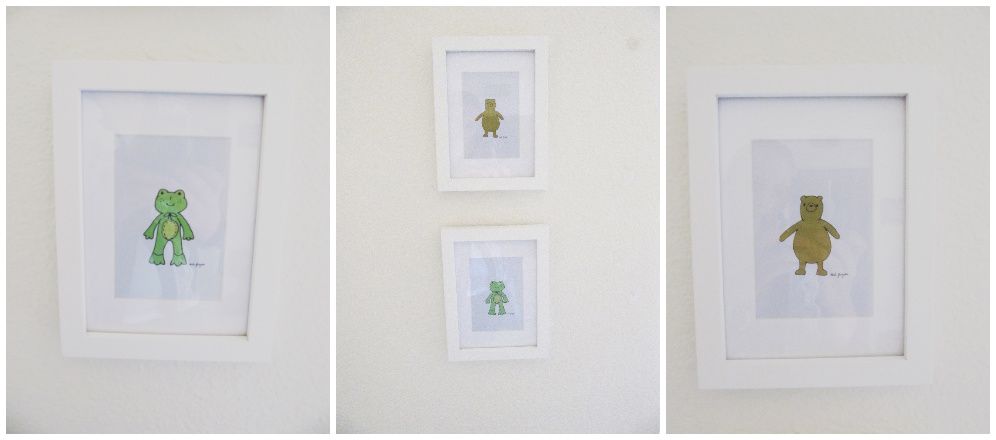 He loves them. I love them. And here's how I did them:
First I took pictures of my subjects. I didn't have to do this, but it was just easier for me to sketch from a picture.
Here's the Original Froggy…super beaten up and loved
Here's the original P-Bo
And here are my sketches. I first did it in pencil and then outlined them in sharpie. They are clearly nothing fancy!
Once I had sketched them, I scanned them into my computer, cleaned up the lines with Curves in Photoshop, then added some color, and a signature.
I was so happy with the way these turned out. They are so special to my son because his mommy drew a picture for him of his most prized possession.
Do your kids have lovies? Why not do this for their room? It's the perfect personal touch.
*****
Click Here to Enter the Dirdy Birdy Giveaway!
PS. Today is the LAST DAY to enter the Applique Away contest! Get those entries in before midnight!