I've been meaning to post this house tour for like two years.  It is not quite complete since some rooms haven't even been touched yet but I have to say, I LOVE that about my house.  I will never be done decorating and that's endless possibilities (and blog fodder) for me!
ENTRY
Before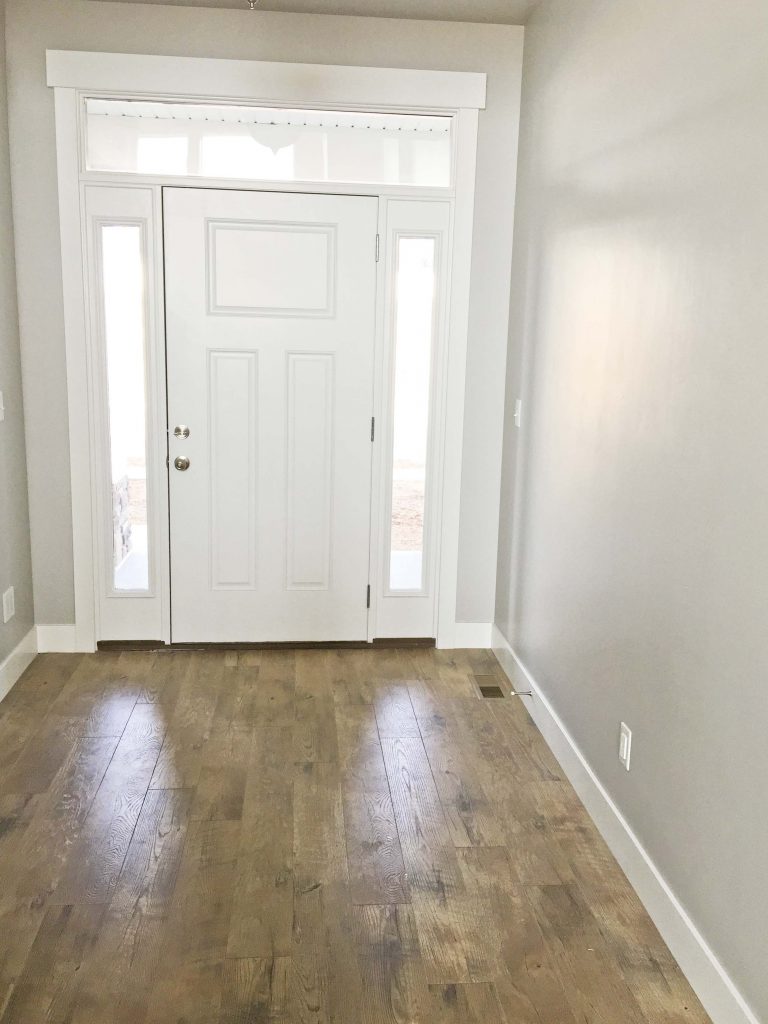 After: I added board and batten to the wall (as well as trimming a doorway which you can't see), painted the french doors Benjamin Moore Kendall-Charcoal gray, added a rug and some decor. We might get around to doing something else someday, like maybe replacing the entire front door, adding little shutters to the sidelights and stuff like that.
FRONT ROOM/CRAFT ROOM
Before:  It's actually not that bad but it was rarely this clean and organized.  It became that room that just accumulated more and more stuff.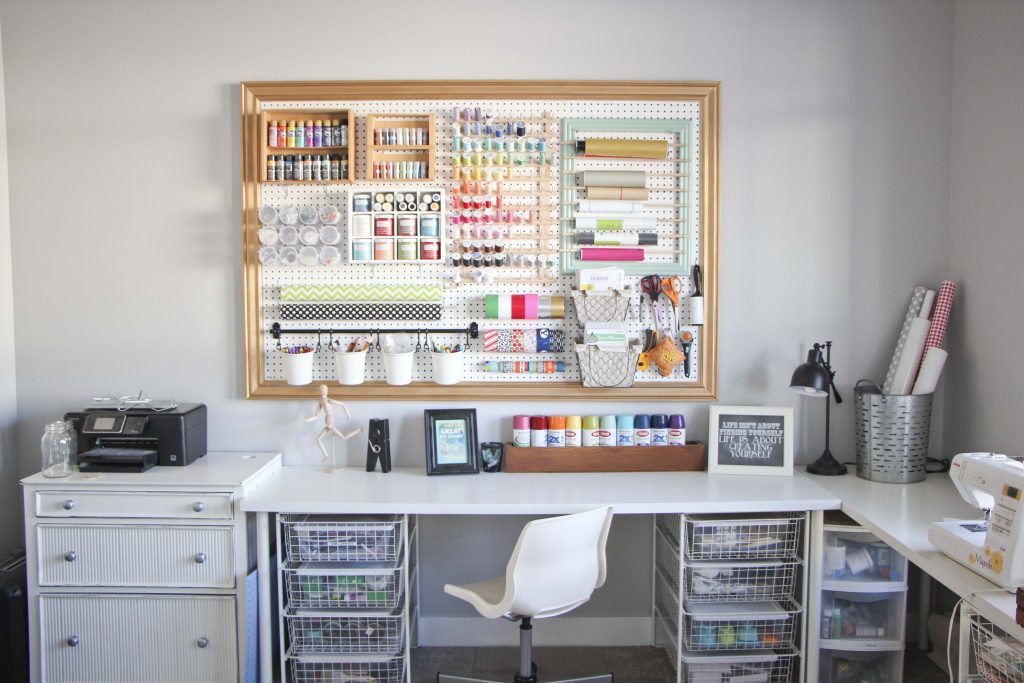 After: We hung shelves on either side of the giant pegboard and I moved the tables to one wall. I had to cut off one end of one of the tables to get it to fit against the wall perfectly. There's really nothing else in the room right now except our old recliner. I plan on doing this whole room totally differently in the future, turning it more into an office/piano room and moving the craft stuff upstairs to the loft.
FAMILY ROOM
Before:  This is the bare bones before, before we even moved in.  You can see none of the wainscoting is done, the door is not framed, the balusters not painted white, the boring mantel.
After
I love how much I have done to this space.  I built the built-ins and mantel myself and added tons of wainscoting.  This is my favorite space to decorate so it gets updated a lot!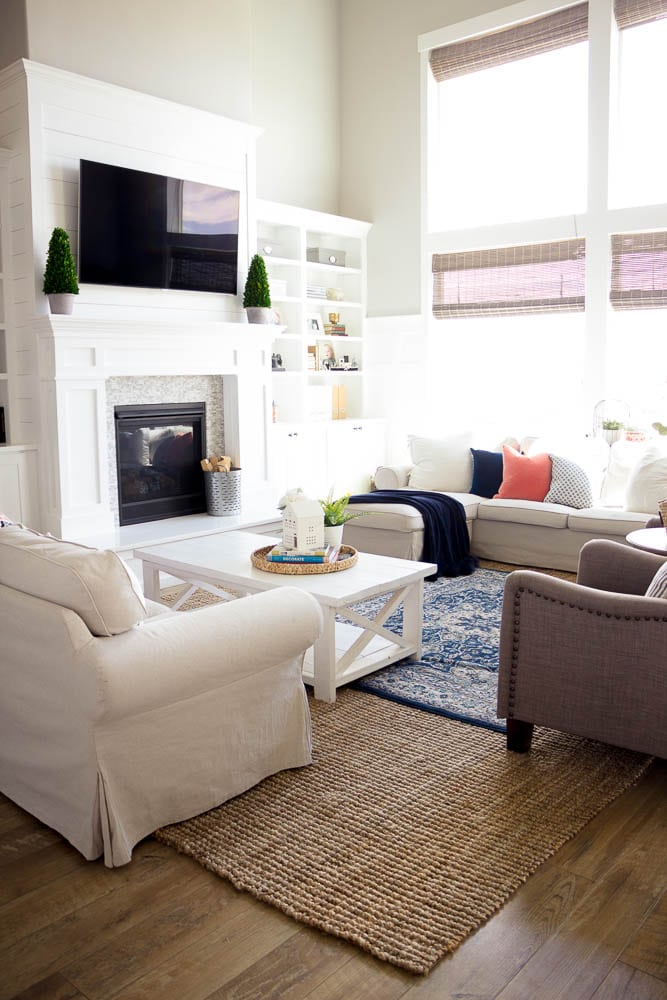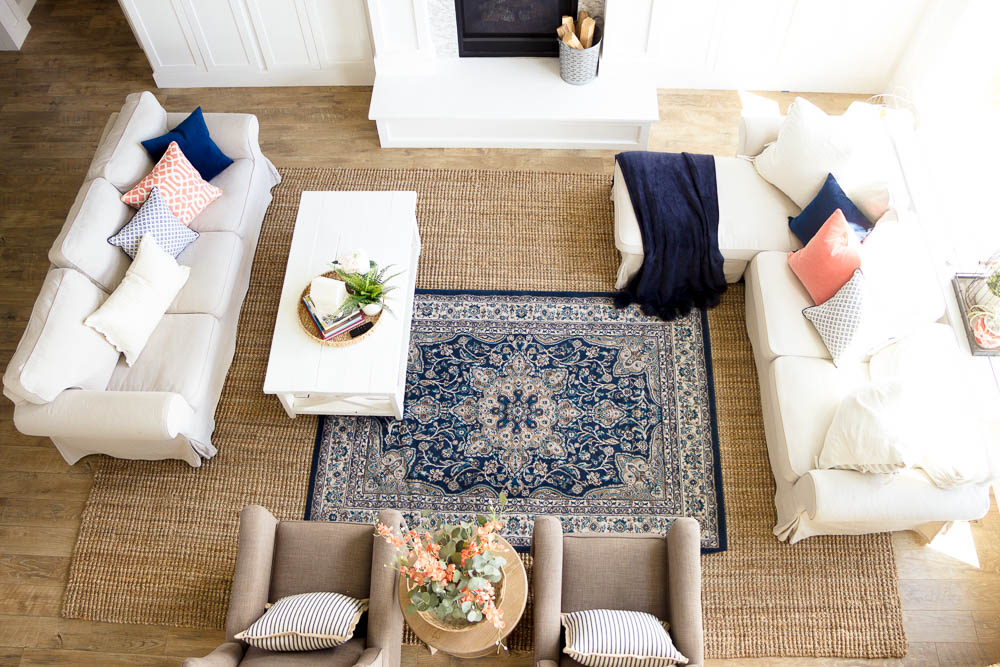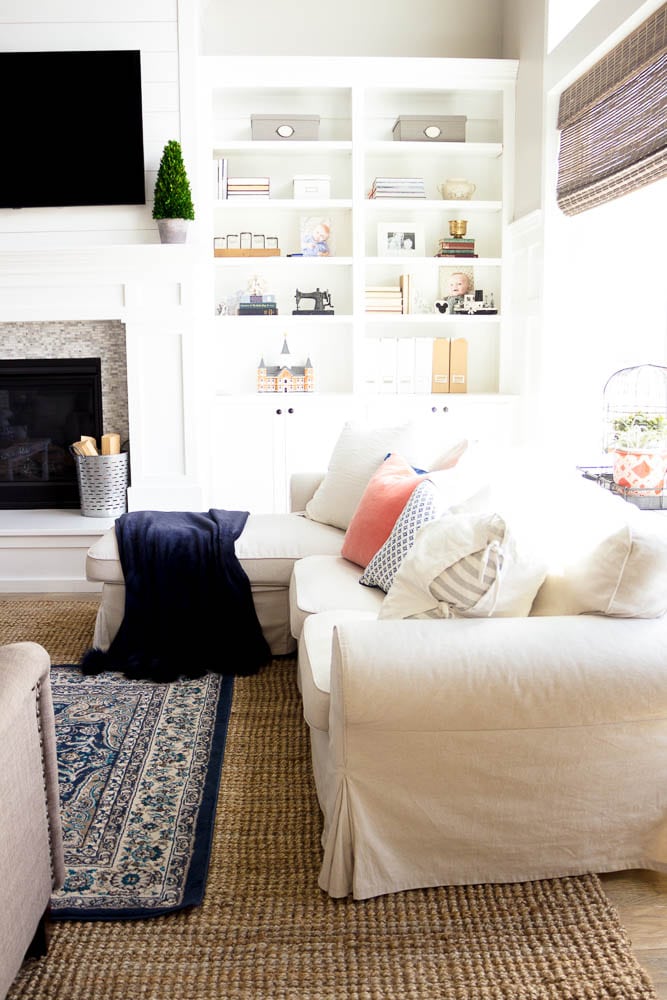 The couches are from IKEA, the jute rug is from Overstock and the blue rug is from Wayfair, the recliner/wing chairs are from BHG at Walmart.  The sofa table behind the couch is an old one I built.  The small round table is from Home Goods, and the sofa table against the wall is from World Market.  I built the coffee table.
DINING ROOM
Before:  Our old old dining set which I'd redone at least three times.  You can see the stains on that upholstered chair on the end.  Both of those chairs have been refinished/reupholstered and moved to different rooms and I actually painted all the Windsor chairs gray and then black.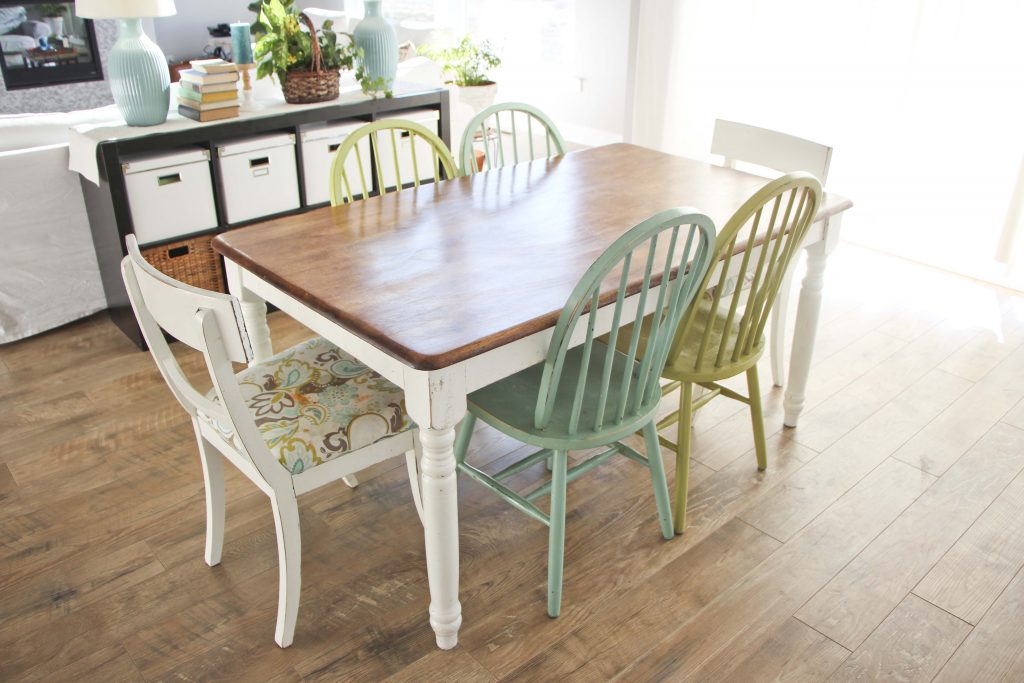 After: I built a new table and bench, sewed curtains for the giant sliding glass door, and we replaced the lighting fixture.  I also planked the wall where the clock is, hung some shelves, and plan on building a small console to hold china and such.  You can see my Windsor chairs here, painted gray, but below they have been painted black.
Except that the first finish wasn't sealed well enough so I refinished it again and here's what it looks like now (along with several other changes!)
KITCHEN
Before:  Again, bare bones, before we even moved in.

After
We trimmed the window, replaced the lighting, and added a marble tile backsplash. We still plan to replace the upper upper cabinet doors with glass doors, change the cabinet above the microwave to a hood, & move the microwave. And replace the range with a better one.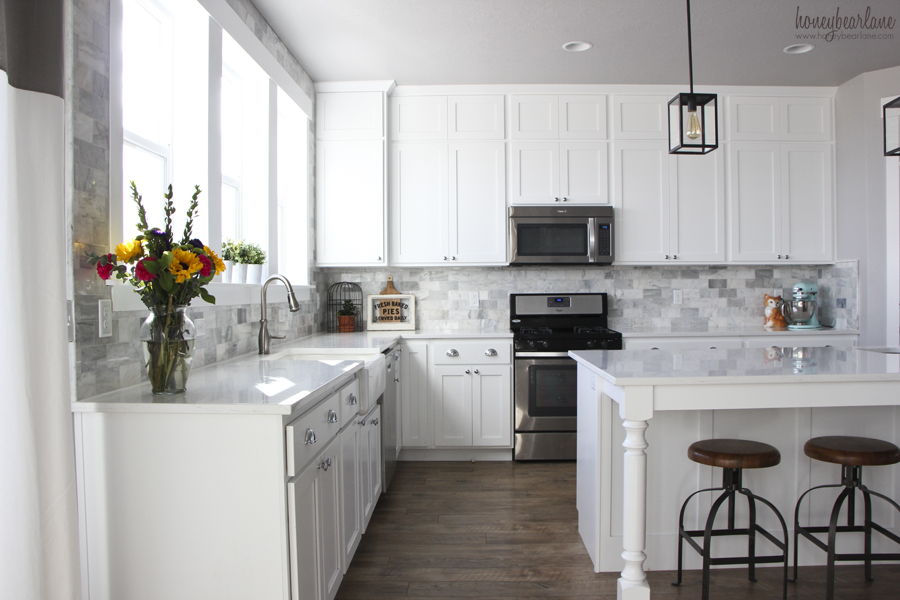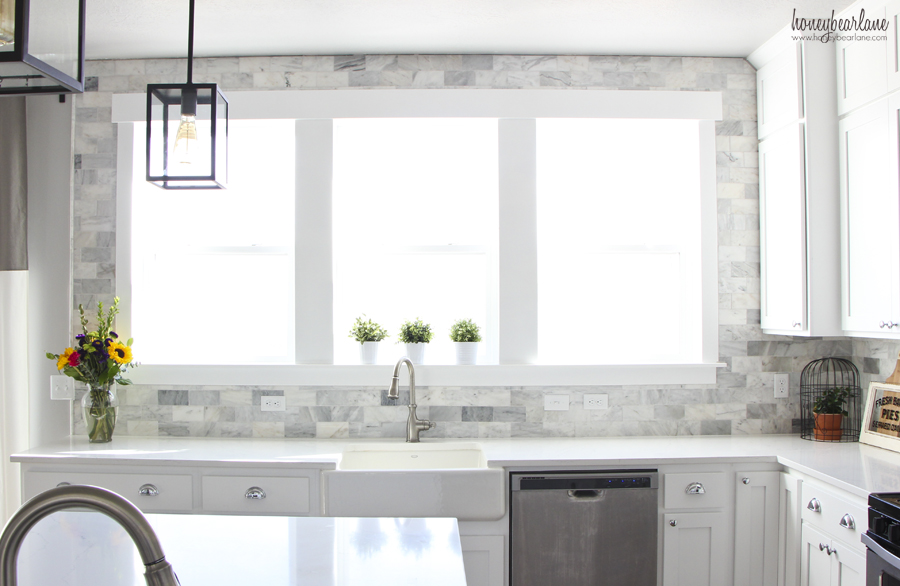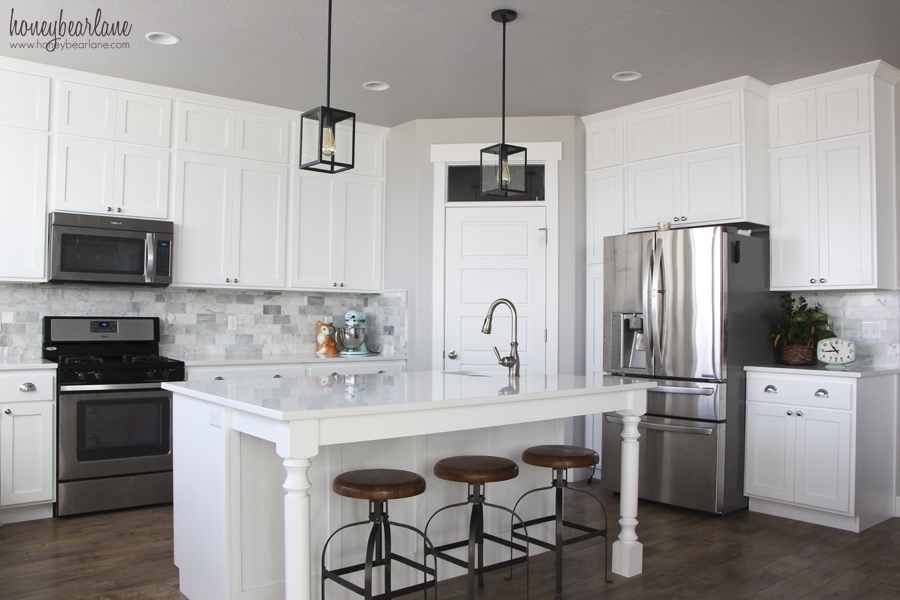 MUDROOM
Before:  Just a blank corner.  Not hard to imagine because there was nothing there.
After: I completely built this mudroom bench which has been so nice to have. But it's still small. Someday, once we become billionaires, we will completely revamp this entire space and make it bigger and more functional. That is one of our biggest regrets in building this house…not rearranging this space to make more sense!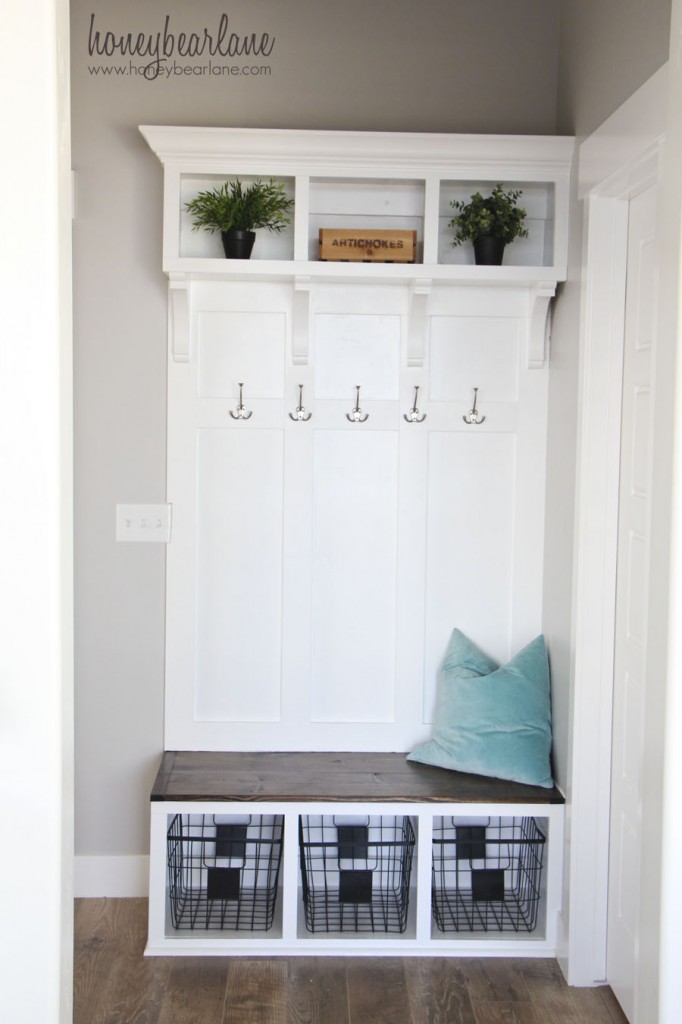 STAIRS
Before:  Blank and boring.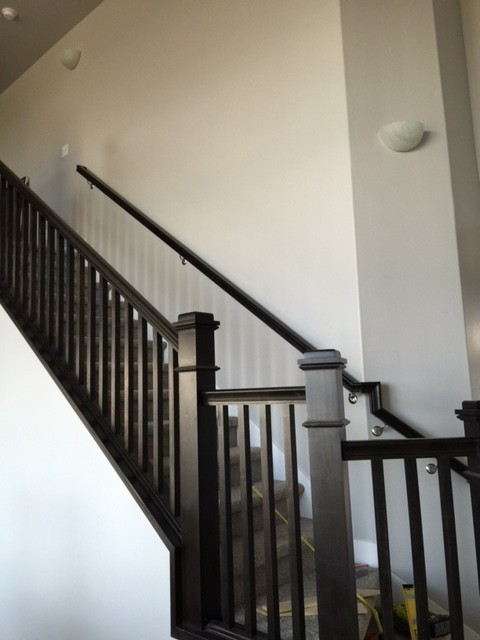 After: It seems weird to me that I made doing the stairs such a priority. It was actually one of my first projects in my house. But I'm super glad it's done and I never want to do that again because it was hard. I put board and batten all the way up the stairs and we painted the balusters white. Both really hard and tedious projects. We plan on someday ripping out the carpet and replacing it with hardwood treads.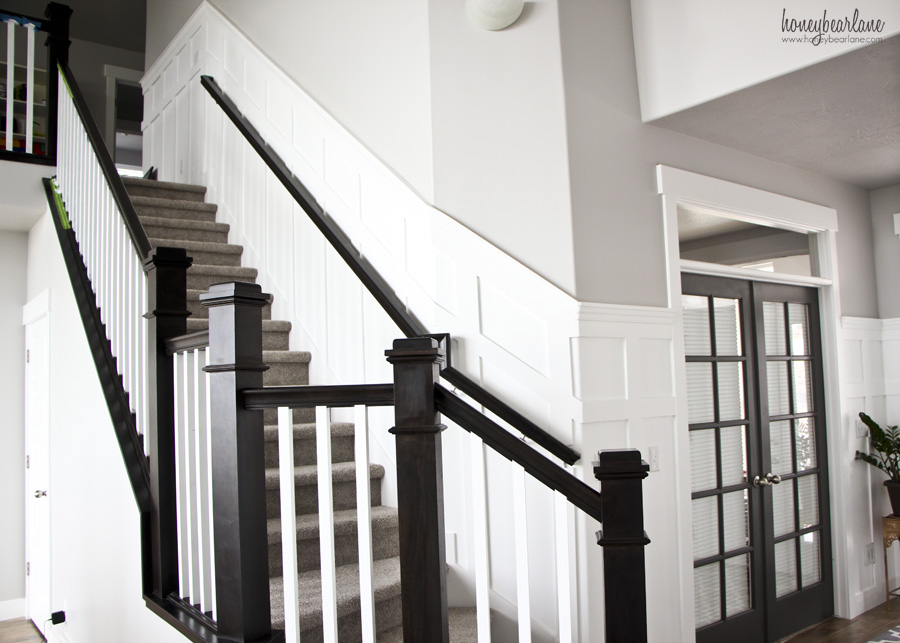 LOFT
Before:  This picture was taken at a Disney party I threw last year but it perfectly captures how much this room sucked.  Those bookcases wedged around the window, not fitting it well, how awkward the toys were stored, and the big boring TV wall.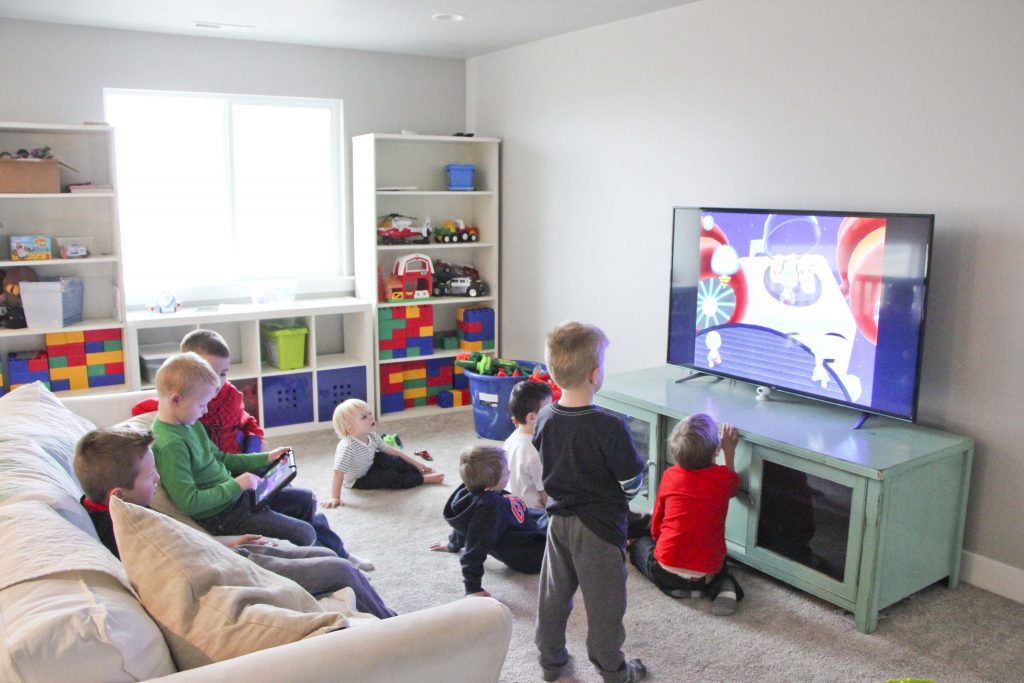 After:   We decided to move the TV and couch to the unfinished basement. I actually cut one of those bookcases in half to use as cabinet carcasses and added a face frame and doors to them. I painted all of it, including the IKEA Expedit with a shellac primer so I could paint the entire unit in the Benjamin Moore Kendall Charcoal gray. I raised the unit with a 2×4 frame and screwed them together, finishing off with some baseboard trim. Now it's a nice little toy storage unit which houses toys and video game stuff.  This room is mainly for toys and gaming and hopefully some homework on that back desk.  The plans are to someday rip out the carpet and put down matching laminate, build the entire perimeter with cabinets for all my craft storage and make it a craft room/homework room space.
GUEST ROOM
Before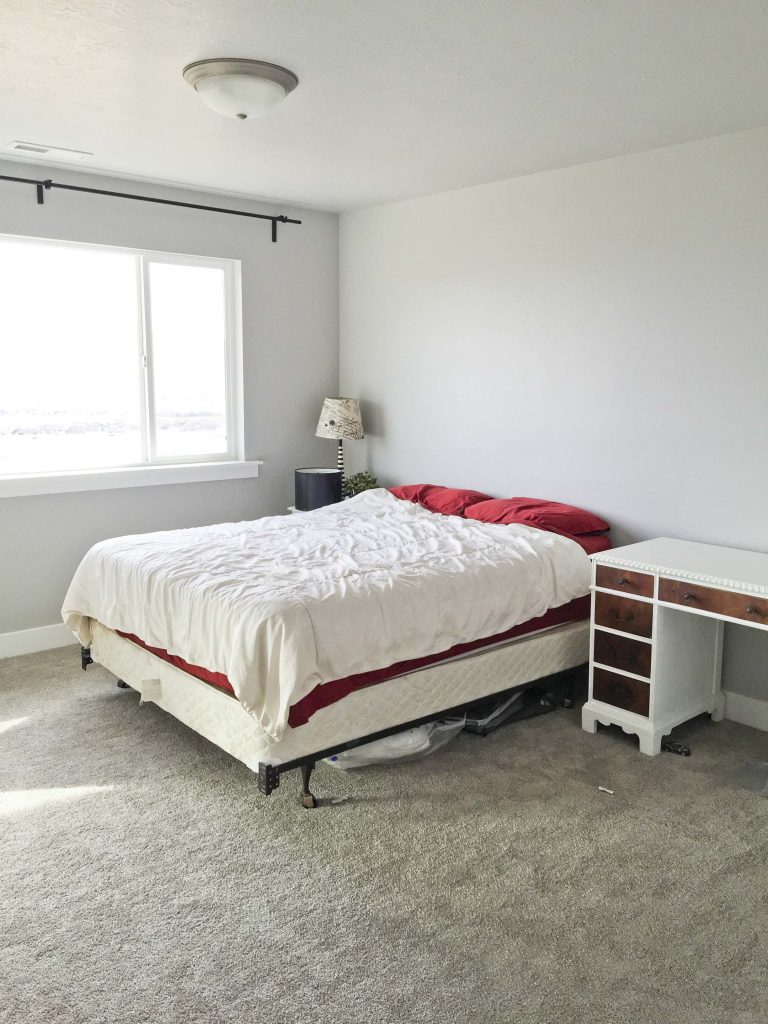 After: I added tons of board and batten and a grid wall and painted the upper part Benjamin Moore Hale Navy. I installed curtains and bedding and other furniture which I'd redone as well as spray-painting the headboard of the bed. This room is now serving dually as a nursery so I'm taking out the pink accents and making it more masculine (since my baby is a boy.)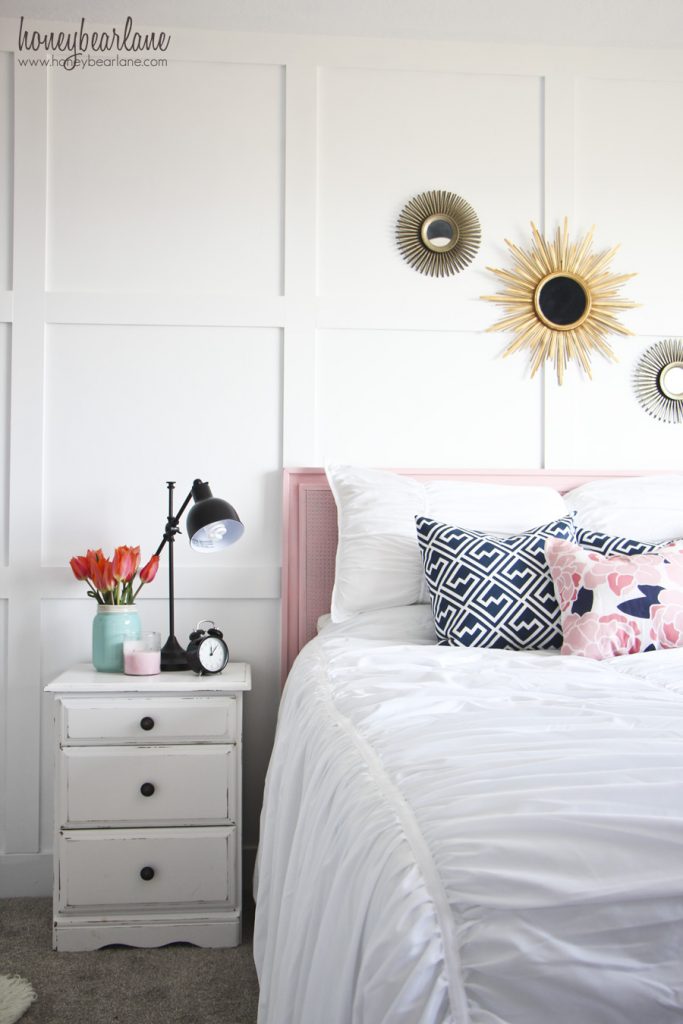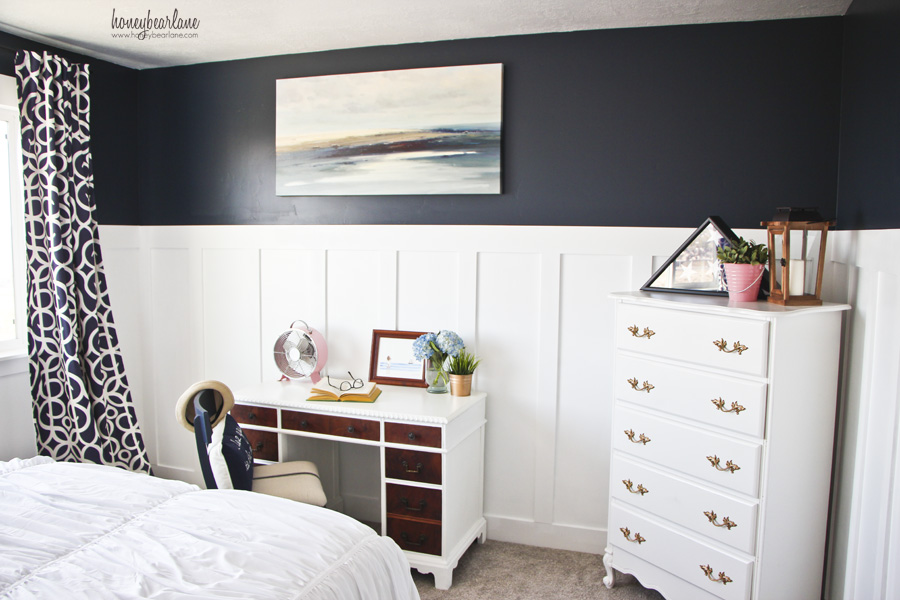 KIDS BATHROOM
Before: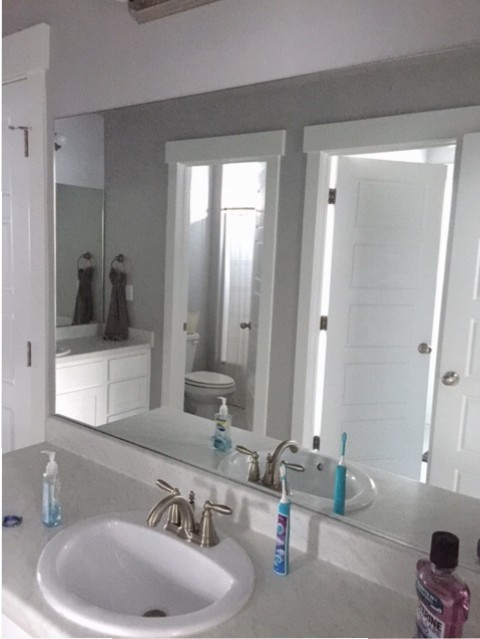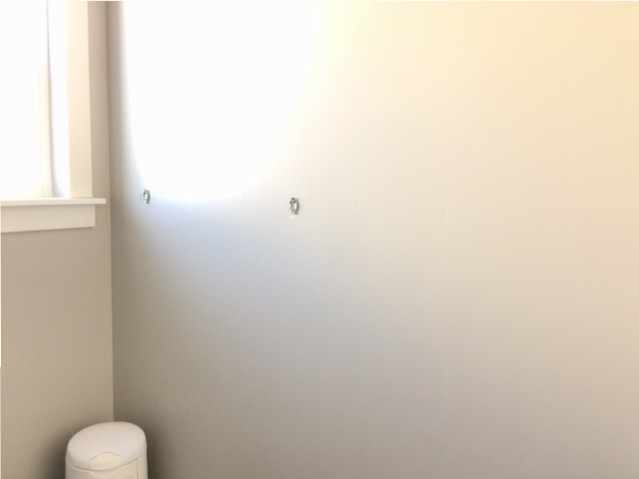 After: I planked these walls and added some floating shelves. I also framed out the mirrors. I'm planning on planking the rest of the walls and someday we will replace the laminate counters with quartz and change out the light fixtures.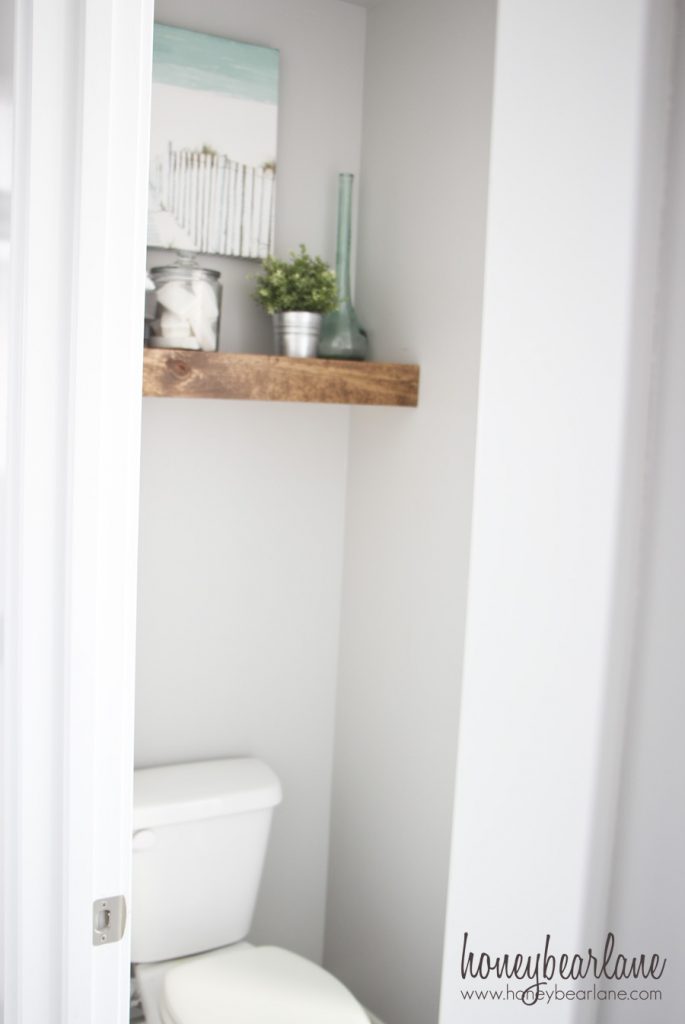 ELLIE'S ROOM
Before:

After: I added polka dots to this wall and tricked out an IKEA bed to make it a custom daybed. I hung curtains as well.  Except that this is also out of date because I have since switched my boys into this room and Ellie into another room and neither of the rooms are decorated yet.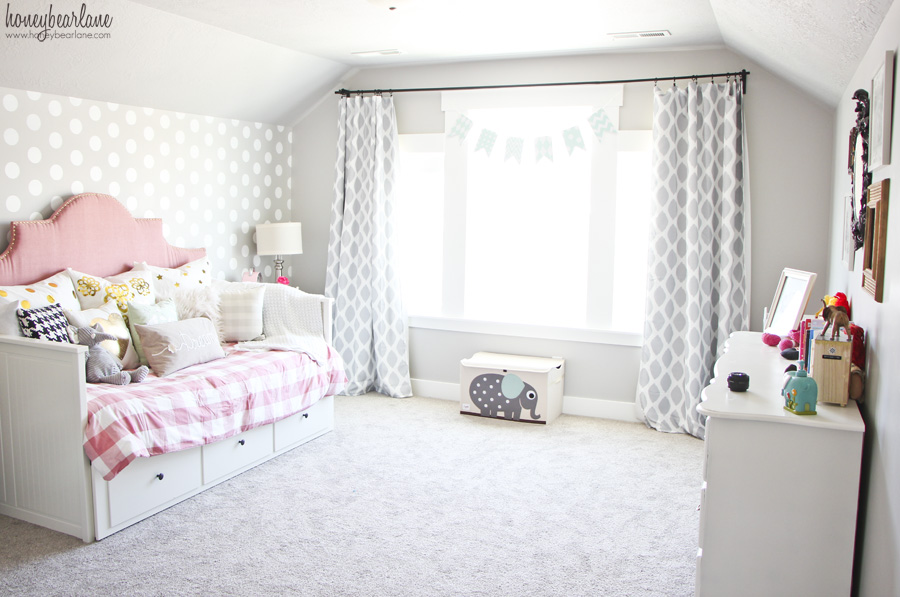 About a year after this was done, I decided to switch my boys room and Ellie's room.  This was better logistically because they were sick of bunkbeds and Ellie's room was bigger.  I did my boy's room and then I decorated Ellie's room again in a totally different style.
BOY'S ROOM
I did my boy's room in a farmhouse industrial style with a space theme.  This was a fun room to decorate–if only they would keep it looking this nice all the time!
MASTER BEDROOM
Before:
After:  I did board and batten on all 4 walls and crown moulding.  We switched the bed to be on the other wall because we upgraded to a King size bed and it didn't get between the windows.  I hung curtains which still need to be hemmed!  I love the beach vibe in this room, it feels very summery and relaxing.  I still have some other things to add, like doing the tray ceiling and replacing the closet hall door with a barn door.  Eventually we will also do something about the TV eye sore.
Master Bathroom
Before:  I can't seem to find a good before picture for this room.
After:  This is another low priority room but it's another room where I keep changing my mind about what I want to do.  I'm seeing subway tile and round mirrors.
Master Closet:  This is really low on the priority list but I want to trim out the doorway and paint this room white and add some more custom organization options (drawers and whatnot).  In the meantime we moved all of the extra stuff that was in there and organized it really well.
The basement is unfinished right now but my plan is to finish it next year.  We also have a major laundry room remodel planned because we've always hated the layout of the laundry room so walls will be removed.
When you build a house there are just a bajillion things to do, especially when you have more high-end tastes like me.  But it's been a fun journey so far!