How to Make a Pinwheel Quilt
I'm finally having a baby girl.
And I knew I wanted to make my baby girl's quilt a pinwheel with adorable fabrics.
Here's the quilt top (without the outer sashing).  I can't wait to quilt and bind this baby and see it finished!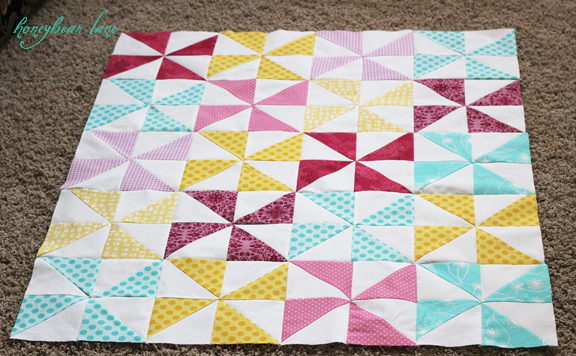 I was inspired by these quilts that I found on Pinterest
Making triangles is a very simple technique that gives you SO many options for quilt designs.  This is also how you create zig zags.
To see the tutorial, follow me after the jump!
First you start out with your selection of fabrics.  For this quilt top I used 40 colored patterned fabrics and 40 plain white cotton.  They are all 5×5 squares.
Place one patterned and one white on top of each other, right sides together.
The fold the two squares in half on the diagonal.  I usually iron them in half so there is a very distinct line to follow and I do a whole bunch at once.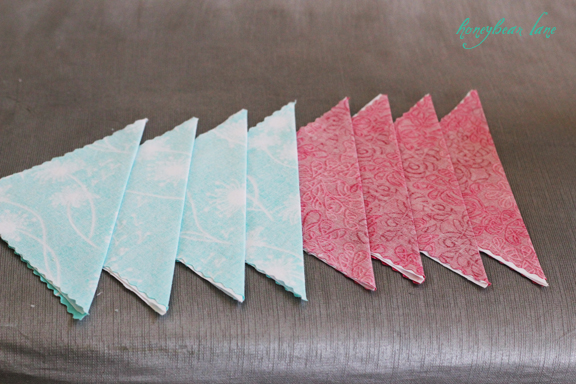 After you have your crease, open it back up and you will sew a stitch 1/4″ on one side of the crease.  (I have heard a 1/4″ foot comes in very handy here but I don't have one so I just line it up with a certain spot on my presser foot.)  The sew another seam on the other side of the crease, 1/4″ away again.
After that you clip along the crease.
Now when you flip them open you will have two squares made up of four triangles.  Iron the seam flat (I always push it to the side of the printed fabric so you can't see it as easily.)
To make this whole process go a LOT faster, I do chain stitching.  I will sew the seam on one side of the crease along tons of squares, one right after the other without cutting them off.
Then you can just flip the whole thing over and sew the other side of the seam.  Then you got a lot of cutting and ironing to do.  But after all that monotonous part, you can do the fun part of piecing!
So here is how you arrange your triangle-squares to be a pinwheel.  To do a zigzag you can just make a point at the top with the bottom two flanking out at the bottom.
Sew them together and press the seams down.  Doesn't that look nice?  Now just make about 19 more pinwheels and then you can lay them out how you want.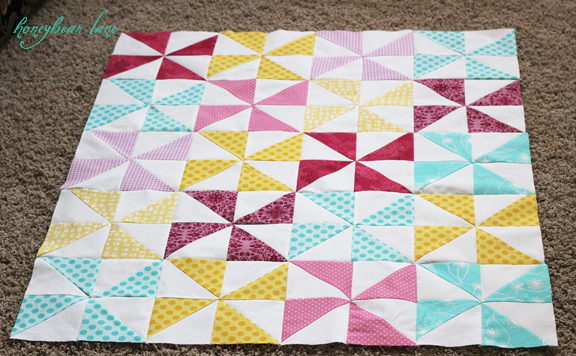 And you have a pinwheel top!
Hopefully later this week I will have time to quilt this in a new free-motion pattern I've been wanting to try (also inspired by Pinterest!)