Fat Quarter Shop Giveaway!!
This giveaway is closed!!
I love the Fat Quarter Shop.  Not quite sure how I discovered it, but when I did, I was super, super happy.  They carry a HUGE selection of fabric and have nearly all the Moda fabrics.  And the Moda fabrics are not carried everywhere and can sometimes be difficult to find.  They are a quilter's paradise for fabric!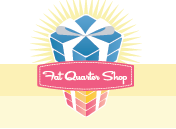 Remember this quilt?  I made this quilt from the lovely Home Town fabrics by Sweetwater.  It's called Letters from Home.
I am in the midst of making another quilt with these super cute fabrics but I'm just working like mad right now trying to get caught up.  So hopefully some time in the next month or two you will get to see it.  🙂
But for now I want to show you this beautiful quilt pattern, made with the Home Town fabric line.  Isn't it super cute?  It's called Home Sweet Home. (I didn't make this pattern.  You can purchase it at The Fat Quarter Shop!)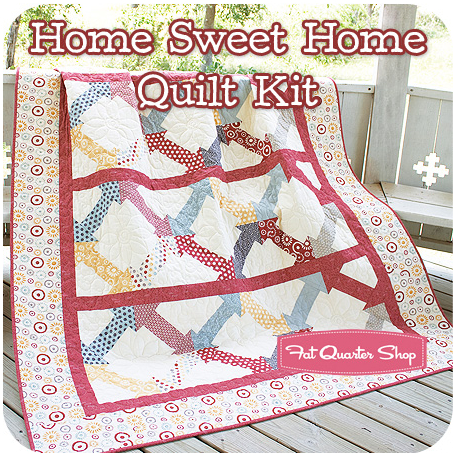 I also really love the quilting on this.
And today you lucky, lucky people get a chance to win four charm packs of the Home Town fabric line!  I got four charm packs myself and seriously, it's a LOT of fabric.  You can make a ton of stuff from these charm packs!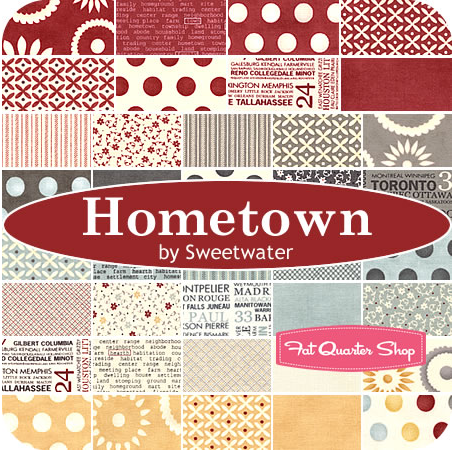 To enter:
Go visit The Fat Quarter Shop and tell me what you would buy if you had $50 to spend there!
For a second entry, Like Fat Quarter Shop on Facebook! (Be sure to comment here that you did)
You must be a follower of Honeybear Lane
This giveaway will end on Friday, October 7th.