I have a Silhouette.  And I love it.  It's a genius machine!
But I SO want this…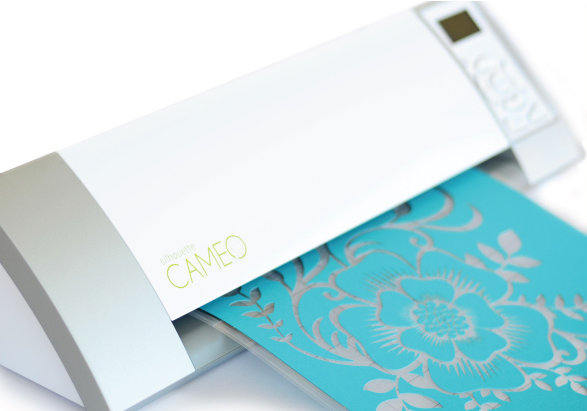 The Brand new Silhouette Cameo!!  Don't you??
Even the Silhouette Vinyl Starter Kit would be a great gift!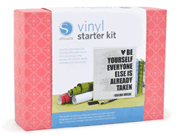 And November 25th through 28th, they are having a killer Black Friday deal!!  Check it out…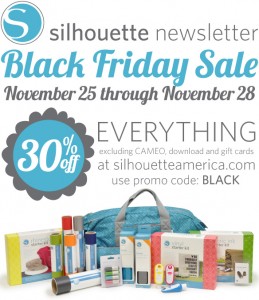 Black Friday Sale
Gear up for the best Black Friday sale this year – Friday, Nov. 25 through Monday, Nov. 28, save 30% on everything* at silhouetteamerica.com. Get a new CAMEO tote for just $70 (normally $99.99), or a starter kit for $28 (normally $39.99). Best of all you don't have to wait in any lines or camp out in a tent. Just be sure to visit silhouetteamerica.com before the end of the day on Nov. 28 (MST) and use the promo code BLACK during checkout to save 30% off your entire order*.
* Offer excludes Silhouette CAMEO™, download cards, and gift cards. Promotion valid 11/25/2011 12:00 AM through 11/28/2011 11:59 PM only at silhouetteamerica.com. 30% off sale only includes physical products purchased at silhouetteamerica.com while supplies last.
AND…

50¢ Shapes
The 50¢ shape sale is back in the Silhouette Online Store. Over 19,000 designs (including fonts and printable patterns) will be just 50¢ ea. from Friday, Nov. 25 through Monday, Nov. 28.
So to sum up, to get 30% off everything you can enter the code BLACK.
What's MORE awesome?  To get 40% off everything, use MY code at checkout:  HONEY
Did you read the fine print here and notice that the Black Friday sale doesn't include the new Cameo?  So how can you get your little paws on one of these babies?
Read carefully:
Go to this Secret Silhouette Site and use the code HONEY and you can save BIG on a brand new Silhouette Cameo!!  (Go to the site to find out the discount) Trust me, it's a killer deal–THEY WILL SELL OUT!  
So it's a great time to point this out to your hubby who may need an idea of what to get you this year for Christmas!
You can click on the sidebar ad to be taken directly to the Silhouette Store!
(And don't forget to use the code HONEY to save 40%!)
*Sidebar Ad takes you to the Silhouette store, NOT the secret Cameo site