Miss E will be 8 weeks this week.  And guess what?  She's finally sleeping better.  Not all night, definitely no.  But she goes to bed at 7 pm every night and I only have to get up once to feed.  How am I doing this?  Here are my tips and tricks: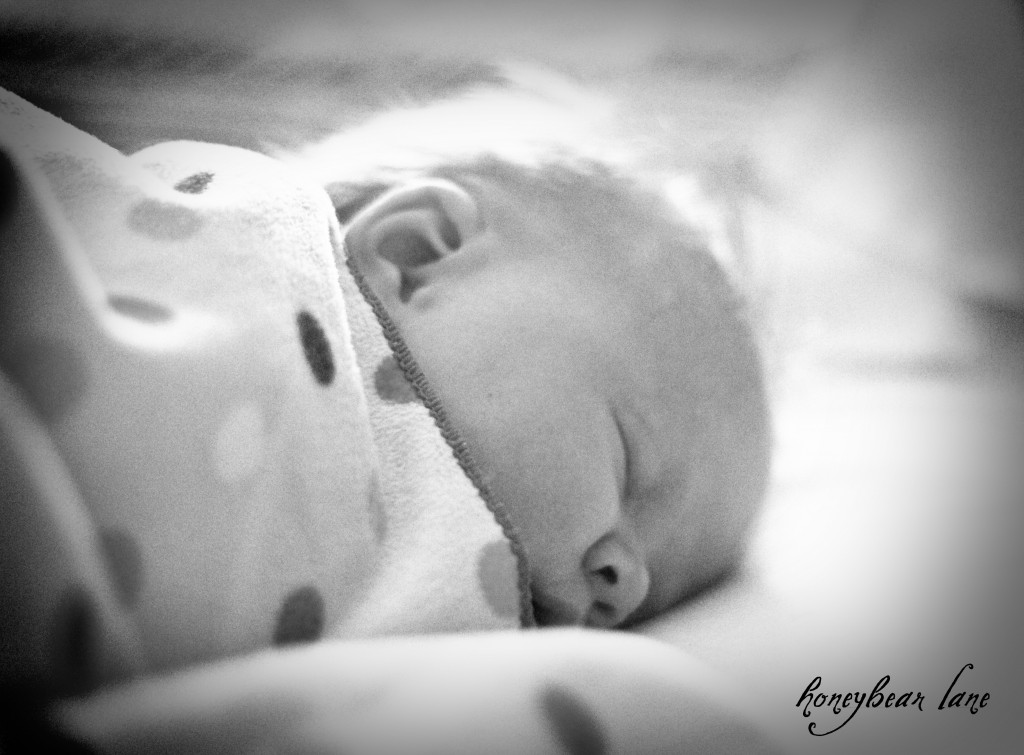 Getting Into Routine
E wakes up every morning now at about 7 am.  Today I got lucky and she slept in until 7:45.  I feed her first thing and she goes down about 45 mins later.  On a good day, she will sleep for 2 hours.  Then she gets up and I feed her and she's up again for another hour.  She can't stay awake very long.  The minute I notice her yawn or get a little fussy, I swaddle her and start getting her ready for a nap.  I make sure she is unswaddled when she is not sleeping.  Then when she's swaddled I offer her the breast to see if maybe she would like a small drink to help calm her over excited nervous system.  Sometimes she takes it, sometimes not.  After I give her a little I will rock her for a few minutes until I see her eyes get droopy.  Then I put her to bed.  I make sure she is tired but awake so that she will not wake up and wonder where on earth she is.
Don't Make the Wrong Sleep Associations
I read this analogy once:  Imagine that you go to bed in your bed, snug and sound.  Then you wake up in the middle of the night on the kitchen table.  Wouldn't you be completely freaked out?  When your baby goes to sleep in your arms or nursing they will not learn to comfort themselves back to sleep when they wake up in a different situation.
Babies Get Overtired
Throughout the day we play the game of put her to bed, she sleeps for awhile, gets up and eats, stays up for about a half hour, then goes back down.  The best advice my sister ever gave me was the fact that babies really can only be awake for 1 1/2 hr-2 hrs at a time.  And some babies can't even make it that long, like Miss E.  Babies get over tired and their nervous system causes them to be over stimulated so they can't settle down easily.  If you miss the window of warning (the yawning, droopy eyes, fussing) it will be much harder to get that baby to sleep.  I frequently miss the window in the late afternoon when I'm trying to deal with two bored boys and making dinner.  You win some, you lose some.
The Night time Routine Works Wonders
Finally it's bedtime so I give her a bath, which she LOVES.  She loves to sit in the warm water while I clean her cute body.  But she screams while I dress her.  I frequently put on that nighttime baby lotion that has the lavender smell.  Then she gets swaddled again, fed, rocked, and put to bed.  She sleeps until midnight when I wake her up to feed her before I go to bed.  She goes right back to sleep and sleeps until about 4:30.  I feed her and she goes right back down.  And then wakes at 7.
Confession:  She Sleeps in The Closet
We live in a 2 bedroom apartment right now and we're packed.  Fortunately we're moving in June, so for right now, the baby sleeps in our walk-in closet.  I had horrible anxiety about an earthquake causing all the boxes to fall on her so we took them all out.  I don't shut the door and she has a fan in there for white noise.  There's also a monitor so we can hear her.  And ever since we moved her in there we've all been sleeping better.  I think she can't smell me or whatever so she sleeps rather than waking up every hour to eat.  Hooray!
Confession:  She Cried It Out 
I had to resort to a couple of things to get this wonderful schedule.  After several weeks of every single night spending HOURS trying everything to get her to go to sleep at night, it was clear that the problem was that she was just overtired and couldn't settle herself down.  No amount of cuddling/feeding/rocking had helped her, so we finally just let her cry it out.  She spent about a week in training, every time she'd go down she'd have to cry if she didn't go to sleep.  I think the most she ever cried was 20 minutes before falling asleep, which really is not bad.  And if she ever cried longer, I got her back up.  Towards the end she only cried for a minute or two.  Now she rarely cries herself to sleep.  She is much easier to settle down and it only takes about 20 minutes to get her down.  It's better that she cries for a few minutes and gets hours of great sleep than have me wrestle with her for hours (still with crying) and lose all that sleep.
Confession:  She Sleeps On Her Tummy
That's right, she sleeps on her stomach.  Oh, the horror!  I know, it's not ideal.  But she would NOT sleep on her back.  She'd wake up so quickly and frequently.  My oldest was a stomach sleeper also and I just had to finally put all my faith in God that He would protect him from SIDS.  When it comes down to no sleep vs. stomach sleep and the SIDS risk, you have to get sleep.  So she sleeps on her stomach.  And I've watched her sleep, she is very good at turning her head, has great head control.  She's even rolled over a couple of times.  I check on her frequently and I feel pretty confident that all will be well.  I may get a lot of disapproval with this admission, but there it is.  I don't feel like a bad mom.
Don't Let Guilt Overcome You
As a mom, you do what you have to do.  You do what works for you and your family.  You make choices that are sometimes the lesser of two evils.  If you want a great reference for sleep and babies (and kids!) read "Healthy Sleep Habits, Happy Child."  "The Happiest Baby on the Block" is also another one I love.  Lots of people swear by Babywise but I've never read it.  Every time I think about reading it I get deterred by reviews.
Accept Your Child For Themselves
After I got my first child to sleep through the night at 3 months and take great 3 hours naps every day, I thought I had baby sleep DOWN.  But then my #2 came along and totally threw all my pride out. the. door.  This boy would NOT sleep.  He woke up every hour for like 3 months.  He would only sleep on my stomach.  He never slept on his tummy.  He would NOT cry it out and cried for hours.  I couldn't take it.  He finally slept through the night consistently by 13 months.  And he still frequently wakes up at night.  Lesson learned:  Some kids just have a difficult sleeping personality.  And so you do what you have to do to get them to sleep!  Even if that means lowering your expectations and being very, very patient.
So that's what I've done.  And it's working for us so far.  But each day is a little different and sometimes it's not a good day.  Sometimes she wakes up too early.  Her REM cycle is 1 hr 10 minutes and sometimes she can push through it onto a longer nap and sometimes not.  I'm definitely not an expert, but I feel okay with the decisions I've made and I have three healthy, happy children.  Remember–do what works for you and what you feel best about!  And don't let anyone else make you feel bad.  You know what is right for your baby.