Weigh-in Wed: THIS time! THIS time! NO THIS time!
Another brutally honest Weight Loss post.  Hooray.
Do you want to know why I haven't posted my weight loss stats in like a month and a half?  BECAUSE I HAVE NOT LOST ANY WEIGHT.
Here's the prob:  every week I think 'This is it!  This week I will do Weight Watchers and exercise!'  But then SOMETHING always gets in the way.  For a long time it was my husband's board exam that he was studying for–it was SUCH a stressful time.  Then after that was done I got The Cold That Would Not Die.  First a sinus infection, then a horrible horrible cough, then a painful sore throat.  I'm at the tail end of the cough and sore throat now.  And just as I'm getting better, all three of my kids get sick.  I mean REALLY?!!!
But no more excuses for me!  I think that in order for me to truly lose weight, I will have to just do it despite the situation.  Obviously if I'm dying in bed then that's probably a legit excuse.  But now, despite the stress and the colds, I WILL do it.  All it takes is self control.
I keep posting every week even when I don't have much to say because I don't want this goal to just fade away.  Sometimes you can look at your fatness in the mirror and think, 'Meh, I look okay!' But then I saw a picture that my husband took of me and I was like, WOAH.   Get on that treadmill.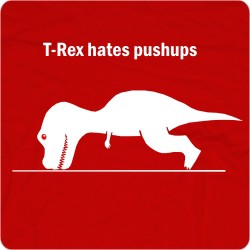 So hopefully I will be able to post some actual results in a few weeks.