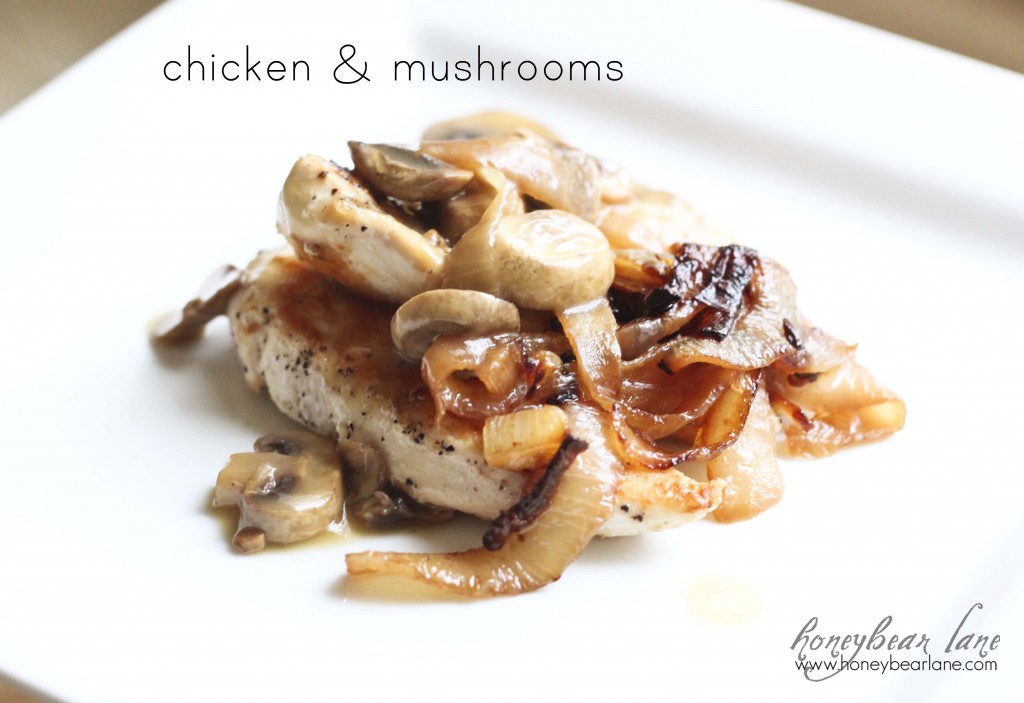 I want to claim that I invented this recipe.  So I will!  This recipe is a bit involved but impresses guests.  And it's SO good.  I want to eat it right now.  There are three parts:  Pickled Onions, Chicken, and the Sauce.

Part 1:  Pickled Onions
1 medium onion, red or yellow
1/3 C. red wine vinegar
2 Tbs butter
3 tsp. soy sauce
Chop 1 medium sweet onion into half moons.
Sautee onions in butter until they are browned.
In the picture there is also minced garlic, which you can add.
However, add the garlic after the onions have sauteed for a few minutes.
Add red wine vinegar and cook on medium low heat for about 10-15 minutes.
Add soy sauce and simmer for another 10 minutes.
The onions should be very skinny and dark.
Taste them–they taste awesome.  🙂
Part 2:  the Chicken  
Salt and pepper each side of 6-8 chicken tenders.  Then sautee in a little olive oil in a large frying pan.  When they are cooked through (about 3-4 mins on each side) remove from the pan, set aside.
Part 3:  the Sauce
1 cup sliced white mushrooms
1 cup white wine
1 cup chicken broth, reserve 2 tbsp
2 Tbsp lemon juice
1 Tbsp Cornstarch
In the same pan that you cooked the chicken in, pour the wine, broth, lemon juice, and mushrooms in together.  Boil for 5-8 minutes, until sauce is reduced in half.  For a really good reduction, I reduce it for longer than that.  Mix up the reserved chicken broth with the cornstarch.  Pour it in your reduction sauce and mix until it's thickened.
Serve the chicken with the onions and sauce poured over.  These are great paired with the Roasted Potatoes.