Nautical Quilted Pillow Cover
My new color crush is navy blue.  Especially that chevron navy blue I did in my Quilted Camera Strap.  So I'm slowly transitioning the purple accents in my living room to navy blue.
By the way–I am SO excited to move to my new place.  It's going to be so much bigger and it has a ton of light coming in.  (Cue angels singing and Heaven opening.)
So I whipped up some pillow cases this week, one from the Navy Chevron, done in my 10 Minute Pillow Case method–seriously SO fast, I love it!  And the other I quilted with navy blue thread.
If I were to do this again, I would have quilted the word "beach" or "coast" or something more ocean-related. And I would have gone slower. But I am an impatient person…you should know that about me by now 🙂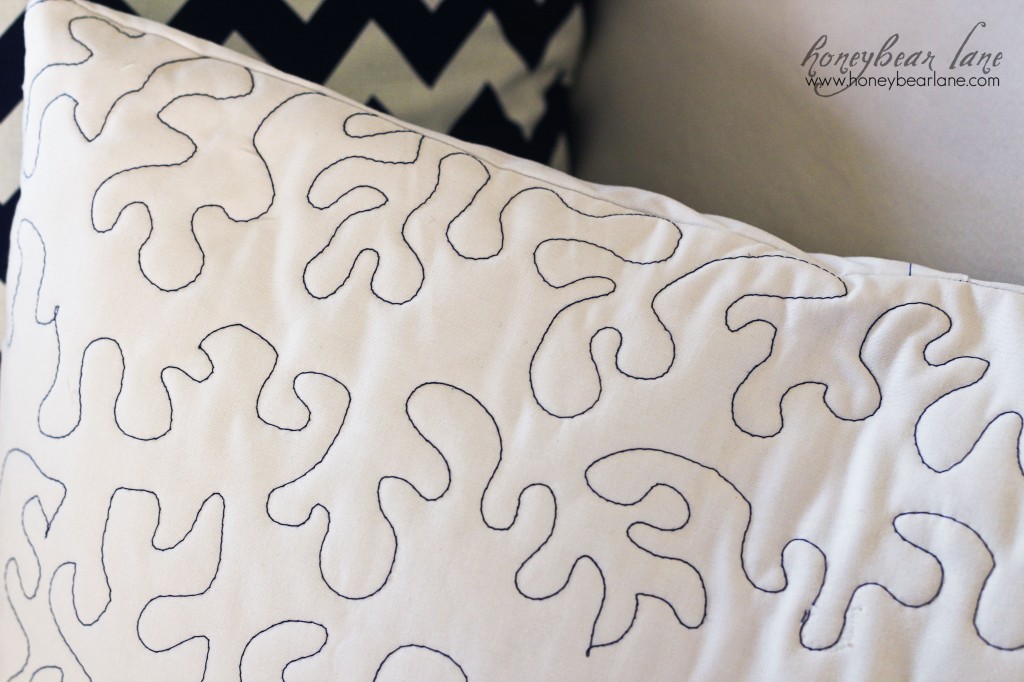 The style of free-motion quilting I did was one I kind of invented–Coral, to imitate the coral found in the ocean. Kind of looks like seaweed too.  And I threw in some rough "sketches" in there too.

Here's the rundown:
First, you take the pillow that you want to cover and cut out TWO squares about the same size but with a couple of inches extra.  One can be in muslin because it's just the back of the quilted piece which you won't see.  Then cut two pieces of fabric 2/3rds the length of the square you just cut (but same height.)  Those will be for the back.
The next step is basting.  This is just like the Quilted Camera Strap–very quick and easy basting.  You need to get a basting spray.  I have Sullivan's Original Quilt Basting Spray (the pink can) which has been great.  Just spray each layer, put it together like a batting sandwich (yummmm….batting sandwich…) and smooth out all the wrinkles.
Then use your free motion foot or darning foot to quilt it.  You can go slowly if you are unsure but I like to go fast–it's a rush!  For the coral pattern you just kind of "draw" it as you go.  I started out doing the typical puzzle quilting but then added the coral affect into it.  You can also draw in a fish or a word or something.  It's just fun!
After you've quilted it, you will assemble the pillowcase.  Trim your quilted piece to a square with straight edges.
Then take the two back side pieces and turn one edge under two times at a 1″ thickness.  Iron the edges down.  Then sew them down.
Place the right sides of the two back pieces against the right side of your quilted piece.  Overlap the two finished edges of the back to make the envelope enclosure.  Pin the sides.
Sew the perimeter with a 3/8ths seam allowance (that's lining up the edge of the presser foot with the side).  Clip the corners and flip it right side out.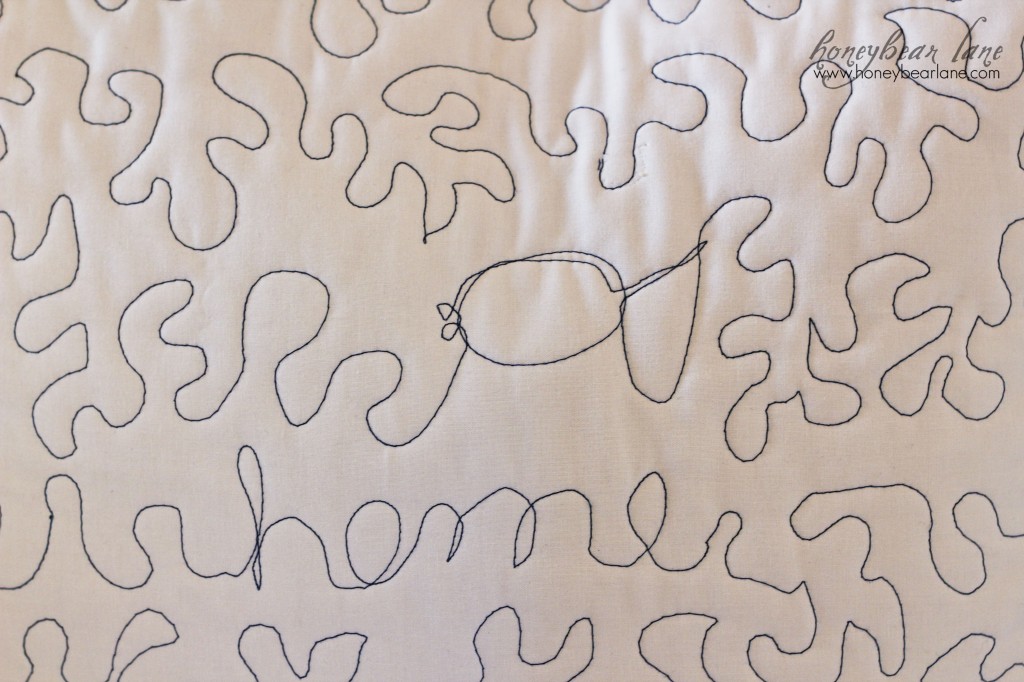 Makes a great cuddler for a cute baby, right?
 Linking up to