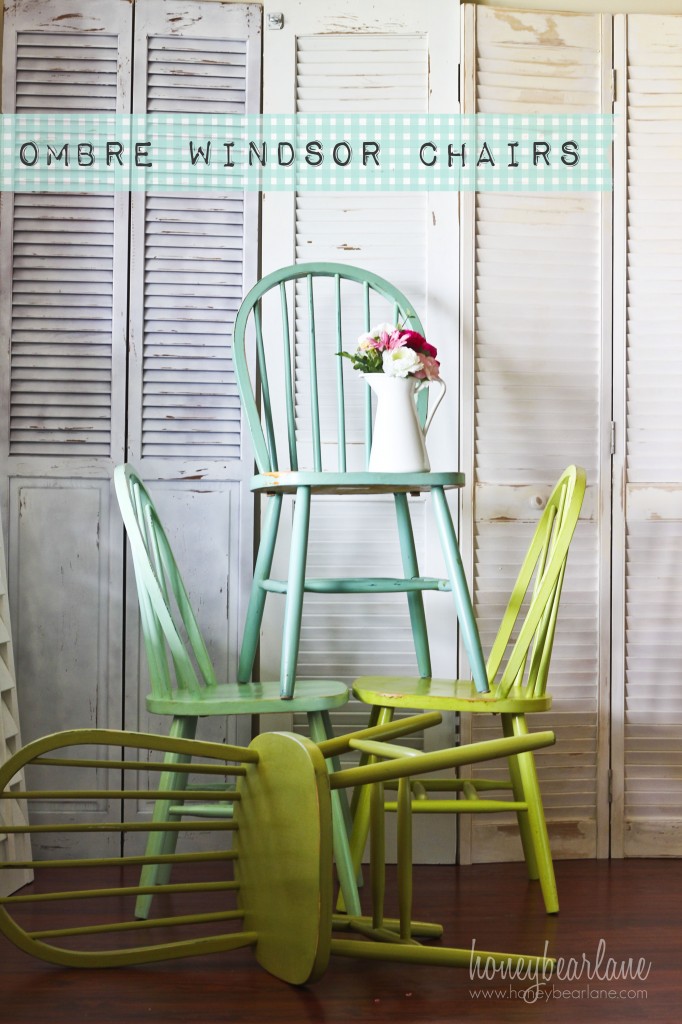 One of the first projects I did for


was tackle the dining room chairs.  They are the very common and simple Windsor-style chairs and I debated even keeping them since two of them had broken and we threw them away.  But right now I didn't have the time to search for new cool chairs so I decided to paint these.  And I love them!  The different shades of green and blue add a calming effect in my dining room.  I can't wait to show you the final dining room reveal.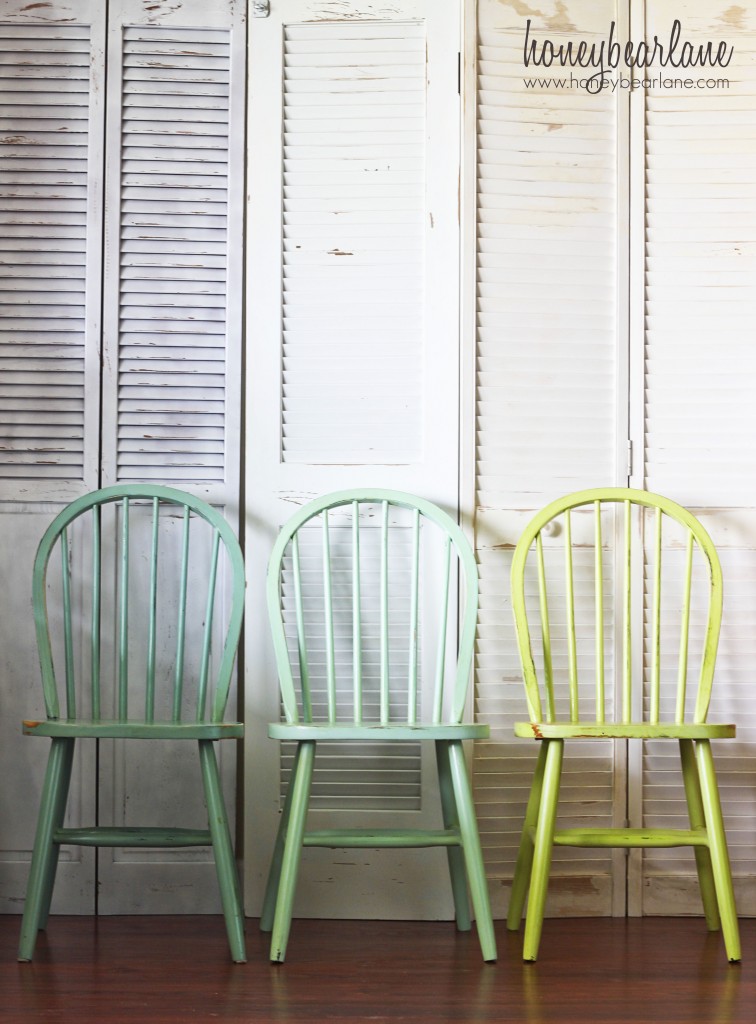 The colors I used:  turquoise–Martha Stewart Yucca Plant, aqua–Martha Stewart Sea Glass, lime green-Glidden Granny Smith, sage-Glidden Spanish Olive.  I bought all of them at Home Depot.  AND I painted each chair with only a sample size of paint which costs about $3 each.  At first I was going to paint them all the Yucca Plant color but then I changed my mind and got a little crazy with paint colors!  And if you can't tell by my recent blog and logo redesign–I LOVE LOVE LOVE green and aqua together.
Click to read about how I painted them!
Here's my process:
Here's my original chair.  Pretty exciting, no?  Also in terrible shape.  They'd taken a beating from moving three times and surviving kids.  So this is what I normally do to paint solid wood furniture: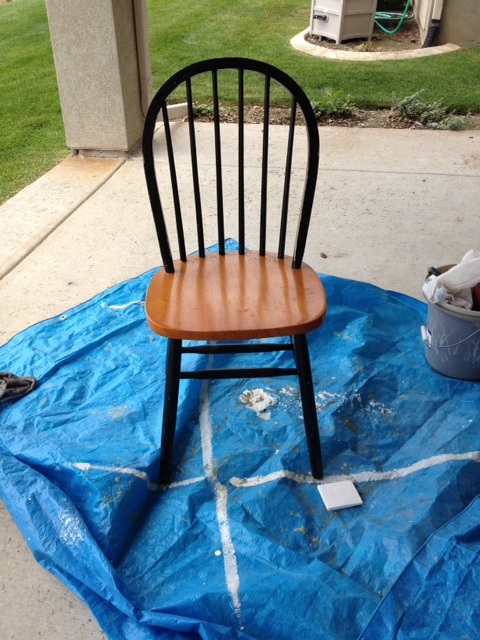 Preparation:
First I saturate a cloth with Liquid Deglosser and wipe down the chair really well.  This is also the step where I wipe off any residual gunk.  This works kind of like sandpaper in liquid form:  it takes the sheen off the paint.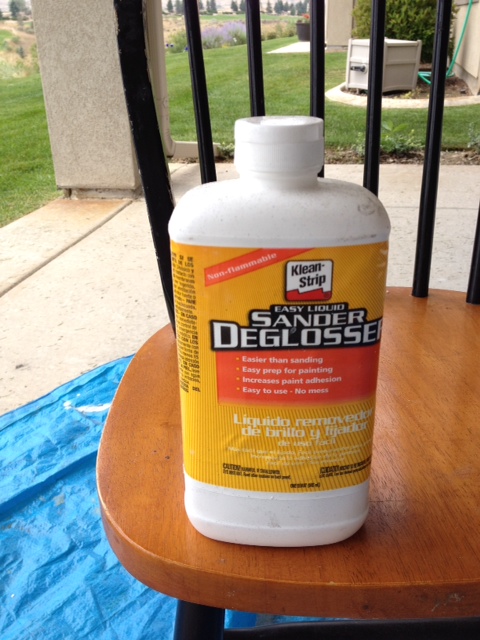 However I don't feel confident painting with only this step, so I took my trusty Mouse palm sander and went over the surface with an 80 grit paper.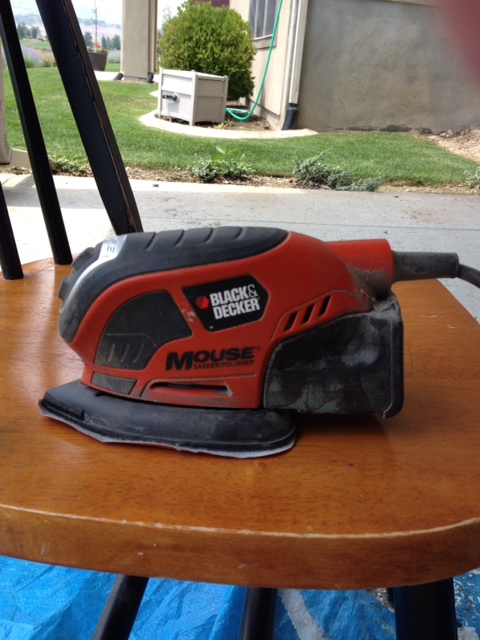 I didn't sand off all the stain and paint, just to create a dull surface for the paint to adhere to.  After this, I used a microfiber cloth with mineral spirits to wipe off all the dust.  Or you can use tackcloth.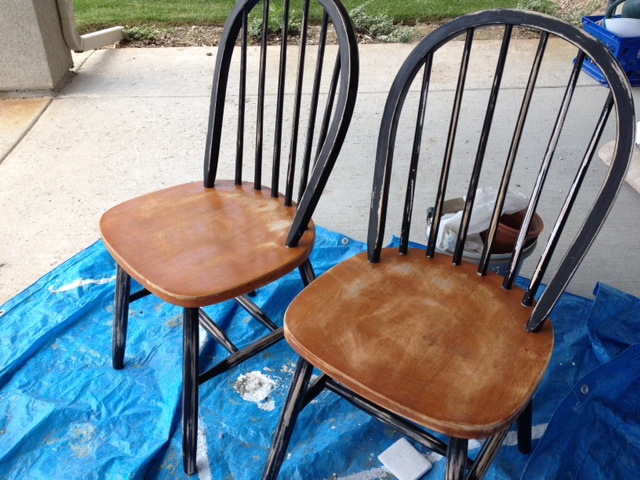 Painting:
Furniture restorers will probably squirm when I say this, but I used those cheap-0 dollar brushes to paint nearly everything!  I have a bad habit of washing out my brushes right away so if I let one harden, no biggie–I can throw it away.  I painted even strokes in the same direction.
For one of the chairs I actually let my little boys help me paint–and that one has a lot more gobs than I would have liked.  But they are just for me so I don't really care and it's fun to know they helped with it.
I would paint one coat and let it dry before painting another coat.  I didn't really sand in between coats though, although I normally would.  I've learned along the way.
For the distressing, I used a 220 grit pad on my Mouse sander and just went to town on my chairs.  I really wanted the distressing to show through so I just had fun with it.  Distressing is hands down my favorite part…I love how it really brings out the character in the piece.  I tried to make it look natural for the most part–distressing where it would naturally rub away over time.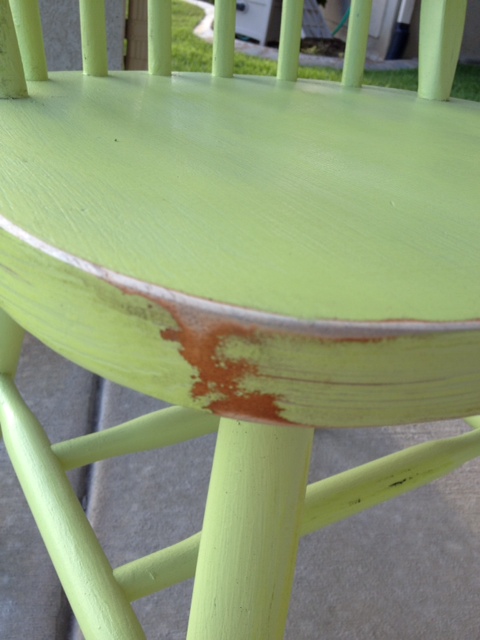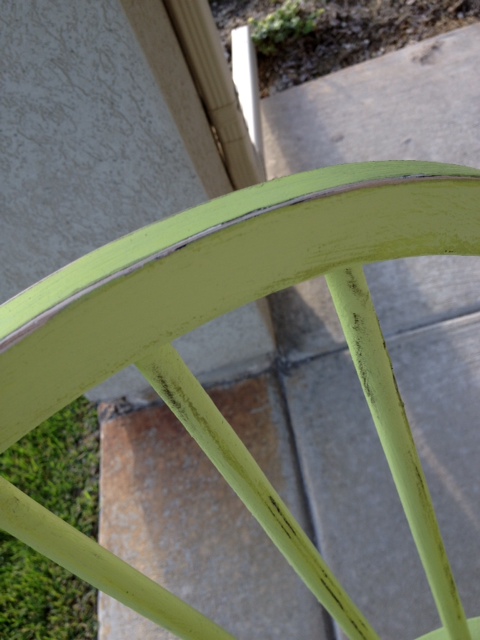 To seal them, I painted Minwax polyurethane over the top.  I did two coats and sanded in between.
Easy as that.  Just time consuming.  But over all it was fun and I love the finished result!
Linking up to:
Thrifty Decor Chick