Secrets to Buying and Selecting Fabric
In my near-three years of blogging, the number 1 question I get asked is "Where do you get your fabric?!"  People have told me many many times that I have an eye for colors and design and I choose excellent fabrics that go together.  Here's what I have to say to that—Thanks!!  But also, I'm going to let you in on some of my secrets to buying and selecting fabric.
DISCLAIMER:  This is not a post about how to get fabric on the cheap.  I have spent many hundreds (probably thousands, yikes!) of dollars on fabric.  If you want high quality–you will have to pay for it.  
When I first started sewing again, I noticed that the things people were selling on Etsy were made of these exquisite fabrics that would not be found at places like Joanns or Hobby Lobby.  I also noticed that I was seeing certain prints more frequently than others (like Amy Butler or Michael Miller, but I didn't know at the time.)  I started looking into this more and discovered a whole world of fabric I didn't even know existed: DESIGNER FABRIC.
Designer Fabric is sold almost exclusively online.  However you will come across a quilt shop here and there that sells some of it too, but they usually sell at about $10-$13 a yard.  Designer Fabric is sold for around $8.50/yard online, but once you factor in shipping, it comes out to about $10/yard.  But you can get nearly everything online, whereas the quilt shops only sell certain prints.
Designer Fabrics are sold by companies like Michael Miller, Amy Butler, Riley Blake, Alexander Henry, Moda, Robert Kaufman Fabrics, and so many more.  Within those companies are the actual fabric designers.  Most of the companies have in-house designers, but some start off doing work on a more contractual basis, which is where you hear their names.  My friend Sarah Jane whose lines of fabric "Children at Play" and "Out to Sea" are some of the most amazing fabrics I've seen, was discovered and approached by Michael Miller Fabrics, who asked her to start designing for them.  She was originally an artist and illustrator and I also love her art (I have a couple of her prints.)  So if you are looking into being a fabric designer, you need to work on your art and graphic art because that is what they look for!  Fabric designers will spend a year coming up with a 'line' of fabric–fabric that is all based on a similar theme and done in different colors.
Where to Buy Fabric
So where do you buy these fabrics?  Well you can't buy them directly from the companies because they only sell wholesale (unless you want to buy a whole bolt!)  But just to get a yard or two, you will need to purchase from Fabric Shops.  In the course of my blog, I have introduced you to MANY different fabric shops that I've shopped at.  Here's a few you might remember:  Skye Reve Fabrics, The Fabric Shoppe, Raspberry Creek Fabrics, Poppy Seed Fabrics, Hawthorne Threads, and the Fat Quarter Shop.  They are ALL online.  Several of those are shops in Etsy.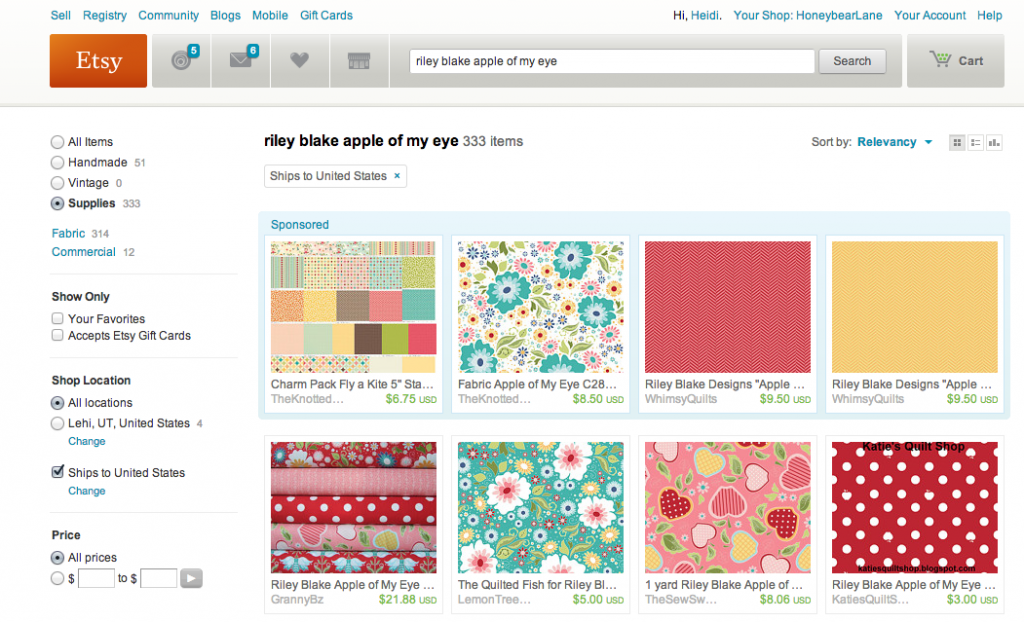 So if I have a particular fabric in mind, I go to Etsy and search for it by name.  Then I select "Supplies" on the side and it will bring up only the fabric for sale.  That is how you find out how popular or rare a fabric is.  For awhile I was crushing hard on the fabrics from the Ruby line by Bonnie & Camille (Moda.)  Well one thing I've learned about Moda fabrics, is that they disappear.  Some companies will sell their fabrics as long as they continue to sell.  But Moda only seems to offer them for a limited time and then stop producing them.  Michael Miller produces as long as it sells.  After the Ruby line had been out for awhile, I would search for the fabrics on Etsy and less and less sellers would have any in stock.  If I wanted to get more than a yard, I couldn't (from one shop.)  So if you see this happening to your favorite fabrics, better buy it while you can because you won't be able to get it again.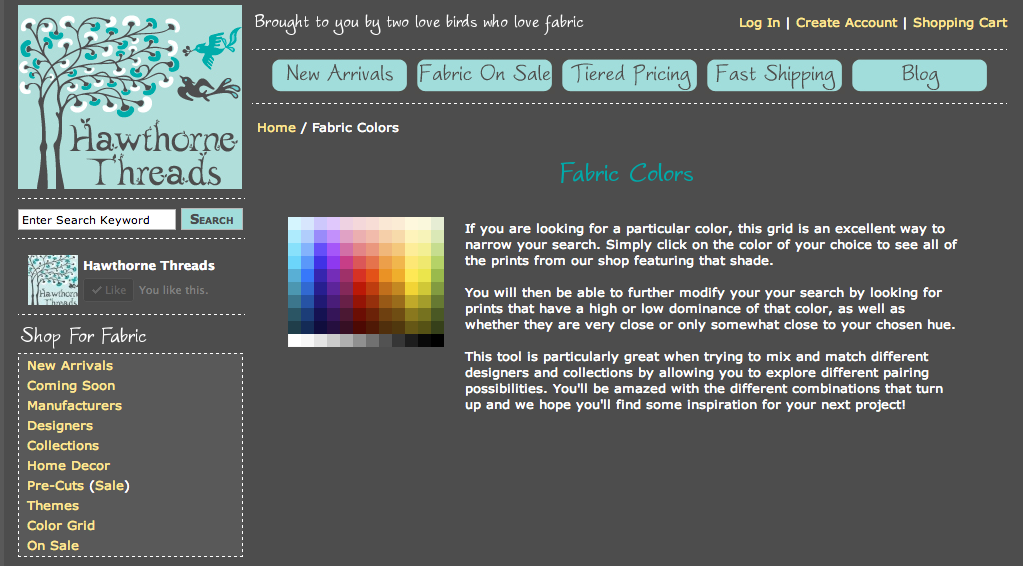 I frequently shop at Hawthorne Threads because they have a color selector that enables me to shop by color VERY easily.  I can just go Shop by Color and then choose my color and find a suitable fabric.  They also frequently show samples of items made with that fabric so you can see how it looks in real life.  Sometimes fabric doesn't match how it looks online and that can be frustrating.  I also like to shop there because they have a very large selection and I can bundle my shipping costs.
The Fat Quarter Shop seems to carry mostly only fabrics by Moda.  So if they don't have a fabric by Moda, you know the line has been discontinued.  They also have lots of fun packs like layer cakes, jelly rolls, charm packs, etc.  They also have a bunch of quilt patterns for sale…I sell mine there!  If you have quilt patterns you'd like to sell, just contact them and they will be happy to sell them for you.  I try to stay away from Moda fabrics (unless I'm totally in love with them) because they discontinue so quickly and I can't get them again.
But what about poor old Joanns and Hobby Lobby?  Yes, I still shop there!  Joanns has a good selection of solid fabrics so I always go there for that.  I also buy my muslin there in bulk because using my 50% off coupon saves me a TON of money.  And then they hate me because they have to roll out an entire bolt of fabric and roll it back up.  Man, the ladies at the Mesa Joanns were SO grumpy and mean.  I also buy all my batting there.  As for Hobby Lobby, their fabric is always 30% off and I get solids there too, as well as some broadcloth and polka dots.  I also get my minky there mostly.  Hobby Lobby's minky is the soft, high quality minky that you can buy online.  Joanns is not.  Joanns may have more color options but it's not as plush.  And I buy my ribbon at Hobby Lobby when it's 50% off.
How to Choose Fabric
Now…how to CHOOSE fabric.  So many people seem to struggle with putting fabrics together.  It comes very easy to me, and it helps when you have a gigantic fabric stash.  Here is how I do it:
I will sometimes choose my favorite fabrics from a new line and go from there.  I rarely make something from the entire line…I'm pretty picky and have never actually purchase an entire line of fabric (except for Riley Blake Chevron.)  When I choose the fabrics I like, I choose fabrics that will go with lots of different things, so the print has to be fairly neutral.  I stay away from characters and pictures.  I bought this beautiful hummingbird fabric once a long time ago and still haven't used it.  It just has too many odd colors that it never matches anything.  That's why I buy a LOT of polka dots.  I also love the chevrons (so many colors, go with so many things.)  I wish there were better stripe options.  I will sometimes buy a fabric with a damask print or something similar (swirly pattern) to have something different.  And I stay up with the trends and buy things that are very popular because that increases the chance that people will like it (and hence want to buy it!)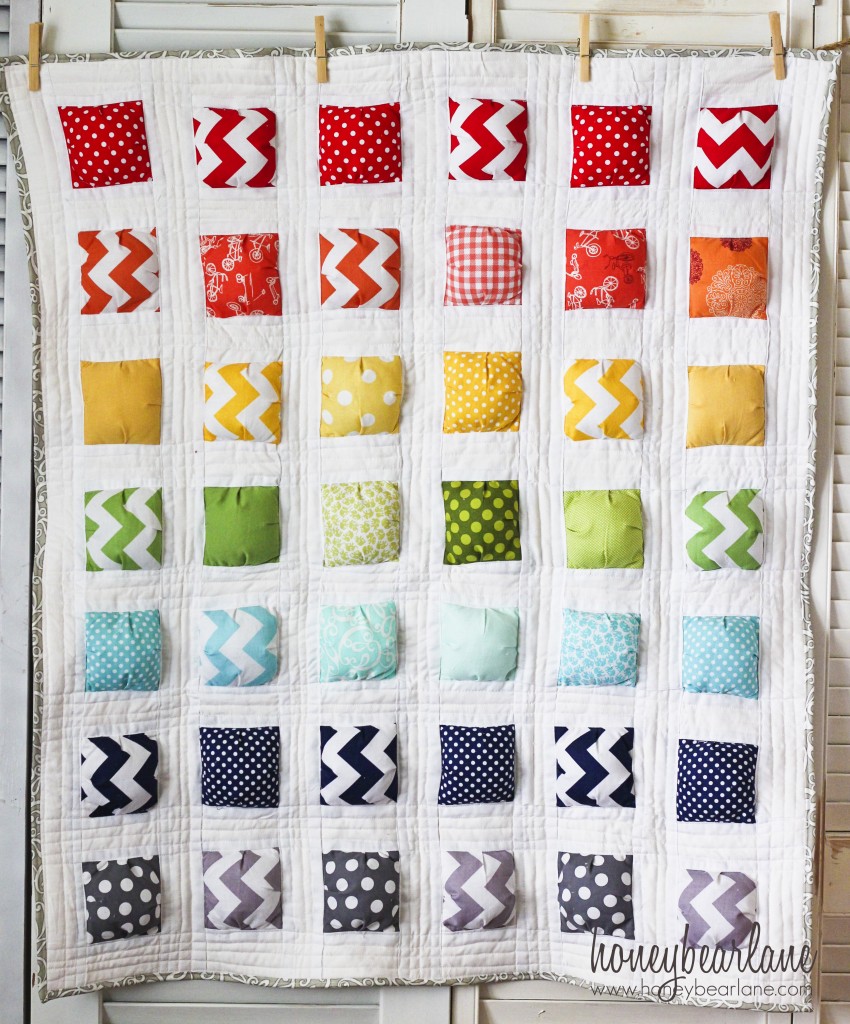 One problem that I frequently run into is the variance in shades of colors.  In the quilt pattern "Puffy Island" you will notice that the orange is more like a pink-orange.  I already had a ton of yellow-orange (there is one yellow-orange on the end there) and it didn't really match.  However I already had all the puffs sewn before by my seamstresses and so I used the yellow-orange puff to demonstrate how to make a puff for that quilt.  You can see how they don't really match perfectly.  This is just a game you have to play, which is why is it important to try and see something made with the fabric before buying it.  You can search the fabric on etsy and search the Handmade Items to see things made with the fabric.  Also, if you are going to make something for someone else custom, it is a good idea to send them swatches of fabric before making it.
Putting Fabrics Together:  
I have so much fabric these days that it's pretty easy for me to find colors that work together.  I just go into my stash and pull out colors that just seem to mesh well.  But I have always been very in tune with color and I know which combinations look amazing together.  Aqua and turquoise pretty much look good with anything, so you will find a lot of that in my quilts.  I usually find two or three colors that look great and mix in one or two neutrals.  White, cream, black, brown, and gray are all neutrals.  In my Mary Jane quilt (which mostly came from the Apple of my Eye line by Riley Blake) I had two very bright colors–red and turquoise, so I had to really neutralize it with a lot of white.  I love white–it makes the color really pop out, takes one for the team.
Or you can stay within the same family of color.  One of my all-time favorite quilts was "La Mer" (French for The Sea) because the colors just mixed so well and conjured up images of the Mediterranean Sea (or what I think it looks like).  I stayed in the same color range here, using dark blues, lighter aquas, and green.  I think a pretty quilt would also have pinks and oranges too–staying in the same color range.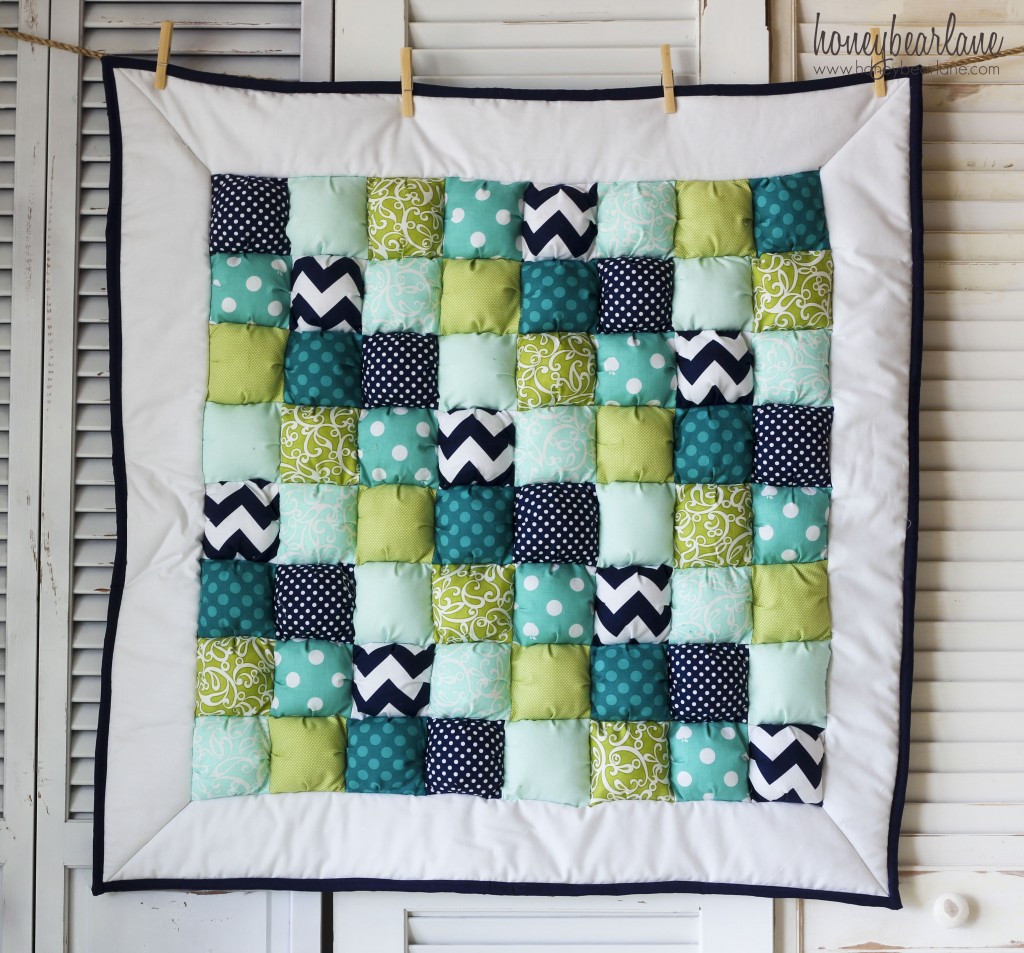 Like I said, I will sometimes start off by using a few fabrics from the same line because they were designed to go together.  But I inevitably find other fabrics that match them and they are not from that same line.  I use a LOT of the Ta Dot fabrics by Michael Miller because they come in every conceivable shade and are so cute and visually interesting.  I hope they never stop selling those.
Sometimes I find one or two fabrics that are just amazing and I will design a whole quilt around it.  But that is more rare.  Usually I work on a color basis, finding colors of fabrics that go together well and filling in the rest.  It really makes me sad when I've designed a beautiful quilt that sells well and then one of the fabrics is discontinued (a problem I'm currently having with the purple Amethyst quilt.)  I have to start over usually because it's pretty difficult to just sub in a fabric and get the same result.  Each design is a work of art.