Silver Herringbone Painted Dresser
I love, love, love my boys' silver Herringbone painted dresser!  It took some patience and time, but it was soooo worth it!  Don't you love this?
I've been not only decorating my baby's nursery but also my boys' room.  They have more of a nautical theme but it's pretty loose.  But everything I'm doing in there is so fun and just cute!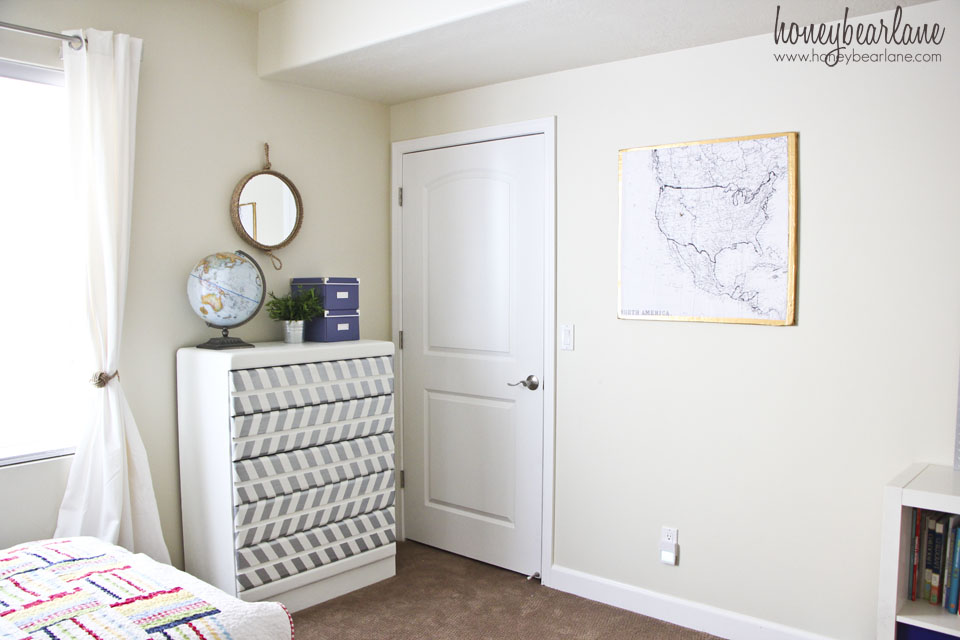 So first off, I know what you're thinking…that's not a true Herringbone.  Well I got completely finished with taping and painting and didn't even realize it until it was all done!  I kind of bugged me after I realized it but I've gotten over it.  I really love it as it is…kind of an optical illusion!
Here's a little confession…I actually tried to mod podge a picture on the front the dresser before I did the herringbone…and it was a BIG FAT FAIL.  I should have taken a picture.  Mod Podging is not my forte.  Although after I failed I realized what I did wrong so maybe I'll try that another time.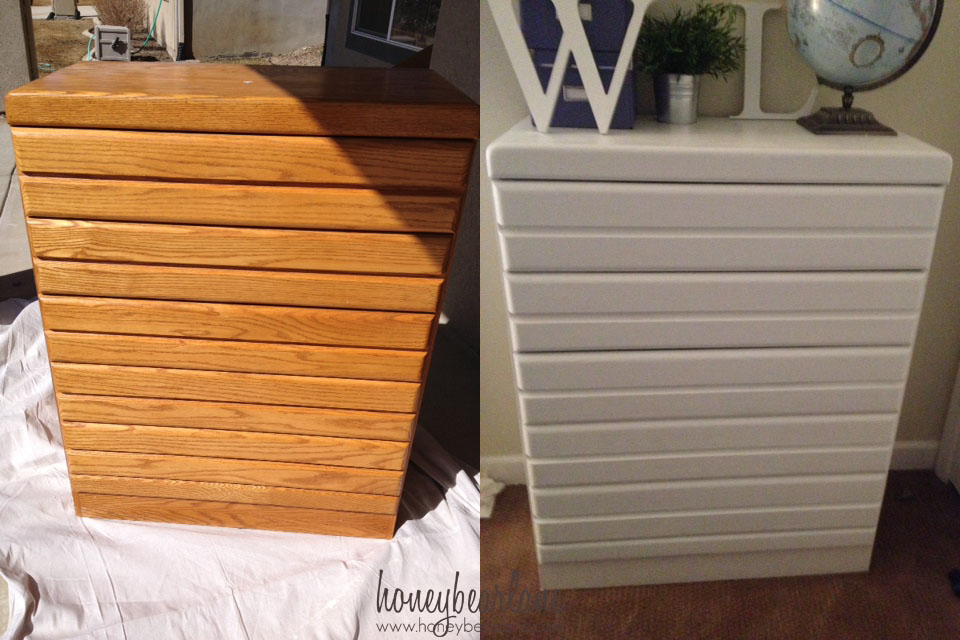 This dresser was very drab and plain before…not quite sure what to do with it.  But I realized that with the front being the way it was, it was perfect for a herringbone pattern.
Here's how to paint a Herringbone pattern (my version!)
All you need is Painter's tape (1.5 inches wide) and your paint color of choice!  And of course all the other things like a paintbrush and poly or wax.
This is kind of hard to explain so I'll let the pictures do the talking…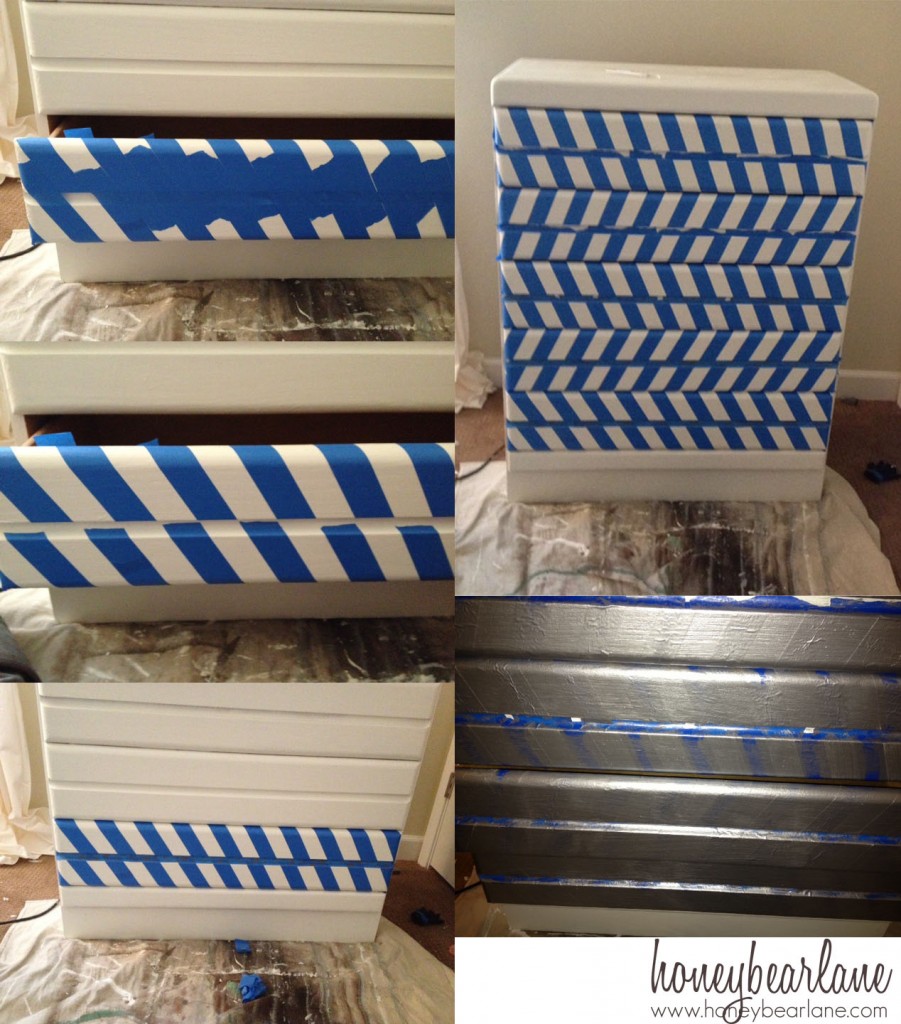 Basically I ripped off long pieces of tape and placed them on the drawer front at an angle.  I made sure there was an overhang so I would have something to line up with the next stripe.  Then I used an Exacto knife to cut off the excess and taped off other areas I didn't want paint on.  I also alternated the angle between every drawer so some faced one direction and some faced the other.  And don't forget the edges and sides of the drawers.  Then I painted the dresser front with two or three coats of Martha Stewart metallic silver paint.  After it was dry, I pulled off the tape (the most exciting part!)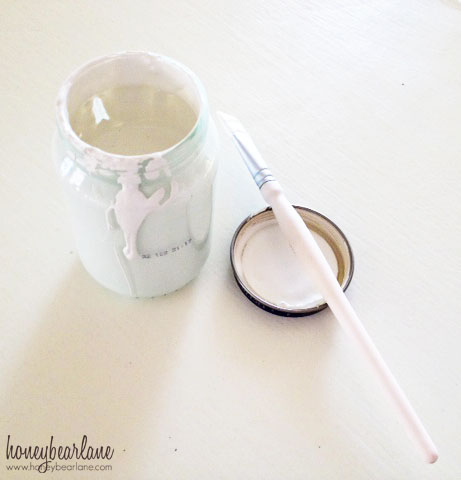 And I had reserved some of the white paint from the undercoat for touchups where the paint had bled through.  I just touched it up here and there in a few minutes.  I like to keep my paint reserve in baby food jars…it's so much more accessible than a big ol' gallon of paint that curious boys like to come and mess with.
Finally, I finished the piece off with Annie Sloan clear wax.  I like finishing my pieces with this because it's low-mess and quick and odorless.  By the time it comes to the finishing step I just want to be done so wax is quick and painless.  I didn't distress this at all which is new for me but you know…not everything can be shabby chic.  Plus like I said, I just wanted to be done.
So what do you think?  Are you digging the herringbone right now?  What do you think of this dresser?
Linking up to: My Repurposed Life, 504 Main, Tatertots & Jello, Whipperberry, Flamingo Toes, Craft-O-Maniac