Sweet and Spicy Sesame Chicken
Today's Recipe of the Day: Sweet & Spicy Sesame Chicken!
If you are a Chinese food fan, you should try this recipe!  Sesame chicken is a great recipe for both adults and kids because it's basically like chicken nuggets with a little sauce!  If your kids don't like spicy food you can leave out the heat in the recipe or just serve it to them without the sauce.
This recipe is a little more involved than more normal recipes but if you want sesame chicken that badly, you will make it happen!  It's really not complicated, just quite a few ingredients and a little bit of time involved.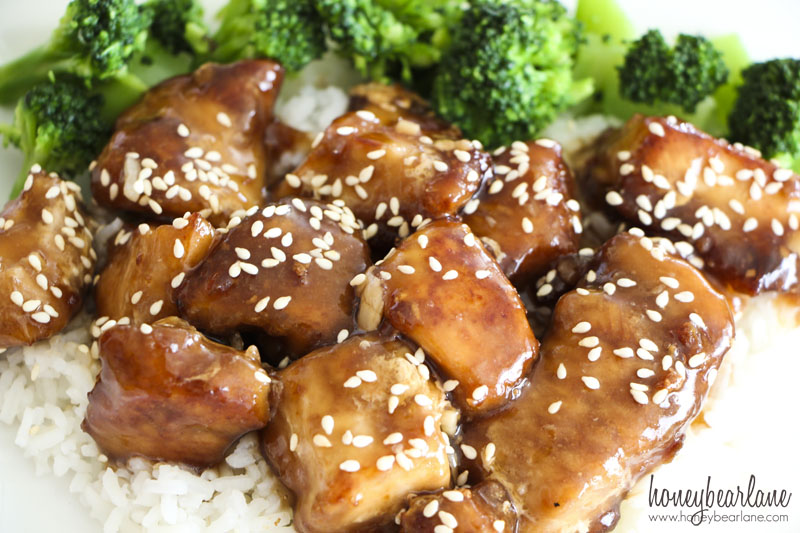 Sweet and Spicy Sesame Chicken
Adapted from "Perfect Sesame Chicken" from allrecipes.com
Ingredients
Chicken Breading Ingredients:
2 tablespoons flour
2 tablespoons cornstarch
¼ teaspoon baking soda
¼ teaspoon baking powder
1 tablespoon low-sodium soy sauce
1 tablespoon dry sherry
2 tablespoons water
1 teaspoon olive oil
½ teaspoon sesame oil
1 pound skinless, boneless chicken breast meat cut into small pieces (cubes)
Sesame Sauce Ingredients:
1 Can Chicken broth
½ Cup Brown Sugar
2 Tbsp Rice Vinegar
2 Tbsp Soy Sauce
1 Tbsp Sesame Oil
1 tsp chili paste or your heat of choice
2 cloves garlic, minced
¼ cup cornstarch
Extra:
olive oil for frying
Toasted sesame seeds
Rice for pairing
Instructions
Mix all the chicken breading ingredients together (dry ingredients first, mix, then add the rest) and cover the chicken well. Then heat up a frying pan with about 1 cup olive oil and fry each piece of chicken til browned and cooked through. Drain on a paper towel.
Meanwhile mix sauce ingredients minus cornstarch in a saucepan on the stovetop. Bring to a boil, then mix the cornstarch with a little water and add to thicken...add it slowly till you reach desired thickness. Turn heat to low until the chicken is done.
When chicken and sauce are both done, combine in a bowl and toss. Top with toasted sesame seeds
Serve over rice.
Do you like this recipe?  Make sure to save it to your Ziplist by hovering over the box and clicking on 'Save'!
Need Dinner Ideas?  Check out our other Recipes of the Day!