Creating a Dream Bathroom
Well after many months of debating which job my husband should take (and at times even wondering if he would even get a job) he finally made a decision.  For privacy reasons I'm not going to announce it here but we are so excited!  We will be staying in Utah and his job is much closer of a commute than his residency was.  And the biggest thing that this means to me is that we are finally going to be able to buy a house!!  Yay!!
We are debating whether or not to build or buy, but one thing is for sure–it's gonna be awesome.  Decked out.  Haha!  This will be a timely, slow process but my husband and I both have our ideas of what makes a house a home and what little luxuries we will want to have.  One thing we both agree on is having an awesome master bathroom.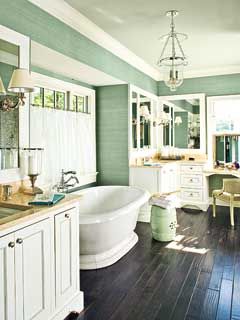 Our dream master bathroom has got to have an amazing deep bathtub–we both love those modern style ones, like this one and this one.
It must have double sinks for sure, a private toilet area, and finally–a great shower…with several shower heads/sprayers.
I recently learned about a new Shower company called Mira Showers.  They are very modern and have tons of amazing options.  They are also very eco-friendly and fit every kind of need you may have.  There is a guide that shows you which kind of shower would be perfect for you and your household, to help you get the most out of your water and pressure system.  There are also shower wall panels from Mira Showers that make it easy to change out–no need to re-tile!
There's really nothing more relaxing than having a little oasis as a bathroom.  I'd love a room where I could shut the door, light some candles and take a long, hot shower or bath.  I would love a room where the colors are neutral, like a spa.  I want white porcelain fixtures and maybe gray accents.  I want a door to the closet so I don't even have to leave the bathroom to get dressed.  And I would love a frosted glass door that leads out into the master bedroom.
There are so many things to consider when building/remodeling a bathroom…I'd love to hear your thoughts! What would you do if you could create your dream bathroom?
This post has been sponsored by Mira Showers; I received compensation however all opinions are my own.