Ten Great Audio Books to Read
Anyone who knows me knows that I pretty much read exclusively by audio books.  I don't even remember the last time I made it entirely through a regular book.  Every time I try to read them, I fall asleep within about ten minutes and/or get interrupted by someone (*cough cough KIDS cough cough*).  I have a pretty busy schedule and reading books with my eyeballs just doesn't fit in.
But I enjoy reading.  So obviously audio books are a great solution!  I used to check stuff out at the library but that didn't work well because A) they didn't have a great selection, and B) they were on CDs and I don't actually own a CD player anymore.  So I turned to Audible.com and I've been a subscriber for several years now.  Every month I get a new credit for a book and since I go through spurts of reading a lot and then not so much, that many credits has always been sufficient for me.
Here is a list of my top ten favorite audio books, narrowed down by things like plot, writing style, originality, and quality of narration.  I've ended up hating some books because the narrator is awful.  And remember, these are all AUDIO books.  I have many favorite books that I've read but are not audio, so they can't go on this list.  All the books for the most part are clean with no sex or vulgarity.  Most of them have some swearing however, and I've given them the following ratings:
G:  Little to no swearing and violence
PG: Some swearing and violence expected
PG-13: Quite a bit of swearing and violence expected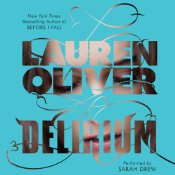 10) Delirium Series by Lauren Oliver:  The first dystopian series to appear here, and while I liked it overall, it's my least favorite on the list.  This was similar to Matched (which was slow with annoying narration by the way) with the basic plot being somewhat unbelievable.  There are quite a few plot holes which I thought that Lauren Oliver could have overcome, but didn't.  Her writing is incredibly detailed, to the point of minutia, and several times I found myself saying out loud "Get to the point!" That being said, the second book redeemed the series, because it was quite good and not slow at all.  I wish the third book was as good but the ending is very weak and it seems as if she quit writing before the story was ready to be done.  I enjoy this narrator, however, and it was entertaining enough.  Rating: PG-13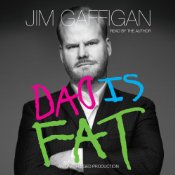 9) Dad is Fat by Jim Gaffigan:  This is a humor book, but filled with brilliant observations on what it's like to be a parent (especially of multiple kids.)  So many of his observations are completely dead on as to different situations you can be in with your kids.  However, he is not cynical about parenting, and makes it known how much he loves his kids and his wife.  This is a fun and lighthearted read and goes fast.  Rating: G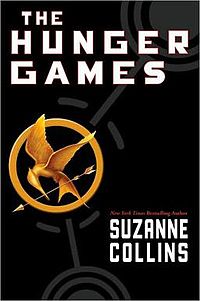 8) The Hunger Games Series by Suzanne Collins:  I had to list these books because I did enjoy the story, but they are not my favorite of the dystopian series.  Just a bit brutal for me, and I can handle a lot of violence.  I also don't love the whole love triangle thing because Katniss seems very immature and selfish in this arena.  However that being said, the plot is very interesting, the world created is detailed and complex, and the narration is decent.  I also like that the heroin is strong and hard core.  Wasn't a fan of the ending of Mocking Jay though.  Rating: PG-13 (mostly for violence)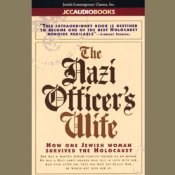 7) The Nazi Officer's Wife by Edith Hahn:  A great read.  This is the story of a Jewish woman who makes her way through Nazi Europe, surviving the Holocaust because she doesn't have the look of the other Jewish people, and ends up marrying a Nazi for protection.  It's really intriguing and if you are a fan of World War II literature, you will enjoy this.  This is narrated by the actual woman whose story it is (its a true story.)  Rating: G or PG, can't quite remember.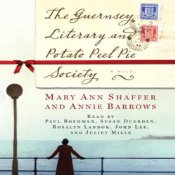 6) The Guernsey Literary and Potato Peel Pie Society by Mary Ann Shaffer and Annie Barrows:  I love reading about the World War II era, and this was a different and interesting viewpoint.  It's more an intricate web of story lines and although the letter format gets some getting used to, it's a great story full of rich characters and settings.  Narration is wonderful.  Rating: G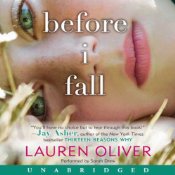 5) Before I Fall by Lauren Oliver:  This book was just fabulous.  It's definitely teen fiction, so keep that in mind as you read it.  You start off hating the main character, who is a bratty mean girl teenager.  But the way the story unfolds keeps the "pages turning" and I could not stop listening to this.  The chemistry between the heroin and the love interest was palpable and intense and I couldn't get enough.  This is Lauren Oliver's best book I've read.  Rating: PG or PG-13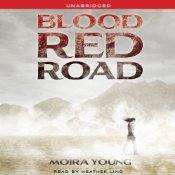 4) The Dustlands Series by Moira Young:  I can't completely review this series since I'm only halfway through the second book (third book is not released yet) but the first book, Blood Red Road, was amazing.  An awesome adventure story with so many twists and turns that you must keep listening to see what will happen next.  This is technically dystopian fiction, but it feels more like the wild west.  The narrator does a great job of transporting you to the time and place and you almost want to start speaking like they do.  It started off slow, as did the second book, so fair warning.  But if you stick it out, you will be rewarded with a great read.  Rating: PG-13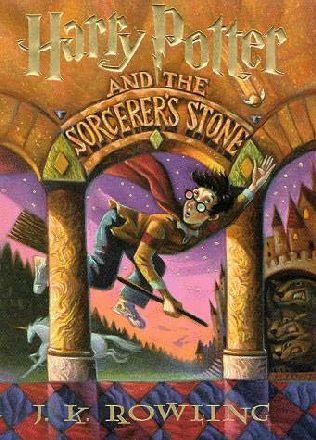 3) The Harry Potter Series by J.K. Rowling:  I'm a big Harry Potter fan, so you shouldn't be surprised to see these on the list.  Jim Dale as the narrator is brilliant, and while I've listening to several other books with him as narrator, these are the best.  These books seem to be written for him.  I wish that the Audible library carried them because I would have gotten them first.  They are instant classics and make any long car trip fly by.  Rating: G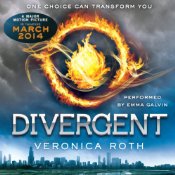 2) Divergent Series by Veronica Roth:  As you might have noticed, I'm a big fan of dystopian literature.  But this series has been my favorite of the genre.  After listening to so many different kinds of somewhat-similar plots and themes, this one I thought did the best job of everything.  When reading a dystopian novel, I like the author to transport me to another kind of world, one with all sorts of different changes, right down to the details.  This is where Delirium failed, and it was hard to even imagine that it was the distant future at all.  Divergent is mapped out wonderfully, creating a world that is believable and scary.  I love that the heroin really grows into a hero, claims her destiny.  The love story is good, with the love interest being a well-thought out character with personality and back story.  The second one, Insurgent, has proven to be good as well and I can't wait for the last one to come out this fall.  Rating: PG-13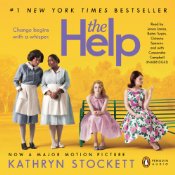 1)  The Help by Kathryn Stockett:  My all-time favorite audio book.  I would guarantee that this book is 100x better by audio than reading on your own.  The narration is done by a few different people throughout, giving the characters their own voice and sound.  You literally feel like you are down south in Jackson, Mississippi and sitting across the table from the characters telling their interesting stories.  The story was gripping throughout the entire thing and I was depressed when it was over.  By now you've probably read it or seen the movie, but if you haven't listened to it, you definitely should try it.  Rating: PG (there is one slightly graphic scene)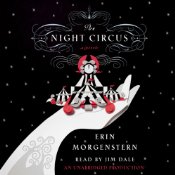 Honorable Mention)  The Night Circus by Erin Morgenstern:  I didn't want to leave this book out completely.  I thought it was interesting and overall a good read (it doesn't hurt that Jim Dale narrates) but it took me a long time to get through the book.  The was never a point where I felt hooked and had to keep going.  However, it was beautifully set and orchestrated and the imagery was amazing.  I can't wait to see this in cinema.  Rating: G or PG
If you have any of your own recommendations for awesome audio books, please feel free to leave them in the comments!