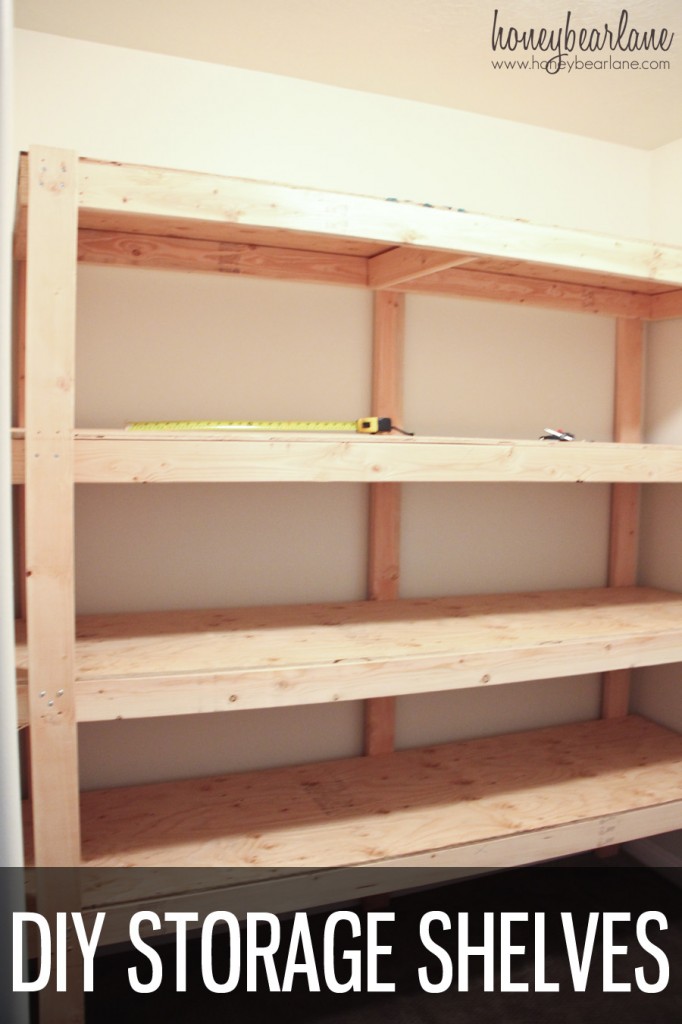 Things have been crazy around here, especially since I have decided to declutter my house all at the same time, so everything is just OUT all over the place and in the midst of it I have about five other projects due, Easter and my son's birthday, and soccer season starting.  I really hope I don't just drown in all the craziness.
But one thing that is making me happy is my newly organized storage room.  At least there's that.  Ironically the messiest room is now the cleanest and the clean-ish house is is shambles.  I built some custom heavy duty diy storage shelves inspired by this post.
I am going to show you how to make one of these heavy duty storage shelves.  It's not really that hard, especially if you have the right tools.  My particular unit is only 7 feet wide to fit my space.  But these instructions are for 8 foot wide shelves so you can maximize your materials (and do less cutting.)
*This post contains affiliate links
What You'll Need:
2 4×8′ plywood at least 1/2″ thick –$40
16 2x4x8  –$45
Box of 2 1/2″ pocket hole screws -$6
Box of 2 1/2″ wood screws -$3
Nail gun with 1 1/4″ nails or 1 1/4″ screws
Kreg Jig
4-6 C clamps
Total Cost (not including tools):  $94
Cut List:
Cut the two sheets of plywood in half lengthwise so you have four pieces of 2×8′ board.  Ask them to do this at Home Depot because it's much easier to transport this way.
12 2×4 cut to 21 inches
6 2×4 cut to 80 inches  (These are for 16″ spaces between shelves.  I suggest measuring your largest bins and adjusting accordingly.  You may need larger or smaller gaps.)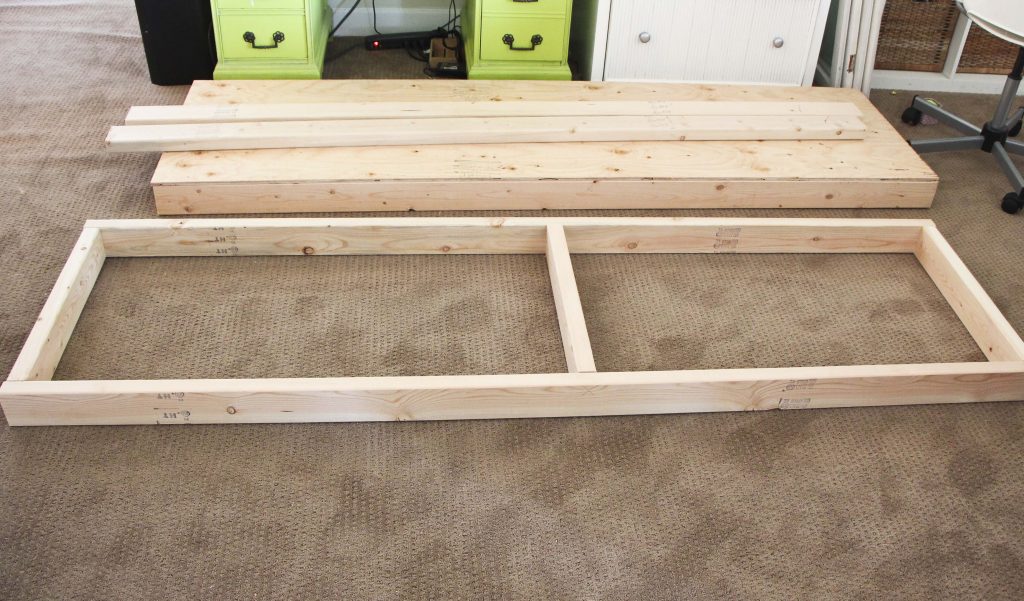 The first thing you need to do is build the shelves.  This comes together very quickly.  Put two pocket holes in each 21″ piece on both ends.  Then drill one 21″ piece into one of the 8′ pieces at one end, in the middle, and the other end.  I sometimes find it tricky to make joints on the end of the wood piece because it seems more slippery or something.  So you can clamp it down with a right angle clamp or a kreg right angle clamp but I don't have one (yet) so I will drive the screw in, back it out, then drive it back in.  Also, you do not HAVE to use a Kreg Jig
 but I prefer the strength of the pocket hole joints to a butt joint.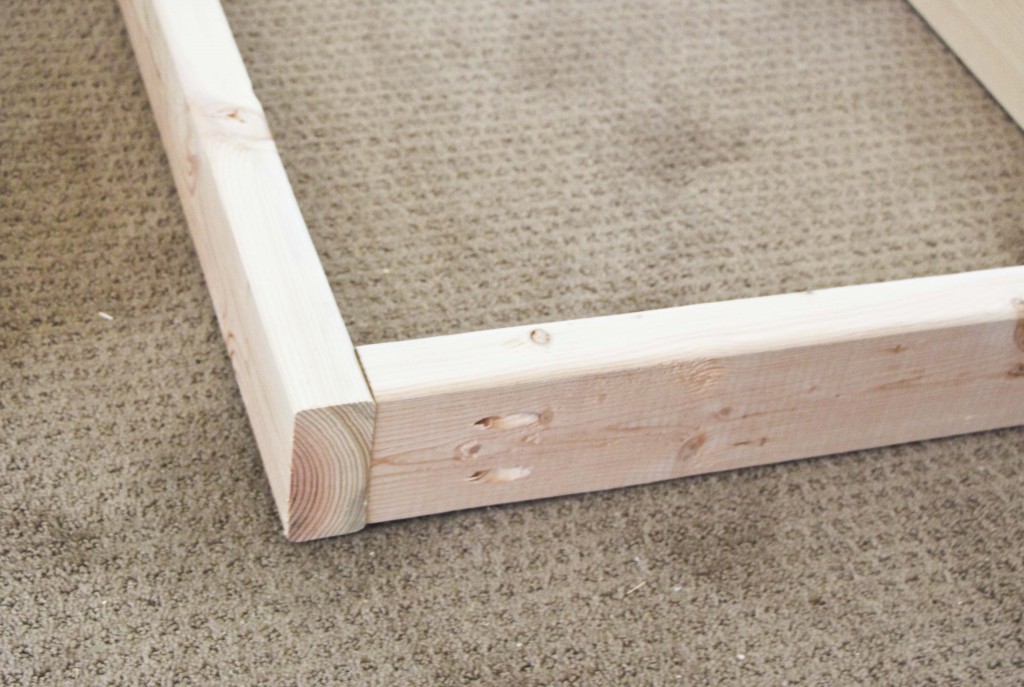 Once you have the E shape, add the other 2x4x8 and make the full apron. Then using a nailer (like my Ryobi Brad Nailer
) you can put the plywood right on top and secure in place with nails. If you don't have a nailer, you can screw the plywood to the 2x4s in several places.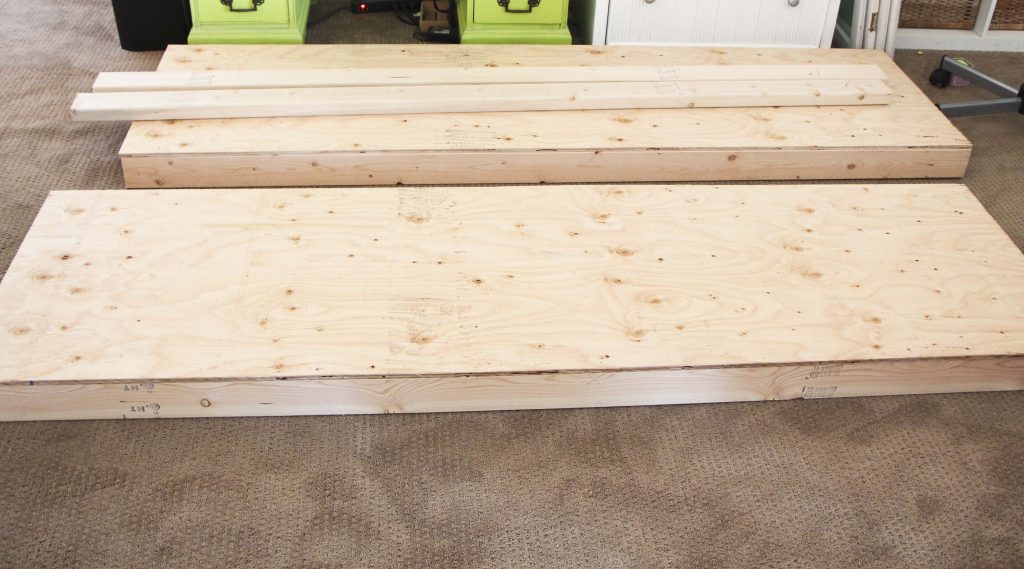 To assemble, I did it all standing up because it seemed like it would be easier to get it all level (also it was my only option being in such a tight space.) You might need a buddy to do it this way but you can also hold your shelves up in place by putting your bins under them plus about a 5″ book or something. You will want all your shelves to have a 16″ gap in between. Clamp the 2×4 vertical beams to the ends of the shelves aligned on the long side.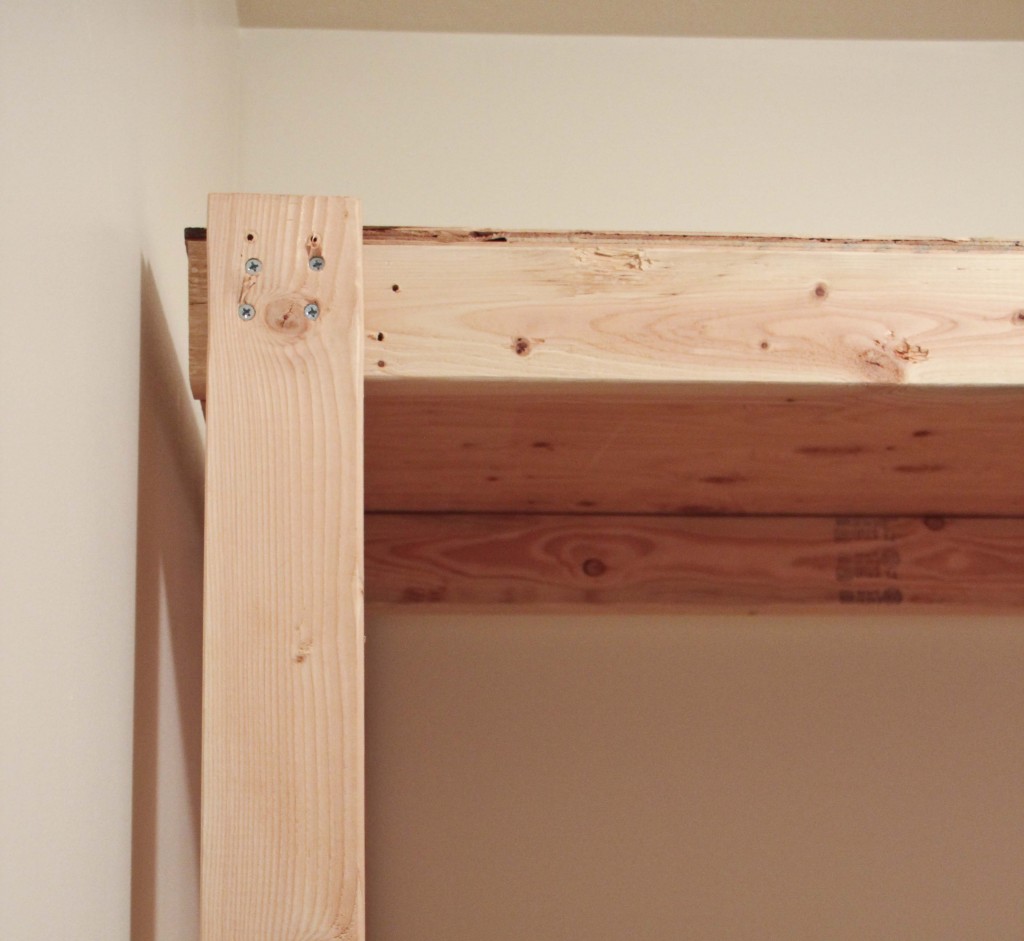 Once your shelf is level and clamped nice and tight (you also want to the do the fit test–see if your bins fit in the space!), start drilling pilot holes where your beam and shelf apron meet, do at least three holes.   Then drive some nice long 2 1/2″ screws in your holes.  You will probably have to move your clamp to do the last hole but the other screws you did should hold it in place.
Repeat this process with the other three shelves, making sure the gap in between shelves is 16″.  The top shelf should be flush with the 2×4 support beams.  You could possible assemble this unit while it's laying on the ground, but I feel like it would be difficult to make sure each shelf is level and even and you'd end up doing a lot of readjustments after you've screwed in the shelves, which is a pain.  However in the inspiration post they did assemble it on the ground so I'd like to try that in the future.  Read her post to see their method.
For the record, we did not use the clamps until the very end because we're brilliant like that.  So learn from my mistakes and use clamps for this project!  They are not that expensive and you will use them in tons of other projects.
Other than that, I learned a lot from building these DIY storage shelves and I think all future storage shelving units will be a lot easier.  And I'm SOO glad we have it!