Well another school year has come and gone.  It's crazy to think that in one week I will no longer have a kindergartener!  The end of school always sneaks up on me and before I know it, I need to come up with a teacher gift!  I love giving plants to people, and succulents are the easiest plants to take care of.  I bought some Jade plants and some simple terra cotta pots and jazzed them up with Decoart's Patio Paint!
Gold is so big right now, and I have definitely jumped on the bandwagon.  Lots of little things in my home are gold, including my gold dipped bar stools  and my gold dipped bottles that I love.  It has the look of being 'dipped' but I never actually dip it.  It's a simple method of painter's tape and paint.
Terra cotta can be finicky with paint.  It really sucks it up and once the plant inside has been watered several times, the paint on the outside can start bubbling up and getting ruined.  So I decided to use Patio Paint for this project, sent to me by Decoart.  They have a wide variety of colors and a little goes a long way.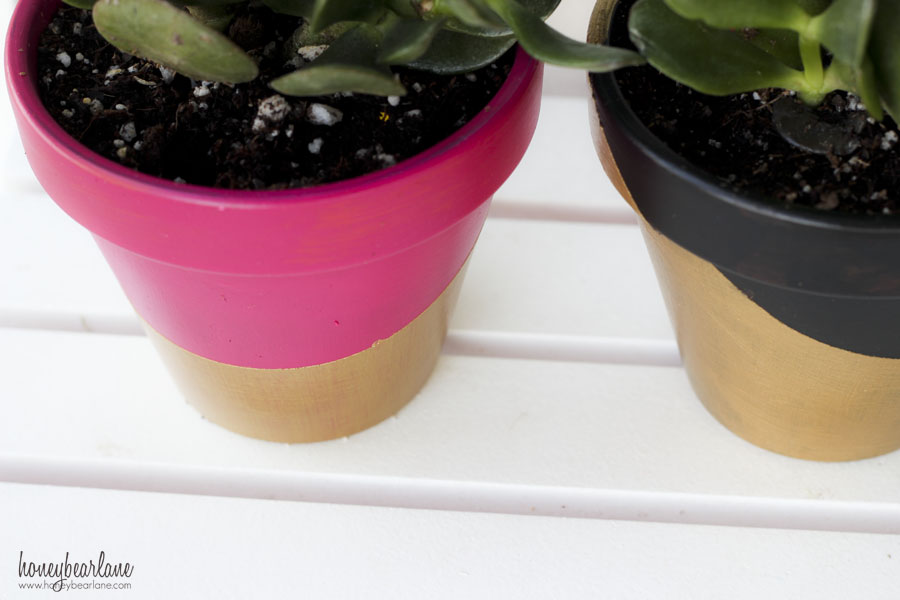 Supplies:
Terra Cotta pots
Painter's Tape
Succulent plant
Step 1:  First paint the inside AND outside of the terra cotta pots.  Painting the inside helps to seal the stoneware and prevent that nasty bubbling.  It only took me a small amount of paint to cover the inside and outside.
Step 2:  Once they've dried, wrap some painter's tape around the pot, sealing the edges.  I did mine at an angle.
Step 3:  To get the gold dipped look, paint on the gold paint.  This will probably take several coats, since gold is a more translucent color.  Wait for each coat to dry before adding a new one.  Once you've added your final coat, carefully remove the painter's tape before its dried.  Touch up any paint you need.
Step 4:  Plant your succulents!
I added a little 'marker' by using a scratch on gold 'thank you' sticker thing and taping my black cutout onto a paper straw.  I'm a simple gal.  It's cute though!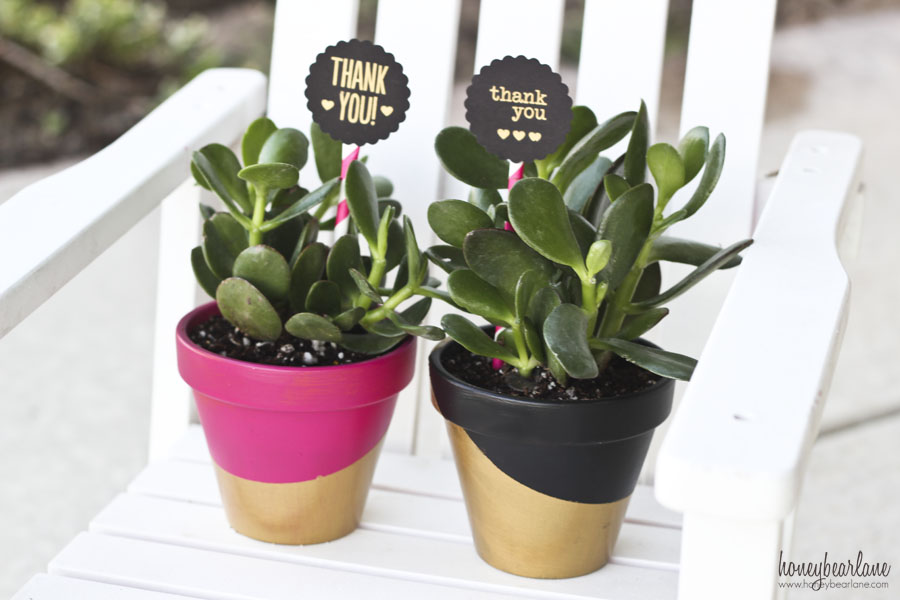 I love how these turned out!  What are you giving your kids' teachers this year?
I was compensated by Decoart but all opinions are my own.