Quick Garage Organization
This shop is part of a social shopper marketing insight campaign with Pollinate Media Group® and Rubbermaid, but all my opinions are my own. #pmedia #FastTrack http://my-disclosur.es/RgFrEH
I am renting a basement apartment right now, but the owners have a space for our car in their garage.  Their garage is filled with their own stuff, but next to where we park there is some wall space that fits some of our own things.  Before I organized it up this weekend, it was just bikes and dusty things lying on the floor.  I am not a fan of things on the garage floor since that's where dust and spiders live.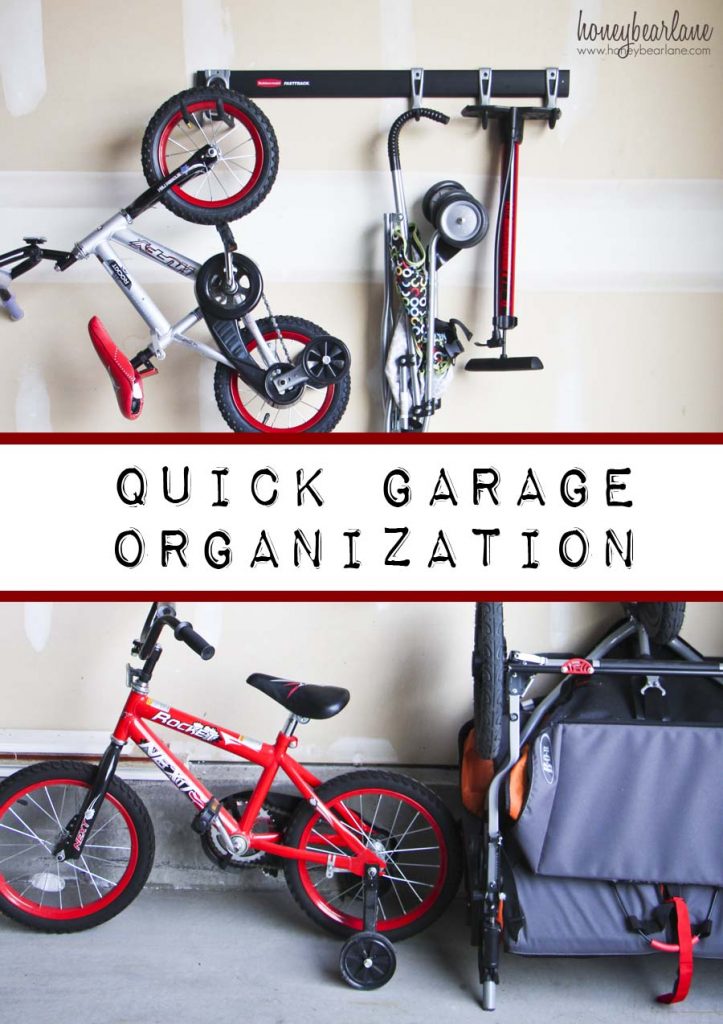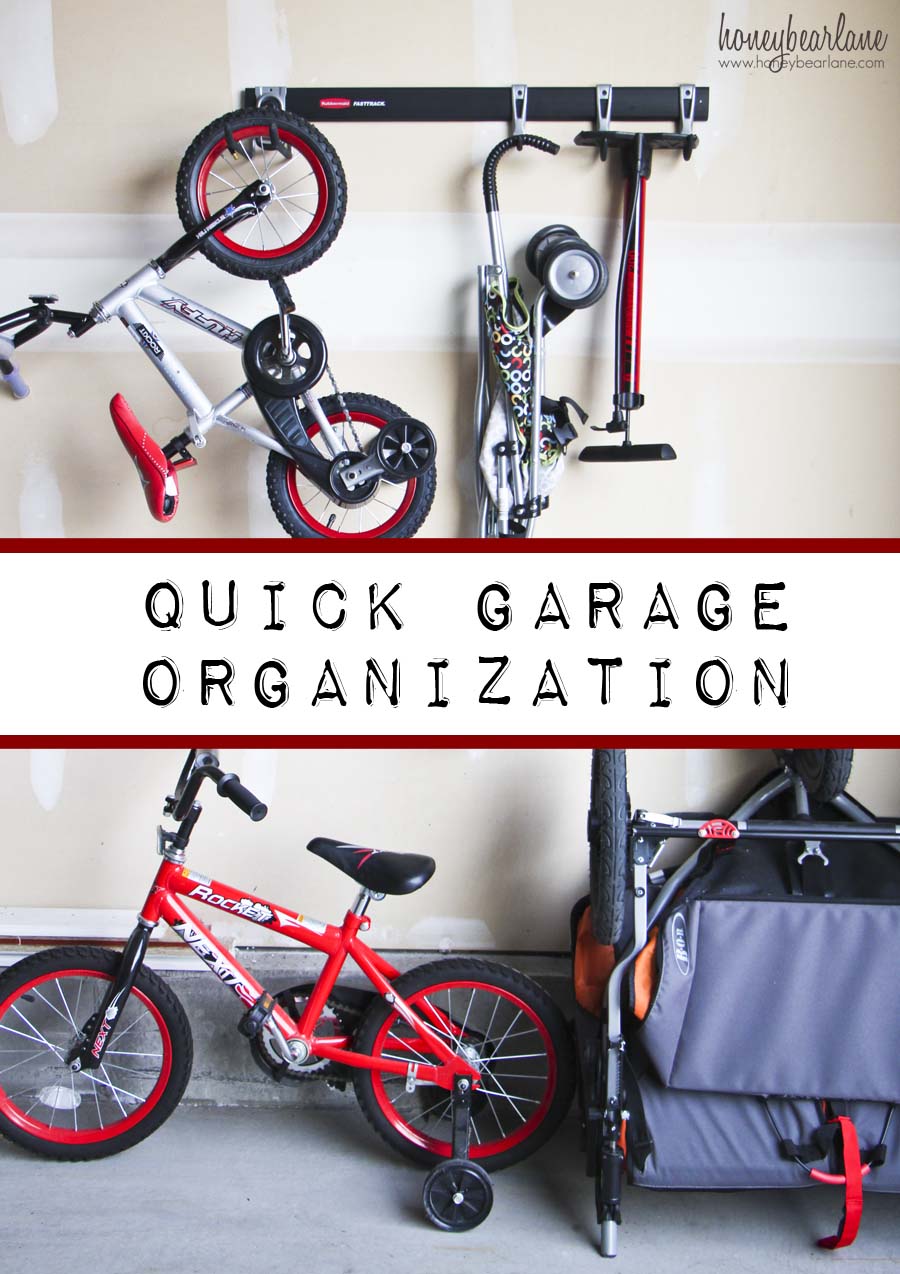 I decided to try out a quick garage organization tool–the Rubbermaid FastTrack system.  I zipped over to Target where I easily found it in the storage aisle and purchased the 5-piece unit.  It comes with the track, 2 'U' hooks, 1 'L' hook and 1 heavy duty two-pronged hook.
When I got home, the first thing I did was move everything out of the way and sweep out the dirt and trash.  It was gross.  To install the FastTrack system is actually really easy.  I measured up about four feet from the cement foundation.  Then I used a studfinder to locate the studs (which was easy because they were the skimcoat lines.)
(Here's the "Before")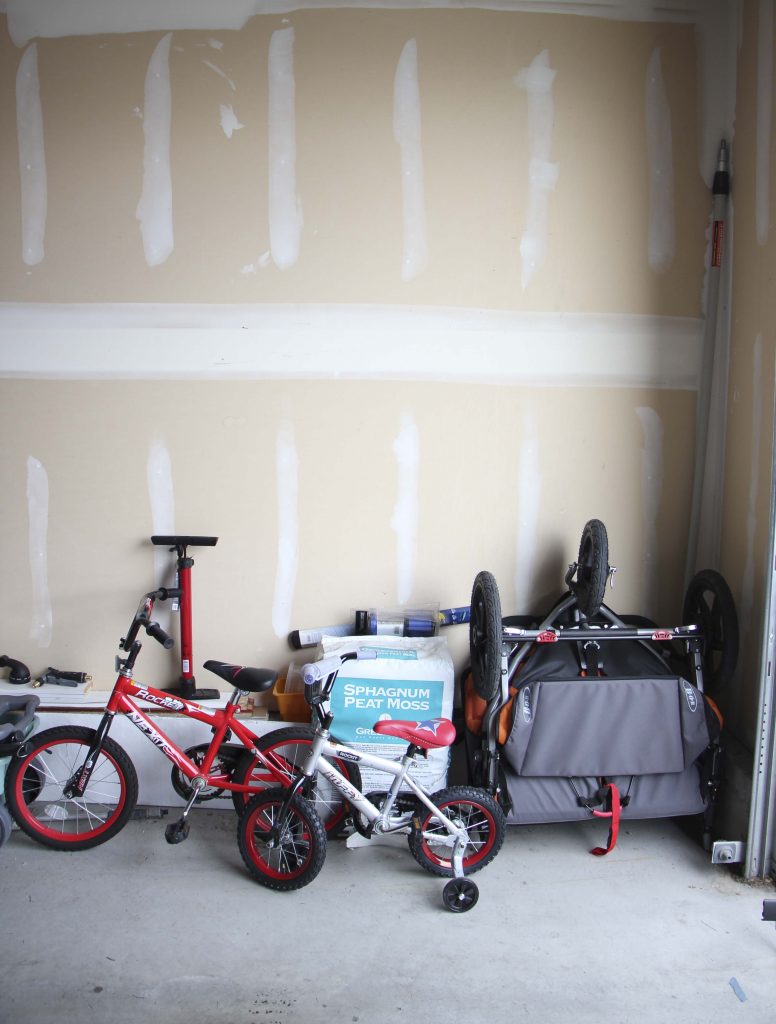 Here's where a little problemo came in.  The instructions said that each end must be in a stud.  Studs are usually 16″ apart.  But the FastTrack bar was precisely 32 inches where the holes should have been at 0,16, and 32 inches in order to land on studs.  The first two marks (0 and 16) landed on a stud but the last holes were short about an inch and didn't land on a stud.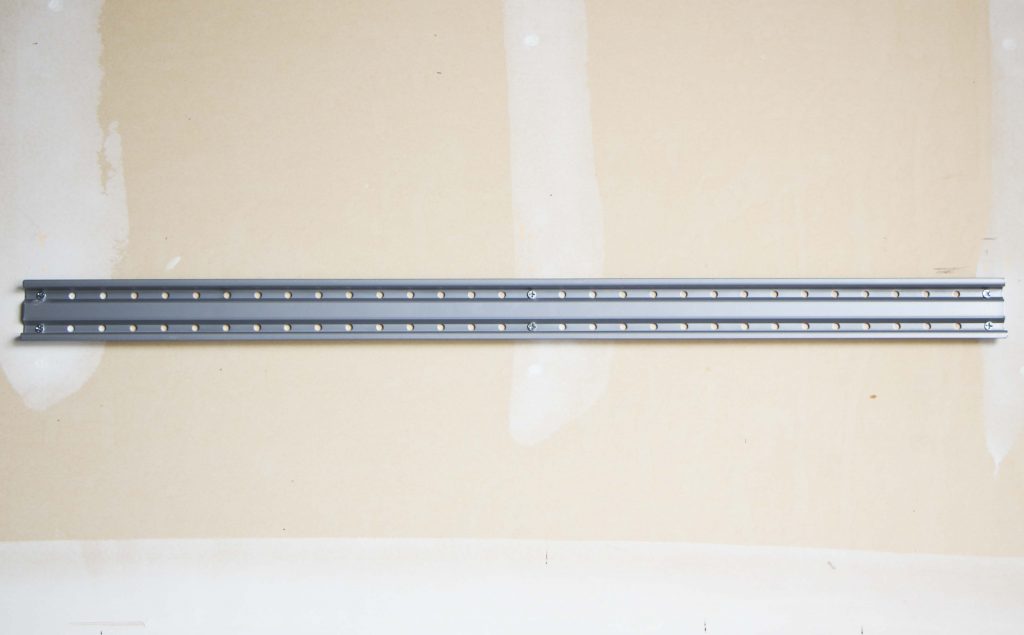 It was an easy fix though–I just used some drywall anchors for the 32″ hole and they are holding great.  Since the other two are in studs, I'm not really worried.  It's not like I'm hanging a 5 ton weight from it.  However it is something to keep in mind.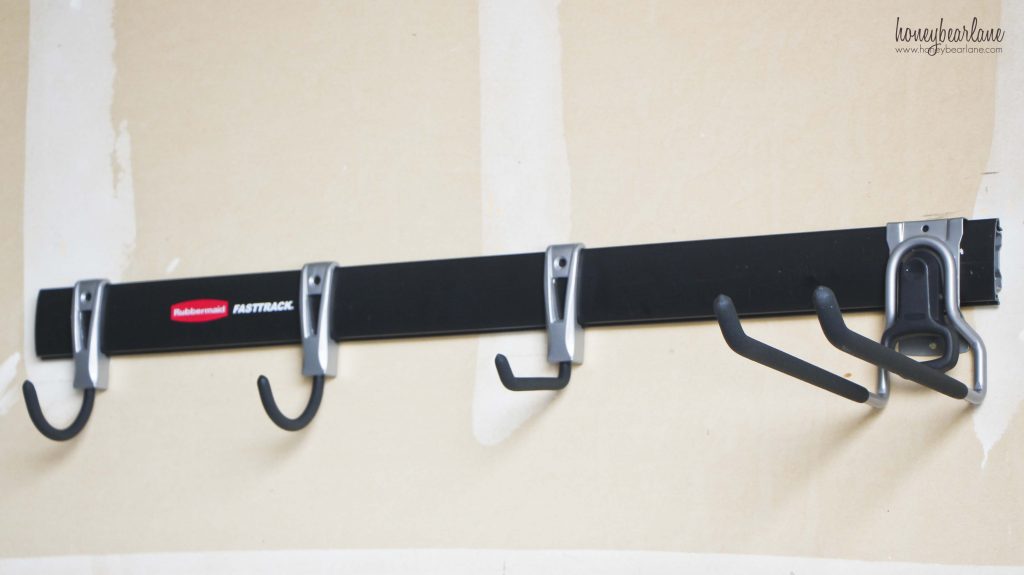 After you install the hole track, the FastTrack just slides right over the top.  And each hook just snaps on, except for the two-pronged long one which has a little thing that snaps in to secure it.  The FastTrack can connect side by side and you can have another row on top of the first row.  If you have a lot of garage items (like snow shovels, rakes, etc) you will want to get this system.  I love how easy it is to snap the hooks off and interchange them.  And you can hang a ton of stuff up once the track is up.  So if you buy some new shovels or whatever, you don't have to install a new hook in the garage wall stud, just buy another hook at Target and snap it on the track in two seconds.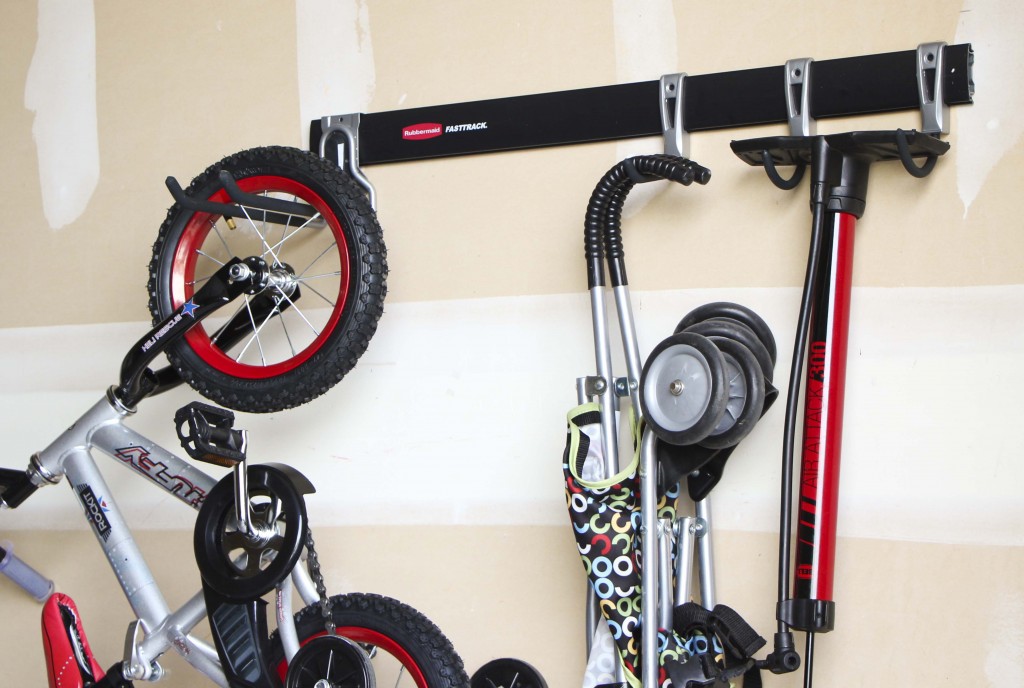 I don't have to do yard work where I'm at right now, so I just used the Rubbermaid FastTrack to hang up some of my kids' stuff–stroller, bike pump, small bicycle.  But this is something I would consider investing in for my future garage when I have a lot more stuff to hang up.  Organized, out of the way, and no spiderwebs.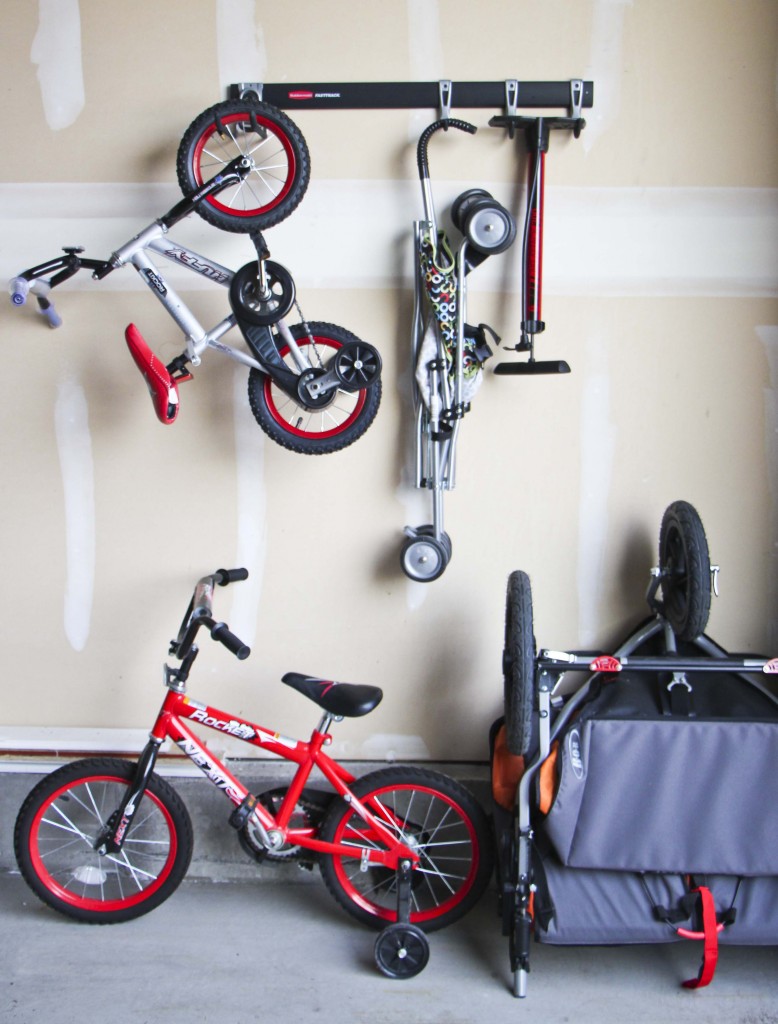 As a bonus, Target is having a sale on the Rubbermaid FastTrack 5-piece kit from 5/18-5/24 for $28.89 (reg. $33.99)!
I can't wait until our house is done.  We will have a 3-car garage and the third car portion will be entirely for my shop and all our other garage tool/yard stuff.  I looooove organizing my tools!