This shop is part of a social shopper marketing insight campaign with Pollinate Media Group® and Rubbermaid but all my opinions are my own. #pmedia #FallFixUp http://my-disclosur.es/OBsstV
As you might know, we have been renting a walkout basement apartment for the last two years.  This has been a good place for us to transition while my husband was a resident and while we wait for our house to be built (which feels like it is taking forever!) The best part of this space is the easy access to the backyard.  The upstairs residents don't really ever use the backyard, so the entire patio is and grass space is accessible for us to use.
This summer we had a blast filling up and playing in our large kiddie pool, playing soccer and t-ball, and fishing in the small kiddie pool.  But alas, summer has come to an end.  And that giant kiddie pool needs to go into storage for the winter.  We had a kiddie pool last year that I didn't store properly and when I tried to blow it up this summer, it was filled with holes.  I didn't want that to happen to our large kiddie pool (it was a good $40 investment people!)…I knew I needed some good winter storage solutions.  So I went to Home Depot to find a giant size storage bin.  This kiddie pool, even deflated, is a BIG boy!
I chose the Rubbermaid Roughneck 54 gallon storage bin.  This is a GINORM storage bin, people.  You could probably hide a dead body or two in that thing.  And it comes with a nice heavy duty lid that has a little headroom for anything that is above the lip of the bin.   They were really good, tough plastic that I'm confident can withstand the bitter winter storms we get in my neck of the woods.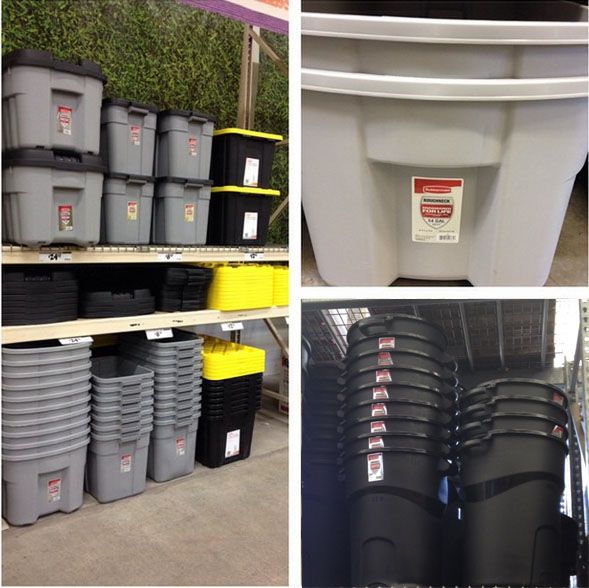 I easily fit my giant kiddie pool in it, along with my small kiddie pool and a little bin of pool/water toys.  Yay!  No more holes in my pools and my pool toys won't get blown away by the winter winds.
While I was at Home Depot, I also looked for a good solution for storing athletic equipment.  Having three active kids, sports are very much in our future.  I thought this 32 gallon Rubbermaid garbage can would be a good option for this because the lid is so easy to lift up and it can store long things like baseball bats and t-ball stands.  And when I own my house, I can also use this garbage can for green waste or really anything.  And it was only $10!
I love these Rubbermaid Roughnecks–they are such a great solid bin for a good price at Home Depot.
This shop is part of a social shopper marketing insight campaign with Pollinate Media Group® and Rubbermaid but all my opinions are my own. #pmedia #FallFixUp http://my-disclosur.es/OBsstV