I don't think I have ever decorated for Thanksgiving.  I'm always too excited for Christmas to give Thanksgiving a proper presence in my home.  This year, I feel like I've been too busy to even get excited for Christmas yet.  I have so much going on–a wedding to plan (my sister's), a house to move into in 5 weeks, tons of blog projects, and most recently, a funeral to help plan, execute, and attend.  My husband's mother died last week after a very long and hard battle with cancer.  It was a sad day, but kind of nice that it had to happen around Thanksgiving.  It just makes me think of all that I have to be grateful for, even though it's been a hard year.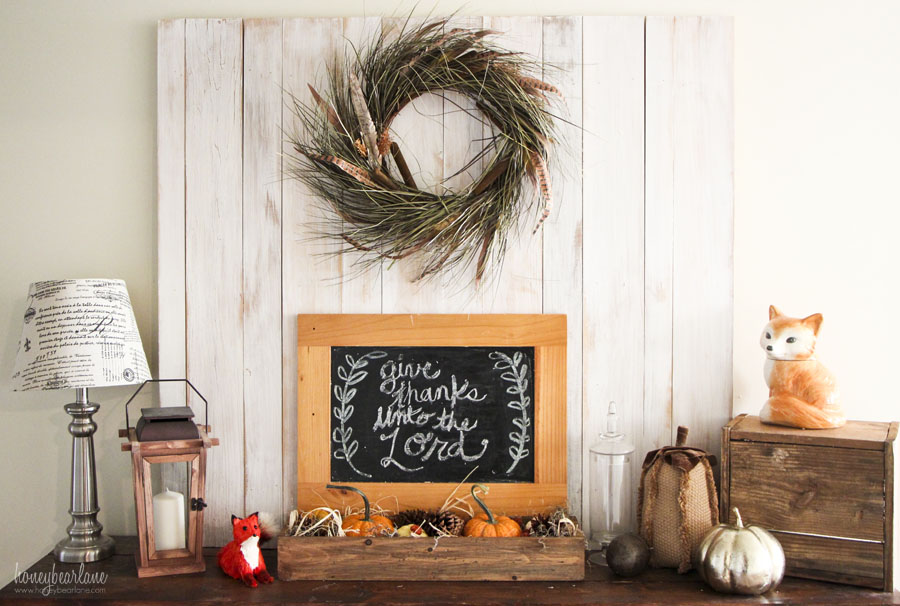 It wasn't hard to create this Thanksgiving mantel.  I used a lot of the elements I used in my Halloween mantel.  I just took down the 'Halloween-ey' decor and put it away.  Then I put a new saying up on the chalkboard (excuse the messiness of the handwriting, I was using that giant outdoor chalk), added the rustic wood box which I made myself, and filled it with raffia, Spanish moss, gourds, pinecones, and some potpourri…thingies.  I'm not sure what they are called but they come in the Better Homes and Gardens pinecone bag you can get from Walmart.
Oh yes, and how could I forget my foxes.  I love these two foxes.  This ceramic one is from Walmart also, part of the Better Homes and Gardens holiday ceramic ware.  I adore him…he's so cute.
And the other fox is from World Market.  The lantern is another Better Homes and Gardens item from Walmart, the apothecary jar is from Tai Pan, the chalkboard I thrifted a old ugly art hanging and turned it into a chalkboard, and the wreath is from Home Goods.  Any questions?

I actually am loving my Thanksgiving decorations. I can't really explain why, but it has brought me a feeling of peace and tranquility that I really need right now. Every time I pass by my mantel, I feel a little happier.
Happy Thanksgiving!