This post is sponsored by Tracfone, all opinions are my own.
There was a day when my six year old boy walked over to his friend's house, just around the corner, by himself.  When it was time to come home, I texted my friend to send him home.  He didn't show up.  I walked around the entire neighborhood searching for him.  Finally I went home and he was there.  He had stopped at another friend's house which caused him to be late.  This was a time when I thought–it would be so great to have something to track him.
It sounds a little silly, that a six year old would need a phone.  But in my case, it's not about my child needing or wanting one…it's about me wanting him to have something that would allow me to contact him and know where he is.  And as much as I would love to just be relaxed and carefree about the world I live in–longing for a time when a child could ride his bike all over town safely.  But it's getting less and less so.  There are scary things in the world and lots more traffic and cars.  The school pick-up situation is a nightmare.  So many times I have just thought–if only I could just TALK to Will and find out where he is or what's going on.  And especially as the oldest, he is going to be my little helper, my babysitter when he gets older.
TheTracFone LG Optimus Fuel™ Android™ smartphone is possibly the best solution to this problem.  It's a very inexpensive phone that is a Pay-as-you-go plan.  There's no need for my child to be chatting on the phone so minutes are not really an issue.  But it will be so great for him to have a minute to text me if he's having a problem or if we get separated.  I rely on his growing independence and I hope that having a phone will increase his responsibility and increase trust between us.  The LG Optimus™ is a great first phone.
The Tracfone bundle with exclusive Spongebob Squarepants content and NQ Parent Guardian is only  $29.99 right now at Target, Walmart, and Kroger.  The Spongebob Squarepants stuff includes fun headphones, free access to download full episodes of Spongebob Squarepants, and downloadable Spongebob Squarepants apps and games.  I definitely am going to be monitoring the using of any games or TV watching, but it's still a super fun Christmas gift for any kid!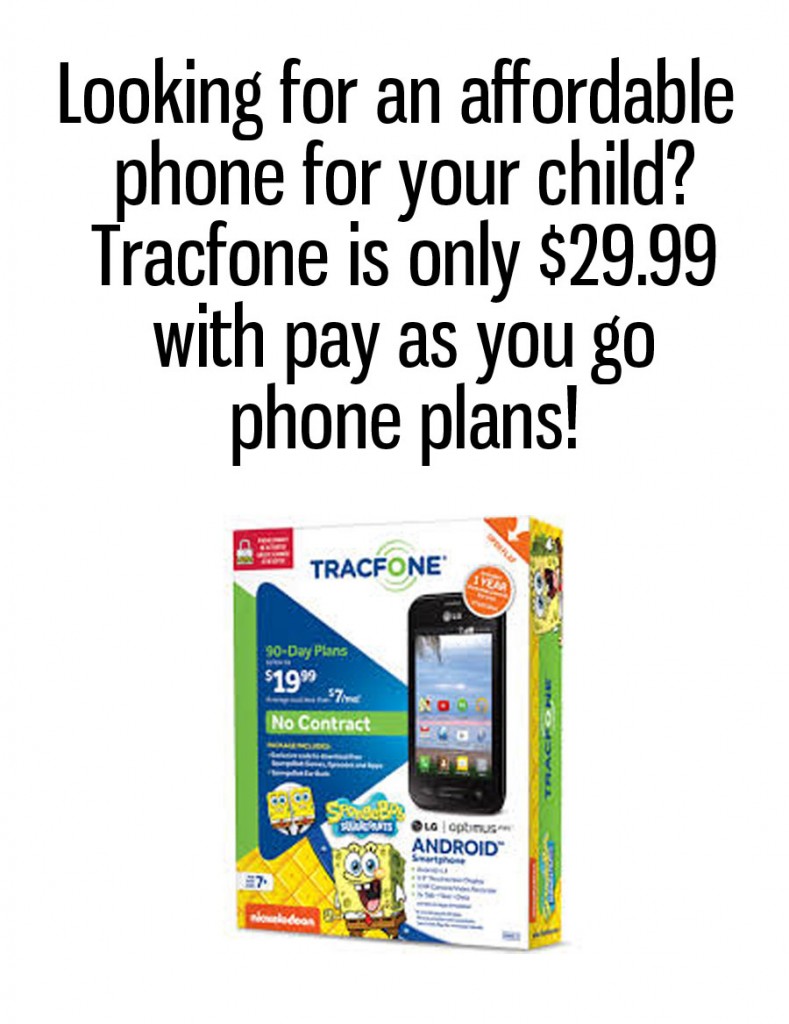 Tracfone is super affordable for a phone, you can buy prepaid plans for as low as $19.99 for three months.  It's the ideal solution for a younger child who won't be talking on the phone.  I also love the NQ Parent Guardian™ app, as it's a way for me to see and monitor everything that is happening on my son's phone, including all texts and photos.  I can sooo bust him for stuff..haha!  And a one-year subscription to this service is free with the phone.
Now that he's had it for a few days, he takes it when he walks to his friends houses and he calls me if their plans change–if that friend isn't home and they want to go to another friend's house.  It's been great.
If you want to learn more about Tracfone, visit their website.
And be sure to catch them on social media as well: