20 Things to Clean with Magic Eraser
It's spring cleaning time, even though it totally snowed last week and doesn't currently feel all that springy outside.  But nevertheless, I am antsy to get my house in order–especially since I'm having a baby in about a month!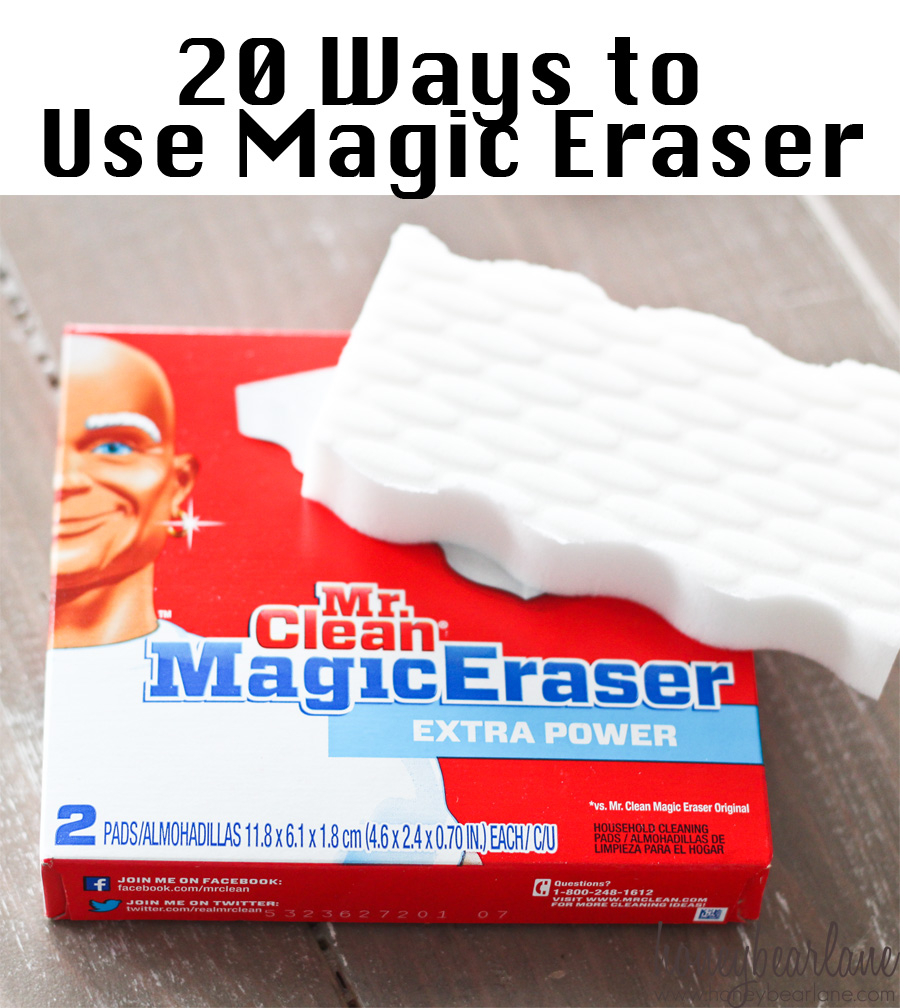 I love using a Mr. Clean Magic Eraser to clean…it's my go-to sponge for difficult stains and marks.  I have gotten tons of stuff off using a Magic Eraser.  Did you know that a Magic Eraser actually removes MORE dirt than an all-purpose bleach spray? It actually has water-activated micro-scrubbers that penetrate surface grooves to remove all kinds of stuff (and it has no harsh chemicals!)  Here's a list of 20 things you can clean with a Magic Eraser.
Cleans marks off outdoor furniture
Clean gunk, char, and grease from BBQ Grill
Cleans marks and grass stains from white sneakers
Removes scuff marks from trim, walls, baseboards
Removes paint spatters from moldings, floors
Get fingerprints off walls, counters, cabinets
Removes caked on food, soap scum and hard water build up around sink
Cleans grease and stuck on food from microwave
Cleans grease and char from oven, racks and door
Removes hard water build-up from glass shower door
Removes hard water build-up from tubs and toilets
Removes makeup and hairspray from walls, counters, floors, grout, and mirrors
Removes pencil, pen, and crayon marks from walls
Removes rust from most surfaces
Clean cars hubcaps
Cut into pieces and leave in toilet to prevent rings
Cleans grout and tile
Cleans stains in mugs from coffee and tea
Cleans stains in crockpots
Cleans inside of dishwasher
And speaking of spring cleaning…Do ya'll watch the HGTV show Love It or List It Too?  I really enjoy watching this show and I was super excited when I got to participate in a Google Hangout with the host and designer, Jillian Harris! (Did you know she's a former contestant on The Bachelor as well?)  She had some great spring cleaning tips for us.  Here's a few of my favorite questions from our interview: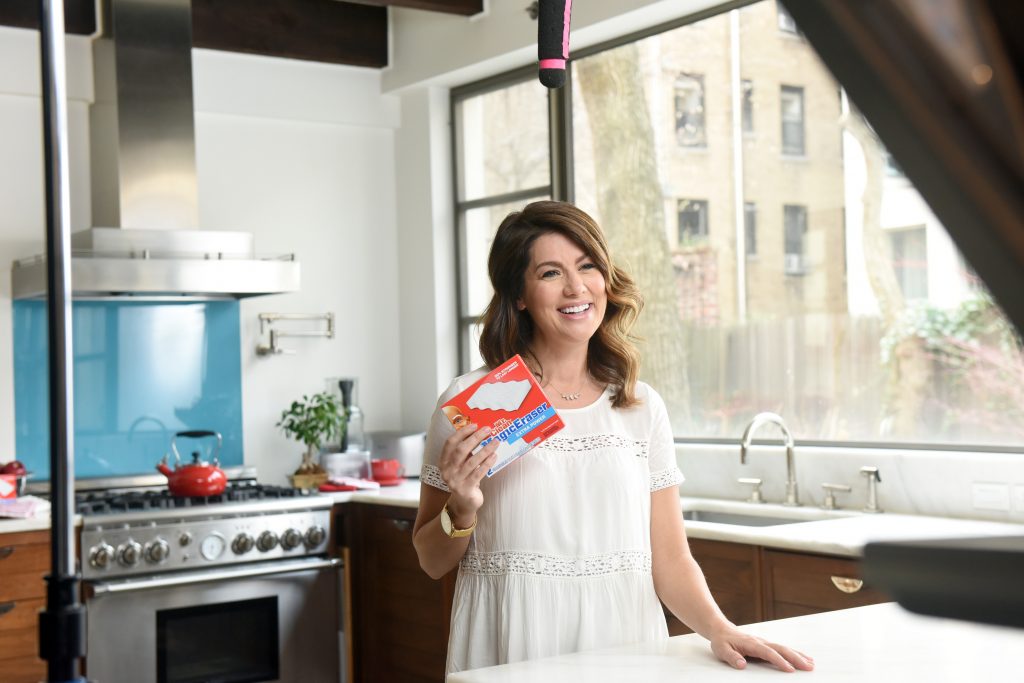 Q: What are you doing today with Mr. Clean?
A: Today I'm in New York sharing tips and tricks on how to clean the house in no time, which is so important because we are adding another human being to our lives soon! I've been using Mr. Clean for awhile now – we use it in our business and at the house, but mostly we use it because its a no brainer. You can get so much done is such a short amount of time without having to put a ton of elbow grease into it! I've been sharing my dirty little secrets today around the house – things i use Magic Eraser for, like cleaning up the entire oven, patio furniture, sneakers, and bathrooms.
Q: You have 10 minutes before company is coming over, what do you clean first?What's your priority?
A: I always focus on the kitchen because that's naturally where everyone hangs out. I shove a lot of stuff in the junk drawer and I use the Magic Eraser – it's so funny how much of a difference it makes just getting rid of those little scuffs and those little nicks around the base boards. I also like to spot wash the walls and make sure the island and counter tops are totally cleaned off. I'll grab some fresh flowers from outside if its that time of year, light a candle and sometimes open up the windows just to allow a little bit of fresh air in. And if you have wine out, nobody notices how messy your house is!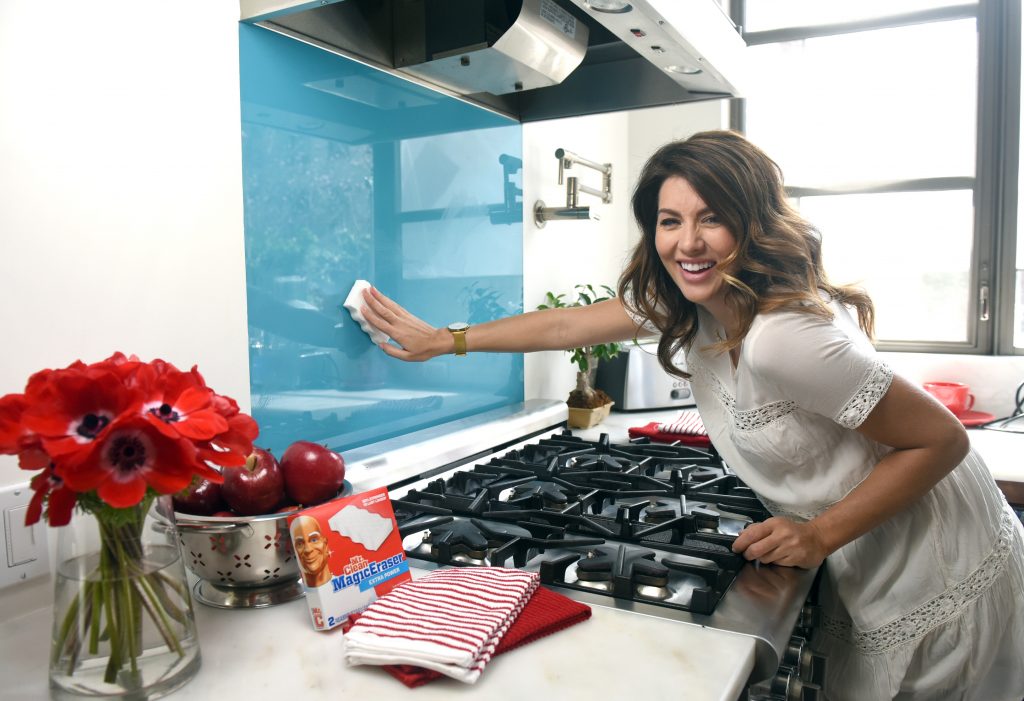 Q: Do you have any tips for keeping things neat during a renovation?
A:
 Renovations are hell to go through – that's why I recommend most people to go on our show because they don't have to live through the renovation. We're in and out 
in 6 weeks
. However, doing a nice big purge and clean before a renovation can really help you live through it. Then, when the renovation is done, most of that dirty work of purging is already done. Before a reno, go through each room and toss or recycle anything you know that's not going to make it back into that space so that you're not hoarding junk and having to deal with it later.
 Check out this video with Jillian for more great tips!
This post was sponsored by Mr. Clean. All opinions are my own.