Neutral Farmhouse Christmas Mantel
This is a sponsored post by me on behalf of Hobby Lobby, but all opinions are my own.
It's amazing how I change my style just a tad here and a tad there every year and somehow my house looks radically different each Christmas season (at least to me!)  This year I wanted something a little bit more simple for a neutral farmhouse Christmas mantel.  I went to my trusty Christmas source, Hobby Lobby, and picked up a few things to throw together this mantel for less than $100.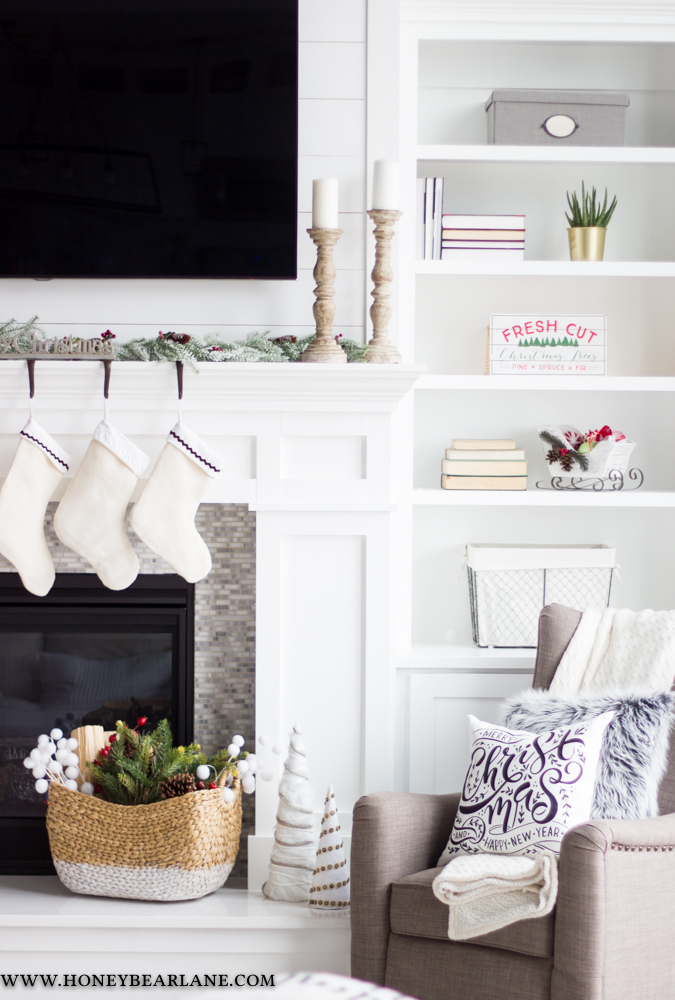 I'm loving how simple but beautiful this mantel looks.  I first chose a strand of more realistic looking garland–flocked of course.  Flocked is huge right now!  I tried out a few different things to flank the ends of the mantel, but I ultimately chose these gorgeous farmhouse style candle holders.  I love the weathered wood look of them, they are perfect not only for Christmas but for all year round!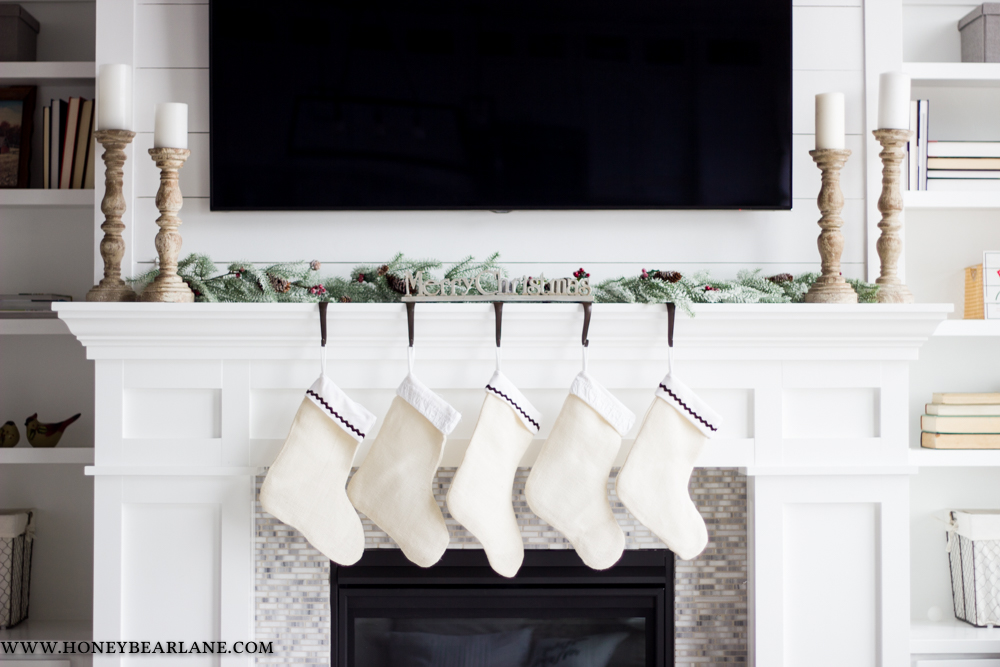 I picked up these cool stocking holders to solve the problem I had last year where the Command hooks I was using just weren't working.  They are cool because they just sit on the mantel and balance somehow, haha!  They come in silver and in this dark bronze and the bronze just looks so perfect with my white mantel.
I have two sets so I can add up to 8 stockings on the mantel, which is great as our family grows.  I've had to go through a couple sets of stocking holders during our marriage and I'm kind of tired of it.  These are awesome because they don't take up space on the mantel and you can add a bunch and space them out however you want.  The stockings I used are just some burlap ones I sewed several years ago and the silver "Merry Christmas" sign is another item I found at Hobby Lobby, separate from the stocking holders.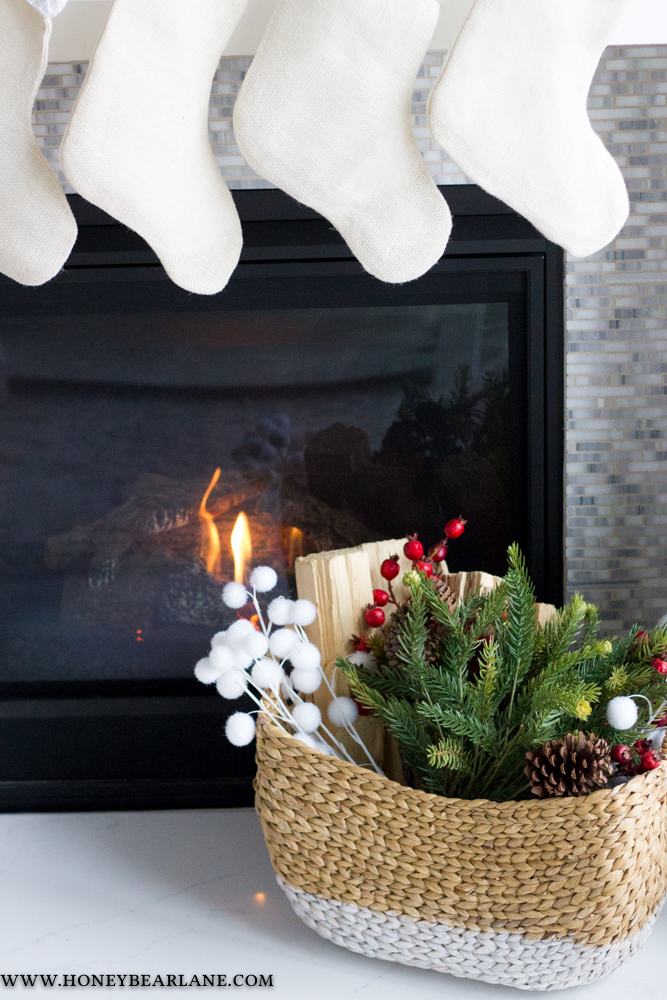 The final touch of my neutral farmhouse Christmas mantel is the hearth decor.  I wanted something natural looking, something that could hold wood (even though it's a gas fire, yes) and add a general more authentic farmhouse feel.  I found this large white and natural woven basket at Hobby Lobby along with the white pom stems, red berry stems, and faux pine greenery.  This is how I layered them in the basket as shown below (forgive the pictures, the day I took them it was sunny as all get out!) I flanked the basket with my farmhouse Christmas trees I made last year (using Hobby Lobby supplies of course!)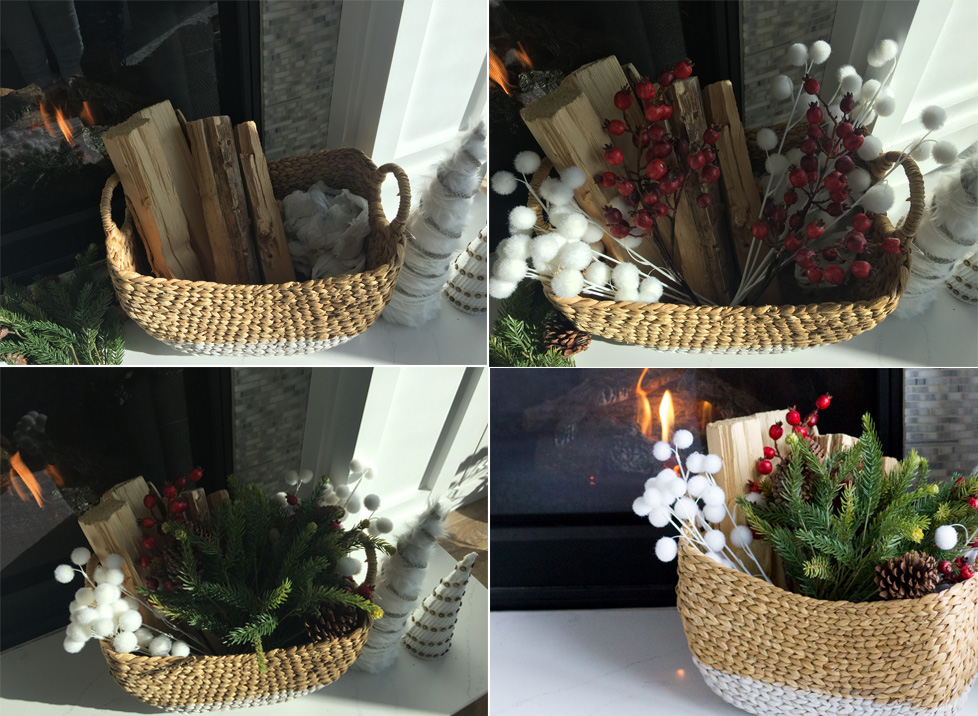 I actually LOVE this accent for the hearth.  I had some other stuff there before but this basket is perfect because it has the right blend of greenery and whimsy, with the perfect farmhouse vibe.
I'm super happy with how this neutral farmhouse Christmas mantel turned out.  You don't need to go overkill on everything and sometimes less is more.  Once we put up our big 12 foot tree, that's going to be the big star of the room so it's nice to have a simple mantel display to complement it.
I love shopping at Hobby Lobby year round, but especially for the holidays!  And I always make sure to use my 40% off coupon…you can either grab this one here or download the app and it's on there.  Happy decorating!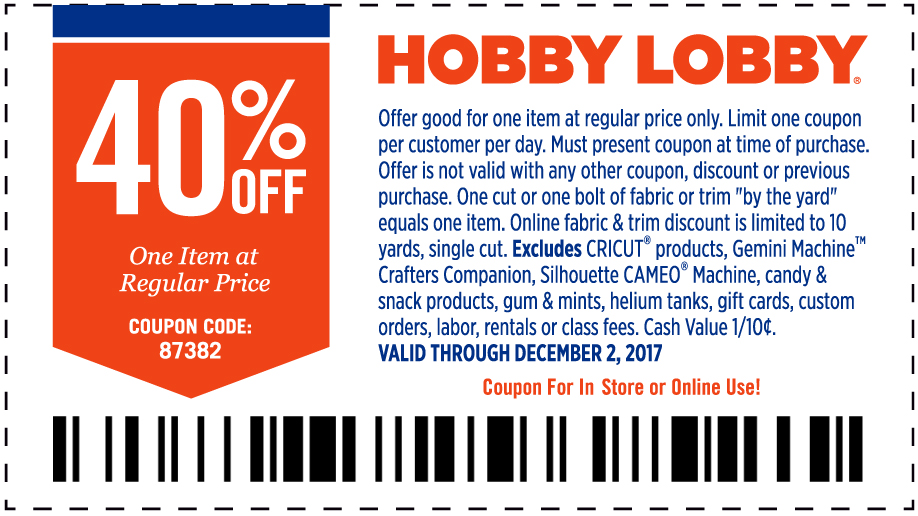 This is a sponsored conversation written by me on behalf of Hobby Lobby. The opinions and text are all mine.
unzq0iem5ljg1niwyns43mtggos43ntmsmjqumtqzidewljaxniwymy4wmjigqzewlji1mywymi4wmsaxms41ndgsmtyuntcyidexlju0ocwxni41nzigqzexlju0ocwxni41nzigmteumtu3lde1ljc5nsaxms4xntcsmtqunjq2iemxms4xntcsmtiuodqyideyljixmswxms40otugmtmuntiyldexljq5nsbdmtqunjm3ldexljq5nsaxns4xnzusmtiumzi2ide1lje3nswxmy4zmjmgqze1lje3nswxnc40mzygmtqundyylde2ljegmtqumdkzlde3ljy0mybdmtmunzg1lde4ljkznsaxnc43ndusmtkuotg4ide2ljayocwxos45odggqze4ljm1mswxos45odggmjaumtm2lde3lju1niaymc4xmzysmtqumdq2iemymc4xmzysmtauotm5ide3ljg4ocw4ljc2nyaxnc42nzgsoc43njcgqzewljk1osw4ljc2nya4ljc3nywxms41mzygoc43nzcsmtqumzk4iem4ljc3nywxns41mtmgos4ymswxni43mdkgos43ndksmtcumzu5iem5ljg1niwxny40odggos44nzismtcunia5ljg0lde3ljczmsbdos43ndesmtgumtqxidkuntismtkumdizidkundc3lde5ljiwmybdos40miwxos40nca5lji4ocwxos40otegos4wncwxos4znzygqzcunda4lde4ljyymia2ljm4nywxni4yntigni4zodcsmtqumzq5iem2ljm4nywxmc4yntygos4zodmsni40otcgmtuumdiyldyundk3iemxos41ntusni40otcgmjmumdc4ldkunza1idizlja3ocwxmy45otegqzizlja3ocwxoc40njmgmjaumjm5ldiylja2miaxni4yotcsmjiumdyyiemxnc45nzmsmjiumdyyidezljcyocwyms4znzkgmtmumzayldiwlju3mibdmtmumzayldiwlju3miaxmi42ndcsmjmumdugmtiundg4ldizljy1nybdmtiumtkzldi0ljc4ncaxms4zotysmjyumtk2idewljg2mywyny4wntggqzeylja4niwyny40mzqgmtmumzg2ldi3ljyznyaxnc43mzmsmjcunjm3iemyms45nswyny42mzcgmjcuodaxldixljgyocayny44mdesmtqunjyyiemyny44mdesny40otugmjeuotusms42odygmtqunzmzldeunjg2iibmawxspsijymqwodfjij48l3bhdgg+pc9npjwvc3znpg==); background-size: 14px 14px; background-color: #bd081c; position: absolute; opacity: 1; z-index: 8675309; display: none; cursor: pointer; border: none; -webkit-font-smoothing: antialiased; background-position: 3px 50%; background-repeat: no-repeat no-repeat;">SaveSave