I love decorating with fake plants.  Some people turn their nose up at them, but why??  Real plants (while I actually also love them) are more high maintenance and can be fickle.  My fiddle leaf fig tree, which I have grown for the last six years, has taken a hit this year from my neglect, because you know, five kids.  So often when I post on Instagram I get the questions all about my plants, both real and fake.  So I thought I would take a minute to write a bit about decorating with fake plants!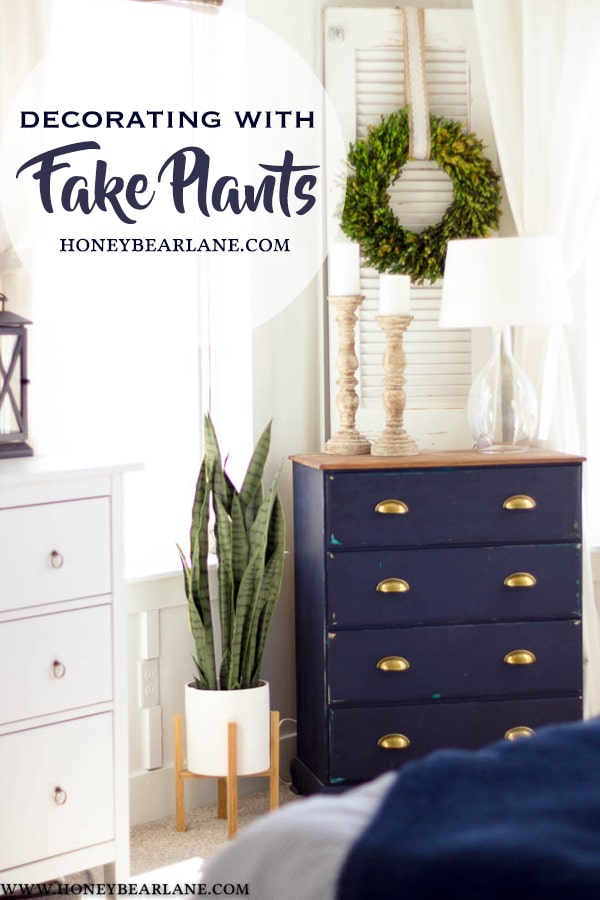 I have plants in nearly every main space of my house.  I tried keeping them even in my kids rooms but they just become extra clutter.  But in my family room I have a plant pretty much everywhere you look.  I feel like rooms desperately need plants to just feel more alive, even if said plants are fake.  I used to try to keep a 50/50 ratio of fake to real, but as my life got more busy and my real plants kept growing bigger and more unruly, I usually opt for the fake variety now.  Plus fake plants have come a long way and some look incredibly realistic now.  With some varieties of plants you can barely tell at all.  We've come a long way from your dusty generic ficus tree.
Here are some of my favorite new additions, which I got from Nearly Natural.  I was so excited to open these up!  All three of these are pretty different but work in so many great ways.
Fiddle Leaf Fig
This tree is so pretty and full.  I LOVE this type of plant but like I said before, my real one is looking pathetic.  I didn't even realize just how pathetic it looks until I got this artificial tree.  But what am I gonna do–throw it away?  That's like taking your dog to the pound-it's a member of the family!  So I'll deal with my sickly tree until it dies.  However, I did help it by 'retiring' it to my bedroom corner.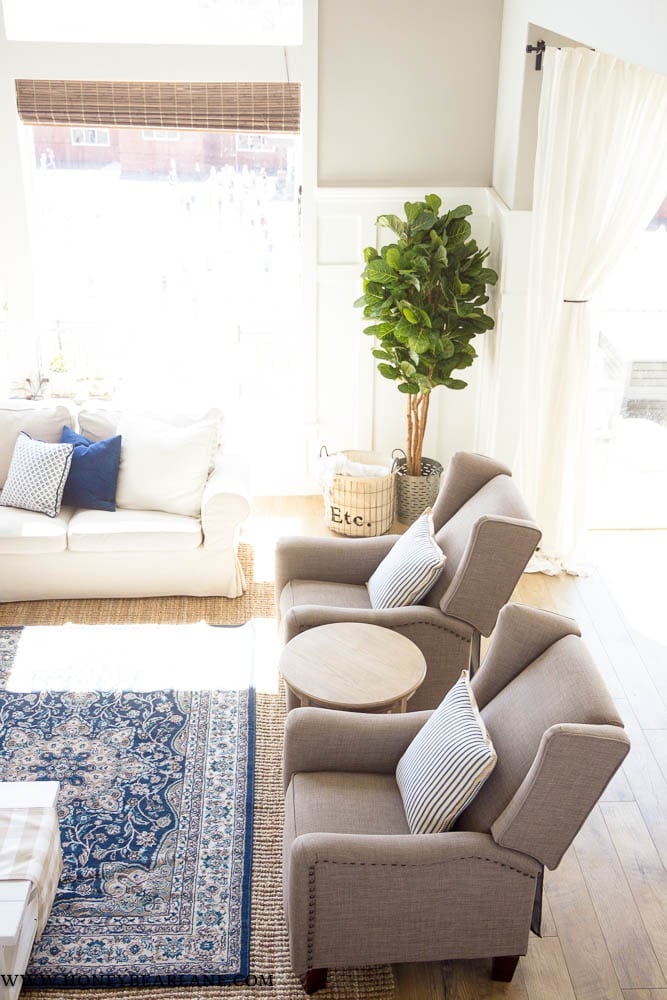 I replaced it with this faux Fiddle Leaf Fig and while I haven't found quite the right container for it yet, I do like how full and healthy it looks!  No dying brown leaves here.  Plus I never have to remember to water it.  Although I will have to dust it for sure.  I love the realistic trunks of this tree.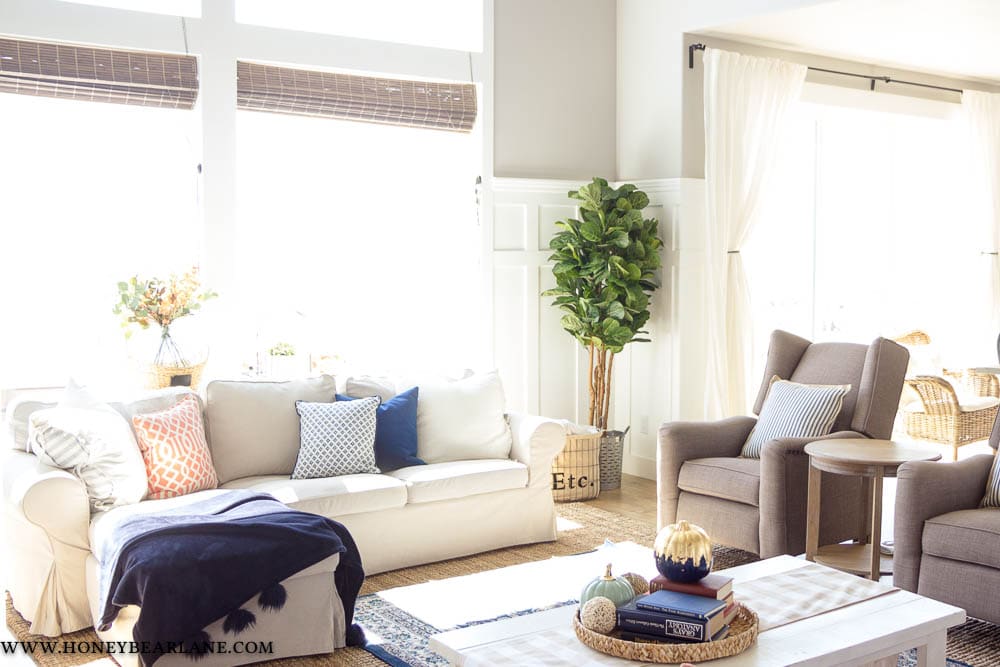 Snake Plant
These succulent plants have gotten so trendy over the last few years that they have gotten expensive.  I bought a real one but it's growing really slowly so when I saw this mature fake one on the Nearly Naturals website I was like wow!  And even though the snake plant (or technically Sansevieria) is SUPER low maintenance, you can't get more low maintenance than fake.  It came in a pretty black container but I put it in my own container which gave it a bit more height and now it can sit on the ground.  I love that this snake plant is so tall.  The only other snake plant I have seen look like this was a plant in a co-worker's office who had worked there for over 30 years.  So you can see how long it takes for those plants to get to maturity!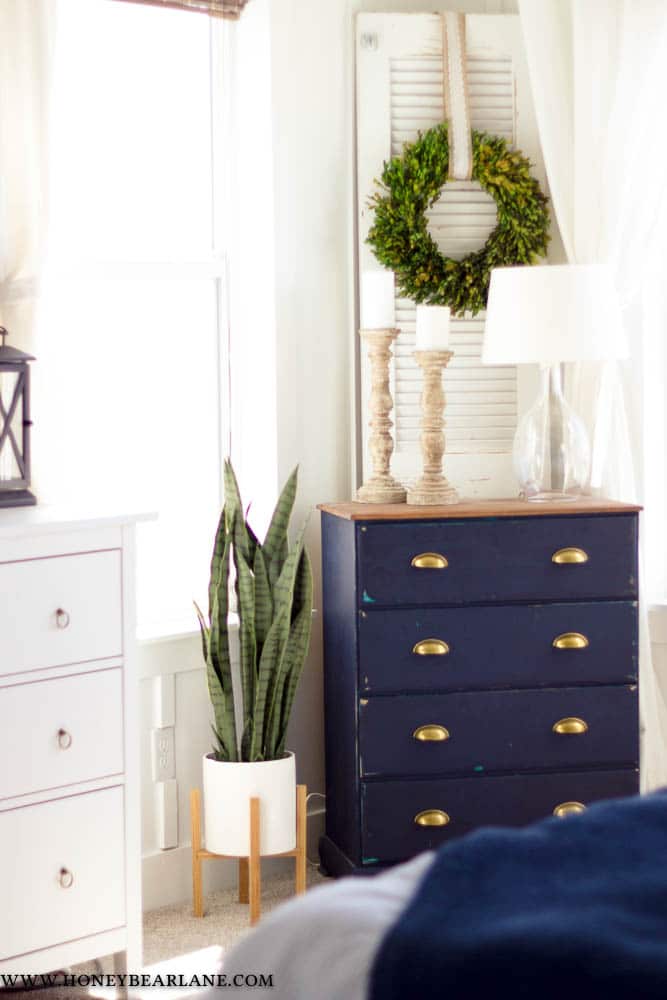 Hanging Boston Fern
The last one I got was this gorgeous Boston Fern which hangs on my front porch.  I have a north-facing house so having plants where the sun don't shine is really tricky.  Plus I love the look of hanging but we can get some big winds which would really wreak havoc on a real fern.  So this fake one is perfect for this spot.  Hopefully it can hold up to the elements, at least until the first frost. It's going to look beautiful with my fall accents added in a few weeks!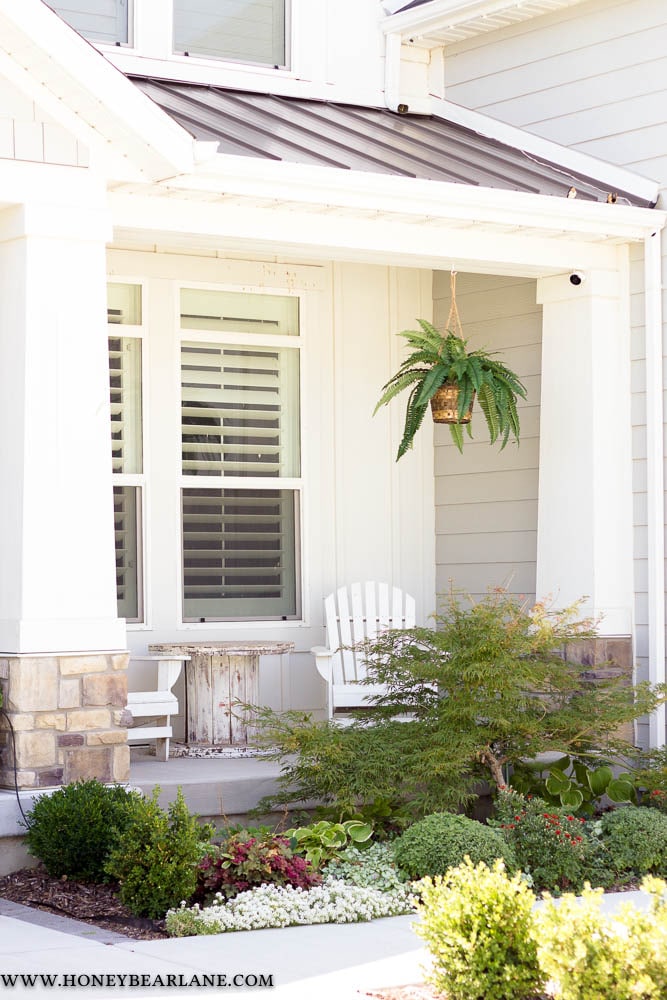 I honestly love the little something extra it adds to the front of my house.  I live in a new construction neighborhood so all of our trees and plants are all little.  I really miss the greenery of more established areas!  Any extra greenery I can add to my house is a win in my book.  Now we are debating getting another one so we have two hanging ferns.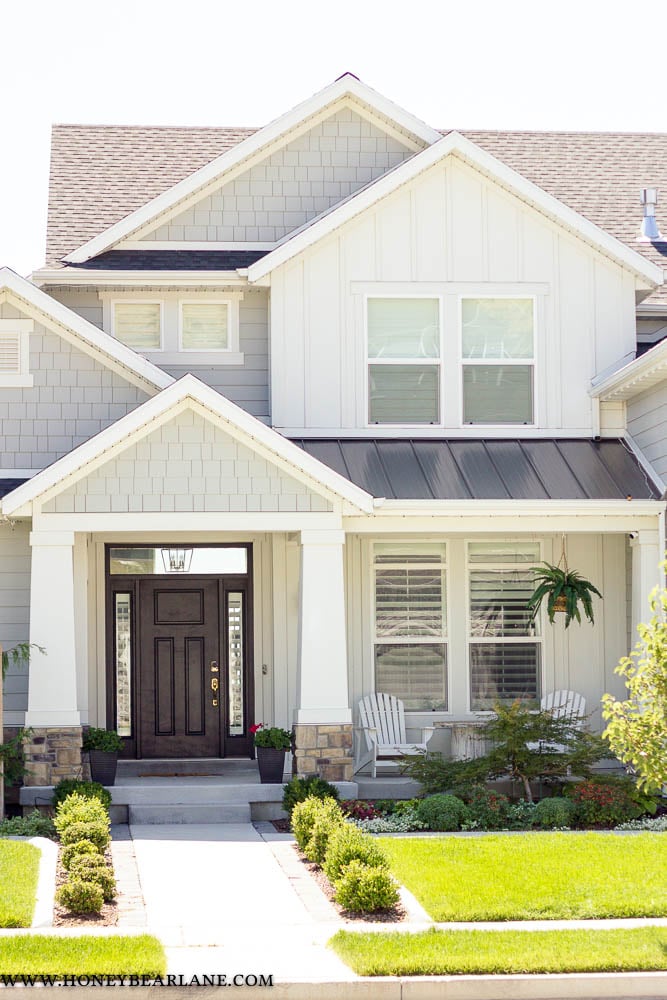 Extra Tips:
Here's some other tips for decorating with fake plants:
Have various sizes and you can pretty much put them anywhere!
Small ones can go on bookshelves
Big ones can accent a dark corner
Medium ones can sit on tables
Fake stems can be gathered together and placed in a vase
Fill any space with a small plant
Add color to any boring spot with a plant
Tie a plant into any color scheme but placing it into a colorful pot
Add a small fake plant to a tray of other items (books, magazines, decorative objects, etc) for a coffee table setting
Group three different plants in the same container for a different but cohesive table centerpiece
What are your favorite ways to decorate with fake plants?