Deconstructing an Ottoman
This week has been crazy. Actually the last several months have been crazy and I stupidly keep expecting things to settle down. But I finally finished my last custom order! And I've got some really
exciting new things
happening with my business that you will get to learn about in the next few weeks.
And by the way THANK YOU to all of you who purchased the Puff Quilt Tutorial! The Groopdealz went so well, it was a blast!
Do you ever get craft side-tracked?
If you are like me, you have a list of at least five projects in your head to tackle. My orders always come first and I have to squeeze in my personal crafting in between. Now that my last order is complete, I can finally get to my list!
Here it is:
-Make couch slipcover with fabric that has been sitting in your living room for THREE MONTHS.
-Make the monogram sign for the wall with the gaping empty space.
-New pillow covers for couch
-Other top secret projects that will be really cool if I ever get to them.
What was NOT on the list?
Ripping off the fabric and foam from my old ottoman.
Before: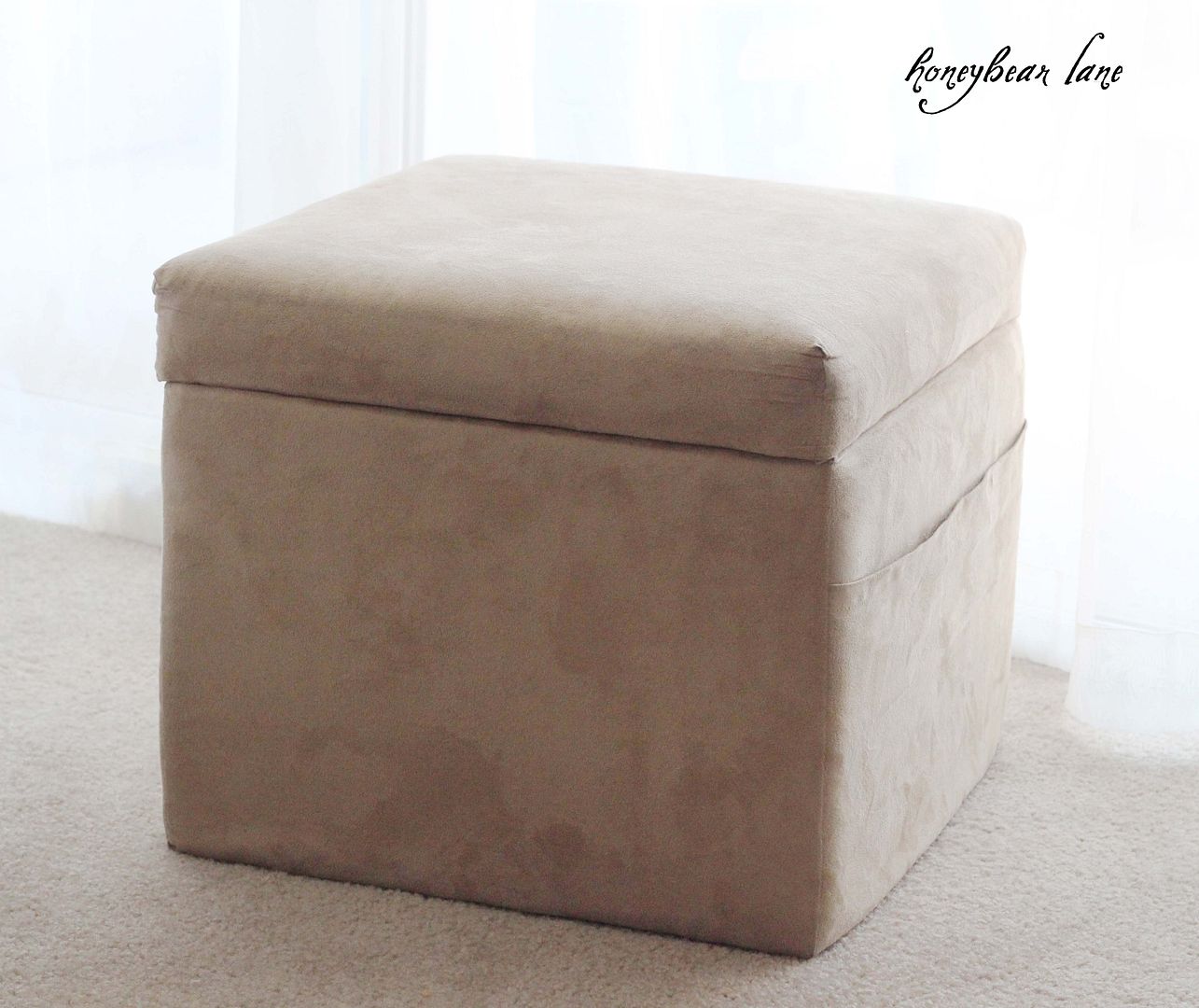 Doesn't look too bad in this picture, but microfiber is seriously the WORST fabric for ottomans, the place solely made for someone's dirty and wet feet. And this camel color showed everything. I've washed this dozens of times and it just
looks haggard and cheap.
My hubby wouldn't let me get rid of it though because he's super sentimental (we bought it together when we first got married.)
I sat down this afternoon, feeling quite blah after my two-hour nap (first time my kids have napped at the same time all week so I was exhausted) and I thought,
"I'm going to rip up that ottoman."
So I did.
After:
Not too bad actually, for a
$30 cheapy ottoman bought at the Shopko.
Sure most of it is particle board but as long as my son doesn't keep spitting water on it (which he did not hesitate to do today) I think it can hold up for awhile.
It still needs a little more work, trimming the rest of the fabric away and whatnot. I basically just cut everything off that I could and then sanded down the foam that was glued to the sides. Now I just need to buy some glue remover to really get it off. There is something so therapeutic about deconstruction.
I'm about 99% sure what I want to do with this, but I was just curious…
what would YOU do if this was your project? What are your ideas?