Ottoman to Side Table Transformation!
Remember this?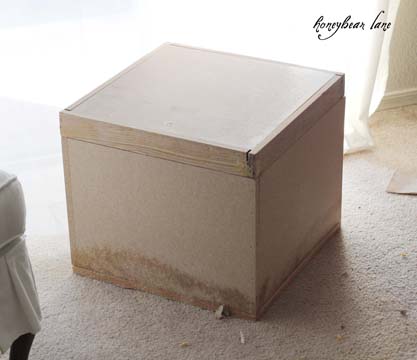 After much work, it now looks like this: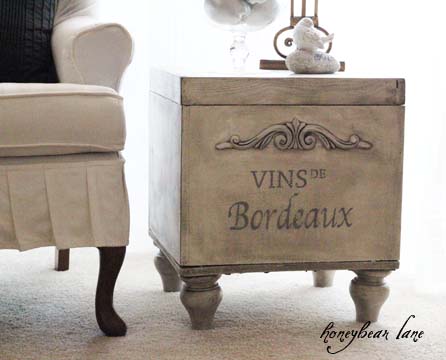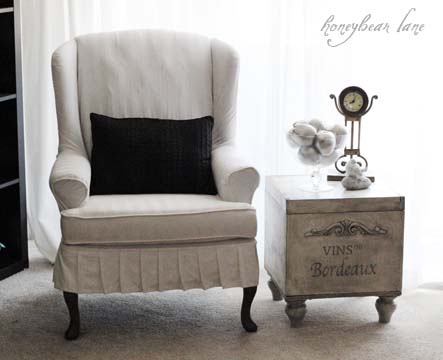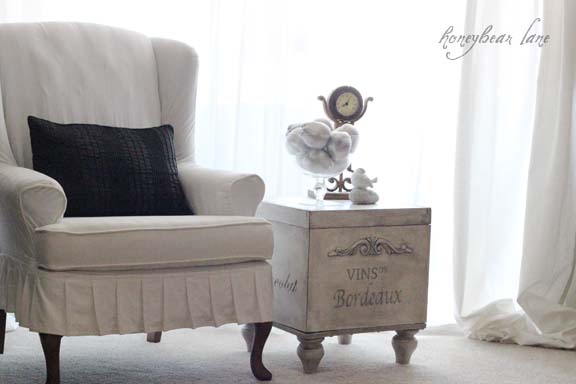 Pretty cool, right?!  I know!
Here is what I did:
I wanted a little table that looked old and antique, like it had been created by some poor French farmer's wife who wanted to having something nice.  She found a bunch of old signs lying around and used them to build this table.  That's the story that I like to pretend is behind this table.
First I painted the whole thing white.  Then I designed a bunch of "French' signs to cut out on my Silhouette.  I really wanted to do one of those cool bicycles (the old fashioned ones with a giant front wheel and a tiny back wheel) but it was a mess to cut out, haha!  So I made it pretty simple.  I cut the stencils out on contact paper, stuck them on the sides and painted the negative space.
After the stencils were done, I sanded and distressed the whole thing.  It already looked in distress because it's cheap wood that had warped slightly on the bottom.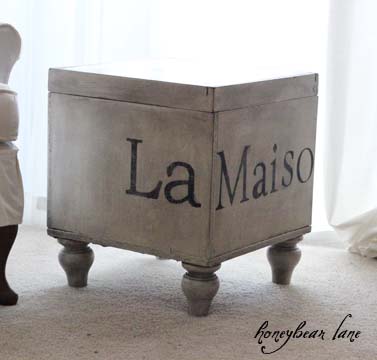 The stencil wraps around the entire table "La Maison Chocolat" and I have no clue if that's proper French or not, despite having taken French for four years in grade school.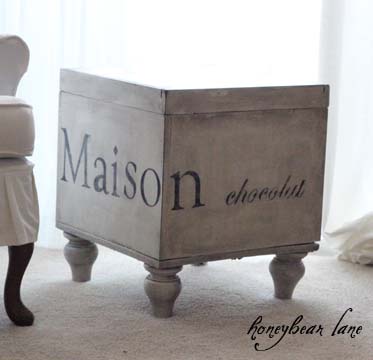 The top looks super distressed and old.  It says "Cafe" and "10 c La Tasse avec Petit Verre" which I think is a Glass with a Little cup or something.  After I finished sanding, I put on the legs that I bought at Lowe's and spray painted white.  Okay, my husband did that part.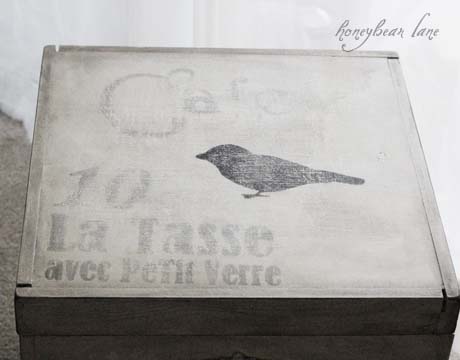 For the front side, I knew I was going to be glazing it and wanted something to pop out and really make the glaze look cool, so I bought this little wood design thingy and glued it on with Liquid Nails.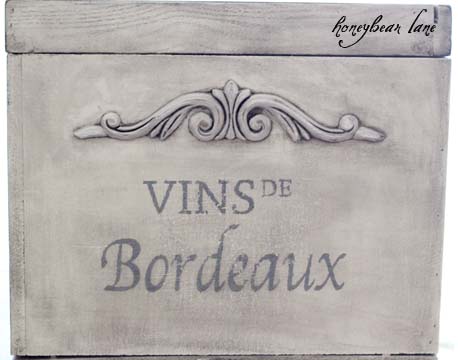 It's my favorite part.  The front says "Vins de Bordeaux" which means "Wine from Bordeau."
For the glazing, I purchased Valspar Antiquing Glaze at Lowe's and just brushed it on and wiped it off.  Simple as that…glazing is a SUPER easy thing to do.  It turned out a bit darker than I would have liked, but there wasn't much I could do since the wood was so visually un-detailed and flat.  So there you have it.
I still have to seal it but lucky me, the spray can of sealer I bought stopped working about two seconds after I started using it so it's off to Lowe's I go.  I'm taking a break now though.  I'm ready to move on to the next thing!
Linking up to these parties:
Tatertots and Jello Weekend Wrapup
Flamingo Toes Think Pink Sunday
Today's Creative Blog Get Your Craft On Tuesdays