Slipcover Progress and How to Make a Cushion Cover
I've been making a couch slipcover in a series of posts.  Today's is How to Make a Cushion Cover!
To see Couch Slipcover Part 1, click here!
To see Couch Slipcover Part 2, click here!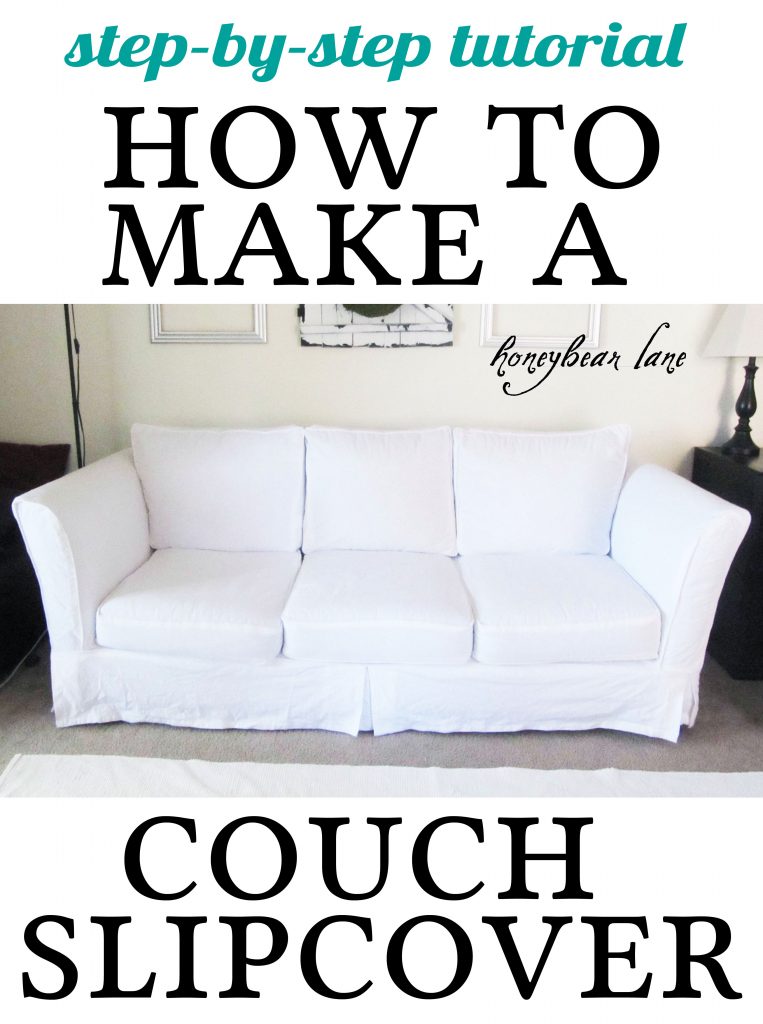 Want to see the progress on my slipcover?  Get ready to love it as much as I do already…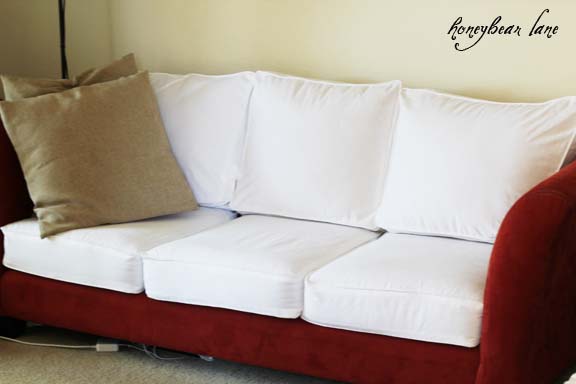 Just ignore the computer cord under the couch (it's a great place to keep my computer safe from my kids, believe it or not.)  But seriously, don't you love it so far?  Are you so jealous that this isn't your couch?  Haha! Here's how you sew a cushion cover for a slipcover:
Start with these four pieces:  1 & 2)  the two main pieces-top and bottom of cushion 3) the middle band and 4) the zipper piece you created from this zipper tutorial To get your top and bottom of your cushion, set your actual couch cushion on top of the fabric you want to use and trace around it with a fabric pen.  Then cut it out, about a 1/2-1″ out from the line you drew (for your seam allowance and piping.)  Cut two.  ***If you are tracing an asymmetrical piece (like the top left or right back couch cushion on my couch) you will need to make sure that you keep the RIGHT sides opposite (in other words don't sew the piping on exactly as you did one side because it just won't work, trust me.) To sew piping onto your fabric, follow this piping tutorial. The middle band you create by measuring the height of the cushion (for the width) and the perimeter around, minus the zipper length.  Give yourself several (like 5-6) extra inches tacked onto the perimeter.
Take the end of the middle band and fold it over twice, about an inch each fold.
Place the zipper end of the zipper piece against your folded piece like this, so the zipper right side faces the fold and the fold faces the zipper.  Put a pin.   PS…normally your zipper piece and the middle band should be the same width but this particular cushion was much wider at the top than at the bottom so don't worry, I'm doing something special.
Sew the two pieces together in the area above where the zipper lies.
Here's what it looks like from the front.  Now your zipper has a little pocket to hide in.
Take the bottom piece of the main cushion and lie it right side up (piping side up.)  Starting with the other end of the zipper piece (the side without the zipper) facing it inward (so the right side faces the right side of the main piece) and place a few pins as you align the zipper on the bottom/back of your cushion.  To round the corner, clip little notches to help.  Don't pin too many though because the fabric will need to be smoothed and stretched and you will find that pinning was a waste of time.  Just line it up and sew as you go around.  To start sewing, start a couple of inches away from the end so as to be able to join the ends together.
Here I've sewn around the entire cushion except for a few inches on either side of the ends.
To join the ends, cut off the long excess, save a few inches so you can fold over for another small pocket.  Do the same thing as you did before, folding over twice.
Tuck the folded ends UNDER the zipper end and fingerpress flat, then sew it all down.
To sew the actual ends together, I pin them together first then manipulate it so I can slide it into the machine and just sew it down.  It's not completely essential to sew this, but it's nice to.  Just sew the stitch until you reach the piping.  This is totally the unofficial way to do this–not saying it's the right way, it's just what worked for me.
And here is where I tapered off the uneven ends so that I could allow the top part of the cushion to be wider than the bottom.  (I just cut it off.)
I always flip it right side out and then slip it over the cushion to make sure it's fitting right.  If it's not, it's best to fix it now!
Okay this is where it gets tricky.  Let's pray that your top and bottom main pieces were the same size to begin with, but it's good to double check now.  Turn your sewn part wrong-side out again and put it on top of the other piece, right side up.  Match up the corners and put a pin in them.  Don't pin the whole thing together because it won't fit.  You will see that one side seems bigger than the other and you'll want to freak out and start ripping it apart.
See?  Look how much larger the bottom looks than the top…plenty of reason to freak out, but don't yet.  Remember that as you sew, the fabric will stretch and smooth and give you enough fabric to make it all fit.  You will have to get a little crafty but you can make it work…usually.  Out of the six cushions I sewed I only had one that I had to rip apart and cut a tiny bit off to make it fit. So what I do to sew it is this:  I make all four corners fit with pins, even if some of the fabric is puckering.  I sew the sides that fit just fine, smoothing and pulling taught as I go.  Your fabric will gather up and give you enough to sew the rest of the corners.  Sorry if this doesn't make very much sense, but to get a tight fitting cushion cover, I think it's a pretty standard thing to expect.
Make sure that before you sew the entire thing closed you unzip a bit of the  zipper so you can finish sewing it up easily, then unzip it by reaching your hand inside.  That way you can flip the whole thing right side out.
And voila!  Here is the completed cushion cover.  I didn't trim a thing, which I may or may not do (leaning towards not.)  And yes that is my adorable baby in the background.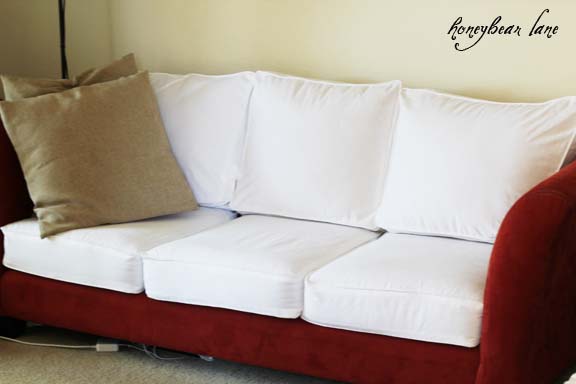 Slide your cushion into your new cushion cover!  This tutorial was done from one of my side back cushions, so you can see why it was asymmetrical and fatter on top than on bottom.  The back cushions of the original couch were sewn on (I'll show you that later) so I was planning on putting thick velcro on the back of these cushions. But they are actually staying put very well as they are AND the ability to take them off and fling them on the floor makes my couch MUCH wider when I want (which allows for much easier cuddling!) I've had these slipcovers on for about four or five days now and they are still looking great, despite my kids dirty summer feet.  (My potty training son even had a tiny little accident on one and it was super nice to just put it in the wash, dry, and bam an hour later all was better than new.) I don't think it will take long to do the rest and I am determined to finish this week! Don't forget to check out the rest of the slipcover progress!
And I also made a Wing Chair Slipcover!
If you are new to Honeybear Lane, Please sign up to get posts through the RSS feed and sign up for our Weekly Newsletter below!