I saw the idea for a framed bow holder a LONG time ago and couldn't wait for the day when I could make one for my daughter.  And now that daughter is on her way and I finally got to make it.  I'm sure you've seen these before, although mine is a little more 'pie-like.'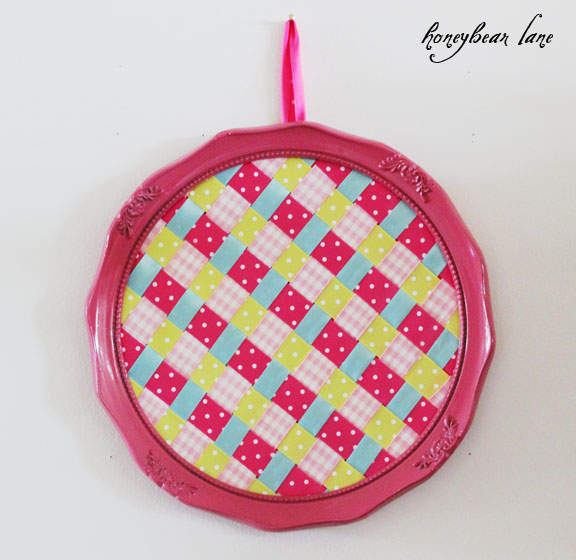 It's made with ribbons.  So fun, right?
The colors I chose for my baby girl is raspberry pink (or honeysuckle), light pink, mustard yellow (although I'm fully aware this yellow is much more lemony) and aqua.
I started out with this nasty framed plate from the thrift store.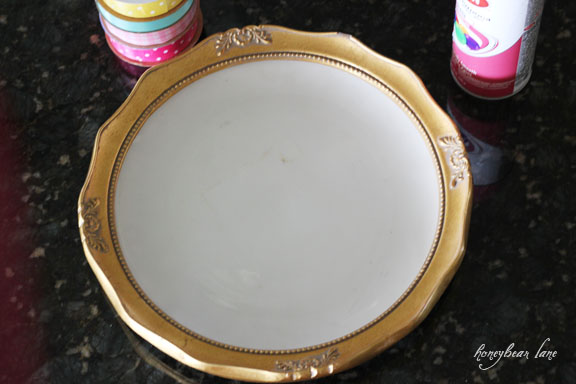 Then I spray painted it Krylon's Watermelon.  Oh how I love spray paint.  I could write a testimony about spray paint…maybe someday I will.
Then I laid out my ribbon the same way you weave a lattice.  Two ribbons alternating going horizontally and two alternating ribbons going vertically.  I taped the tops down so I could weave it.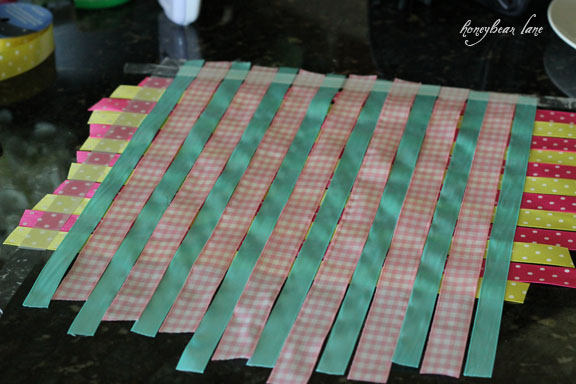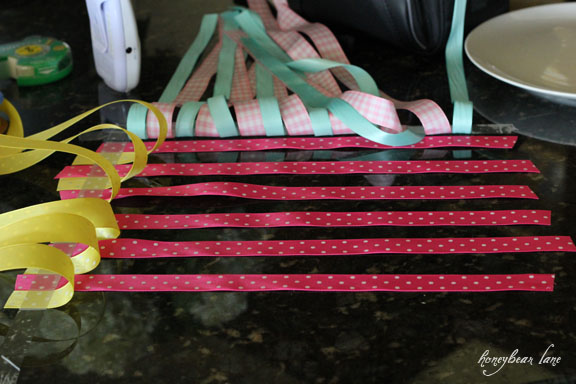 Then I lifted up all but one of the ribbons, then laid the opposite side down, then the other side again, and the other side last.  That's totally confusing so here is the order:  Deep pink first, then aqua down, then yellow down, then light pink down.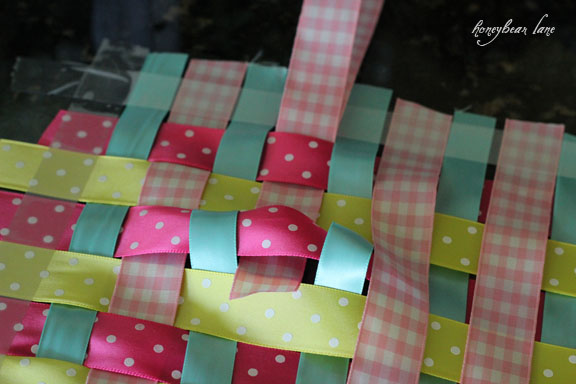 The trouble at this point was that you couldn't see any of the deep pink.  So I took the light pink ribbon and poked it under the yellow ribbon.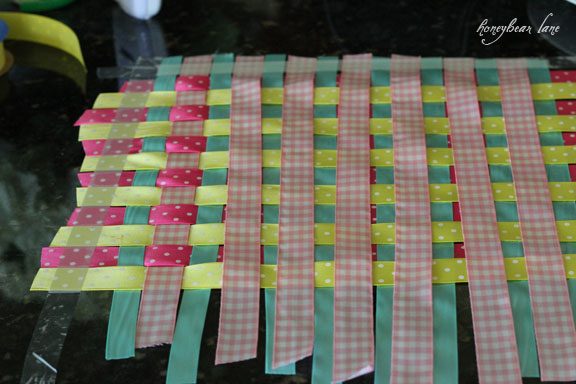 Like this.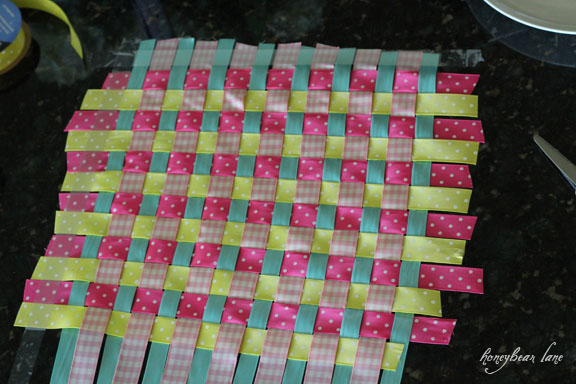 And this is what I got.  I then made sure that it was big enough for my frame (actually I did this before when I was first laying down the ribbon.)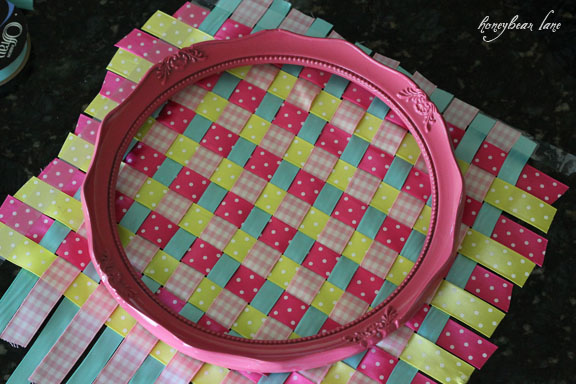 Looking cool right?
To fit it inside, I cut out a circle of cardboard.  I then taped down the other two sides of the weaved ribbons so I could flip the whole thing over.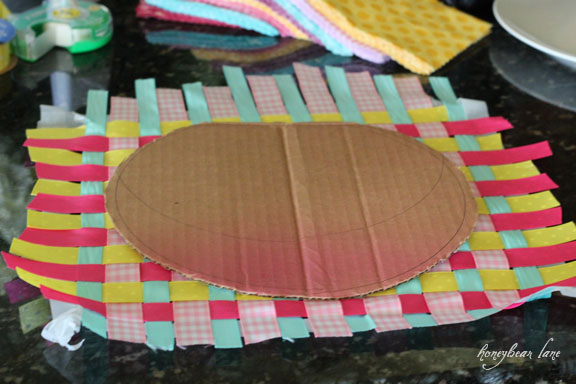 And then I just folded over the excess and taped it down because I didn't have hot glue and wanted to be done.  Ta da!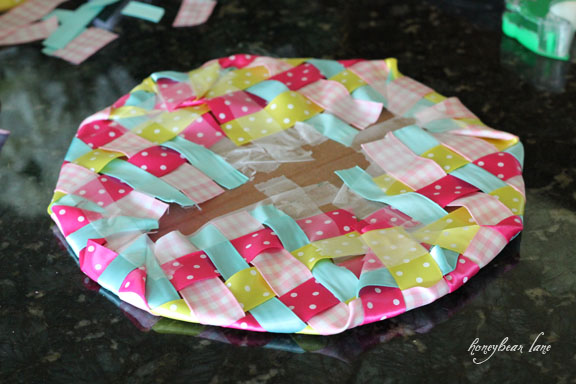 Looks terrible and unprofessional right?  Well I didn't care.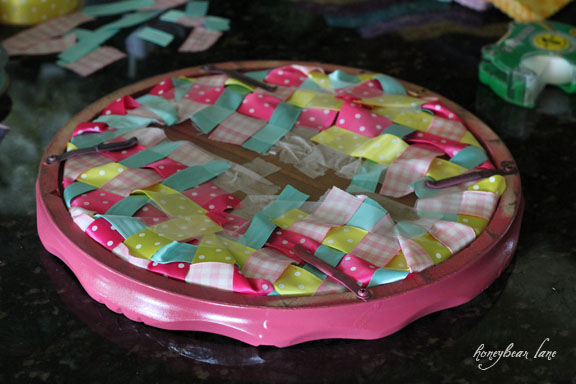 Because I fit that circle into the frame and twisted those 'things' that held the plate in back over. And…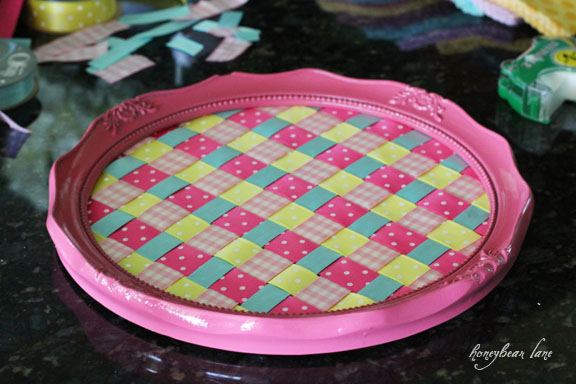 Voila.  Perfection in Pie form.
This was a pretty easy project that didn't cost a lot and didn't take a lot of time.  Now I have a fun way to hold my girl's bows and clips which I have in a box at home.  Yay!
Linking up to: