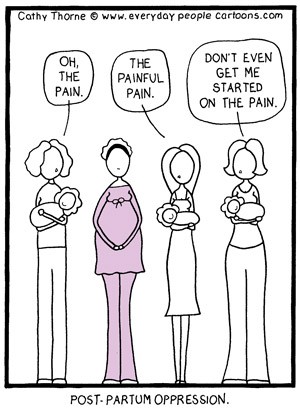 I checked into my hospital room where I'd be staying for the next couple of days.  And by 'checked in' I mean was wheeled in by a wheelchair where nurses helped me stumble into the bed.  Because as anyone who has give birth knows, you're not usually itching to run a marathon hours after pushing a human bowling ball through a 10 cm hole.  Which by the way, has most likely either been torn  or cut open and then stitched shut.
There's a lot of things no one really prepares you for when you're going to have a baby.  So here's a few nuggets for ya:
1.  You bleed…and bleed….and bleed…
The after birth situation is not pretty.  Not that giving birth is exactly pretty (although it IS beautiful), it's full of fluids and nudity.  But afterwards, well…blech.  You bleed.  A lot.  Why?  Because your placenta which was attached to your uterine wall was ripped away, leaving all those blood vessels wide open.  And you bleed for weeks to come.  And no tampons allowed!  Yay for us!
So the nurses give you these pads the size of a sleeping bag (NOT exaggerating) and you shove them and an ice pack into these weirdly shaped mesh panties that leave little to the imagination and make you realize just how far you have to go in your upcoming weight loss journey.  And here's a little bonus…that bleeding is probably not going to go away for the next 3-7 weeks. Longest period ever.
2.  Your downstairs is a mess.
I have never been brave enough to actually check out the situation down there after giving birth.  I've had friends recommend strongly NOT to–there's no coming back from that.  So I just use the little squirter bottle (think mini-bidet) to keep it all clean for the first week or so.  Some people like the sits bath, but it's too much work for me even though it really does feel nice.  And ps, it will definitely hurt to sit if you've had stitches.  Sit on your Boppy pillow–it will be your best friend.
3.  You keep having contractions.
I had had stitches for tearing, which of course hurt, but the worst pain after having a baby is the contractions.  Yes, you still have contractions, you lucky girl, you.  Because your stretched out uterus is not going to just magically shrink back down.  The contractions help it to get there and they hurt a lot.  And be prepared for every single person to tell you "They get worse with each baby."  Thanks, that's comforting.  Bonus:  they are also worse when you breastfeed!
4.  You have gas…  
It was about 3 am.  I was alone in my hospital room sleeping.   Little E was in the nursery and Husband was at home with our boys.  Suddenly I awoke to a very sharp pain in my abdomen.  I thought it was maybe a contraction, but it wasn't going away.  It started getting worse and worse so I buzzed the nurse.  She spent the next hour or so with me, trying to help me get rid of the pain.  Here's the pathetic part–it was just gas!  But it hurt SO. BAD.  And I had some serious sympathy for Little E when she would be crying in pain from her gas over the next few weeks.
Finally it was time for me to take the heavy drugs, my percoset.  I took two and finally fell asleep for hours.  But my abdomen hurt to the touch for hours after, and I cried when my OB came in to feel my uterus.  So embarrassing.
5.  …And pooping is just downright terrifying.
As for doing the number 2, the big BM, taking the Browns to the Super Bowl, etc.  It takes awhile to get normal.  The first time you do it after giving birth is super scary because you just know it's gonna hurt.  And I'm not gonna lie…it might.  But it might not.  But it might.  And it might hurt for the next month or two as your bowels try to figure themselves out again.  Take those stool softeners they give you!!  After I had Will I was guzzling two water bottles a day of Metamucil to try and make my experience less painful, but it still wasn't.  It would hurt so much and I bled so bad that I would be physically wiped out for the next several hours.  (Not that bad this time, btw.)
6.  You are still huge.  
You'd think that your baby being on the outside of your stomach would make your tummy virtually flat, with a fun little fat flap.  Nope (well, you do get a fun fat flap.)  After I have my babies, I still have a giant tummy, only slightly smaller than I was 9 months pregnant!  Very depressing when getting dressed.  I mean I seriously get sick of my maternity clothes and the second I am unpregnant I do NOT want to be wearing them.  But they really are the only things that still fit.  I specifically bought some cute maternity jeans this time around that I knew I would wear mostly after the baby came.  And guess what?  I'm wearing them right now.
Here's a secret and if you should happen to do this too I will give you a hug.  I wear a girdle thingy every day.  I bought it the first week I was home.  And the main reason I wore it at first was because my tummy was so lose, it felt practically detached from my body.  So I bought a $12 body shaper thing at Wallys and sure enough, it sucks that baby belly right in.  It really helped me feel more together, as well as look a lot thinner.  And it allows me to wear more of my non-maternity clothes!  I'm going to keep wearing it for as long as I need and will probably buy a smaller size as I lose the weight.
7.  Breastfeeding is pretty much a nightmare. 
So maybe it's not a nightmare if you are, oh lets say every woman in my family except me.  (Yes, sisters I know you will resent me for that comment.  It's just the way I feel sometimes!)  Y'all can read my story of breastfeeding and know that I have never been able to do it right.  My mantra this time around was "I'll try it–if it's a struggle, I'm not wasting my time and energy."  But what about if it kind of works?  I'll detail this in an upcoming post, but you can rest assured that it's not all easy peasy for many women.  And even the women who seem like it's super easy struggled at first with the pain and such.  A proper latch does make it more comfortable but there is no way it's completely pain-free in those early days.  Expect pain and expect difficulty and if you don't have it, woohoo!
8.  And a couple other things:
-Your hair will fall out in droves.  Definitely consider getting a hair cut.
-Your tummy will look alien as it shrinks down.  The saggyness, the wrinkles, the unstretched stretch marks…oh the humanity!
There's much more to the after birth that I could detail but I'm not gonna.  I'm just going to say this:  I was incredibly glad to leave the hospital and go home.  Because with all the discomfort of post partem, it was just better to deal with it at home.
Read Part 1:  Meeting My Daughter