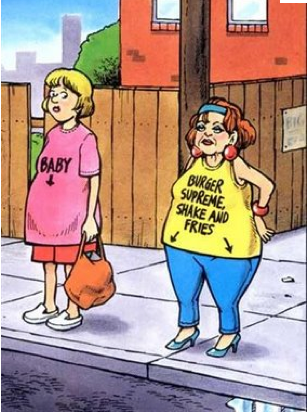 Oof–I had a bad week when it comes down to eating.  Here's the thing…the second I find out I'm pregnant, all my resolves to diet and exercise go VAMOOSH!  I do not know what it is, maybe it's just a basic survival instinct.  Basically I lose all self control and eat whatever the heck I want.   To be fair, I try to exercise but I'm usually just too tired to do it.
So once I have the baby, it takes a long time for me to re-train my brain and body to a healthy lifestyle.  And the more kids you have, the harder it is to exercise.  So that's my excuse.
Speaking of exercise, I think my body has atrophied.  Literally.  I did this super weak-sauce workout on Monday and I'm so sore from it today.  And not the good kind of sore where you are encouraged.  It's the kind of sore where your body is so tired it hurts.  
So my weight this week?  154.
Um…yay?  I have to come clean (cuz that's what I'm doing these days, remember?) and admit that my weight has fluctuated from 153 to 158 this whole week.  So I could have said I weight 153 last week, but I'd have to actually work really hard to get lower than that.
I bought Jillian Michael's 30 Day Shred on Amazon.  It should be here tomorrow and then I will get my butt kicked.  I will probably make it 5 minutes before collapsing on the floor clutching my heart.  Should be fun!