Basketweave Quilt Pattern
I had this idea for a quilt a LONG time ago.  And one day last week, in a rare quiet moment of nursing, the idea popped back into my head and I had to shove ALL other projects aside and do it.  It was a little hairy at first, but after a lot of thinking and plotting, I think it turned out so cute!  I know, I know, it looks like a basic 2″ square pattern–nothing revolutionary. But just you wait, this is the basketweave quilt pattern…and yes, there is weaving!
It looks like a lot of work, right?  Would you be surprised to know that it wasn't?  That the whole project took me only a few hours?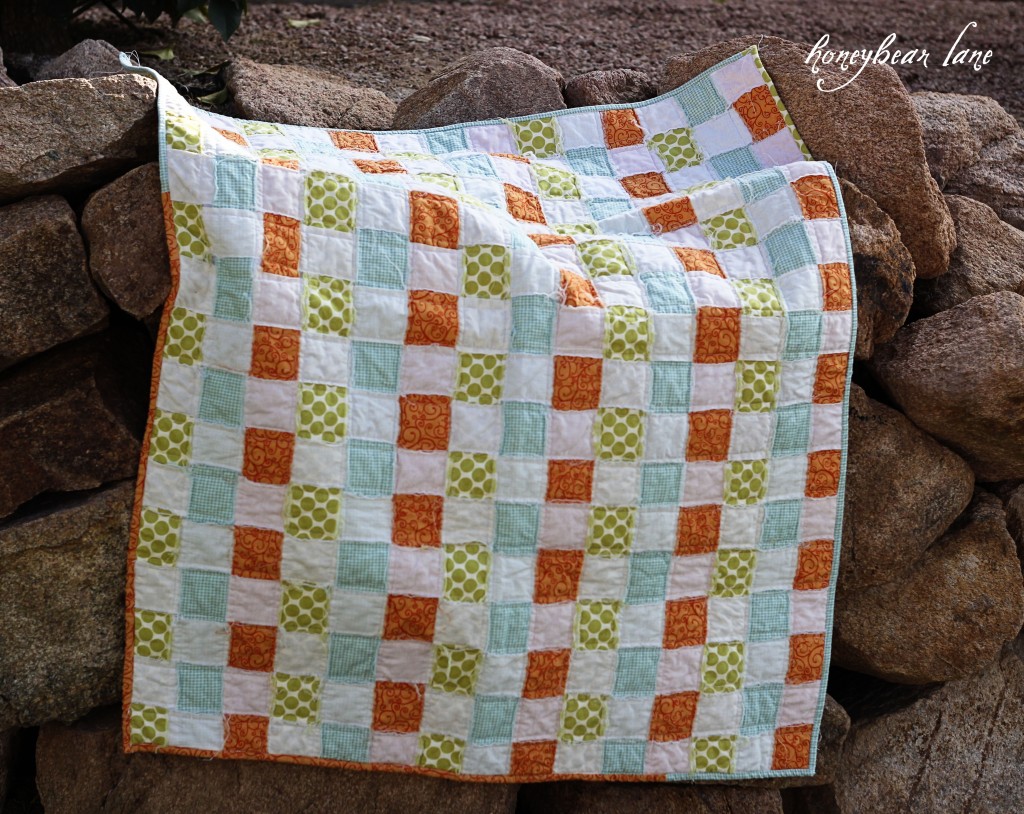 It's a great beginners pattern with a NO-SEW top!!
The basic concept is an old one:  cut strips of fabric and then weave them like a basket.  Actually I've never woven a basket so I don't know if that's quite the right description.  But that's what I'm calling it regardless.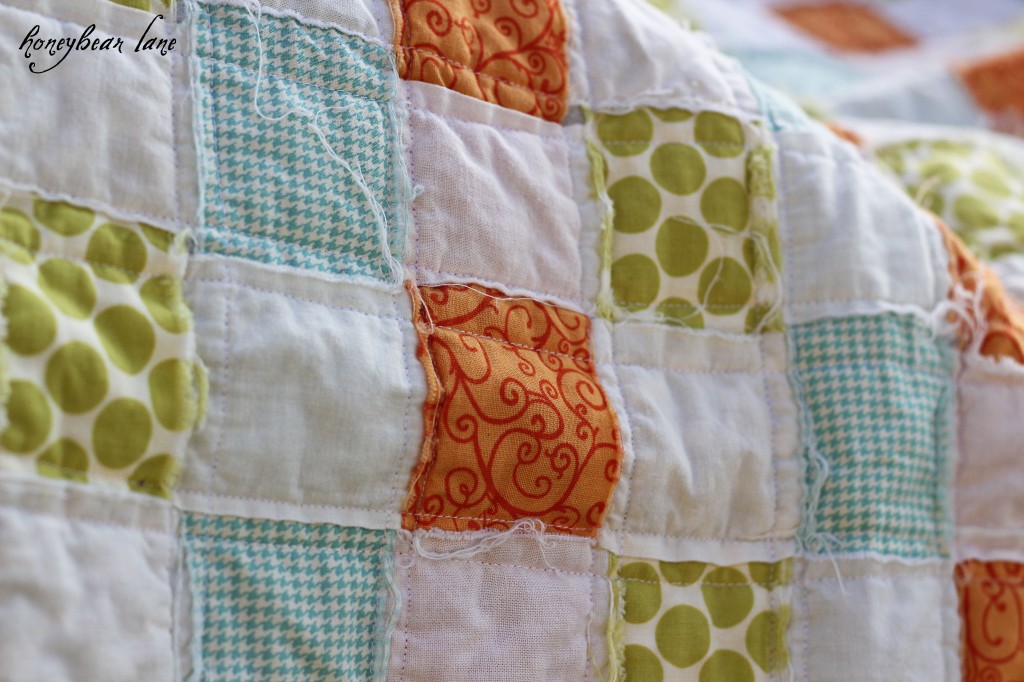 The biggest trick to this idea was the way to transfer the whole woven top without it coming apart.  I really wondered how this would be possible.  At first I tried packing tape but that was a sticky mess.  Finally it came to me:  freezer paper!
Update: Some readers also suggested here you could use fusible webbing, which you would not have to tear off later. Great idea!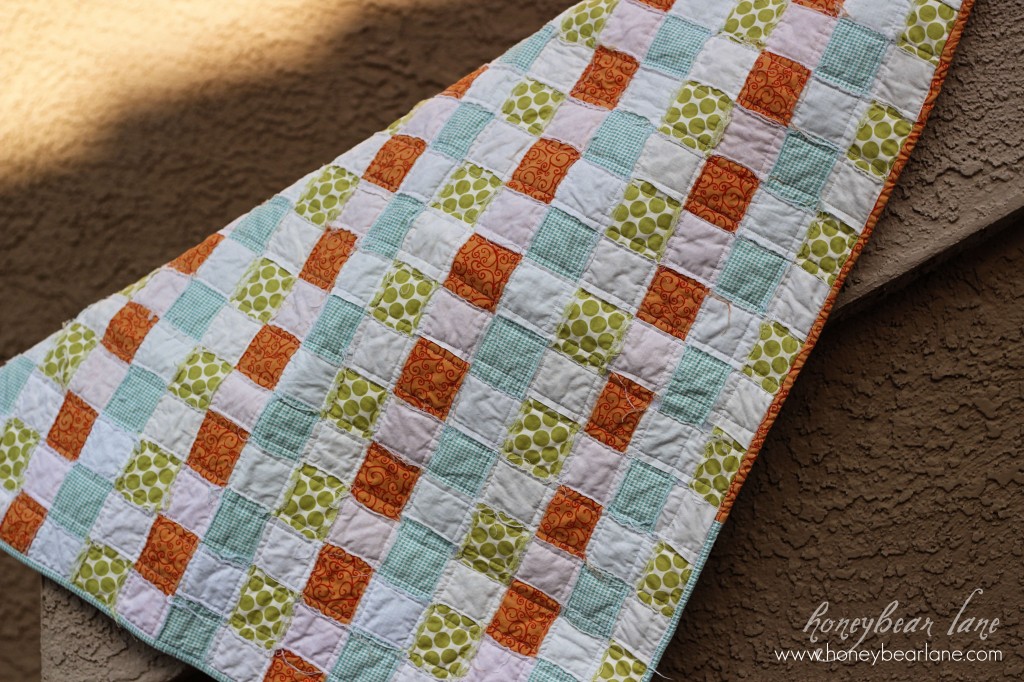 Read on for the full tutorial…
Materials:
1/2 yard of three different color fabrics, cut into 2″ strips OR 1 jelly roll
1 yard of cream/white colored fabric, cut into 2″ strips
1 yard of backing fabric of your choice
1 yard of low-loft batting
1/2 yard of binding material (or use leftover strips of fabric)
Thread/Safety pins
Freezer paper
Tape
Diagram A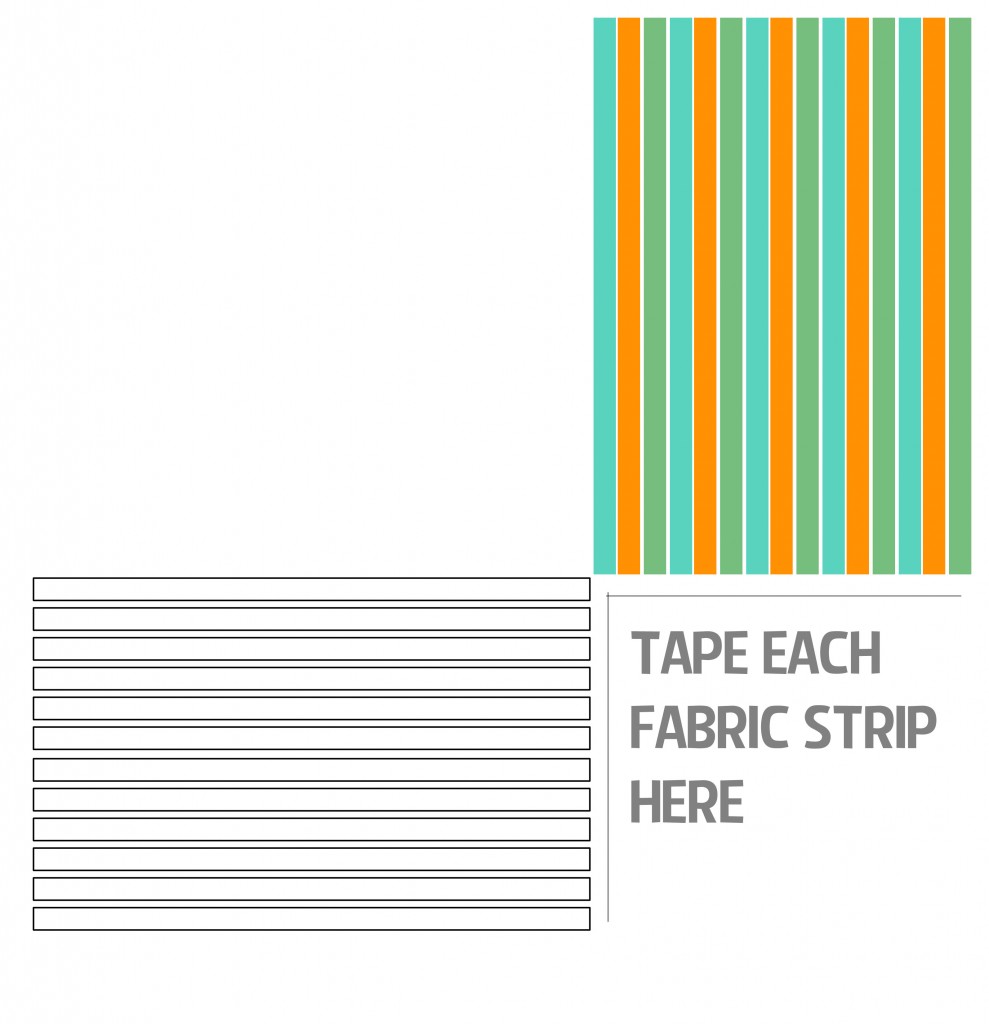 I drew this out so it would be clear in case you don't know how to weave. For the top, you'll want to cut approximately 15 or 16 strips for one side and 18-20 strips for the other.  For this quilt I cut one side from three fabrics (green, blue, orange) and the other in all cream.  The colored strips were cut 44″ and I think the cream was a little shorter, because I was using up scraps.  Make a grid (I did this on my kitchen table AKA my craft table) and let the strips hang over the sides) and tape down the strips like shown.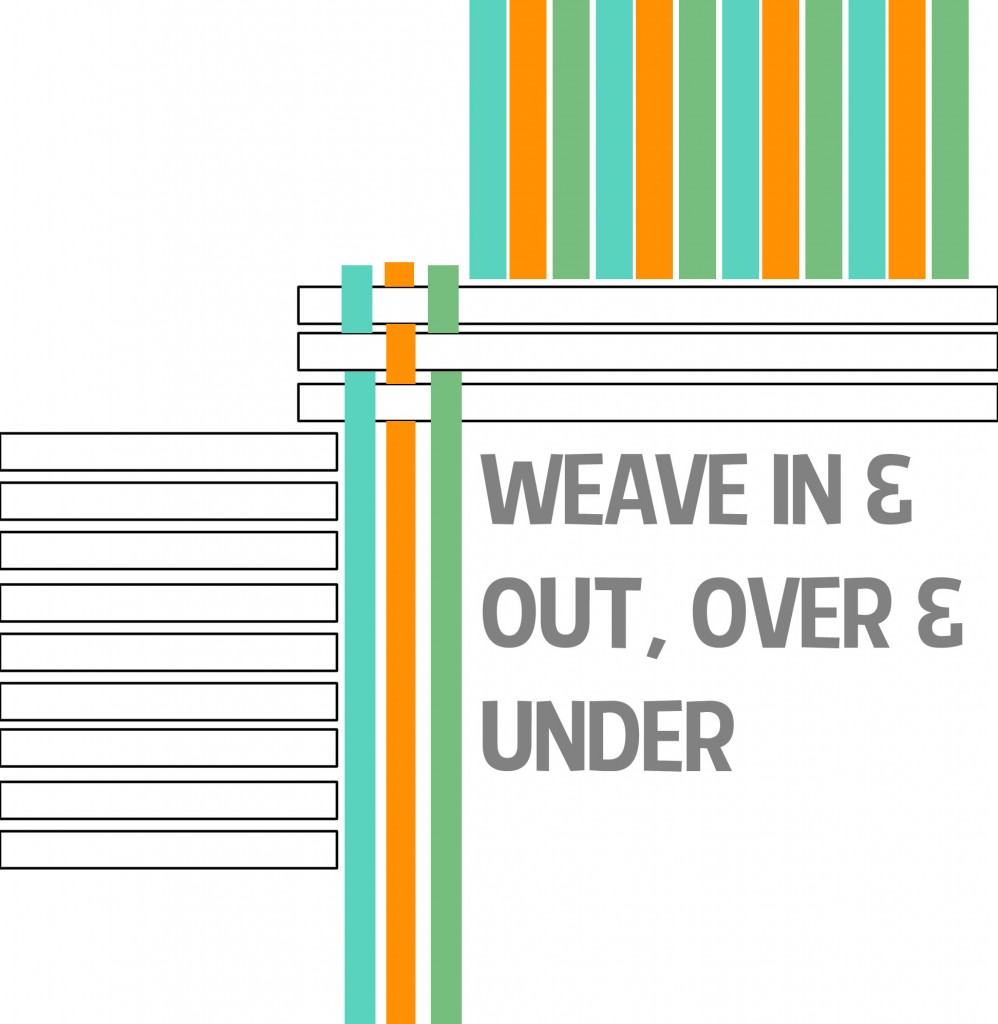 Then you start to weave. Bring one top strip down and then one side strip over. Bring the next top strip down and then the next side strip over, but tucking them under and over. Another method is to bring all the strips from one side down and then weave in the other side's strips. Whichever is easier or more fun. Because really, it's pretty fun. Just do it in a spot where your little ones can't mess it up if you can't finish it all at once.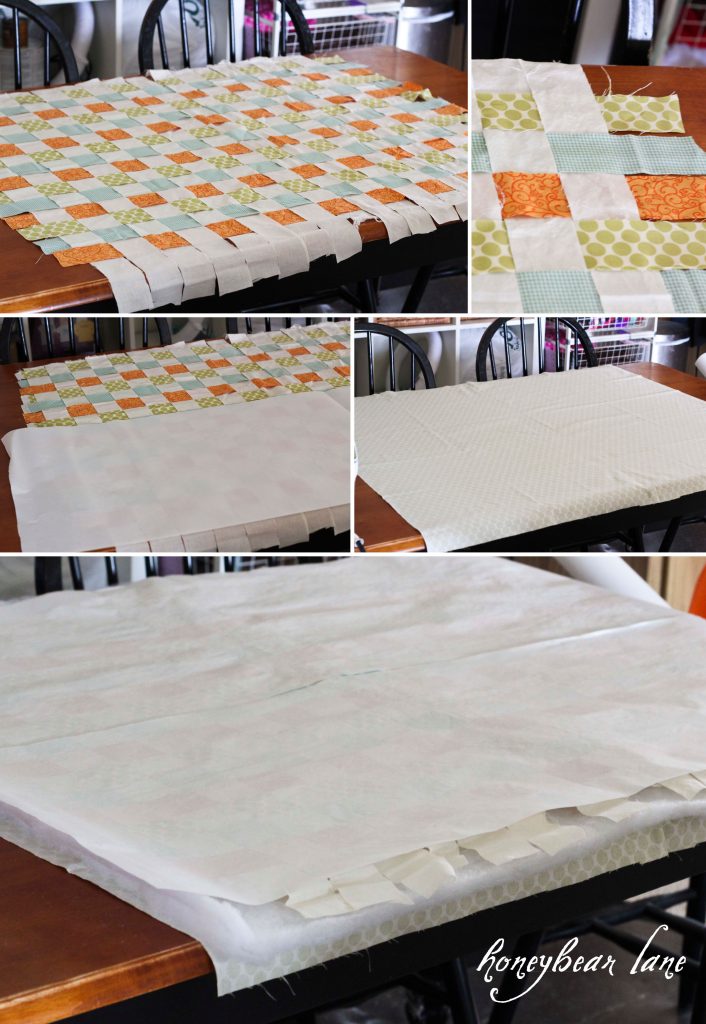 Once you've woven the top, make sure it's all tightened up so that all the fabric is touching and there are no holes.
Then you will take freezer paper and lie it on the top, shiny side down. This top took two large pieces. I lay it over and ironed it on on the cotton setting with no steam. The freezer paper adhered to the fabric and kept it all together. Then I folded the top in half and put it out of the way.
Next I lay a yard of my backing fabric right side down on the table (or floor if you want). It's a good idea to tape it down, although I didn't because I was in a rush. You can follow my quilt basting tutorial here or keep reading.
After the backing fabric, you place a piece of batting that is same size or slightly smaller, and finally the woven top. Don't take the freezer paper off yet!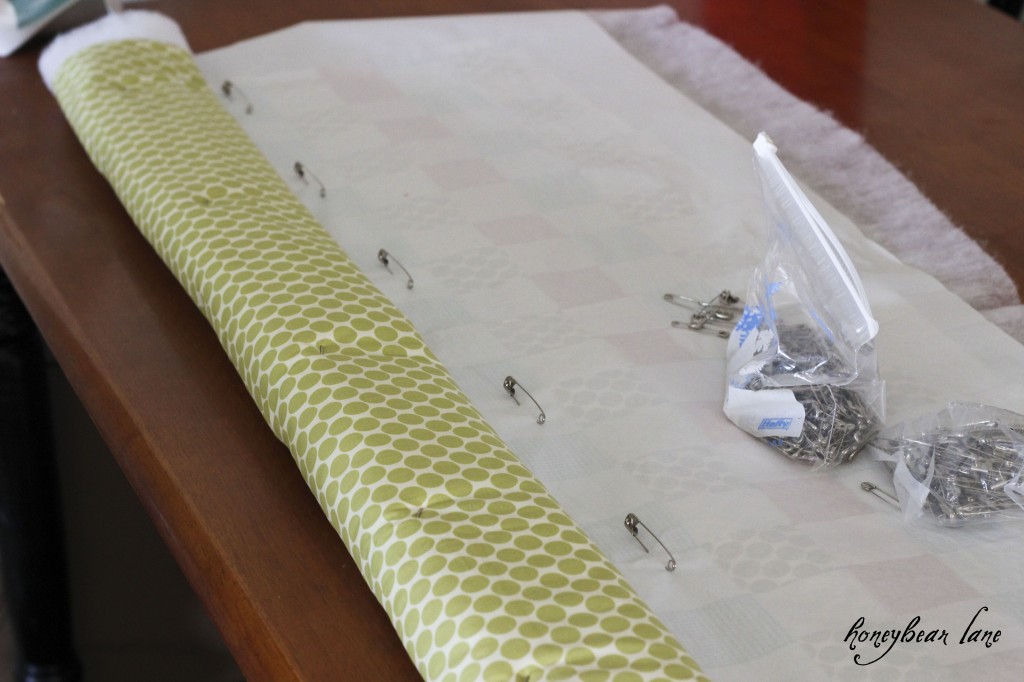 After you've made your quilt sandwich, you're going to start safety-pinning. I safety pinned all along, every several inches. I rolled the quilt up as I went along to make things easier.
(This is where the no-sew part ends, so if you don't sew, find someone who does to help you with this step!)
After the center quilt is pinned, I sewed a border around the perimeter of the quilt to keep those ends together. I always use the edge of my presser foot as my seam allowance guide (which is about a 3/8th seam allowance.) I lined up the edge of the presser foot with the edge of the outermost woven strip (not the little outer pieces that aren't really woven, they will be cut off) and sewed all around the perimeter. Make sense? And yes I sewed right through the freezer paper.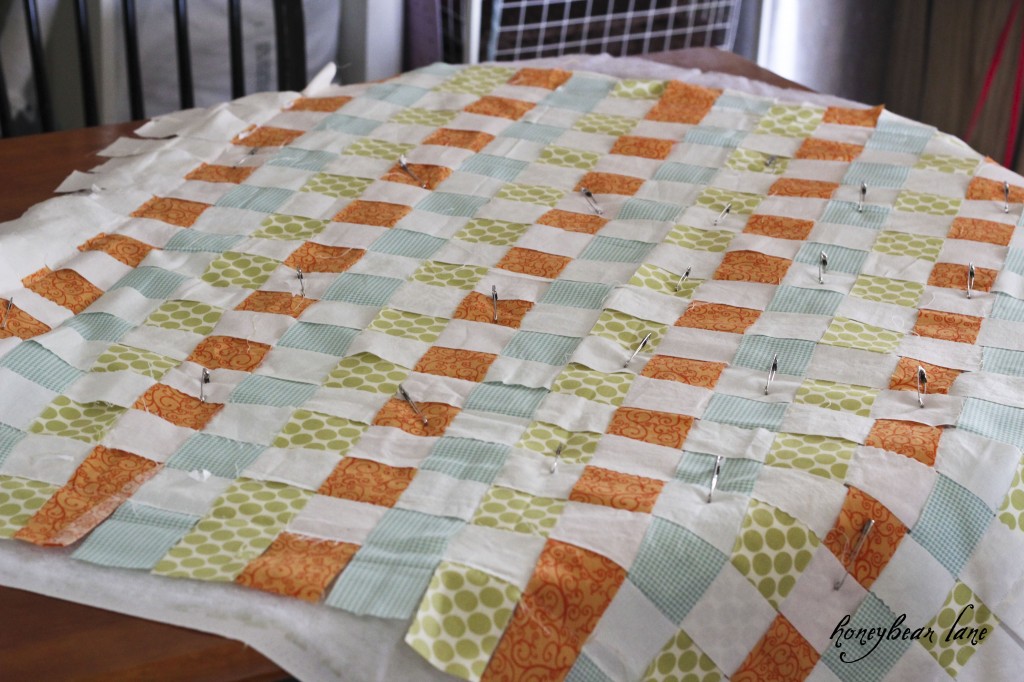 After that step, I carefully removed the freezer paper. Just rip it right off, it won't mess up the stitching. Everything is together so now all I have to do is quilt it!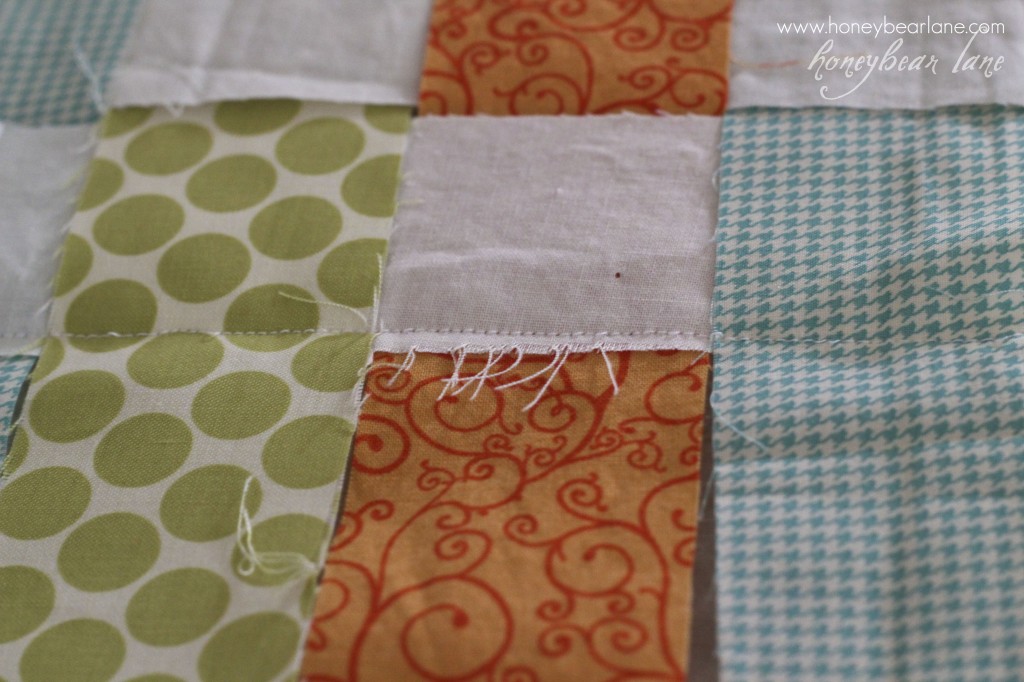 To quilt, I just sewed about 1/4 inch from the edge of each strip. It makes a grid, which is quite delightful, I think.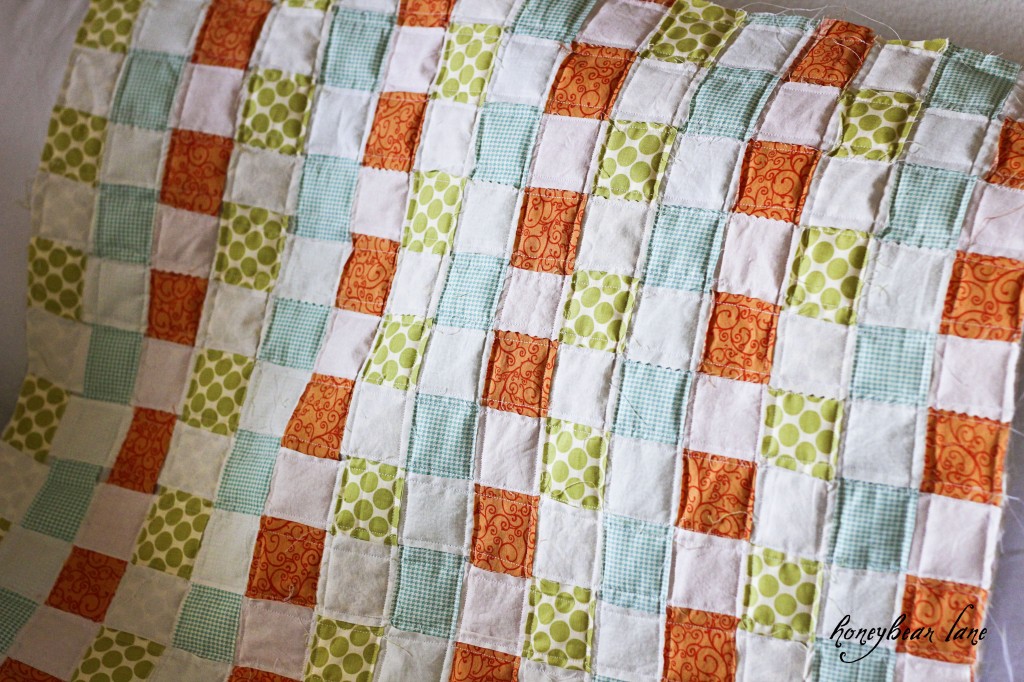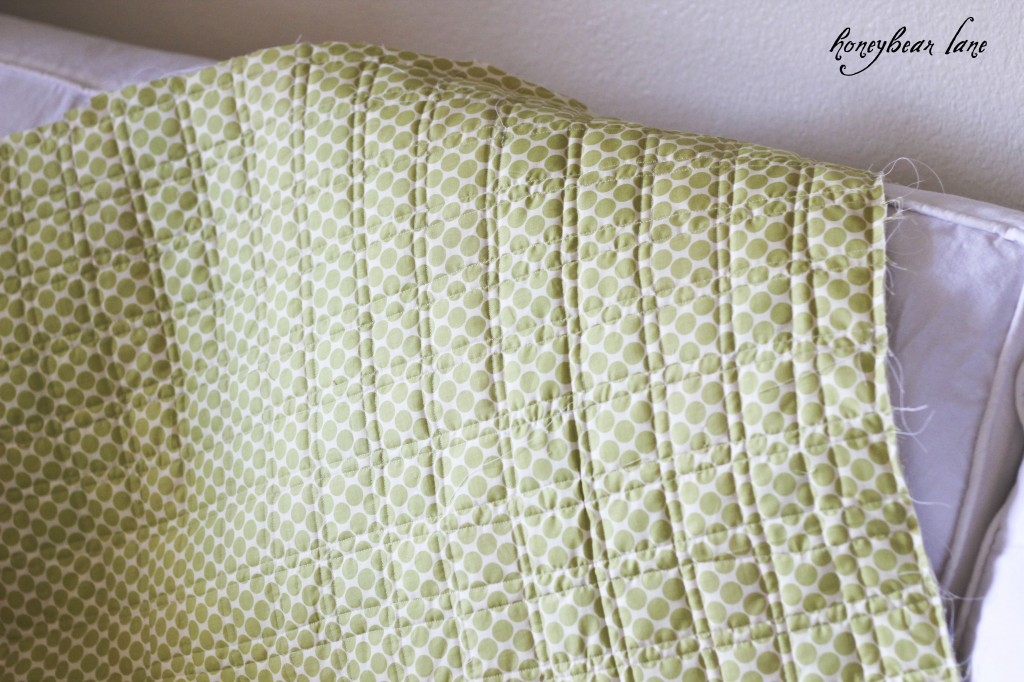 To finish the quilt, I used my perfect machine binding method. Then I threw it in the washer to get the ragged wrinkly quilt look. Yay!
This basketweave quilt pattern was a fun experiment and I'm really happy with how it turned out.  Try it sometime–especially if you can't even sew, just do the top and have a sewing friend do the quilting/binding part.  It's something to be proud of!
SaveSave