Do you know Skinny Taste?

 A huge THANKS to whoever recommended this site to me and second of all, HOW did I not know about this 128k+ readership site??  I feel sheepish.
I have only spent a short time on there so far, but I think many hours will be spent on this site.  The author, Gina, shares her recipes which she has 'skinni-fied' to be healthier.  The greatest part is that for each recipe, she shares the WW points (old and points plus) and the other nutrition facts.  Makes it SO easy for me to count my points.
So the WW site actually has a ton of recipes too with all the points calculated, but it's been hard to navigate and I haven't found many recipes I liked yet.  I went onto Skinny Taste and found a ton of recipes I liked right away.  I wrote them down along with a shopping list and this is what I'm making this week:
Tuesday:  Healthy Baked Chicken Nuggets
Wednesday:  Broccoli Mac & Cheese
Thursday:  Santa Fe Crock Pot Chicken
Friday:  Chicken Pot Pie Soup
Saturday:  Taco Dip
Sunday:  Chicken and Mushrooms in Garlic White Wine Sauce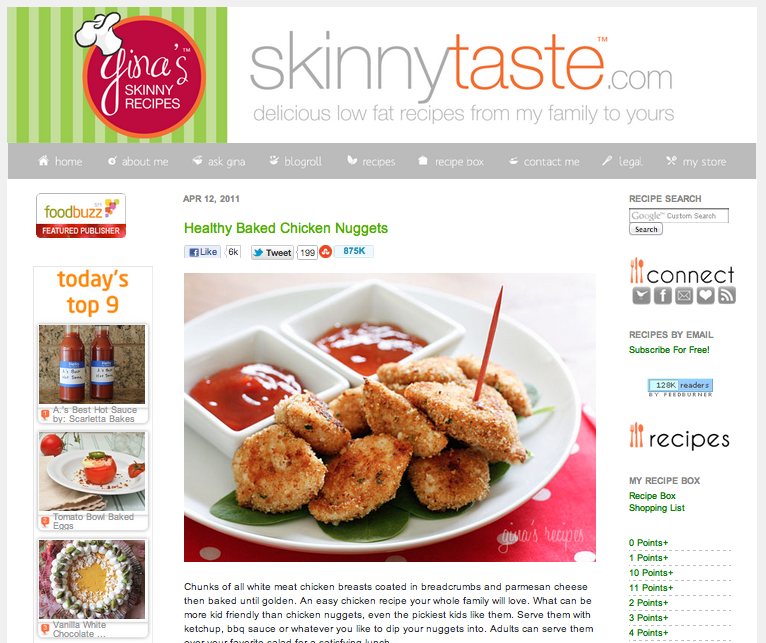 These are the chicken nuggets I made tonight.  Here's my review:  They were fairly easy to make, but I couldn't get them to be very crispy.  I'm no wizard in the kitchen so I'm wondering if I broiled them they would be crispy.  They tasted good though.
The goal here is to make and review each item on my weekly list.  If I can do this, then I will stay away from restaurant food which is always like 4,000 points.  And expensive.  My hub and I like to cook together when we can, and we've been doing it more lately.
So here's my weight-loss challenge for YOU:  Go visit SkinnyTaste.com and find seven recipes to make for each day of the week.  Then cook them and write down what you thought (whether in a blog, FB, or a notebook, just to remember.)