Want a fast and easy craft for Halloween that looks AMAZING? Try making these Glitter Striped candles! You can do so many designs with glitter but I was feeling lazy and so thought 'why not just do stripes?' I love how these turned out and they can be made for pretty much any holiday.
Stripes are so modern and cool that you really can't go wrong. Plus I LURVE them! So here's how you make them!
Supplies
White pillar candles
Loose glitter (I love Martha Stewart brand!)
Spray adhesive
Spray sealer
masking tape, (or painters tape)
rubber bands
First buy some cheapo pillar candles. I got these at Hobby Lobby for 50% off but they probably have even cheaper ones at the Dollar store.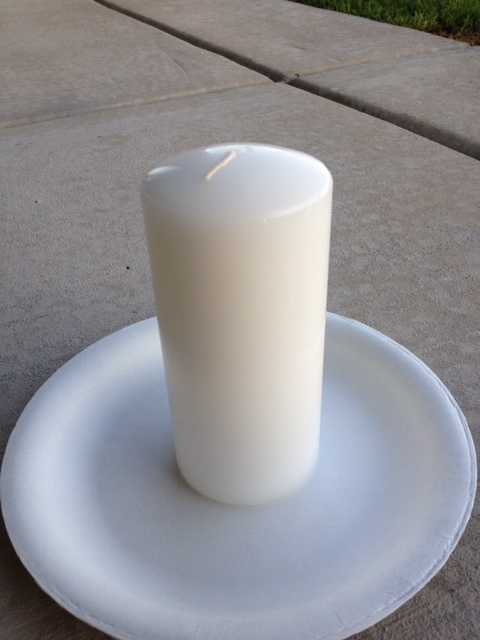 Then get some glitter and spray adhesive and masking tape or rubber bands (or both.) Spray adhesive is super expensive, I had no idea! But once you have a can then you have it for a long time. I also bought the Martha Stewart brand glitter cause it's awesome and so pretty.
First you tape up your candles so they have stripes. Here's a great tip I learned AFTER I did the first candle–when taping make a little tab so it's easy to pull off afterwards.
Then spray the adhesive onto that bad boy. Then MOVE your candle to a different paper plate and sprinkle glitter on it. Use two plates to keep moving the candle back and forth, pouring the residual glitter from the plates. And you can even spray again if you need more coverage. I used about half a container of glitter on one candle.
At this point you can spray witha spray sealer if you don't want the glitter to shed off. After it's dried completely, you carefully remove the tape (and if you made the tabs this will be really easy.)
For the rubber bands, just slip on the rubber bands as you like and cut them off when you're done. This method was a little harder but I liked the variation.
The glitter looks awesome in the light of my house! Loving these, seriously.