If you follow me on Instagram you might have seen a tantalizing picture of Hot Fudge that I had just whipped up.  Well the other day I had a hankering to make something delicious and I wanted to try making Hot Fudge.
My grandma had a simple recipe that I followed.  The only problem is that I used Fat Free Evaporated Milk instead of the regular kind which meant that there was no fat in the mixture.  Sounds healthy right?  Well no fat also means that it didn't combine correctly.  So DONT use fat free.  You need that fat to make it smooth and delicious.  I ended up saving it by adding in some melted butter.  It tastes absolutely divine.
I think giving a small container of fudge would be such a great "grown-up" valentine to give to your friends or teachers.  So what better fun-size container than a baby food jar?  I had some saved up for just such an occasion so I poured some in there and cuted up the wrappins'.

Easy Hot Fudge
Ingredients
3 oz. Bittersweet chocolate
1 12 oz. can Evaporated Milk (not fat free)
1 cup sugar
Instructions
Melt the chocolate in a saucepan on low heat. Once it's melted, add the sugar and slowly mix in the evaporated milk. Mix until combined and bring to a boil. Boil for 3-4 minutes until thickened. It will thicken more after it cools.
To glitter the lids, I sprayed them with spray adhesive and tapped glitter on.
Then I hot glued a ribbon and the Valentine tag around the jar.  It's so cute!  You can make your own with these printable tags: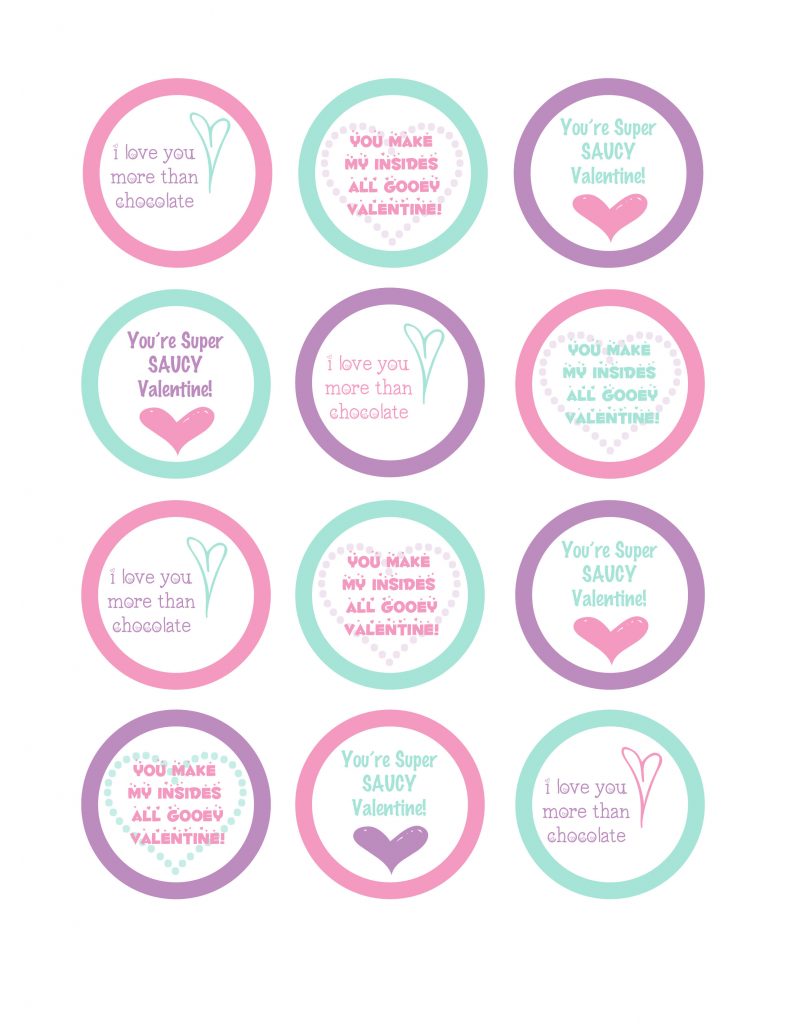 These printables are perfectly sized for a 2″ circle punch.  So don't you wanna go whip up a batch and send them to all your friends?  I know they'll LOVE you more than chocolate for it.