Tuscan Spinach and Bean Soup
Recipe of the Day: Tuscan Spinach and Bean Soup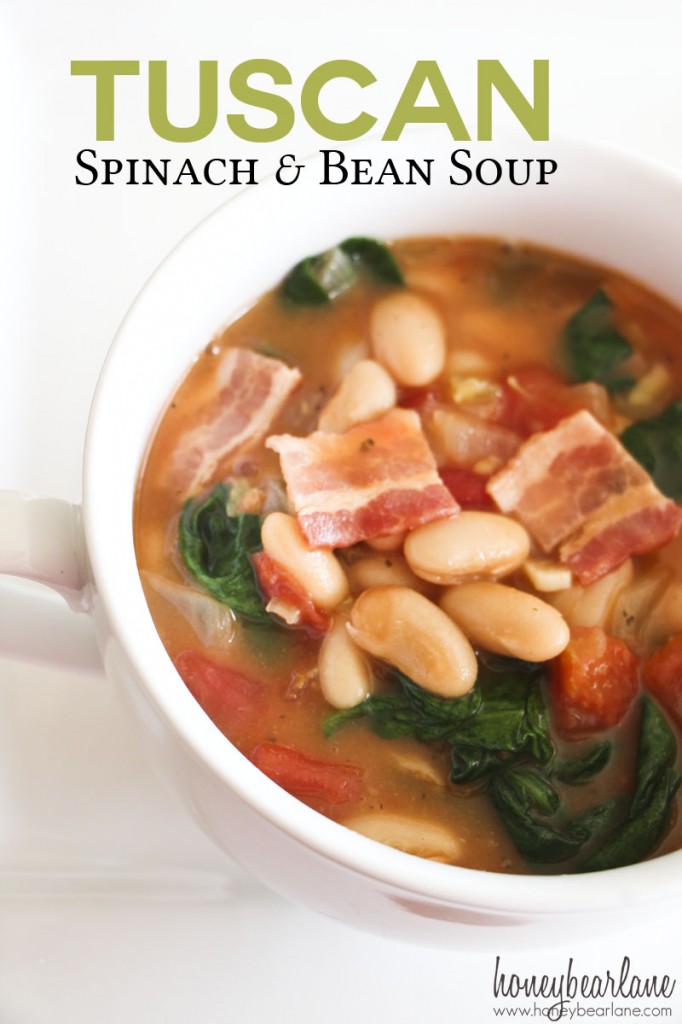 This recipe is an amazing Italian soup.  And it's super healthy!  I discovered it awhile ago on allrecipes.com and altered it until it was just right.  It is savory, warm, and hearty…the perfect thing to eat on a chilly spring day.  That doesn't sound exactly right does it?  Well here in Utah and I'm sure several other places in the world, this time of year is still chilly…sadly.  In fact it snowed last week and was in the 20's all week.  Kind of maddening, truthfully.  Spring is kind of a tricky one…teasing you with a couple warm days and then blizzards.  Blech.  I want the sun, dang it!  But in the meantime I will eat some soup to stay warm.
Tuscan Spinach and Bean Soup
Ingredients
1 medium onion
3-4 cloves of garlic
6 strips of bacon (Center Cut Bacon only has 20 calories per strip)
1 can of fat-free chicken stock
1 can low-fat or fat free cream of celery soup
1 can diced tomatoes (Italian flavored)
2 cans cannelini beans (white kidney)
1 tsp Salt
1 tsp Pepper
2 cups baby spinach (not frozen)
Instructions
Sautee onion and garlic for about 2-3 minutes in a little olive oil. Then add chicken stock, cream of celery, diced tomatoes, beans, salt, pepper, and any extra Italian seasoning of your choice (basic, oregano.) Bring to a boil then simmer for about 20 minutes on low. Meanwhile, cook the bacon strips (microwave or frying pan) and tear into pieces. Add to the soup and simmer for a bit longer. Right before serving, add the spinach and simmer until it's wilted into the soup. Serve.