Crockpot Chicken Tortilla Soup
SNAP Conference is tomorrow and tonight I'm heading off to the hotel for the next several days to see all my best bloggy friends and get inspired! I need some inspiration–I've been getting a little burned out this month. I think one thing that would help is if the weather would warm up, sheesh! This Crockpot chicken tortilla soup recipe will help you to realize just how chilly it still is here.
You really can't go wrong with crockpot soups. They simmer all day long and your food is savory and tender when it's time to eat. Plus you're smelling it all day long (which I guess could be good or bad, haha!) This one is my go-to when I'm feeling sick but don't have celery for chicken noodle soup. I feel like I usually have these ingredients in my house more often.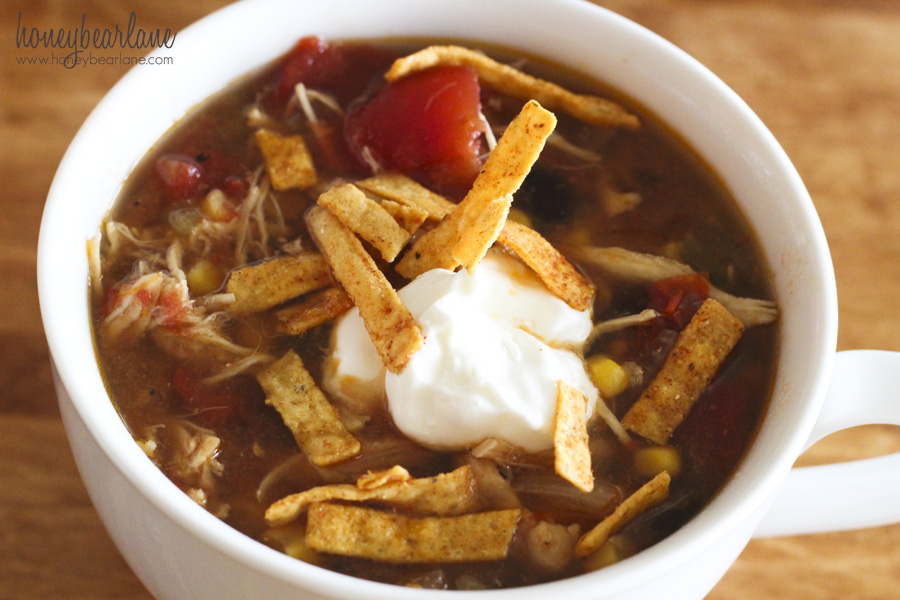 Crockpot Chicken Tortilla Soup
Ingredients
1 Can Black beans
1 can diced tomatoes
1 can corn (can use frozen)
1 onion, diced
3 cloves garlic, minced
2-3 chicken breasts
1 can green chiles
2 cans fat free chicken broth
1 bay leaf
1 tsp. cumin
2 tsp. chile powder
Dash of any hot sauce you like
Cheddar cheese, tortilla strips (for garnish)
sour cream, to mix in
Instructions
Throw all the ingredients in the crockpot except the cheese and sour cream. You can throw in the raw or frozen chicken as is. Let it cook 6-8 hours. Shred the chicken with some forks before serving. Garnish with cheese, sour cream, and tortilla strips.
Don't forget to save it to your ziplist!  Here's to a chilly spring with the hope of a warm summer!