The Ultimate Lego Organizer
My mother-in-law saved all of my husband's Legos from when he was little.  I mean seriously–entire, complete sets preserved for the last 20 years.  That's some serious care.  All the Legos from my house growing up are missing tons of pieces and my mom probably threw the rest out.  Anyway, so one day she pulled them all out for my 5-year-old son to start building with.  They would spend hours building Legos together.  And she started to sort through all of them, organizing them by size and color.  Then one day she told me to take them all home so they would stop crowding up her craft room.
I knew that these Legos would be instantly strewn around my house unless I did something to keep them all organized–it had taken my MIL hours and hours to sort them out.  So before I took them home, I constructed a plan for the Ultimate Lego Organizer.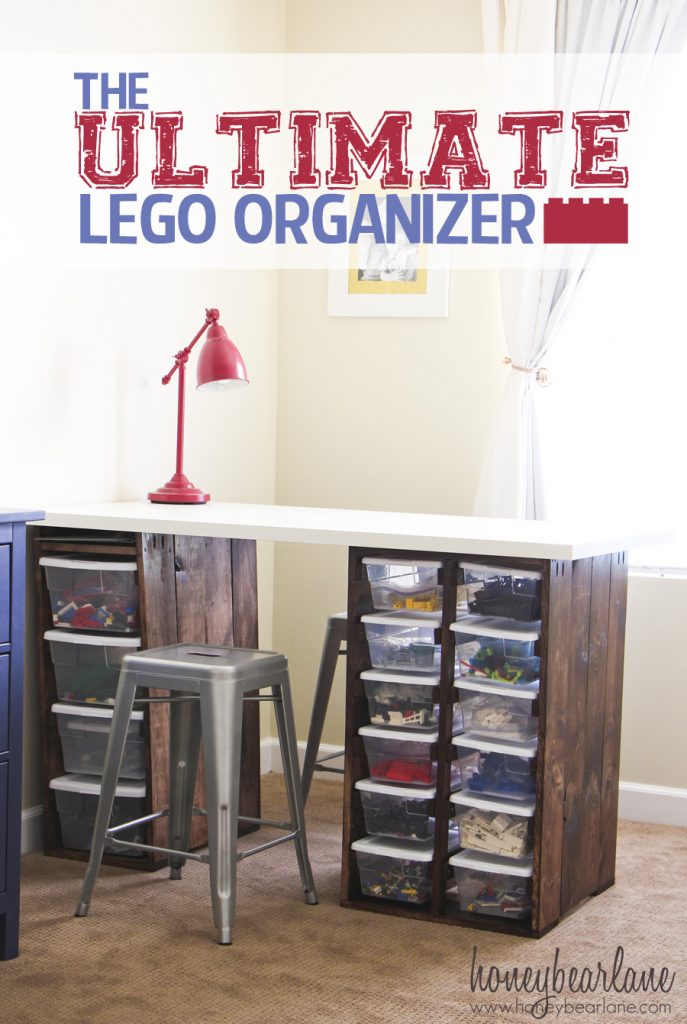 I love this thing.  Mostly because my blood, sweat, and tears went into it.  It is FAR from perfect, but for my first build without any definite plans, I think it's okay.
I even sawed some of the wood with my circular saw but then realized I really needed some uniform cuts which I couldn't get with the c saw.  So Home Depot cut the wood for the rest.  I am saving up for a table saw which will allow me to get the straight and uniform cuts I need for future projects.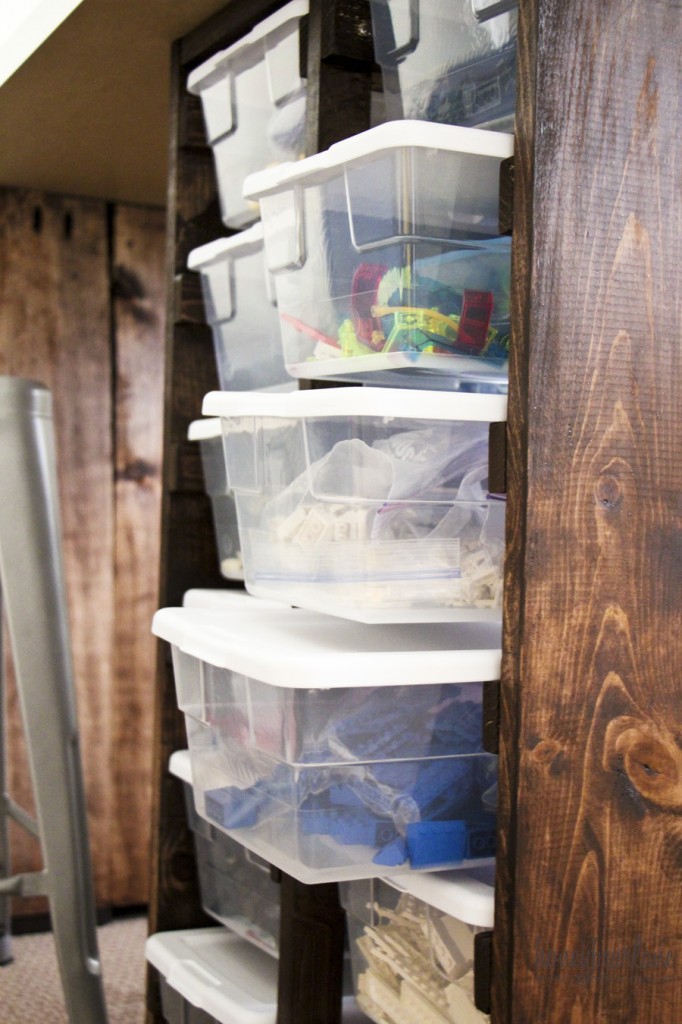 This isn't really a tutorial because lots of mistakes were made.  But I will try to tell you what I did.  My original inspiration was the Laundry Organizer on Ana-White.com.  I first found some plastic bins for $1 each (the bigger ones were a little more) but I only paid about $30 for all of them.  I knew I would need a lot for this project because SO many Legos needed their own box.  I considered buying similar toy organizers but they just weren't really what I wanted.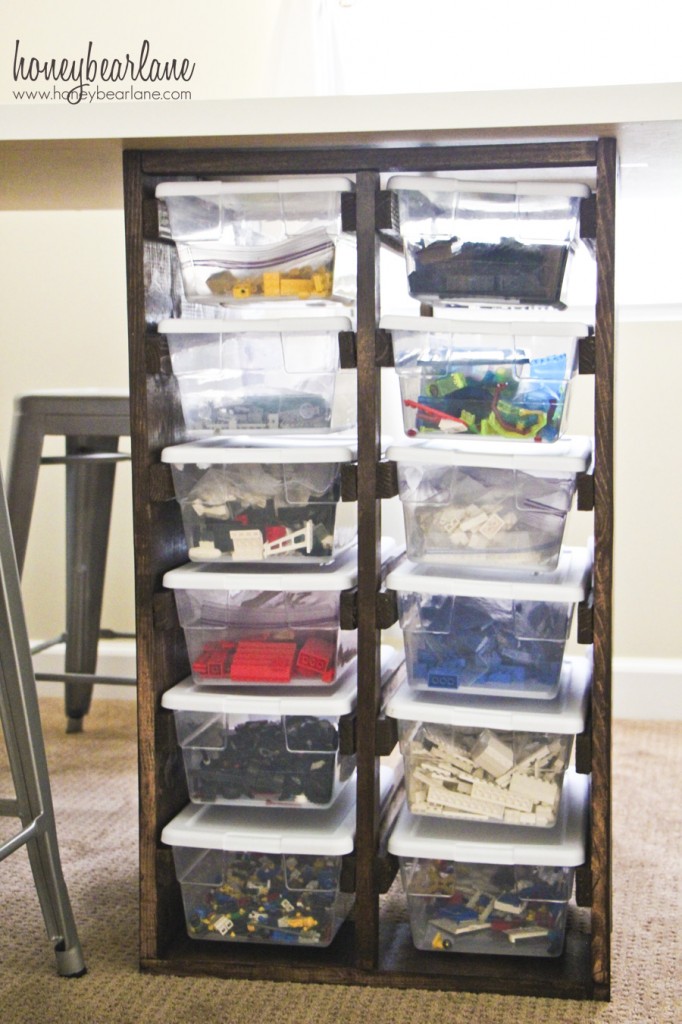 You could use plywood or MDF for the sides but I wanted to use some free wood I got from SNAP! and so I ended up using some 1×6 boards, four in a row on each side.  Then I used 1/2×2 for the slides (the pieces that hold up each bin and that the bins slide on.)  Here is a rough mockup plan which is very basic.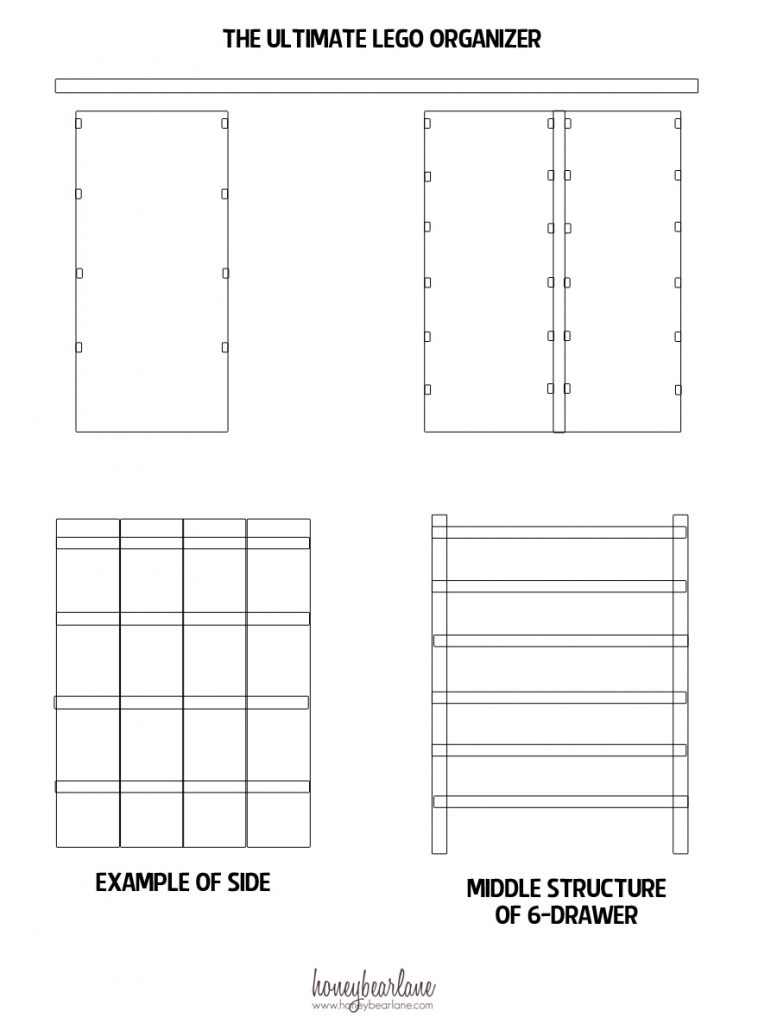 Basically you just build four of these side pieces and attach the 1/2x2s to each, depending on how many drawers you want. You will have to measure and do some math to figure out where each slide will go. And even as hard as I tried, they aren't perfectly even. Like I said–my first build.  You also need to use two 1x2s and the slides to make a middle structure for the double drawer side.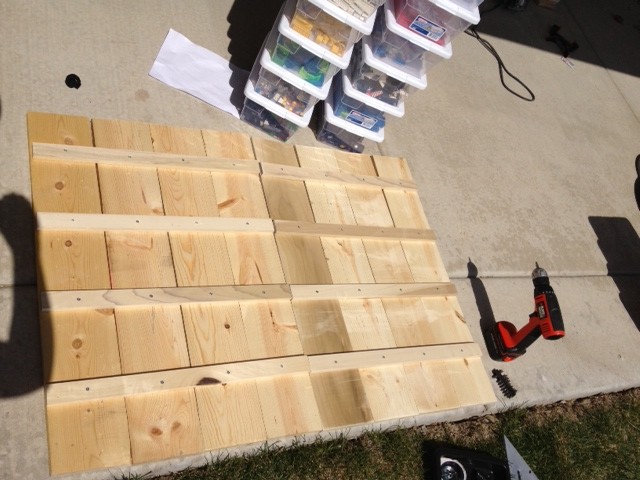 After you've assembled the sides, you will make a box from them with some 1x2s on top and I used more 1x6s on the bottom. I just screwed these right in.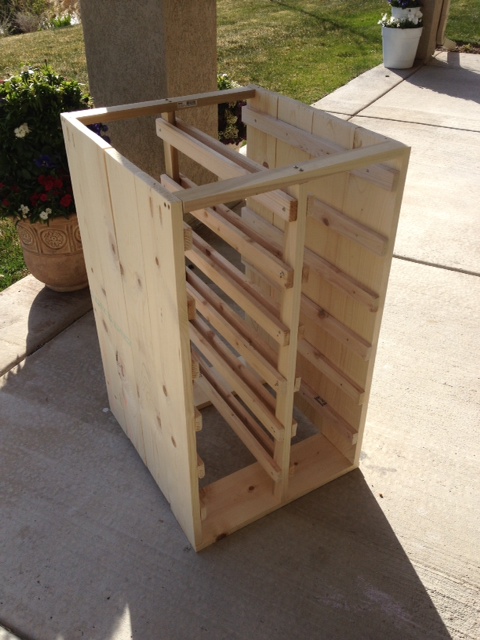 But before I put the box together, I used my new Kreg Jig to make some holes on the top of each side so I could screw the table top on. I got the table top at IKEA and it was like $25.  (And PS I HEART my Kreg Jig.  You HAVE to get this tool.)
After the Lego Organizer was assembled, I stained them in a Walnut stain from Minwax. They sent me some cool new products to try out. I used their pre-stain conditioner, which you paint on first and let dry. This helps the stain to take to the wood better and not allow the stain to appear blotchy.
You might notice on the 4-drawer side I did something different with the top. This was to achieve a small shelf to put the Lego plates on. But I probably wouldn't do this again because it ended up kinda wonky.
I also tried out their new Gel Stain. This product is very different to use than regular stain, which is watery. Gel stain is very thick, like jelly. You have to stir it up a lot to get a smoother consistency. I painted it on like a thick paint and then near immediately wiped it off. If you wait too long, the gel starts to dry and then you have a thick and sticky mess on your wood. This is a bigger problem if it's hot outside–or if you let your kids help you paint and can't monitor everything. Both of these happened to me and so the stain job is not the best.
That being said, now that I've used gel stain, I've learned a little more about how to make it more effective and it's nice to get a dark and rich color. Also make sure you wear gloves when staining and use chip brushes that you can throw away after. You can get rid of stain by washing with mineral spirits (and you can also use a little of this if you get stain on the carpet.)
I'm still getting my kids in the habit of actually sitting at the table to play with Legos since they seem to prefer the floor, but I really hate Legos on the floor–they get lost, vacuumed up, and stepped on.  Not to mention found by my 1-year-old=enter mouth.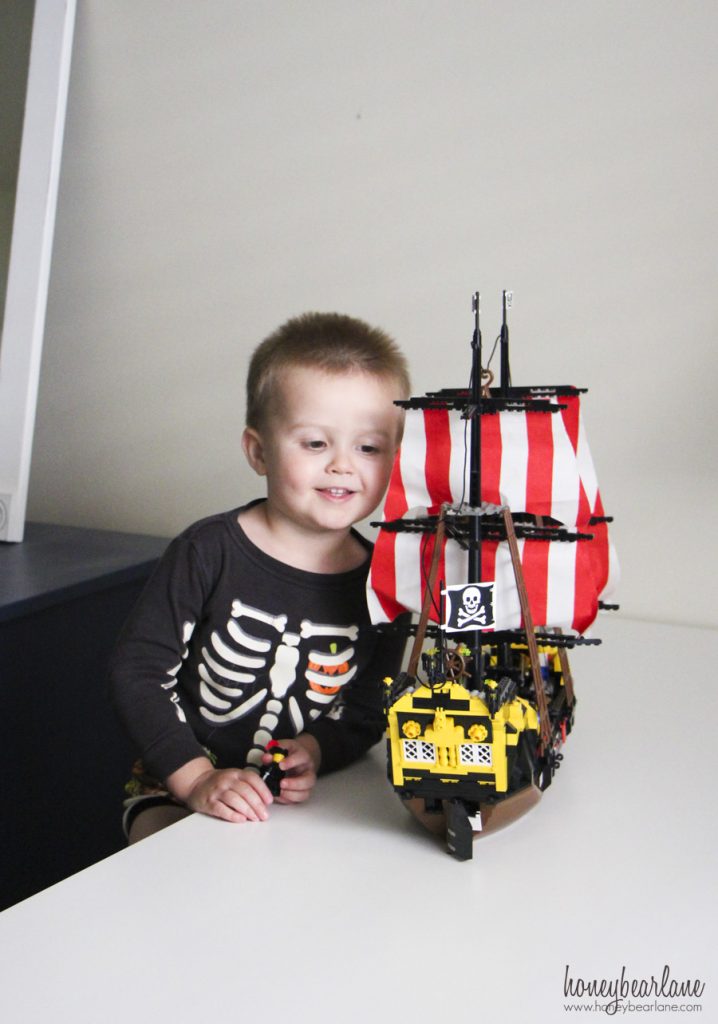 Once all the stain had dried, I moved them inside, placed the table top on, and used my Kreg Jig drill attachment to screw in the tabletop. Then we moved it into place. I am planning on hanging shelves above the table to display all the finished Legos (because we seriously have more Legos now than I EVER thought we would have.)  This new Lego Organizer is my pride and joy–I built it all from scratch and it serves a very excellent purpose.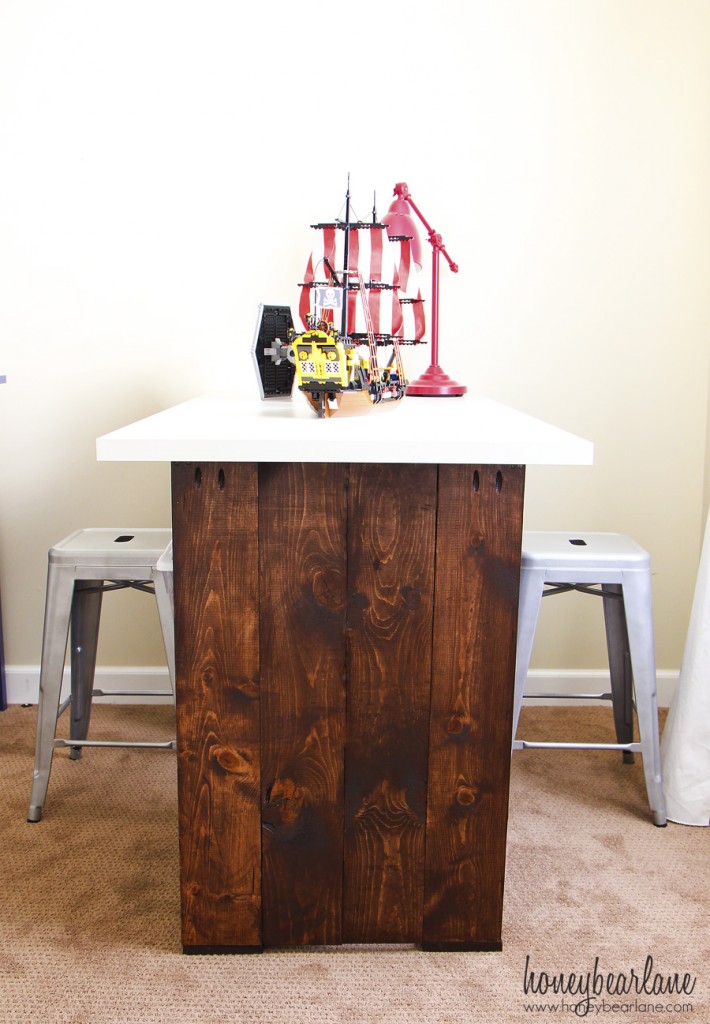 I completed the whole thing with some cute little silver bar stools I got from Overstock.com. They were 2 for $80–good deal! I love them, they are the perfect chair for this little table.
A big thanks to lots of companies for helping me with this project:  Home Depot for cutting the wood and being super helpful, Lowes for providing some of the wood and hardware, and Minwax for providing the stain.  All opinions are my own.