Pottery Barn Knockoff Sawhorse Console Table
Want an expensive looking side console table without paying the big bucks?  Creating knock offs from companies like Pottery Barn and Restoration Hardware is not always that tricky or complicated.  I sometimes see these knockoffs that are totally impressive but I'm like "Yeah….I'm never going to make that."  But this knockoff table really is SUPER easy to do and anyone can do this.  I did the whole thing in an afternoon.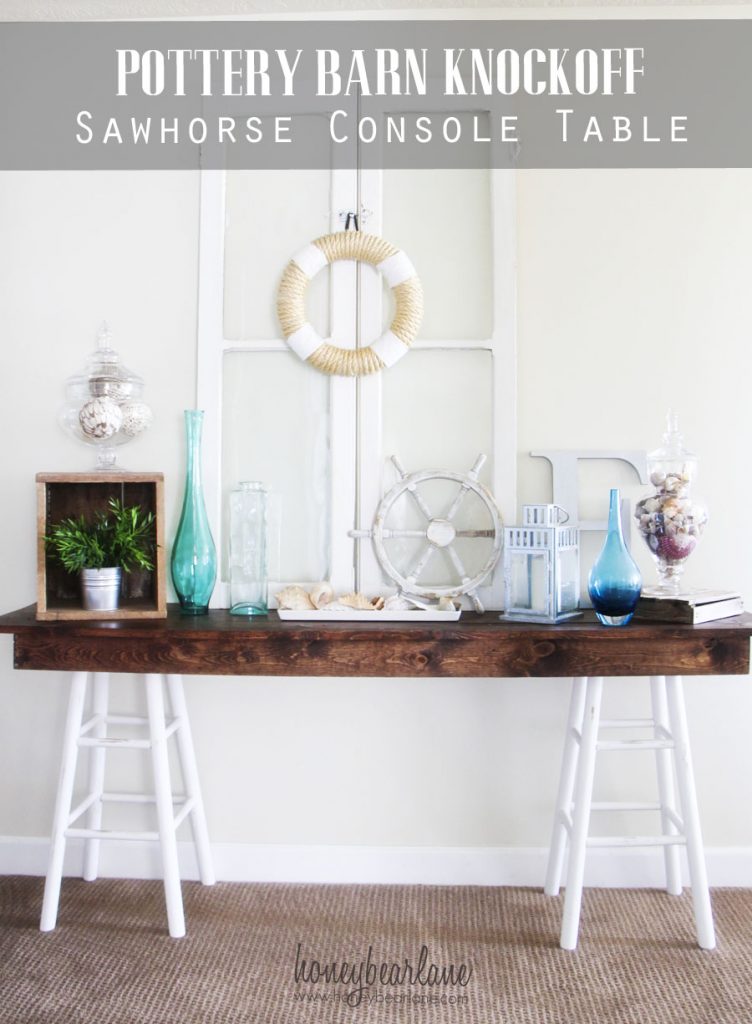 Isn't it cool?  I knocked off the Pottery Barn Sawhorse Console Table, shown here:
Obviously these are not exactly alike but that's because I did my Pottery Barn Knockoff the super ultra easy way.  And seeing as this table is $500 and I spent less that $20 making this, I think I win.
I had a couple of those common bar stools that you've most likely seen um, everywhere.  I was using them as temporary wood-working stations and wanted to built a workbench.  But when I came up with this, it was too pretty to be a workbench!  I opted to paint the barstools white and stain the wood top.
So I took the bar stools and some pieces of lumber and created a simple table top with an apron around it.  I placed the barstools in position and put the table top on top of the stools and now they sit snugly inside the apron area.  Easy peasy!
So if you have a couple of bar stools or find some at the thrift store, you can make an awesome console table like this really easily.  And I've been on the lookout for a good console table I could refinish with nothing showing up for months.  So this was such a great solution and I love where I put it.  Really opens up the hallway.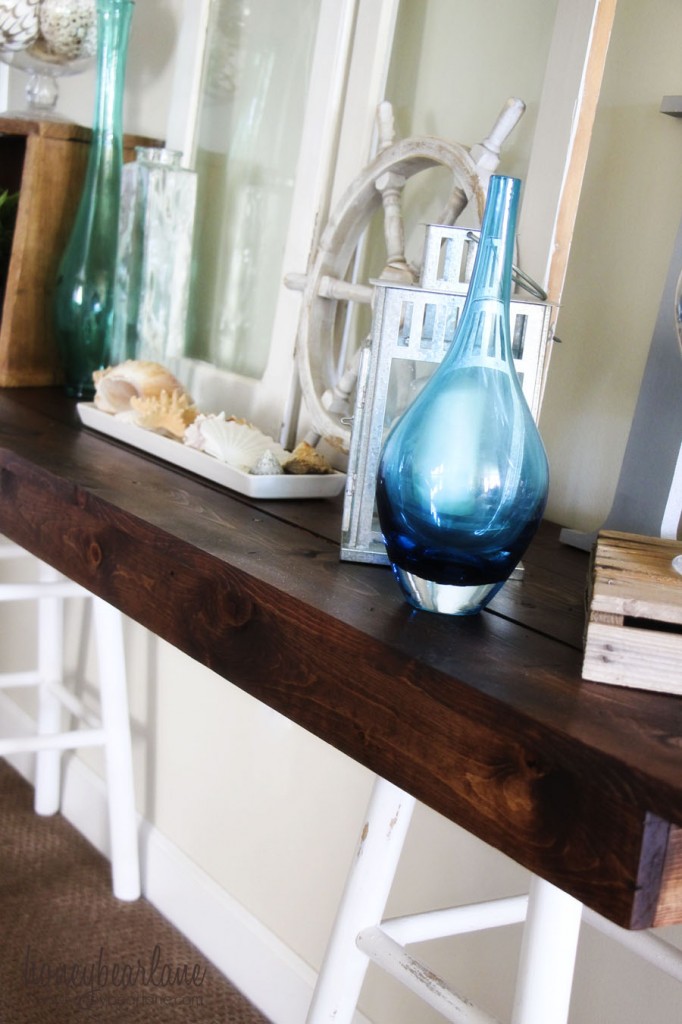 Here is how you make it:
Supplies:
2 same barstools, painted or stained in the color of your choice
(3) 1×6 lumber, cut to 6 ft
(2) 1×4 lumber, cut to 5.5 ft
(4) 1×4 lumber, cut to 12 inches
Kreg Jig if you have it with 1 inch (or shorter) screws
2 inch screws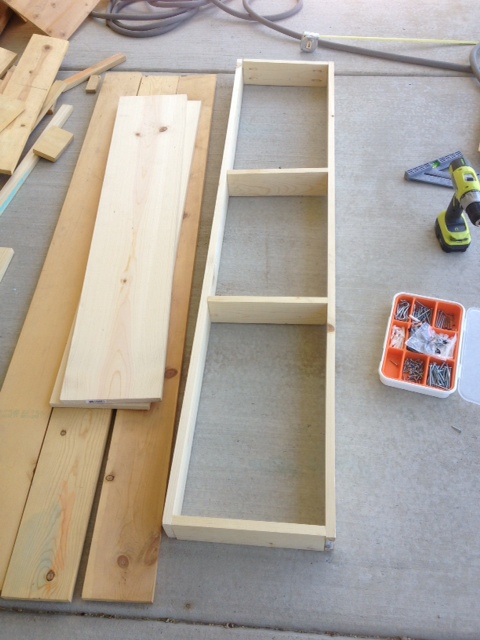 When you get the wood, I would just have them cut it for you at the store.  It's easier to transport and the cuts will be straight.  I am finding that with a circular saw it's pretty tricky to get your cuts completely square and the same.  That is where an electric miter saw comes in handy (which I am saving up for!)
First you assemble the apron.  This is where a Kreg Jig comes in really handy.  I just made pocket holes and used them to connect the joints.  I had to use pretty short screws though.  If you don't have a Kreg Jig you can just screw it straight in together if you don't mind seeing the screws OR you can add a little triangle block in the corner to screw into either side.  But if you don't have a Kreg Jig, consider getting one because it will make your life so much easier.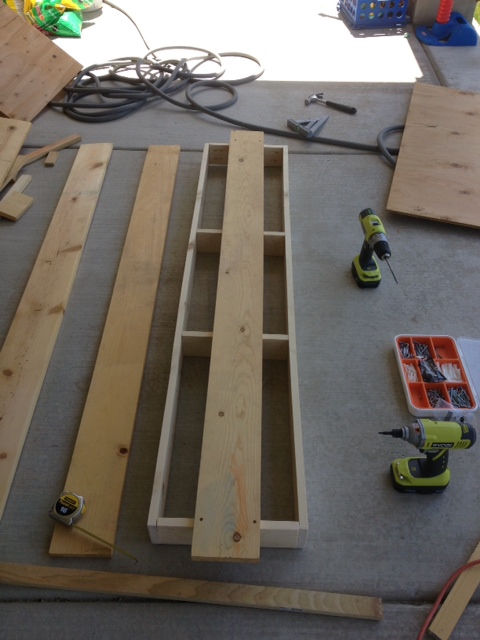 Then I placed my center board and measured it so that it was in the exact center of the apron.  I used my awesome Ryobi Impact driver to drill screws straight into the apron boards and it saved SO much time.  I LOVE this tool.  It makes it so you don't have to drill a pilot hole first and then screw it in.  However you do need to be careful to not split the wood.  I screwed in two screws on either end of the top, middle, and bottom of the board.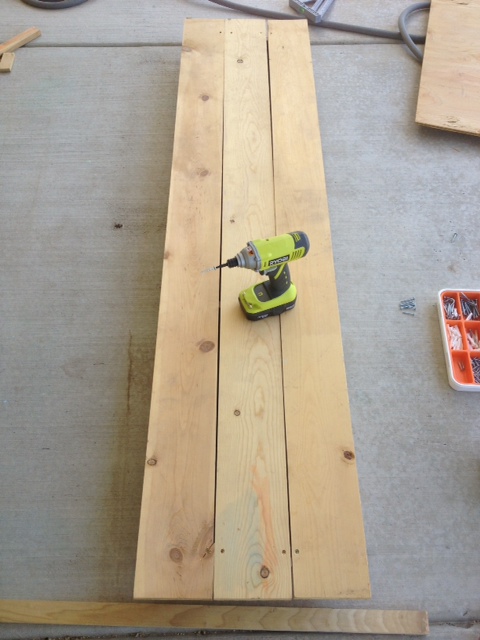 Then I added the other two boards and they weren't exactly straight so there were a couple gaps.  I didn't care since I was going for a rustic aged wood look.  And I just screwed them in place and then I was done!  Gave it a good sanding and it was ready for staining.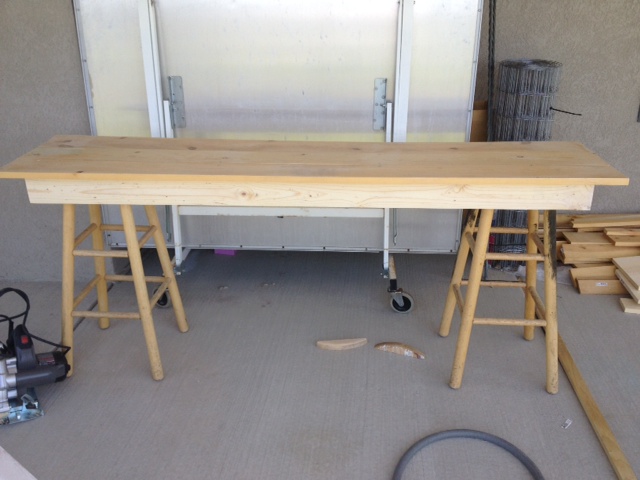 But of course first I had to test it out on top of my barstools. Whoops–I ran into a slight problem. The tops of the barstools were too wide to fit! Crap. Well no biggie, I just whipped out my circular saw and clipped off the edge of the tops so it would fit. Just be aware that this might be a problem you run into but you don't have to alter the wood dimensions if you have a saw that you can trim the barstool tops if you have to.
Before I stained it, I went to work damaging it. And by that I mean I took a hammer and some screws and started banging away so that my wood would look more aged and 'reclaimed.' Then I stained it. I used a combination of Minwax Dark Walnut and Rustoleum Light Walnut. I just brushed on one stain and then wiped it and then brushed on the other one on top. It made it the perfect warm and dark shade. I regret that I didn't use the pre-stain conditioner though because I really noticed the blotchiness. I think I'm going to always use that from now on.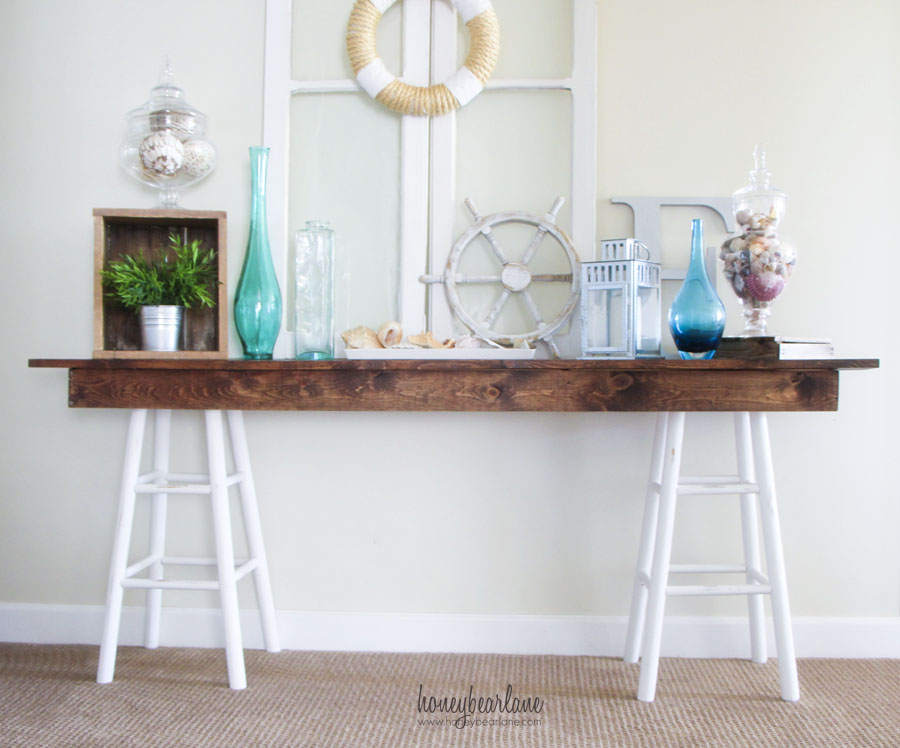 See? People who have come to my house are so amazed that I built this, but honestly it was SUPER easy. I'm no professional with tools and each time I build something I learn new things. So go ahead and give it a go and then people will be super impressed with you!