Vintage Circus Nursery Reveal!
Oh my gosh you guys.  After like a year+ of preparing this nursery it is FINALLY done!!!!  And I'm so super excited to show it to you because this room pushed my design limits and really made me go out of my comfort zone.  But I honestly LOVE how it turned out–it is so perfect.
The theme is Vintage Circus Nursery.  It is the perfect theme and I will explain more about that.
I made all the bedding for her crib. There is a pinwheel quilt, a faux fur sheet, and a ruffled patchwork crib skirt. I'm not a fan of bumpers, even though they are cute, they are a huge pain when changing the sheets and not the safest option for babies. Plus I hate making them. But I love how the crib skirt turned out because I pieced the top row of ruffles in the same fabrics as her quilt and it reminds me of a gypsy skirt.
The faux fur sheet was courtesy of Shannon Fabrics and to be honest, I didn't know how my daughter would like it, but she does!  It's super soft and cozy.  But I don't recommend faux fur sheets for babies at risk of SIDS.  You can make one from only 1 yard, just follow my minky crib sheet tutorial but cut your corners at 7×7″ instead of 8×8.  (Don't you love those ratty twin elephants, beloved by my baby girl?)
Get ready to see a lot more pictures because I'm just getting started. This room was truly a work of art because nearly everything you see in this room is thrifted and/or refinished by me. There are a few projects that were sponsored by Shannon Fabrics (everything with the faux fur) and a few things I did purchase.
You've seen a few of these things before, like the Ruffled Curtains, Corner Rope Shelves, Faux Fur Sheepskin Rug, and the Gold-dipped Stools.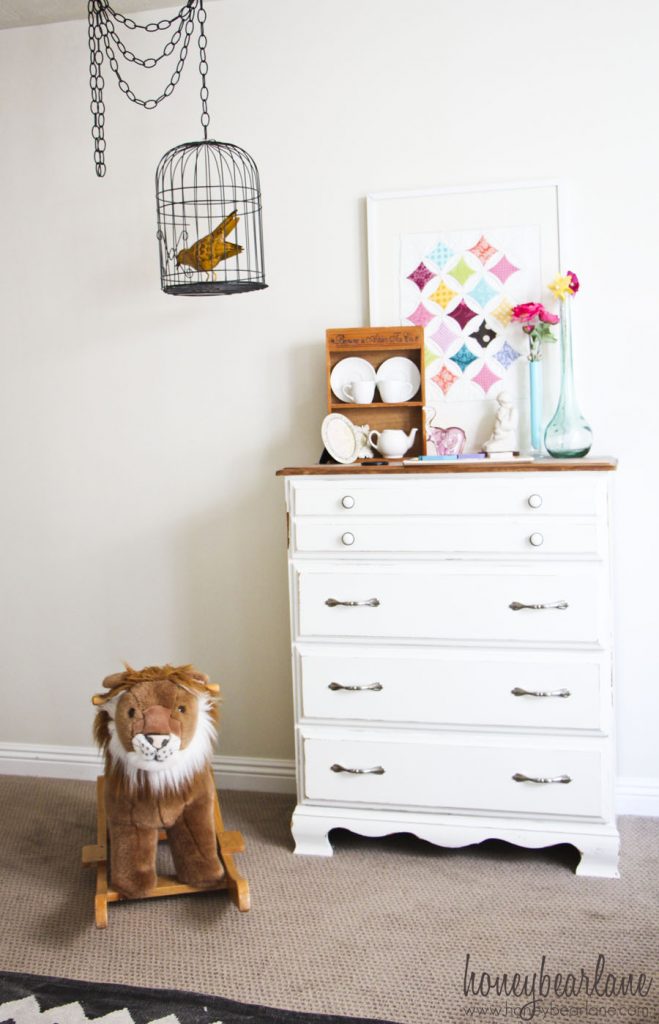 First off–the crib. I purchase this crib from Walmart and it was pretty cheap, like $120 or something. That was the biggest purchase for this room. I also bought the chevron rug from Urban Outfitters. I bought the striped black and white lamp from Hobby Lobby and the little pink dresser from Home Goods. Other than a few other accessories, everything else was thrifted or given to me.  Also shown in this picture is the Hair Bow Keeper, Painted Vases, and ABC artwork.
It all started with this little vintage bike. My mother in law had it lying around and asked me if I wanted it. I spray painted it white and set it aside, figuring I'd find a place for it. One day I was looking at it and realized it had some holes specifically for hanging on the wall. So I hung it up and ended up really liking the way it looked.  (Then I added the gold and black details and that really helped me.  Adding in black and gold accents made the room grounded and really pop.)
Then it hit me–with the bunting and quilt I had already sewn and my little elephant collection (because my daughter's name is Ellie) a circus theme just popped out at me. Not like a creepy clown circus (you'll notice there are NO clowns in this room) but one of those old fashioned circuses like they have in Water for Elephants. I LOVE those. They are so full of mystery and magic and you might guess I also love vintage stuff. So the vintage circus theme was born.
That artwork on the left is courtesy of the Etsy shop Pen and Paint.  Her art is so beautiful and I will be telling you all about her in a few days!!  I also did a tutorial for the Framed Burlap Monogram. 
I had this little dresser since I was a teenager and took it with me when I got married. It desperately needed refinishing and one day I found its long-lost friend (the other dresser in the room) on Craigslist and they are the same exact style. So I refinished them the same–which for the record I don't always love but I thought it was fun because they were reunited. I will be showing you the process of that in a little while. PS–I found that vintage pink fan at Home Goods and made the burlap diaper bucket.  I made the minky changing pad cover also.
I decided to have a little gallery wall and I only had about half of the frames filled. But each picture is something meaningful. In my family every person has an animal symbol. My husband is a bear, I'm a rabbit, My boys are frogs, and Ellie is an elephant. So there is this cute picture of a rabbit cuddling with an elephant which makes me smile. The artwork is done by Loxly Hollow on Etsy and I really love her art. I also have a couple prints from Sarah Jane the fabric designer.  I bought the ornate black frame at Hobby Lobby.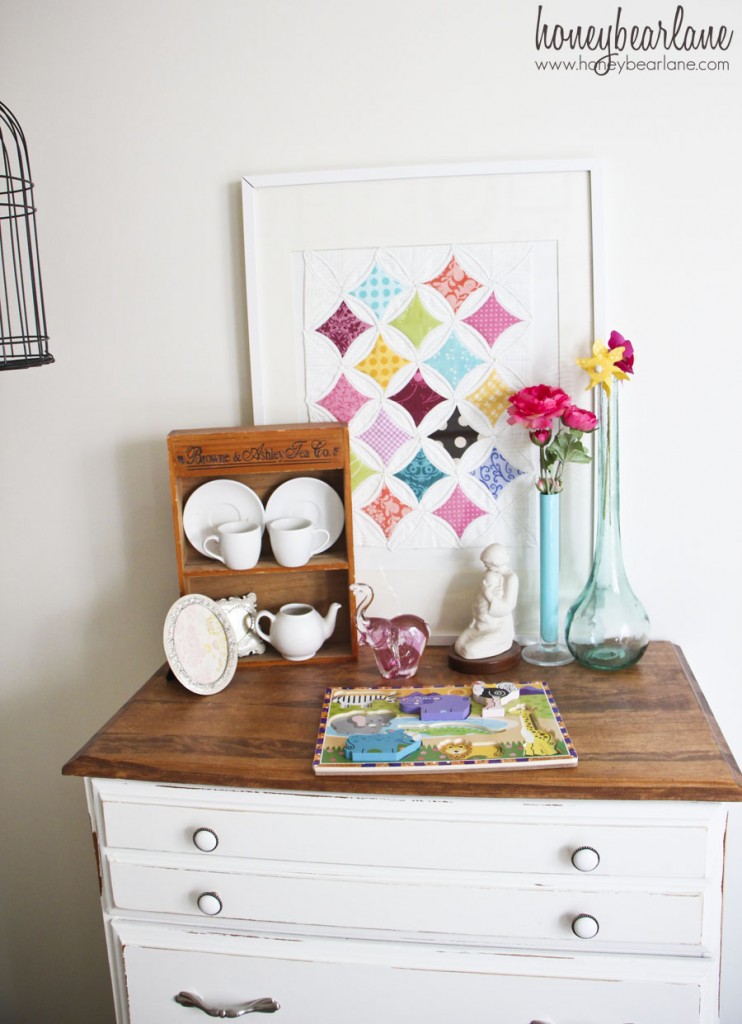 Here is the other dresser, the long-lost friend. On it you can see my cathedral window quilted artwork. There is a little tea set which was thrifted and that little prayer statue was from my Grandma. The glass elephant I purchased and the vase I painted.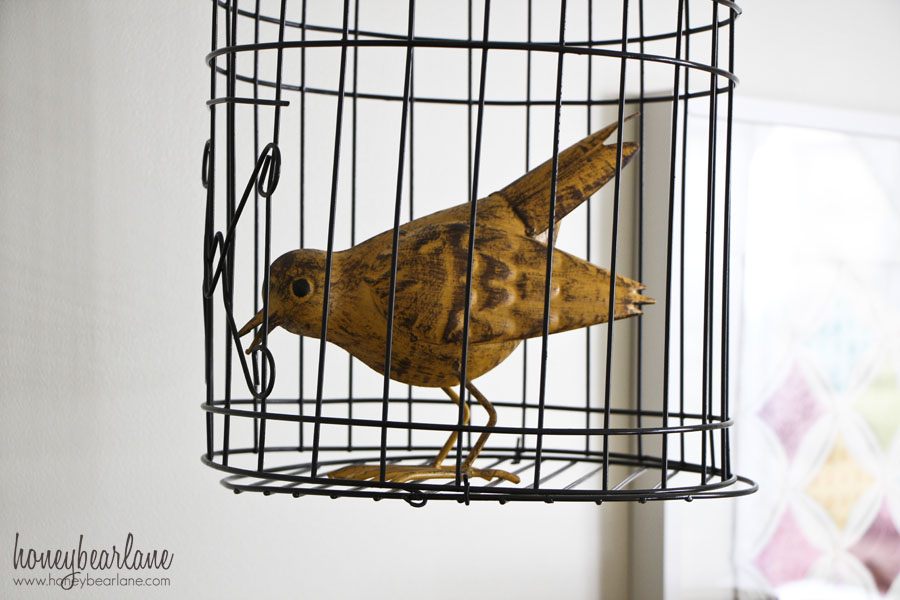 Did you see the birdcage? I just kept trying to imagine what the inside of a circus tent would look like–not the ones that they performed in but the ones where they slept and called home. That was my inspiration. They would have a birdcage right? I found this one at DI and bought the little bird at Hobby Lobby. I attached it with this black chain to the ceiling.
Ah the gold-dipped stools. These were one of my favorite projects because for such minimal effort it added so much. I did this to resemble the lion-tamers stool. And this awesome vintage suitcase I found at the same estate sale I got the bentwood rocker at. I had to scrub that baby down with Goo Gone because of all the nasty residue from years gone by. That little elephant on top was a cheap $1 toy I sprayed gold. And another vintage bike I painted was from my Mother in Law. And if you notice that the blue monkey is falling out in earlier posts it's because Ellie kept running in and grabbing it.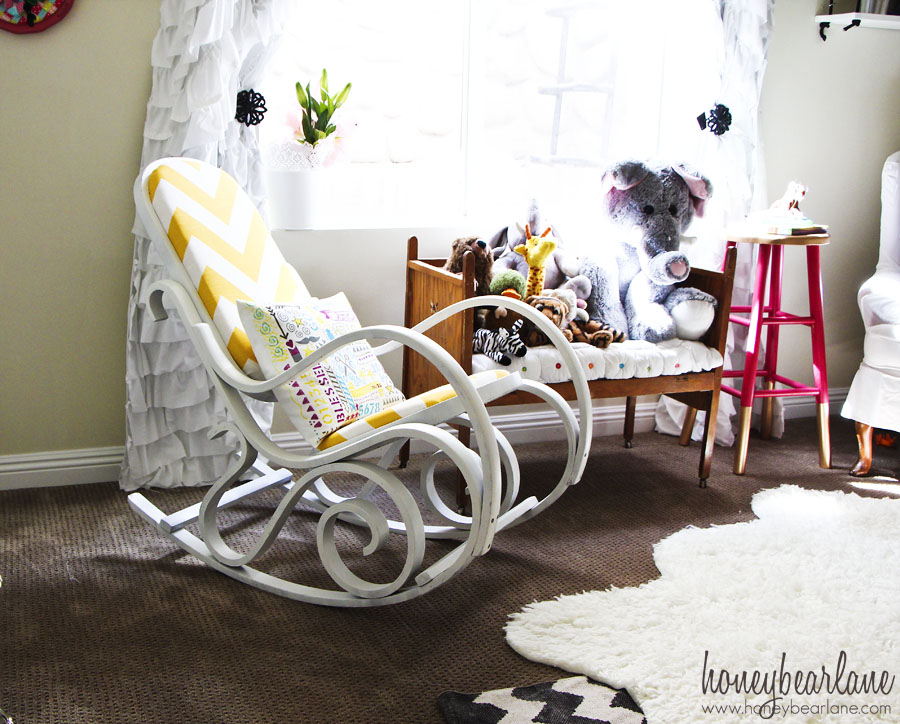 Here's the bentwood rocker. I will be detailing this makeover in the future also for your interest. It was not in the best shape when I bought it for $20. To be honest, we don't really sit in it that much because it's a little narrow but it's much prettier than those glider chairs. The pillow on it I made with Handmade Charlotte Stencils and Sharpies.  Next to it is a little vintage crib I bought at an antique store. I took off the drop side so it could serve as a bench for all these stuff animals I got from DI (and washed in hot water.)
And last the little tiger pillow. Shannon Fabrics really does have an excellent selection of faux fur and these worked so well for this room. It's not hard to work with either. I used the rest of the faux tiger fur to make a cute little throw blanket which my boys love to snuggle with. The balloon fabric is from Sarah Jane's "Children at Play" line. Isn't it cute? They are both sitting on the thrifted wingchair with the slipcover I made.  (Black and white striped blanket from IKEA.)
There are so many more details in this room but I'm running out of time here so I'll just end here.  I'd love to hear what you think of this vintage circus nursery since I worked so hard on it.  The best part is that it stays so nice and clean since Ellie mostly plays in the living room and the boys' room.  It's like my own personal little haven.  So what do you think?