This post is sponsored by Huggies and MomitForward.  All opinions are 100% mine.
Babies need diapers.  Kids need diapers.  Diapers are, and have been, a daily part of my life for the last five years.  And I think it's something I've taken for granted…the ability to afford diapers and to always be able to diaper my kids.  Did you know that 6 million American kids live in poverty?  Did you know that babies are required to have disposable diapers in order to go to child care facilities?  And without these child care facilities, their parents can't go to work and earn the money to afford to pay for diapers.  It's a vicious cycle.
So Huggies has created a program to help with diaper donations, called Every Little Bottom.  They are helping to make millions of diapers available across the US.   Ever since founding this project, over 80 million diapers have been donated across the US.  Did you know that 1 in 3 moms struggle with diaper need?  And a study in Pediatrics showed that not having diapers for their baby is more distressing to moms than not having enough food.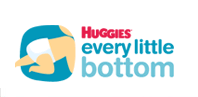 Where do you donate diapers though?   That was the magic question for me, since Huggies sent me a bunch of diapers to donate to a diaper bank.  In Utah, we have two diaper banks, but unfortunately I was not successful in tracking down where to take the diapers.  I hope they can rectify this problem to make diaper donation much easier.  However, I called up the Utah Food Bank and asked if they accepted diaper donations and they said "sure!"  I took them to the Utah Food Bank headquarters and dropped them off, easy peasy.  Just handed it to a guy in the warehouse, where I snuck a peak of vast amounts of food they have in there.
It was great for me to participate in this, since I wasn't previously aware of the need that so many parents have for diapers.  I think of my own kids and how good they have it, and it breaks my heart to think that there are people who can't provide basic necessities to their kids–things like diapers.  And after I found where to go, it was so easy to donate.  If you would like to donate in your area, you can search the Huggies site for donation partners or even donate to your local food bank.
Let's have a giveaway, shall we?  Huggies is giving away 1 month supply of diapers!  AND whoever wins the giveaway, Huggies will be donating diapers to their local diaper bank.  Just enter below!
This post is sponsored by Huggies and MomitForward.  All opinions are 100% mine.
a Rafflecopter giveaway