Arby's Smokehouse Brisket Sandwich & Giveaway!
This is a Sponsored post written by me on behalf of Arby's for SocialSpark. All opinions are 100% mine.
One great childhood memory I have is going to Arby's with my best friend and her dad in the winter. We'd go to Arby's, get some yummy roast beef sandwiches, and go home and watch movies all afternoon. I hadn't been to Arby's in a long time, but I was recently curious about their new Smokehouse Brisket sandwich. I love slow smoked barbeque, so this sandwich looked yummy. I was excited when Arby's came to me and offered me a chance to try the Smokehouse Brisket sandwich for myself!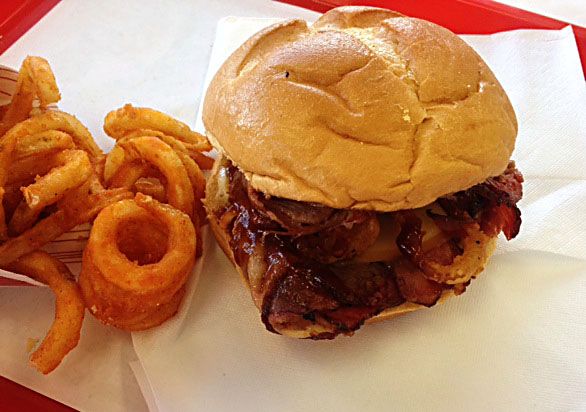 I took my kids to Arby's one day during fall break for a fun lunch treat. We had just gone through IKEA so we were all starving for some good food. I got them the dollar menu roast beef sandwiches and some curly fries and ordered myself the Smokehouse Brisket. We had a great time! My kids were very entertained by the curly fries, "boing-ing' them around like springs.
And the Smokehouse Brisket sandwich? It was good. Great, actually. A little too much barbeque sauce for my taste, but the meat was very tender and yummy. The Smokehouse Brisket sandwich has beef brisket slow smoked for 13 hours, Gouda cheese, crispy onions, BBQ sauce with mayo, all on a bakery style bun. It's really worth it. I found myself craving it just a couple days later when I saw the commercial on TV.
I think my favorite part of the experience was just sitting in Arby's and enjoying the time with my kids. They loved their food, they were happy, and I was happy. It was a beautiful fall day and I just created another memory with them that they will hopefully remember with fondness.
Have you tried this sandwich yet? If not, go now and Find an Arby's.  Or you can just enter to win a $10 Arby's gift card right here, right now. That'll make your day, right?  Make sure to watch the video, then leave a comment to tell me why you love Arby's!