This post was sponsored by SmartJars but all opinions and content are my own.
I've had this Craft Room done for about six months now but I forgot to show y'all!  Let me give you a little explanation about it:  I live in a basement apartment–a temporary home until we get our own house next year–and it mostly consists of one enormous room.  I had to make the most of this room, so it works as our living room, family room, craft room, and office.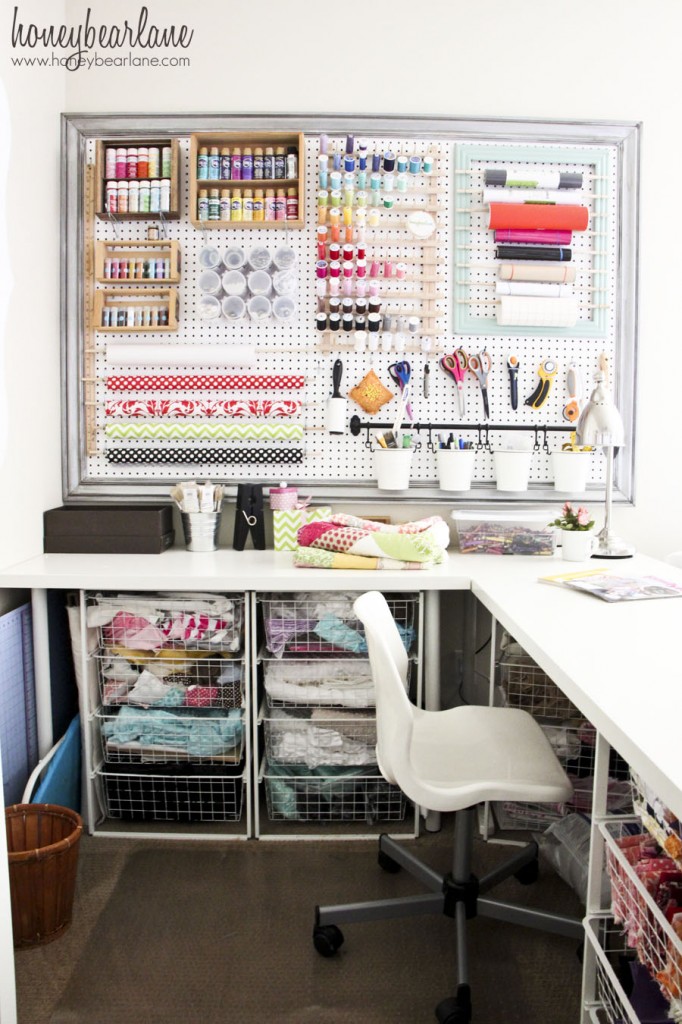 My crafting table is two tables from IKEA…just the cheap white tabletops with the screw in legs.  This is a very affordable solution for a table and I love the white backdrop when I take tutorial pictures.  The chair and lamp are also IKEA…I think you should know by now that my life savings have been spent there.  I am an IKEA lover at heart.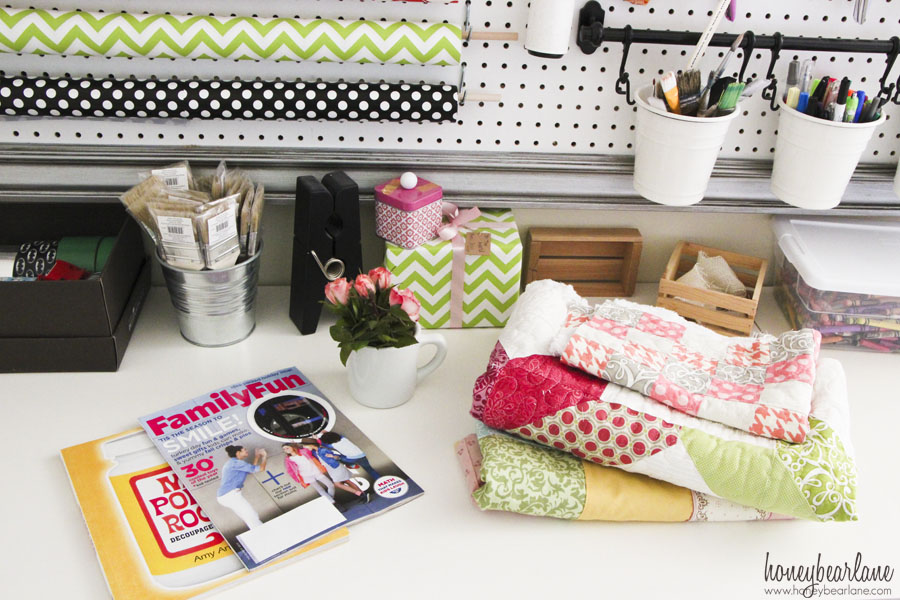 It's also the perfect height for the wire basket drawers that go underneath.  I have four sets and they hold all my fabric (of which I have a lot.)  As you can see, it's not all folded pretty…although some are.  That top drawer is full of scraps.  The bottom drawer is full of precut 5×5 squares, which I used in my puff quilting selling days.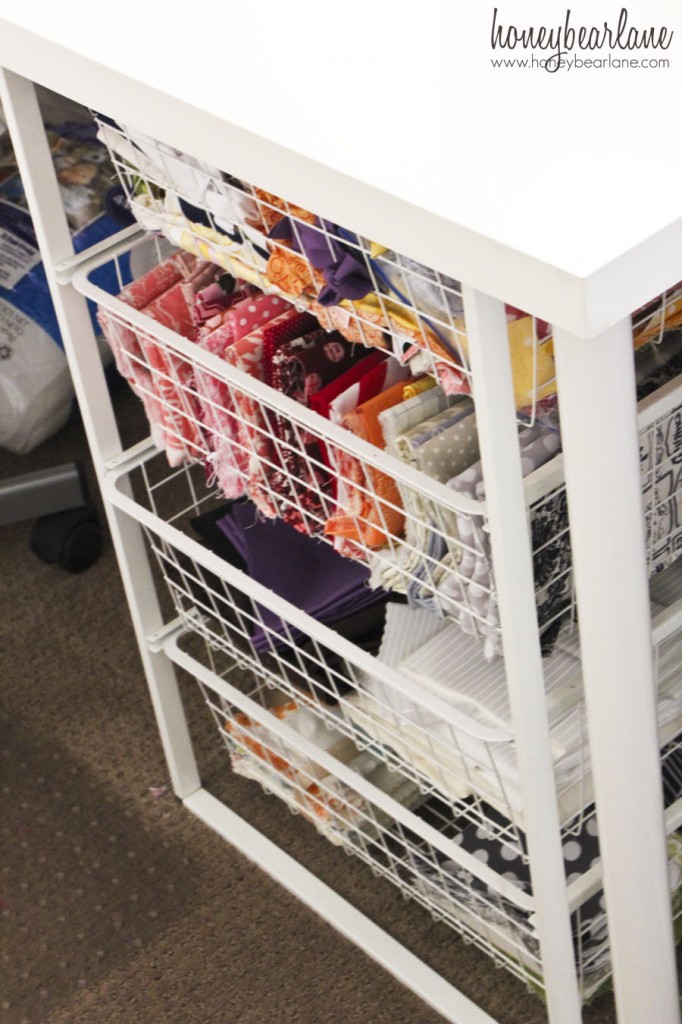 For the rest of the storage, I have my IKEA Expedit 4×4.  I wanted the 5×5 but at the time they were sold out.  But in my next craft room (and yes it will be an entire room dedicated just for that) I will get the 5×5.  I bought four black fabric drawers at IKEA and actually just painted the fabric in the colors you see…then I stenciled on a design in chalkboard paint so I can write chalk on it if I want to.
I have some vintage briefcases on top that hold some other supplies that I don't use very often.  Being a craft blogger has the definite perk of trying out a lot of craft supplies (even if I rarely use it.)  That's why I have SO much.  And those lamps on top are for photography.  I have one of those fold-up tents for winter time food shoots.
I won that awesome giant Cut it Out Frame from a Blogger party last year and I wasn't sure what to do with it.  But then I bought some tin at Home Depot and snipped it to size…now it is a magnet board!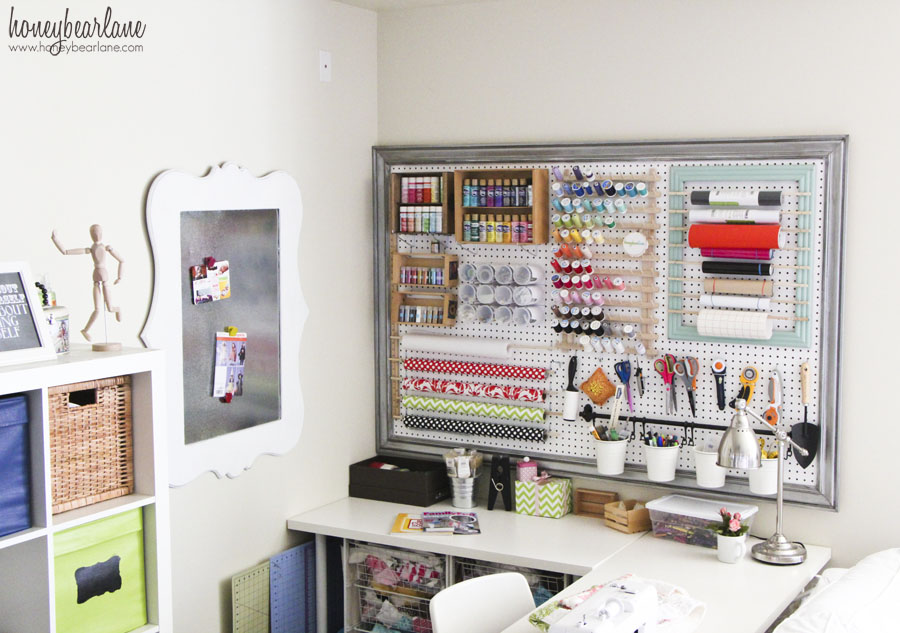 The prettiest part of this whole area is by far the Pegboard Craft Organizer.  Seriously, that whole craft space can be an utterly scary disaster, but the Pegboard stays clean and pretty and put together.  I know where things are, I can easily put things away…my love for my pegboard is bordering on disturbing.  You can see the full details here.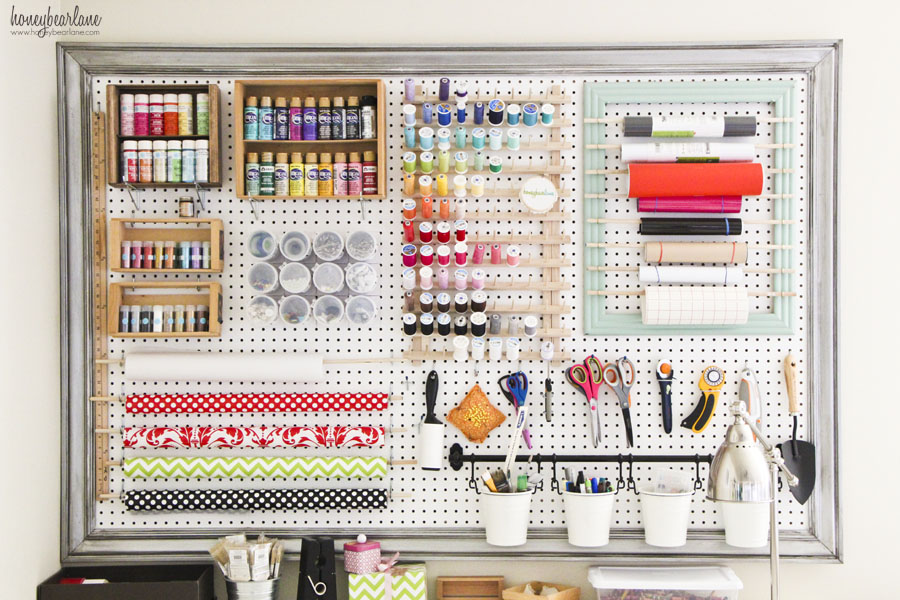 A very recent addition to this pegboard are these cute little plastic containers you see here.  There are called SmartJars.  When the brand new startup company called Smart Jars contacted me to review their product, I was super excited to get more of my little odds and ends organized.  I have everything from washi tape to buttons to safety pins to glue gun sticks in there.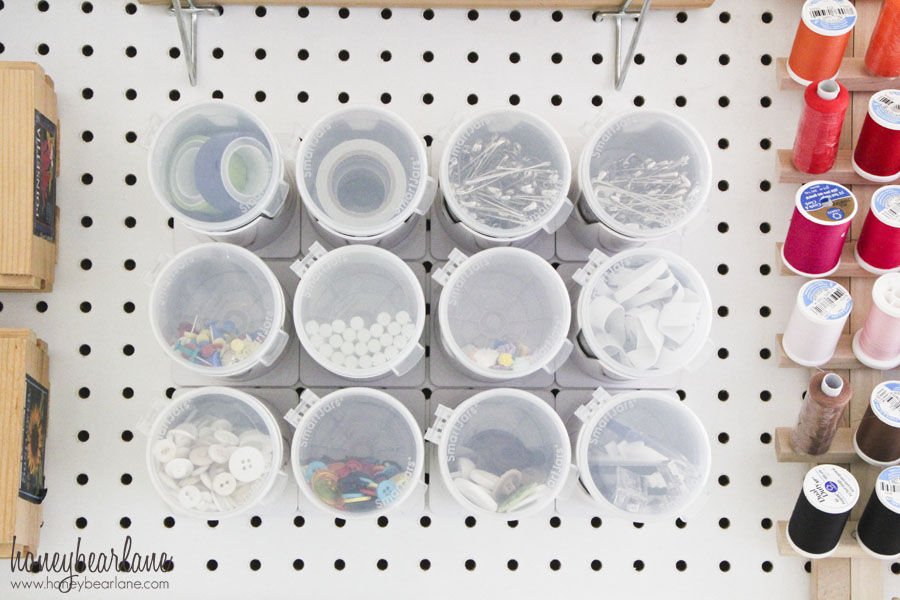 I have to say, I am very impressed with the SmartJars.  They are super easy to install, but you have to know where they are going for sure because one they click in, they don't easily come out.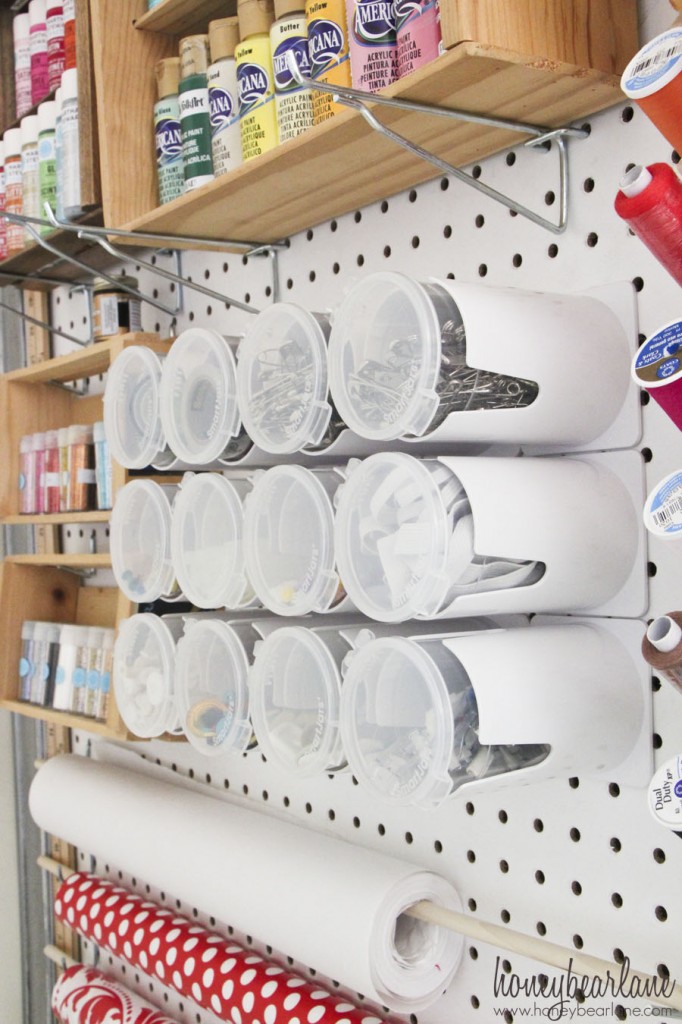 I found that if you want to install them super close together like I have here, you need to put in the upper prongs of all the jars and then click them in together at the same time.  The plastic 'jar' just pops right in and out easily and stays in securely.  I recommend pulling the jar out completely before opening it up, otherwise everything inside will spill out.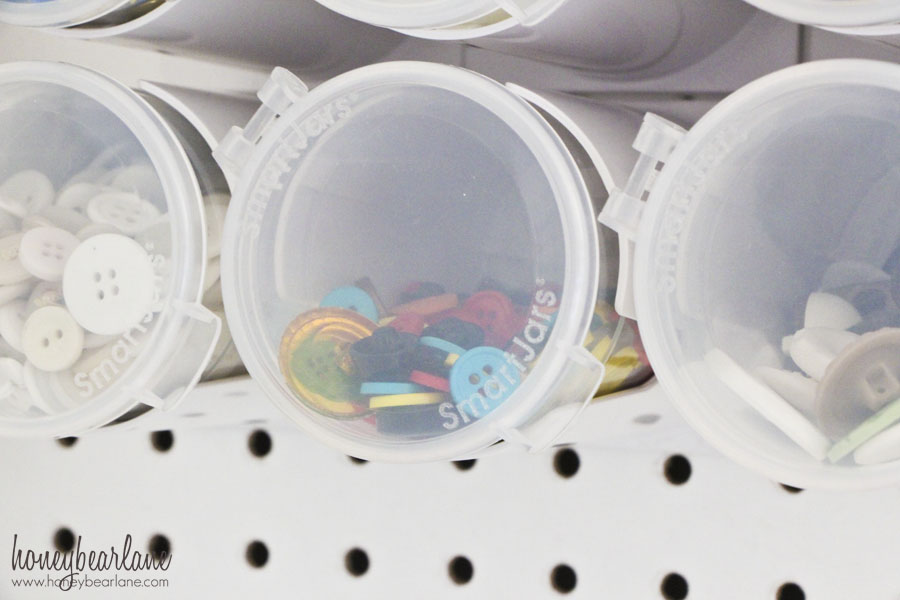 I would love to use these all over my house–from kids room toy storage to bathroom storage to tool workbench storage.  I can't wait until they offer different sizes because then the possibilities are endless!!
I posted these on Instagram and many of my crafty friends were interested in these handy jars.  If you go and purchase them from SmartJars, they are running a KickStarter campaign to help launch their company so every purchase goes toward their startup costs.
Click here to buy your SmartJars!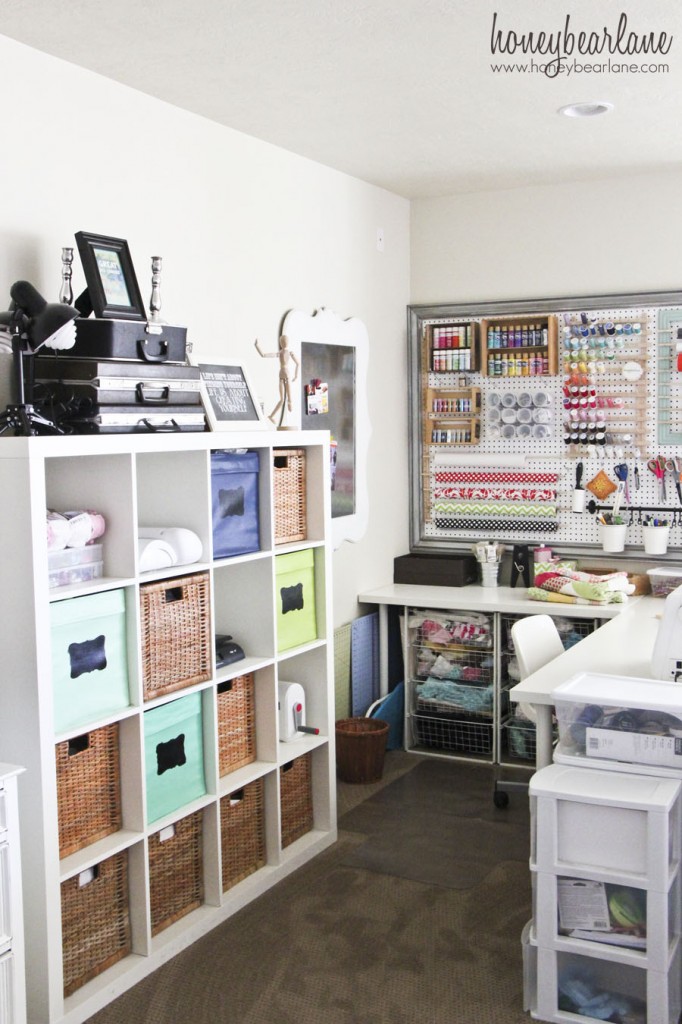 I really love this area…especially when it's clean, like it is now (um, twice a year?) It's so colorful and put together and inspires creativity, which is just what a crafting space should do.  Everything is pretty easy to find, although I have to say that the stuff inside those Expedit baskets is quite a mess, something I hope to rectify once I have a bigger space.  In my next craft room I hope that I can have enough space to include an area for my kids to do art projects as well, since Ellie seems to love using my couch as her canvas.
This post was sponsored by SmartJars but all opinions and content are my own.