This is a Sponsored post written by me on behalf of McCormick & Company for SocialSpark. All opinions are 100% mine.
With Fall in full swing, soups in the crockpot are my go-to dinner. I think I make soup at least once a week, if not more. With a crockpot (possibly one of the greatest inventions ever next to electricity) all I have to do it throw a bunch of ingredients in a pot and flip it on. Then at dinner time, I don't have to wonder what to make or find the energy to make it…I just open up my crock pot! So I try to find a way to make every soup a crockpot soup. And this Chicken Chili with Black Beans and Corn is a real winner.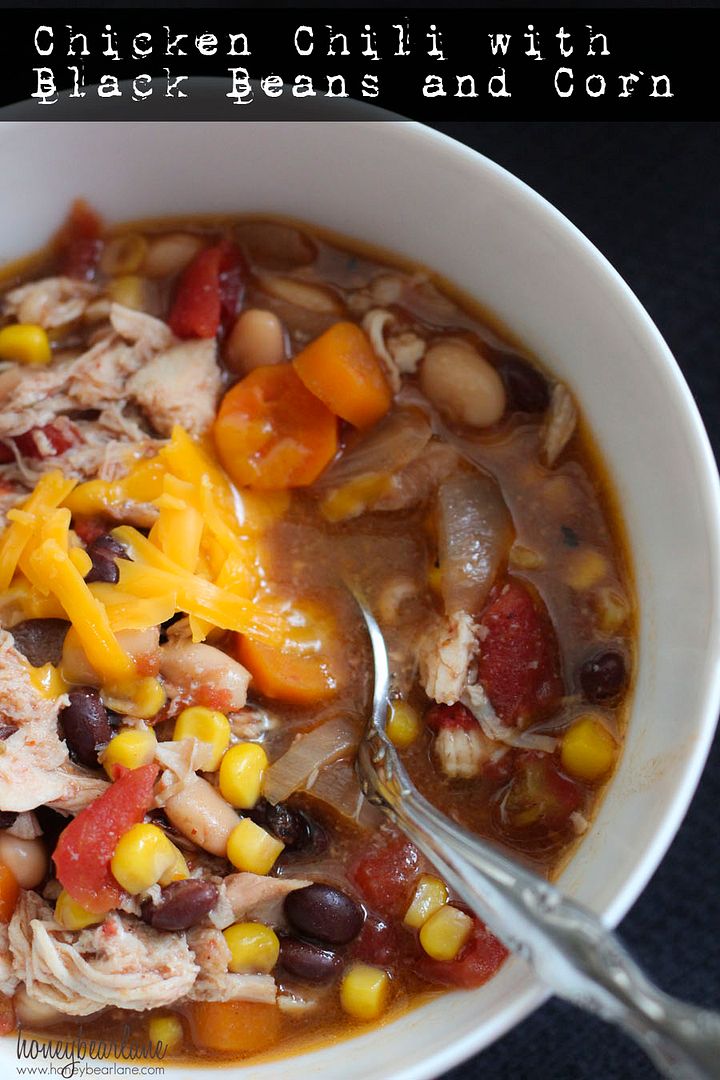 I got this chicken chili recipe from the McCormicks Site and tweaked it a bit according to my own tastes. It's really easy since I just throw everything in the crockpot. Literally…just take all the ingredients below, and throw them in the crockpot as is. Let it simmer for 5-8 hours and then shred the chicken and serve with a little bit of cheese.  I love using chicken thighs for crockpot soups because they have a higher fat content so the taste is much richer.  And I don't really like the texture of grilled chicken thighs so I save them for soups.

Chicken Chili Recipe and a Giveaway!
Ingredients
1 onion, diced
2 carrots, chopped
1 can black beans
1 can diced tomatoes
1 can Northern beans
1 can corn (or 1 cup frozen)
4 boneless chicken thighs
1-2 Cans chicken broth
1 Tbsp McCormicks paprika
½ Tbsp McCormick cumin
1 Tbsp McCormick garlic powder
½ Tbsp McCormick Oregano
1 tsp McCormick Red Pepper Flakes
Instructions
Mix all ingredients in a crockpot and simmer for 5-8 hours. Shred the chicken before serving.
I want you to do something next time you are in your kitchen. Go look in your spice cupboard and check out the brands of spices you have. I did this recently and I would say that 95% of them are McCormicks. They just do such a great job at offering so many different varieties of spices at a good price.
I posted a silly video of me making this meal on Instagram…here it is for your viewing pleasure if you don't follow me there (which of course you should be.)
Finally, make sure you enter to win this awesome McCormicks gift set!! Just answer this question in a comment: Which McCormick spice do you love? Or Which McCormick recipe do you want to try from McCormick.com?