I love chocolate and salty things together.  One day in the not-too-distant past, I bought some Cadbury eggs and some Ritz crackers.  When I got home, somehow they both mysteriously got opened.  And I started to eat them one after the other, and it was sooooo good!  It occurred to me to make some sort of treat that included both the salty butteriness of Ritz with the sweet rich chocolate of Cadbury eggs and my first thought was Christmas Crack–that super addicting holiday candy.  So it was only natural to make 'Cadbury Crack'!  Or Easter crack…made with Cadbury Mini Eggs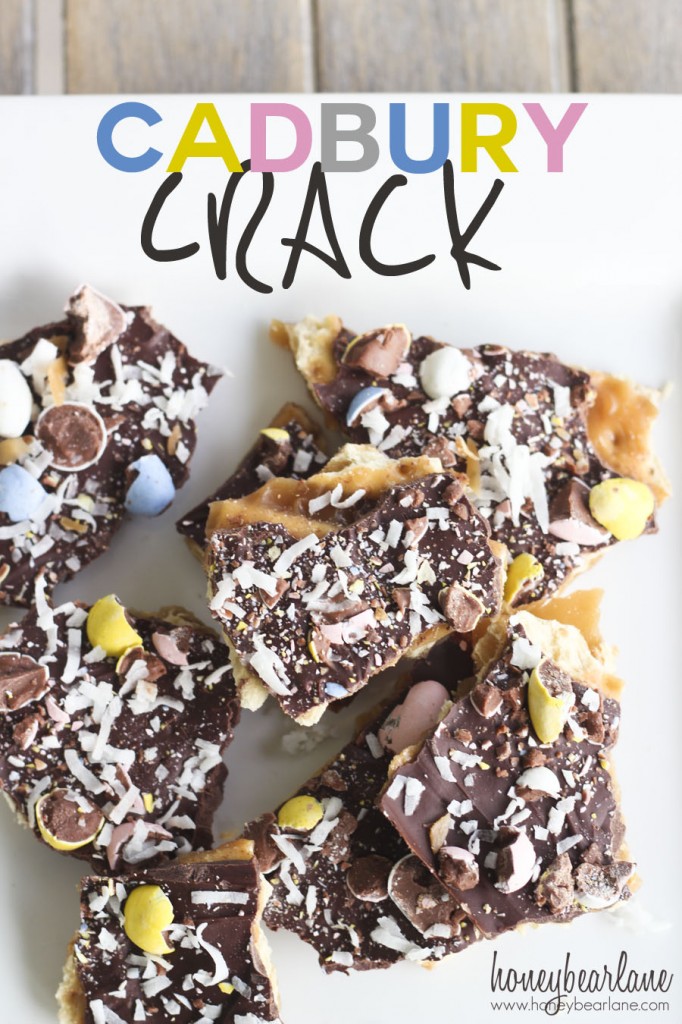 This is really easy and fun to make and even funner to eat!

Cadbury Crack
Ingredients
2 sleeves salted Saltines crackers
1⅛ cup salted butter
1⅛ cup brown sugar
1 tsp vanilla
1 package chocolate chips
½ package Cadbury eggs
½ cup shaved coconut
Instructions
Cut a rectangle of Parchment Paper to line a jelly roll sheet. Then make a layer of Saltines to cover the bottom of the pan. Preheat your oven to 400 degrees. Then in a saucepan, melt 1⅛ cup of butter and 1⅛ cup of brown sugar. Stir together until boiling, then boil for about 2 minutes until thickened. Remove from heat and add 1 tsp of vanilla.
Pour the caramel mixture over the crackers and spread evenly throughout. Put in the over for six minutes. Melt chocolate chips in the microwave by cooking in 30 second increments and stirring until melted. Take the pan out of the oven and pour the chocolate over the top. Spread evenly. Smash the Cadbury eggs with a meat mallet and sprinkle over the top, along with the coconut. Chill for at least one hour and then break into pieces to serve.
I made this for my family yesterday and they were addicted…hence the 'crack' name.  It's the perfect combination of sweet and salty, crunchy and chewy…with a bit of rich Cadbury chocolate here and there.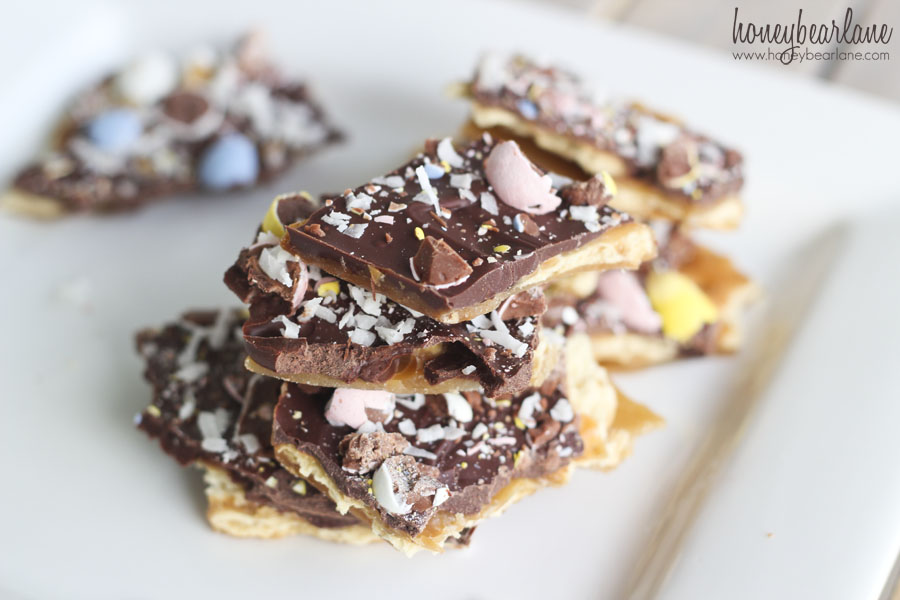 Having the parchment paper underneath makes it super easy to get the candy out of the tray and easy to break into pieces. This is the perfect Easter treat to make for a church class, school party, Easter Egg hunt, or just Easter Sunday dessert. It's really fast and easy and practically Fail Proof. I will admit that I am not the greatest cookie maker so I was very happy when this turned out so awesome.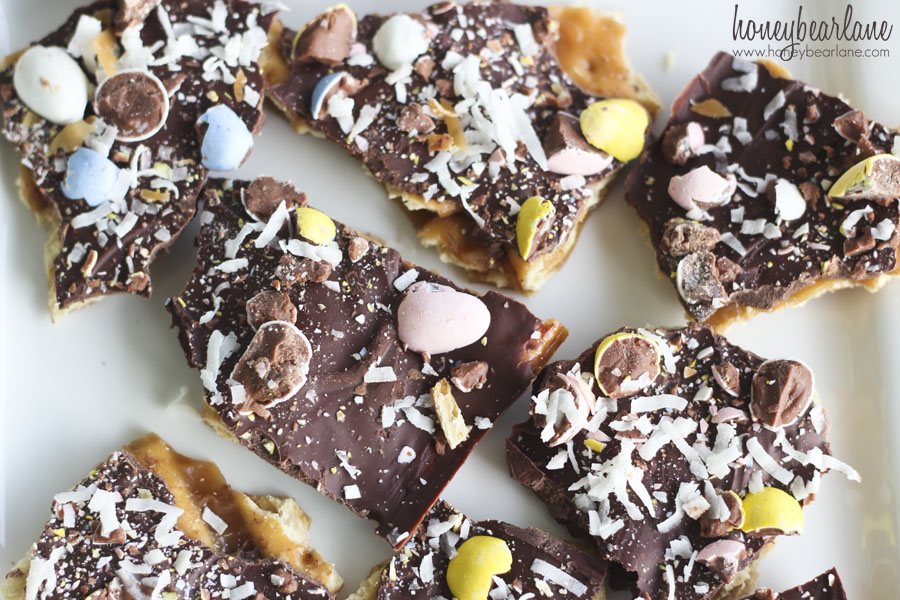 It's not a new recipe, for sure…but I love all the different and easy options there are to change things up. You could probably use Ritz or other types of crackers but I wanted to use Saltines since they were square. I found after baking the crackers kind of popped out of place so it wasn't completely smooth. Hey, this is not a candy for a perfectionist.
Happy Indulging!