15 Minute Chicken Florentine
This is a Sponsored post written by me on behalf of American Frozen Foods Institute and the Frozen Food Roundtable for SocialSpark. All opinions are 100% mine.
I post lots of recipes and cooking ideas on my site.  That must mean that I spend hundreds of hours cooking my meals, right?  No way.  I learned when I was first married, that the longer a meal took to make, the worse it probably would turn out for me.  (Read:  I never make lasagna.)  Eight years later, I am a much better cook, and I will occasionally make something that takes a little bit longer, but 90% of the time my meals take 30 minutes or less.  And the less time, the better.  I like cooking, but I hate having to cook at the time of day when I'm exhausted and my kids are whiney.
One of my tricks for ultra-quick meals is to use frozen foods.  I also use canned foods, but frozen is usually preferable, especially for things like vegetables.  Of course if you have fresh, that's fantastic.  But honestly, it is SO much faster for me to add veggies in my meals when they are already chopped up and ready to go.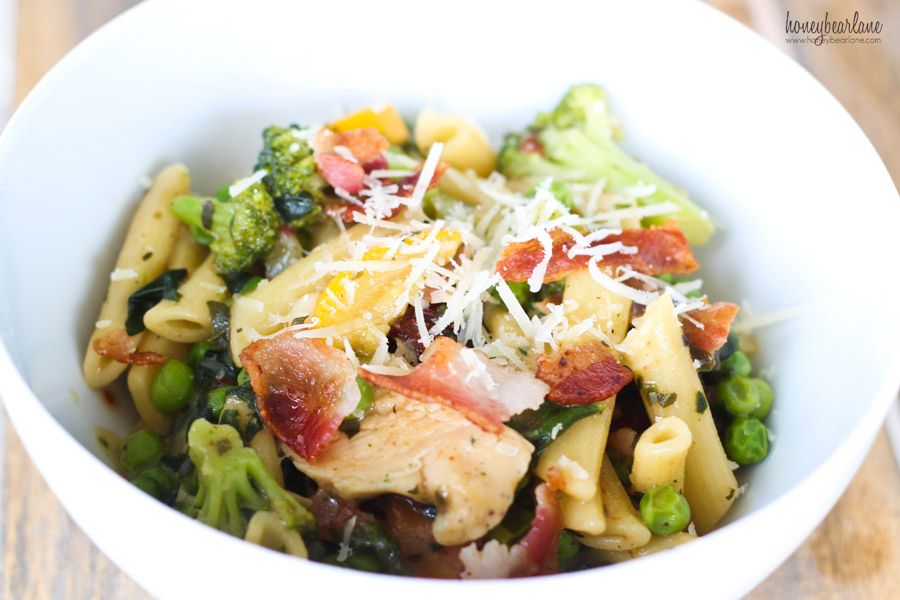 For example, this Chicken Florentine meal I made the other day:  it turned out delicious and took me like 15 minutes.  I started with these three bags of Birds Eye frozen food.  Two of the bags were vegetables–broccoli florets and peas.  This might sound weird but I LOVE the taste of frozen peas (after they're cooked.)  My mom used to make frozen peas as a side a lot so it reminds me of my childhood.  Anyway, I dumped most of the vegs in some containers, added a little water, put the lids on loosely, and microwaved them for about 6 minutes.  This steams the vegetables and is my favorite way to cook them.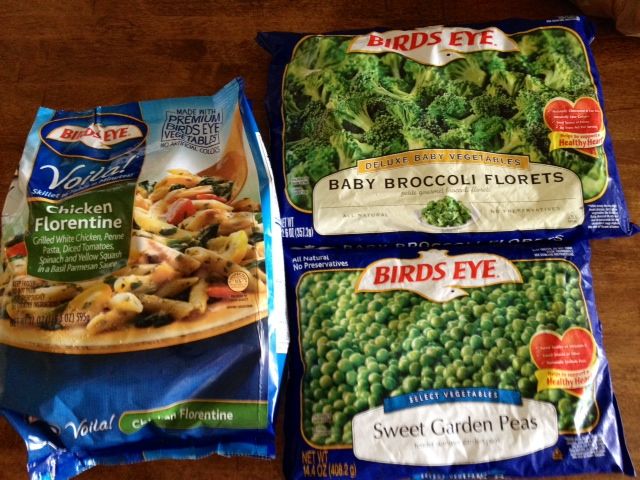 While the microwave was going, I was pan frying some center-cut bacon.  I also chopped up some garlic and onions and cooked them in the pan after the bacon was done.  I threw in some sun-dried tomatoes I had also.  Once the vegs were cooked, I added them to the pan as well as the chicken florentine pre-made meal.  This had all the pasta and sauce in it.  I added 1/4 cup of water and let it simmer for about 10 minutes with the lid on.  I took off the lid and thickened the sauce up a bit with some cornstarch and it was done!  I topped it with the crumbled bacon and some fresh grated parmesan.
Basically you can make any meal super fast by starting with a frozen meal base and adding lots of extra things to it.  Those premade frozen meals don't often serve enough but my additions made this serve my family of five with some to spare.  And there were so many vegetables, it was a great way to get my kids to eat healthy foods.  The benefits of frozen foods are plentiful for me.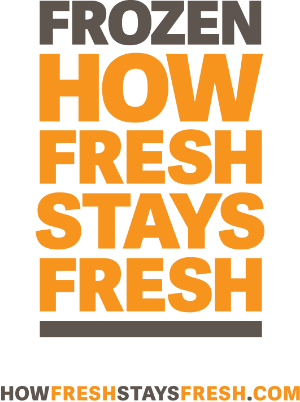 In reality, frozen food is actually fresh food taken at its peak of freshness and just pauses the freshness for awhile.  Read How Fresh Stays Fresh and fresh vs frozen.
Do you ever cook with frozen foods?