Water Themed Birthday Party
So my boys' birthdays are in April.  But every year, without fail, April is my busiest month.  And this year was probably the busiest it's ever been.  I told my kids they could have a birthday party, but they'd have to wait until things settled down.  Turns out that things didn't settle down until school ended and it was summer!  This worked out better anyway because now we could have a fun water themed birthday party.
To be honest, I didn't put much planning into this.  But that's the beauty of it, because it was a pretty easy party to throw together, everyone had a blast, and overall it was a big success.  Probably my most successful birthday party every, despite having 20 kids six and under running around!  And if I can do this, you can too.
I decided to make it a water theme–basically just put a bunch of water related activities in the backyard.  I thought about renting a wet bouncy slide thing but I'm glad I didn't.  Those are expensive and I think the kids had just as much fun without it.
I had three 'stations.'  There was the Slip 'N Slide, the pool, and the water balloon forts.  I also had an eating area and refreshment table.  There really wasn't any particular organization…basically the kids showed up and started playing.  And when they wanted to eat, they ate–which was actually good because I didn't have enough seats for everyone to sit at the same time.
The refreshment table consisted of chips, watermelon, candy, cupcakes, and an ice cream bar.  I did most of the foods that I knew kids would like and that were mostly individual servings.  I decorated it with a plastic white tablecloth, seashells and apothocary jars, and blue, navy, and green colors.  I have a whitewashed planked board that I use for backdrops and it came in handy for this table.  I also have collected nautical stuff over time so I used some of it at my table.  I bought helium balloons in the colors on the day of the party.  I used the balloons as a way to guide the guests down the side of the house straight to the backyard.
The cupcakes were fun to do–I baked a 'blue velvet' cupcake mix (which for the record I probably wouldn't do that again but it was fun to try.)  Then I frosted them with white frosting and dipped them in graham cracker crumbs for a sandy effect.  Then I stuck a little drink umbrella in it and there you go–beach cupcakes!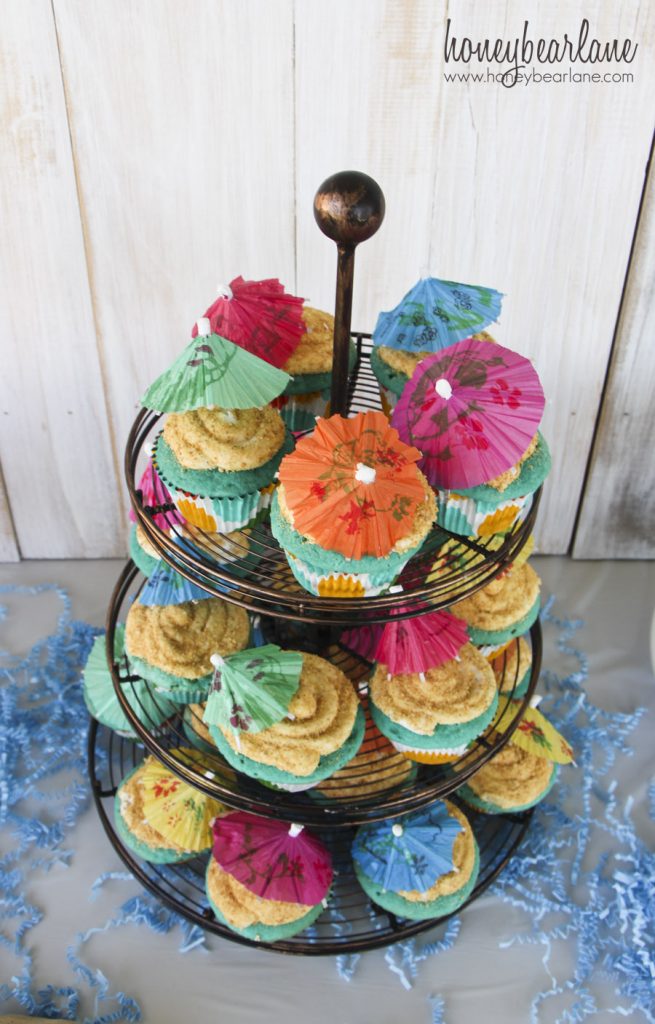 The ice cream bar was definitely a hit–although the ice cream melted pretty quick!  I was the designated scooper for the first half hour but the kids had lots of fun choosing their own toppings.  This chip and dip holder was perfect to hold all the different toppings and I had squeeze bottles with chocolate syrup and caramel.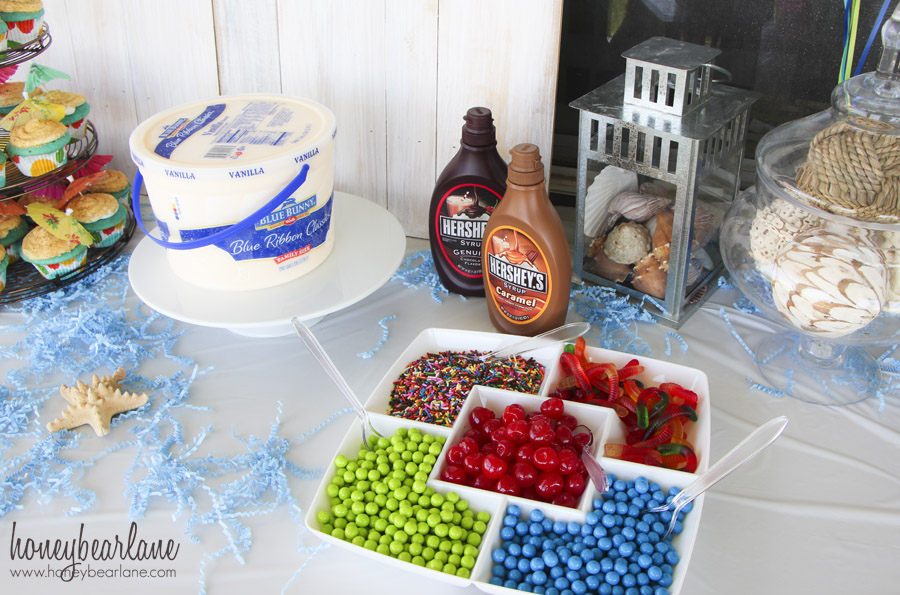 For the water games, the Slip 'N Slide is pretty self-explanatory.  It was nice that was had a slight decline to put it on.  This was a cheap slide, I think they would have had more fun with a better one.  Some people even just use a giant sheet of plastic!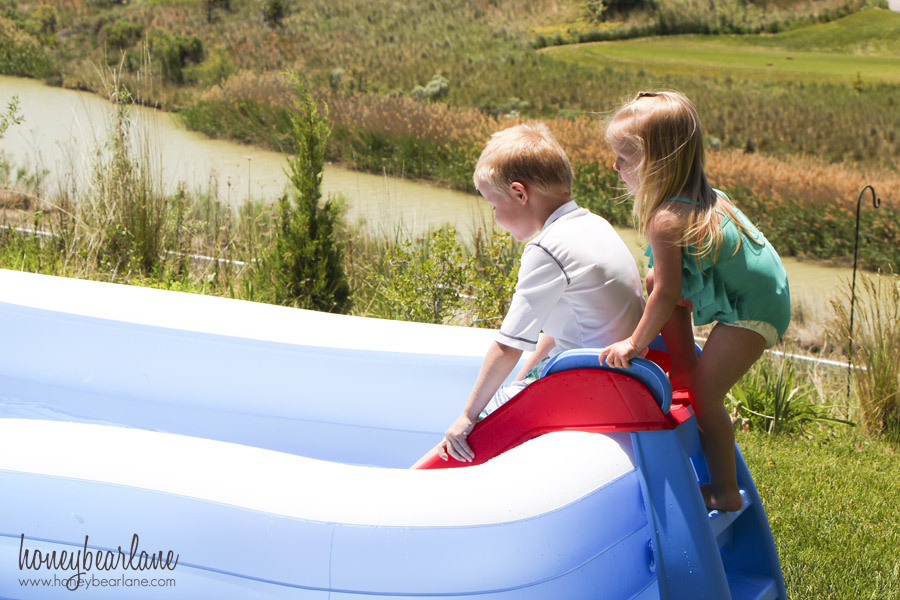 Then I bought a rather large blow-up pool that our kiddie slide fit perfectly over the side.  I had tons of squirt guns for the kids to play with and then they took one home with them.  The squirt guns didn't work that well though, so I wish I had tested one first before buying a ton.  I also had a little baby pool for the smaller kids.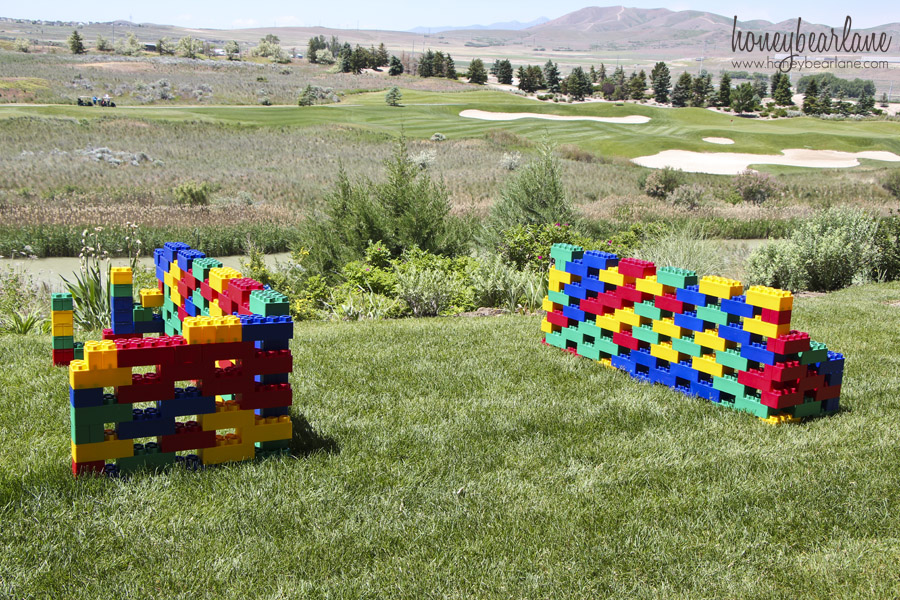 For the water balloon fight, we used our giant legos I bought on Amazon to build forts for the kids to hide behind.  Then I spent forever filling water balloons for a fight that lasted about 30 seconds–no joke.  But they had tons of fun and the forts kept them safe.  After the fight ended, the kids played with the giant blocks for the rest of the time.  Those things were a great investment–especially for group play.
Overall, it was a great party.  I want to do summer parties every year!