Cast Iron vs Stainless Steel
It's been awhile since I've written an update about our home building process.  Well here it is–nothing!  Okay, that's not technically true but the house has not started yet.  So there's nothing to show.  I can't remember if I wrote about this but we actually ended up changing locations.  Since we switched to a new location, the new location is a brand new development which is still being developed.  They haven't even paved the roads yet (although they keep saying they'll do it 'this month'–last month.)  But it's not a big deal to us because we are still in the designing process.
We chose to build with a Utah company called Edge Homes.  They are a big-box builder which has pros and cons.  There is definitely less in the way of customization–especially for us who keep trying to find ways to make our home a little less cookie-cutter.  They are totally willing to do anything you want, as long as you pay for it.  And that's where customization gets limited.
Since we are going back and forth on design choices, it's taking up a lot of time and brain space.  A lot of it depends on budget, but a lot depends on practicality vs. looks.  Today's decision is about my kitchen sink:  cast iron vs stainless steel farmhouse sinks.  We chose white cabinets, white quartz countertops with gray veining, and light wood laminate floors.
I asked you on Instagram and Hometalk, but got lots of different reviews.  Some people vote cast iron (the white) all the way, but I kind of wonder if they have actually HAD a cast iron sink.  They are absolutely beautiful and I love them but I have heard of the difficulties with maintaining them…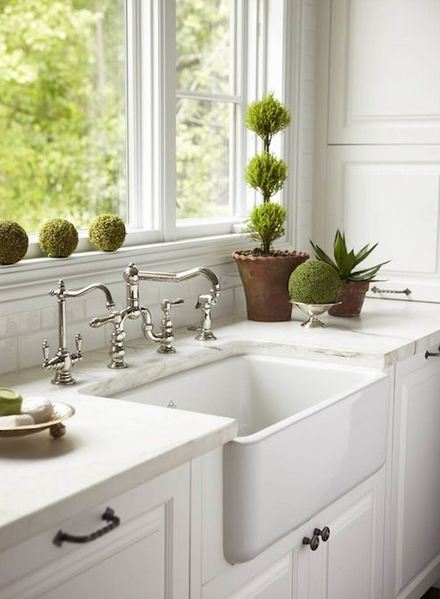 Cast Iron Farmhouse Sink
Pros:
Beautiful
Heavy Duty
Large
Convenient undermount installation
Cons:
Can chip and crack
Gets scratched and marked up easily, but cleans up with Bar Keeper's Friend product
Slightly more expensive than SS
Hard surface so dishes can break easier if you're not careful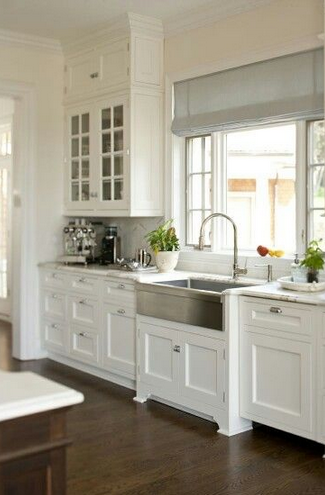 Stainless Steel Farmhouse Sink
Pros:
Cleans up easily
Has a little more 'bounce' so dishes don't break as easily
Won't chip or have marks from pots
Modern style
Cons:
Water spots
More utilitarian looking
Can still scratch, rust, and dent
What I need to know from you are YOUR opinions on the two.  Have you had either?  Which style do you like best?  If you've had one, would you do it again?