This is a sponsored post written by me on behalf of Personal Creations.
As Moms and Dads get older, I feel like they get harder and harder to give meaningful gifts to.  They always seem to have everything they want, and things like movies or lotion sometimes feel lame.  When giving to parents, you just really want to give them something that demonstrates your love for them and shows them their life and accomplishments.  For most people, grandparents especially, they love things revolving around their grandkids.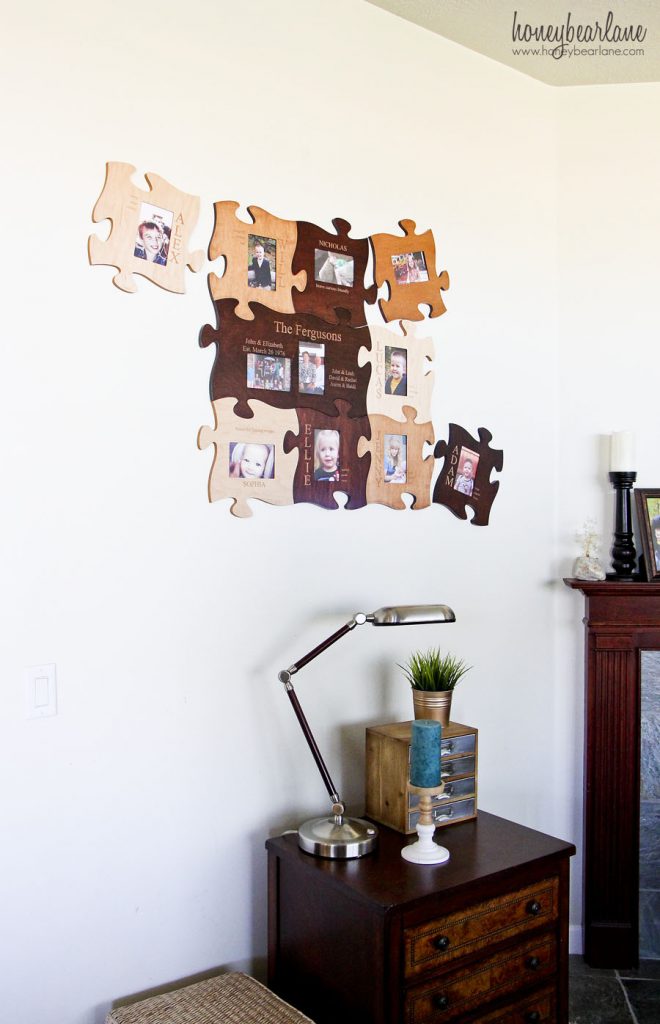 There are several different kinds of things you could do, but I came across a really fun gift and decided to try it out.  It's called the Puzzle of Life from PersonalCreations.com: engraved wood puzzle photo frames that fit together to other similar frames.  You can get the frames in different wood stains or painted finishes, but they all look high quality and just, amazing really.  They are handmade by Amish woodworkers!  I was super impressed with them.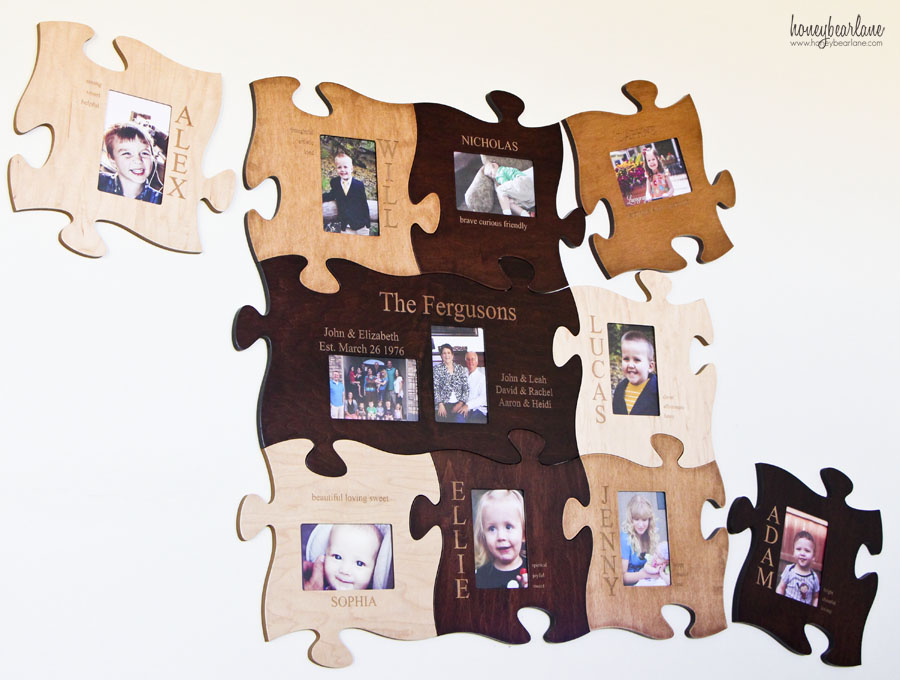 I decided to give a gift for my Mother-in-Law for her birthday, especially since she has been super sick for several years and her family has become more important than ever.  She adores her grandkids and I love that this type of gift easily allows for room to expand if more grandchildren enter the picture.  There are also spots on each frame to add additional words to help really tell your family story.  I chose to write three words for each grandchild that described them.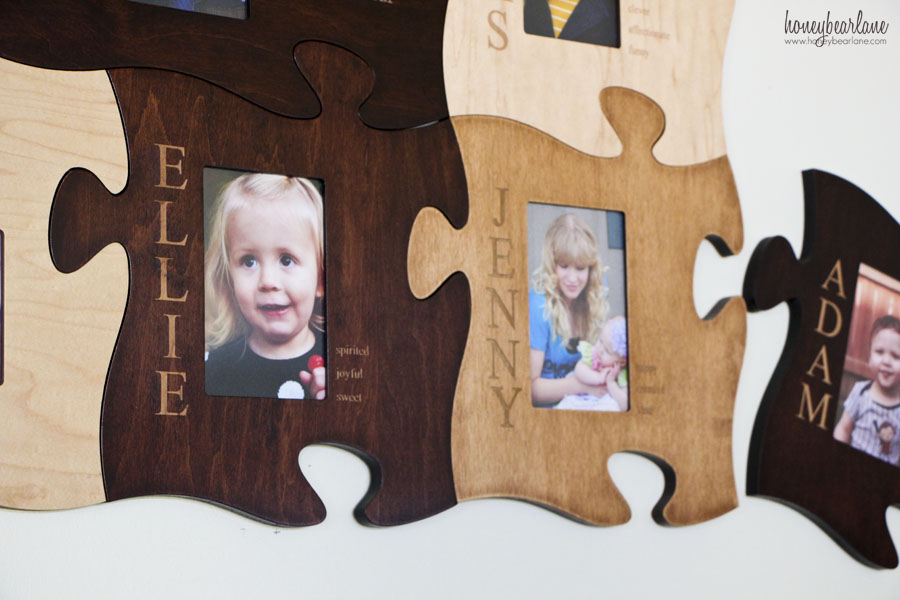 It was pretty easy.  You order it online, along with the words, names, or phrases you want engraved on the frames.  Once it arrives, putting it together in a cool puzzle was half the fun!  I really liked this first arrangement we did, but it didn't work for the wall space once I gave it to my Mother-in-Law.
We ended up deciding on this type of a wall layout, with some of the pieces 'loose' in the puzzle, like it was coming together.  My MIL absolutely loved this gift!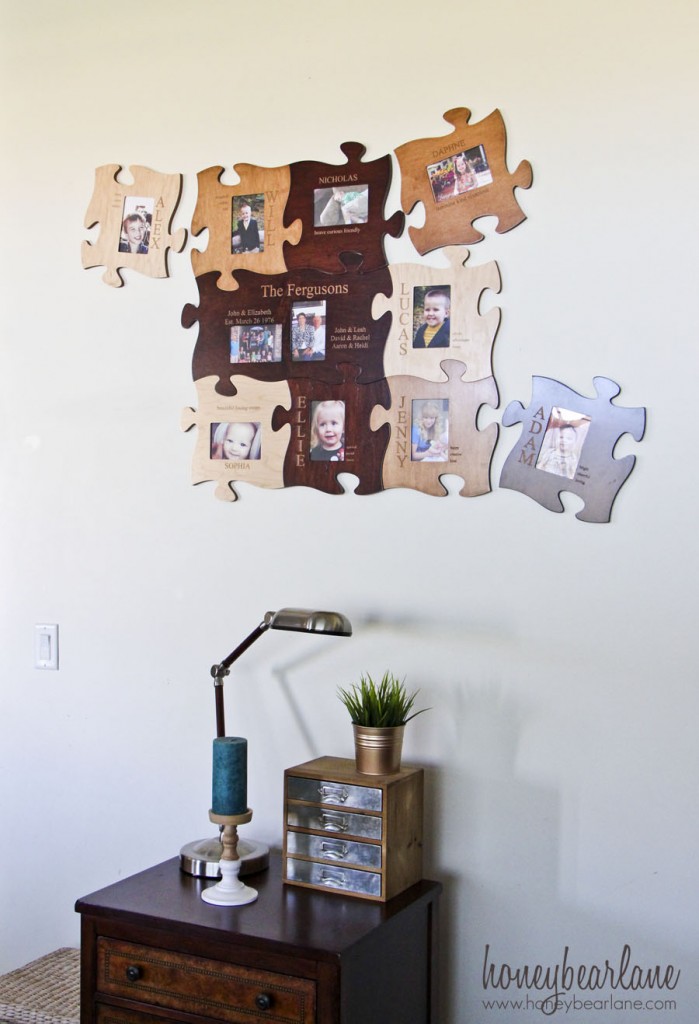 Helpful Tip:  To hang it on the wall was a little tricky.  Each puzzle piece has its own hook but when you have such a large puzzle like this, we decided that if we would do it again, we would assemble it on the floor and then find a way to bracket the entire puzzle together and hang it with some heavy duty hooks on the top.  However, I think if you had just a few pieces it would be hard to hang.
Doesn't the Puzzle of Life look like an awesome gift?  Now I want to do another one for my parents.  And right now you can save 20% on Personal Creations to get your own Puzzle of Life.  Use the code PCSM20.
And if you want to enter to win a $100 gift credit at Personal Creations, enter below!
a Rafflecopter giveaway

This is a sponsored post written by me on behalf of Personal Creations.