Halloween Front Porch Decor
So technically this is the back porch, but it's MY front porch (the weirdness that comes with living in a basement apartment.)  So probably no trick-or-treaters will be coming to the back porch, but it's still fun to be able to decorate.  And I was given lots of Command hooks to use, so check out my Halloween front porch decor!
Command hooks really are the easiest way to decorate your house for the holidays (inside AND out, but especially out!) They have special outdoor clips that stick to most surfaces.  I wanted to do some dangly 'flying' bats and pumpkins along with the standard garland and lights around the door.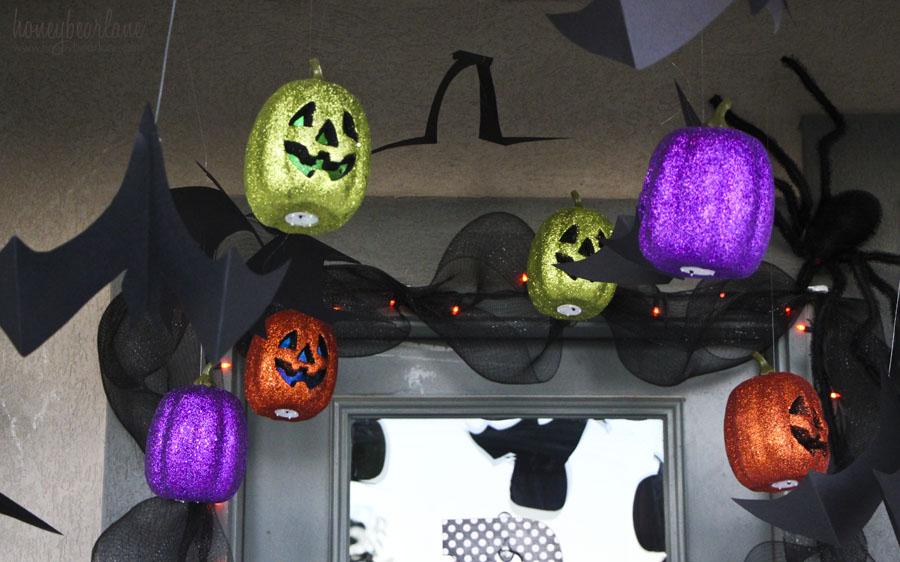 First, I bought all my supplies.  Here is a list of what you need to get for this look:
Glitter jack-o-lanterns at Walmart (they were like $3 each and they glow!)
5 pieces large black posterboard, double sided.  I got this at Hobby Lobby in the art section.
Fishing twine
Black decorating mesh (Hobby Lobby)
BOO sign (tutorial here)
Command hooks:  I used the outdoor light clips, Outdoor Clear Window hook, and a black Outdoor hook
To create the bats, fold your posterboard in half.  Then trace a half a bat shape, kind of like making hearts in kindergarten.  Make you wings nice and long. Cut them out and unfold.  Then fold the wing back at the peak so they 'fly' better.  Cut a small hole at the top or bottom of the body and string with fishing line.
String your jack-o-lanterns with the fishing twine.  Make the lengths vary and make a loop at the other end.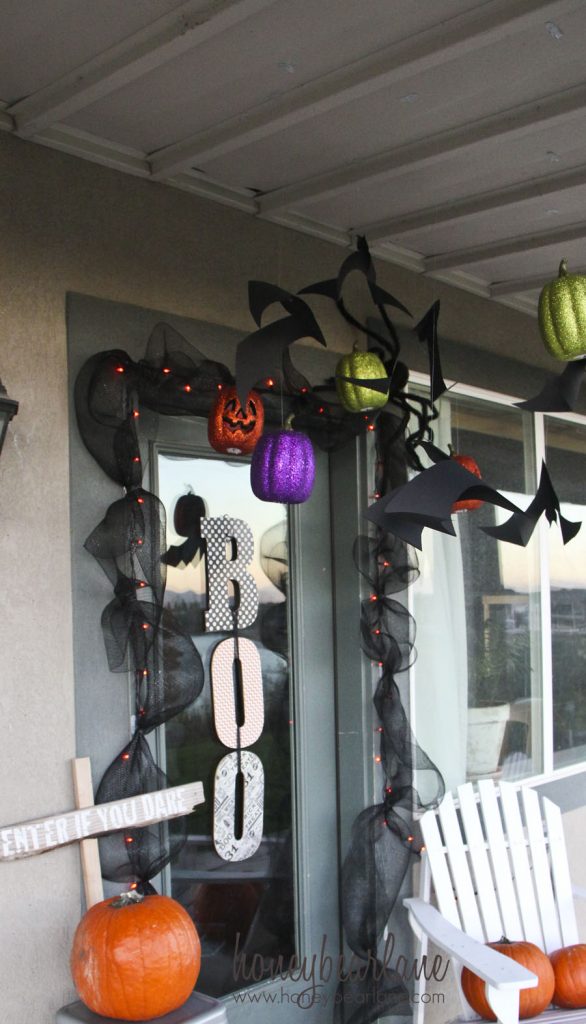 Stick the Command light clips into place, randomly over the ceiling of your porch.  Tip:  Make sure you put the adhesive strip on the hook and peel the other side off before sticking to the wall.  It's easier to remove the protective covering that way.  Let them sit for an hour for maximum adhesiveness.  And they might not stick as well if the surface is super textured, so the smoother and cleaner the surface, the better.  (They are a little hard to see in this picture, but you can see little white spots on the ceiling.  That's good–they tend to not be noticeable!)
For the door, first stick the light clips on the door frame, approximately one foot apart.  Wait an hour, then put the strand of lights in place.  And ignore all the dust and cobwebs on my door frame please.  Thank you.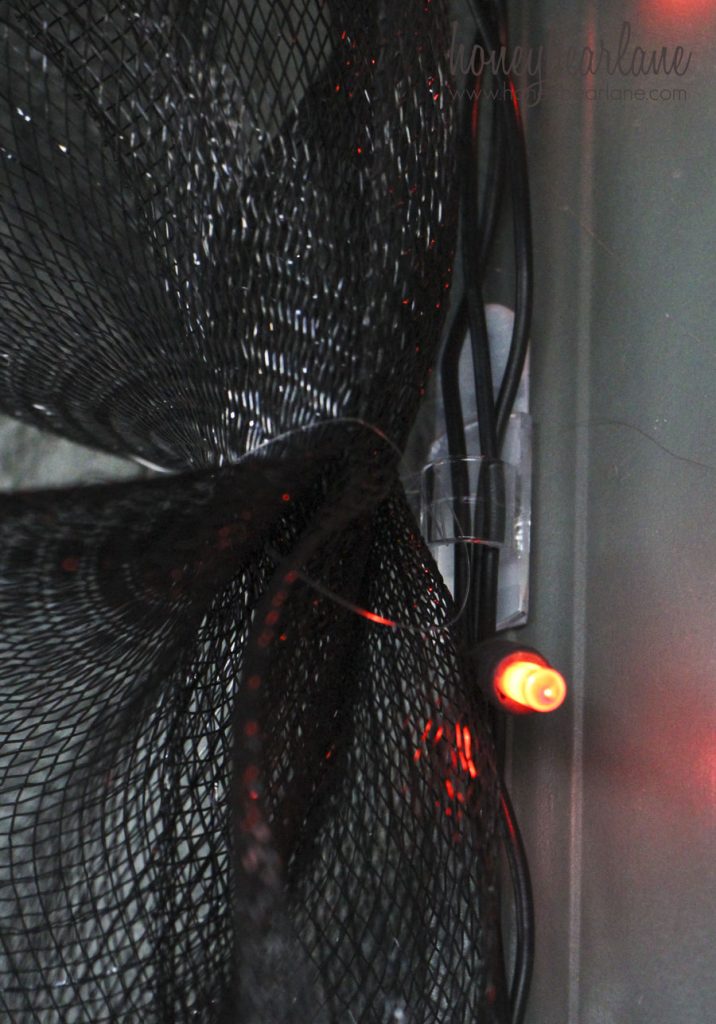 Next I took the black mesh and started bunching it every foot or so (the distance the light hooks were apart) and tying fishing line around it.  I looped the fishing line into the hook and it worked perfectly!  This was great because it hid the ugly wires and hooks and added another dimension of decor.  I'm a fan of layering.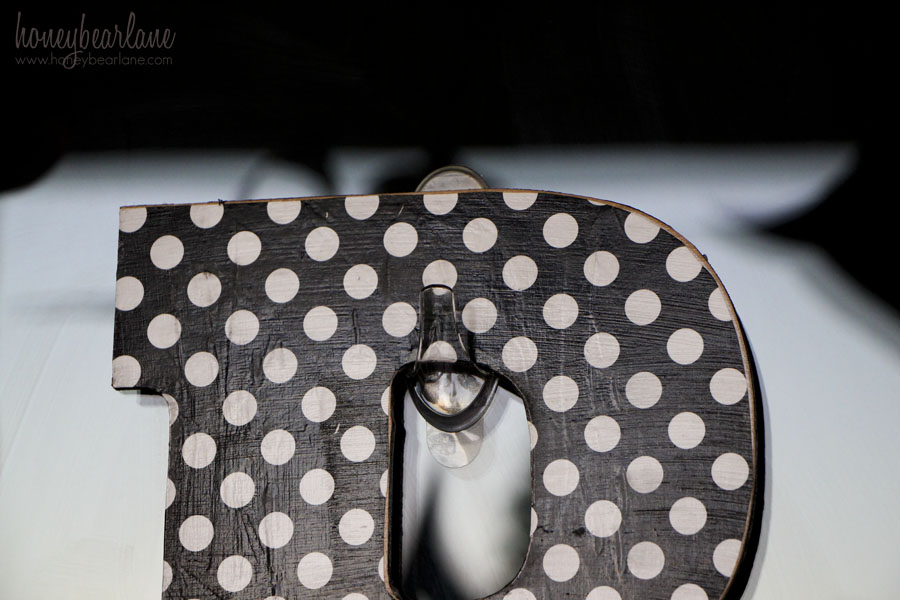 For the last details, I used a glass hook for the door BOO sign.  The glass hook is great because the adhesive strip is clear too so you can't see it at all.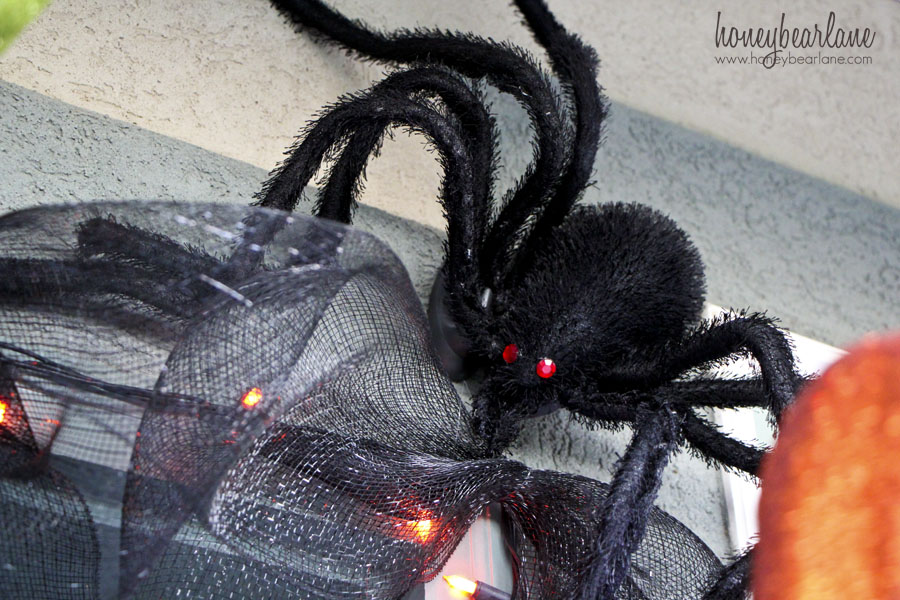 I also used this black hook to hang my spider above the door.  Can you even see it?
I love decorating my front porch and the best part of these Command hooks is that I can just leave them up when it's time to put up Christmas lights!  They are damage-free, UV and water resistant and easy to use over and over again.  And only 12 more weeks until I can have my own front porch to decorate!!
What are you doing for Halloween decor this year?
Big thanks to Command for supplying their hooks for this project and sponsoring this post. All opinions are my own.